A Little Bit About Me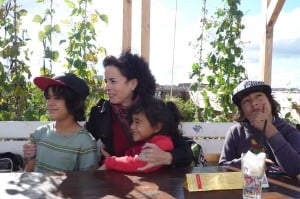 Hi everyone, my name is Anke, and I just love traveling.
Before I had my children, who are now 6, 10 and 11 years' old, I was traveling the world with my backpack. Of course, that has all changed since I became a mum and wife.
For the last 12 years, I have been living in New Zealand, a long way away from my home country. Because my family still live in Germany I've had to travel back and forth many times to take my children to visit their relatives. So I have become a bit of an expert over the years.
The travels certainly had its challenges because mostly I was going as a single parent but the memories we made along the way are just priceless. The best part is probably that I and my little munchkins have become a great team by traveling together.
I've Heard It Before
"You're going by yourself with three children!? How do you manage? What if they get lost? We're just too worried to take our kids anywhere!"
That sort of talk has inspired me to create this travel website. I will write about my experiences and will give you tips that will help you move in a fun and relaxed way. I mainly focus on international travel. Most tips and guides will apply to inland trips as well.
I do hope you find my website helpful. Please feel free to comment, place some feedback and share this site on social media. I am grateful for your input and looking forward to hearing from you.
Lots of fun for you and your family on your adventures, traveling the world and discovering other cultures.
I wish you all the best and safe travels!
Anke
contact me: anke@funtravelingwithkids.com
P.S. A huge thank you goes to Wealthy Affiliate Community. Without the ongoing training and help of this great online community, I wouldn't have been able to create this website.
If you are keen on learning more about building your personal website and even developing an online business click on the link below. I do hope to see you there!