A visit to Europe with the family is on the bucket list for many. Our post shows you some of the best European cities to visit with kids right now.
It has never been easier and more affordable to go on a family vacation to Europe and explore the many different cultures, languages and the ever-changing landscape from rolling hills, majestic mountains, and turquoise blue ocean.
In our quest of finding some of the best European cities to visit with kids, I have asked well-known (family) travel bloggers which European city is the best to visit with your family including their top recommended child-friendly activities you shouldn't miss.
The answers and recommendations are so different as is the European culture, architecture, and scenery. It shows that Europe is not only a fascinating travel destination in its own right but especially worth it to be explored with your children.
Related post: Spain With Kids – The Best Places To Visit With Your Family
Portugal With Kids – Discover Top Places And Things To Do
From the big metropolis like Rome, Paris, and London to smaller cities like Reykjavik in Iceland, The Hague in the Netherlands or Tbilisi in Georgia; you sure find plenty of inspiration and top tips for your next family vacation to Europe.
If you already have a destination in mind, please check out the page contents to find more details about the city/country you are looking for.
Extra tip: The best time to travel to Europe are the months of  April, May, June, September, and October. July and August are traditionally the school holidays in most European countries and therefore crowded with tourists. It can be scorching and of course, prices for accommodation are much higher.
Get inspired and start planning your next vacation to the best European cities to visit with kids.
---
Join Our Friendly Facebook Group "Travels With Little Adventurers" And Share Travel Tips And Advice For Family Travels To Europe, Asia, and New Zealand.
---
The Best European Cities To Visit With Kids
France
Paris
Thank you to Katy from Untold Morsels.
Paris is one of those cities that captures the imagination of the youngest travelers. When I ask my kids which European city they love visiting the most they will always say Paris.
Even though they were quite small when we first took them to the city of lights, they remember it fondly for many reasons.
They loved the city of lights for the iconic Eiffel Tower, our boat trip down the Seine and a ride on the huge Ferris wheel in the Place de la Concorde.
But it wasn't just those iconic sights that made Paris memorable for them. Simple activities like feeding the ducks in the Tuileries Gardens and playing in the Jardin du Luxembourg are etched in their memories. And they adored eating the delicious ice creams at Berthillon, strolling through Montmartre and the many vintage carousel rides.
Paris is great for families because it is compact and easy to get around. Choose a hotel with easy access to the Metro and close to some of the attractions and it is even easier.
Related post: Things to Do In Paris With Kids
When it is time to eat there are so many tasty kids friendly options – from crepes and omelets to half-sized versions of classic French dishes for your budding gourmet. Not to mention the macarons and other sweet treats on every corner.
The one thing you must do when you first arrive in Paris is head straight to the Trocadero square for those iconic views of the Eiffel Tower. This experience sets your family trip up to be a memorable one. Who could forget this first glimpse of beautiful Paris?
For more tips about visiting Paris with kids, please click here.
---
Nice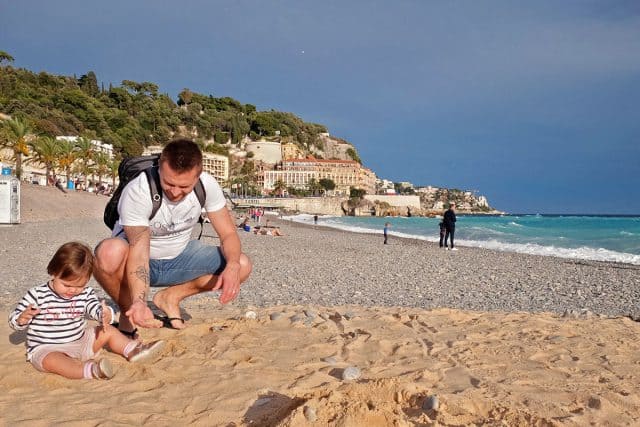 Thank you to Jolene and Andrzej from Wanderlust Storytellers.
One of my favorite cities to visit in Europe with kids is the Southern-France city of Nice. This Mediterranean beach-front city is filled to the brim with plenty of activities for both adults and kids alike. We recommend that you stay in the old town, right in the heart of it all. This way the kids can run around the Italian-like piazza's whilst you enjoy your coffee at one of the many restaurants.
Although Nice has one of the most spectacular beaches in all of France, your kids will probably love to spend more time playing at the famous Castle Hill Park instead. Whilst your little ones play around and exhaust their energy having fun at the playgrounds, you will have plenty of opportunities to snap tonnes of amazing photos of the city from above. The views of the city from the park are to die for!
Another fabulous attraction in Nice for kids is the Promenade du Paillon.  It is a great place to let the kids loose in between the fun water jet fountains and misters.  It also has a fabulous play park for those who prefer to stay dry.
For families keen to hit the beach, we highly recommend that you check out some of the private beaches (like Ruhl, Neptune and Hi Beach). These beaches are more kid-friendly and have some child-friendly play areas as well as kid pools.
Our youngest loved chasing the birds in the Old Town piazza's and you will also find plenty of delicious gelato for the kids (and adults) too.
Nice is a city that you must put on your list of places to see when you are travelling through France for sure! We loved it and know that you will love it too!
---
Reykjavik/Iceland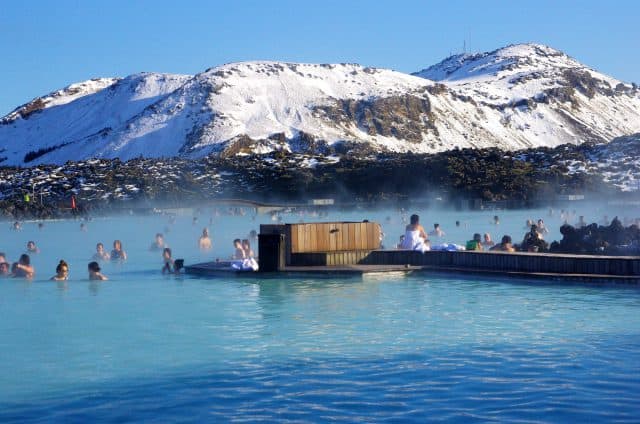 Thank you to Pierre from Anything Under Our Stars.
Nowadays everyone is busy with their own lives making a living that we often forget to live life. Spending time with family has been a challenge when we are so concentrated on our 9-5  work. The best way to have the not so ordinary-quality time with the fam bam is traveling. And what's the perfect place? – The city of Reykjavik, Iceland!
Reykjavik in Spring, and in all types of the season is the perfect place to bond with your family, find new adventures, experience rich culture  / good food, unpredictable weather, and great people.  It is the best city to explore new things together as a family.
You can road trip your way to attractions you have never seen. It is also an authentic way of learning geographical features, volcanoes, animals (whale watching). As a family, you can plan different activities that suffice your adventure-seeking hearts.
And do not forget aurora borealis which is always part of everyone's bucket list of all ages. Seeing those green, blue and white lights shining from the dark sky will surely make you feel like your living in a fantasy. End it off with a laidback, deep soothing dip at the blue lagoon is always a good idea.
Swim in the blue lagoon and indulge yourselves with relaxation activities like mud masks, massages, and spa is perfect for your children and for the parents. Kids too need this once in a while.
So, still not convinced if Reykjavik is the best city to travel with the family?  All the attractions are free of entry (except for the Blue Lagoon). All you have to do is drive your way to the sites. The best things in life are free in Reykjavik.
---
Berlin/Germany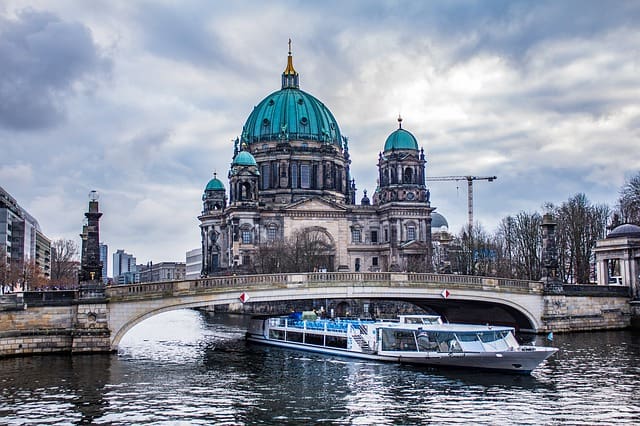 A visit to big cities with kids can be daunting especially when they are quite young. Berlin, German's capital can look quite intimidating at first glance because of its size. Readers of my blog know that my kids and I love visiting this exciting and vibrant city, situated right in the heart of Europe.
Not only travel your kids for free when you are using the extensive public transport system but Berlin has also over 1000 playgrounds where kids can explore, play with water and mud, and try challenging activities. They can mix and mingle with the locals and will quickly find new friends.
Berlin is nothing short of child-friendly cafes and restaurants with yummy treats for your little munchkin. Enjoy your well-deserved cup of coffee while your kids are busy playing with the toys.
It is really hard to point out our favorite activities to do for families but they are a couple of things we highly recommend. We do love the puppet theater in Berlin-Mitte where German fairy tales are being brought back to life. This would also make a great activity for a rainy day.
For hot and sunny days pack your bathing suit, a towel, and head of to the famous Strandbad Wannsee. A hundred meters of fine white sand is waiting for kids to play in. The lake is safe for children as well. You can easily spend there the whole day. There are lots of snack stands for hungry stomachs.
You also need to try local specialties like the Berlin Bratwurst which you will literally find at every corner as well as the Berlin Pfannkuchen, a deliciously deep-fried doughnut filled with jam. Your kids will love it.
For more inspiration for things to do in Berlin, please read our post The Best Things To Do With Kids In Berlin.
---
The United Kingdom
London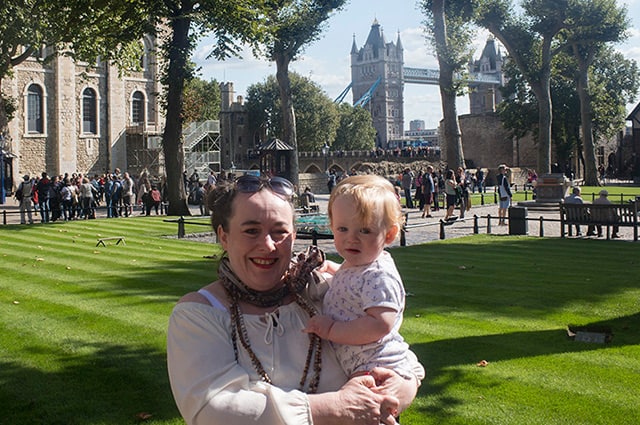 Thank you to David Angel from Travel With The Little One.
We've always loved London – one of us lived there for eleven years – and also found it to be one of the best cities in Europe to visit with kids, having taken our son there several times during baby- and toddlerhood.
Our Little Man has always been a keen explorer – he was a Heathrow to Sydney return veteran by the time he was five months old. And London was to be one of his main introductions to the world.
We'd recommend London for families simply because there's such a wealth of things to do with kids of all ages there.
Our son has loved so many different things about London, from meeting a Chelsea Pensioner in full uniform on the number 11 bus, to see the horses' armor at the Tower of London to trying Jamaican food at Brixton Market. He was also captivated by the busyness and bright lights of the city, especially at night.
The one must-do activity we'd recommend for families in London is to visit some of the museums in Kensington. We only took Little Man to the V&A (Victoria & Albert), one of the world's leading art and design museums, which he thought was wonderful.
However the two museums across the street from the V&A – the Natural History and Science Museums – are both huge hits with kids. And on our return to the city, they'll be one of the first ports of call with Little Man, especially as he's older and will appreciate and understand them more.
---
Edinburgh
Thank you to Marianne from Mum On The Move.
Edinburgh is a great fun city to visit with kids. I lived in Edinburgh for 14 years before I had kids, so I got to know the city well – especially the shops, bars, and restaurants. But returning with two kids in tow was a new experience, and we were pleasantly surprised by how many fun things there are to do with kids here.
Edinburgh is a relatively small city, making it easy to get around with kids, and there is lots of wide-open green space, including the city-center Princes Street Gardens. Most restaurants are child-friendly, and although there are a few hills to conquer, it is generally stroller friendly too.
Scotland's number one paid-for tourist attraction is Edinburgh Castle, which is easily visited with kids, and Edinburgh Zoo and Dynamic Earth are also fun. Our favorite attraction for kids though is the National Museum of Scotland, which is in the Top 20 of the most visited museums and galleries in the world.
There is a lot to take in at this brilliant hands-on museum. From the age of the dinosaurs to the technology of the future, there are more than 8,000 objects displayed, covering everything from science and technology to world culture, transport, and the natural world.
Our kids especially love the Animal World gallery, jammed full of stuffed animals, and also the Adventure Planet gallery where they could dig for dinosaur bones and crawl through the roots of an oak tree to search for bugs. There's even a full-size Tyrannosaurus Rex skeleton. And what's more – it's free!
For more things to do in Edinburgh with kids,  please click here.
---
Bath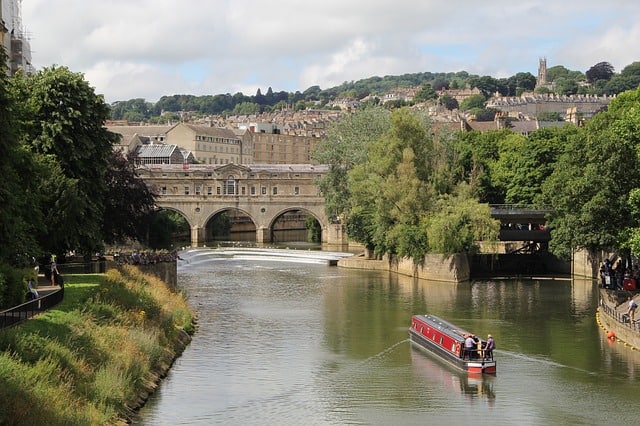 Thank you to Angela from Reading Inspiration.
Bath in the UK attracts large numbers of tourists. However, it doesn't get hectic and is a great place to visit with children. We spent a week there with our eight-year-old and found lots of fun activities.
Taking a boat trip on the river Avon is a great starting point. You can pick up an open-top cruise from Pulteney Bridge. My son was in awe of this amazing sight itself, one of the few bridges in the world to be covered in shops. There is also a kid's maze here.
My son loves history and found the Roman Bath House an amazing site to explore. Visitors can taste the warm spa waters, renowned to have health-giving properties. Be aware – only drink from the outlet at the exit where cups are provided, water from the Great Bath itself is untreated and unsafe! The Roman Bath House gets busy so be prepared to queue.
There are many historic sites and museums in Bath kids will enjoy, and most have activities for children. We particularly enjoyed The Museum of East Asian Art and the Holbourne Museum set in the Sydney Pleasure Gardens, which has regular children's workshops.
For sunny days there are beautiful parks and fun activities like Adventure Golf in the Royal Victoria Park, a short walk from the iconic Royal Crescent.
Our must-do activity for families to do in Bath is to visit BathAquaGlass where you can see glass blowing demonstrations and take part in interactive workshops. It's fascinating for kids and adults to see the art of glass blowing in practice.
---
York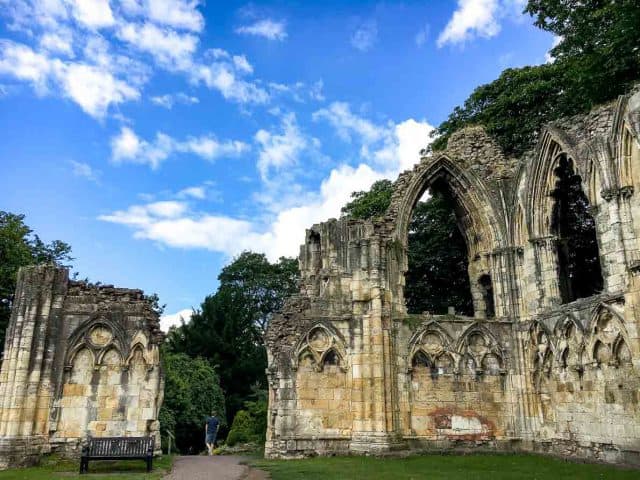 Thank you to Emily Cole from Kids and Compass.
York is one of our favorite cities in the UK.  It's an ancient city which at various points in history, was a large Roman settlement, a Viking stronghold, a Saxon town, and now a modern city.  You can see buildings from all of these time periods during a walk around York's center.  My family and I have visited York several times and it's the perfect place to spend a long weekend.
Walking along York's city walls is one of my favorite things to do in York.  You can explore some of the old towers and get an interesting perspective over the city.  Most visitors to York stop in the York Minster where you can climb the tower.  The nearby Museum Gardens are a lovely place to picnic and let the kids run around.  Look out for the Roman ruins near the entrance, too.
York has plenty of family-friendly museums, like the Jorvik Viking Centre where you can experience the sights and smells of Viking York.  Alternatively, visit York Castle Museum which has a recreated Victorian street.  If you've got older kids then they might enjoy a visit to the York Dungeon where they can learn about York's gruesome past.
A visit to York wouldn't be complete without trying the cakes from Betty's tearooms.  You can have afternoon tea at Betty's or just buy some cakes from the shop to eat in one of the parks.  Although kids might enjoy York's Chocolate Story most – an interactive chocolate museum where you can make your own chocolate lollipop – perfect for kids!
For more tips and information about York with kids, please click here. 
---
Winchester
Thank you to Carl from Travel Better.
Winchester is a great location for family adventures thanks to its accessibility, exciting history, and great food options. In fact, it is so good, we chose to make it our base in the UK.
The city of Winchester is rich in history and this comes alive across the city with many interactive and interesting museums include the City Museum, the Roundtable in the Great Hall and the North Wall tower all providing interesting aspects of the history of Winchester covering Romans, Saxons, Vikings, and Normans. Plus, all these places provide the chance for kids to get involved by dressing up or getting hands-on with interactive models.
Winchester is a nice and compact city so very easy for families to explore on foot and there are plenty of eating options ranging from fine dining options like the Chesil rectory to fast food and bakery choices. One of our favorites for family meals is Dim-T on Jury Street that serves up great Asian inspired dishes and is very family-friendly.
The one must-do attraction families visiting Winchester has to be the Cathedral. For starters, its location in the heart of the city will get families exploring and seeing much of what Winchester has to offer just by walking to it.
Once inside the cathedral, it is a treasure trove of interesting features including the grave of Jane Austen, great views of the city from the spire, and the chance to walk down to the crypt under the Cathedral and view the Anthony Gormley statue Sound 2.
You and your kids can learn about the incredibly brave exploits of William Walker who risked his life by going down underwater and under the Cathedral to shore up the footings and save the Cathedral.
---
Ireland
Dublin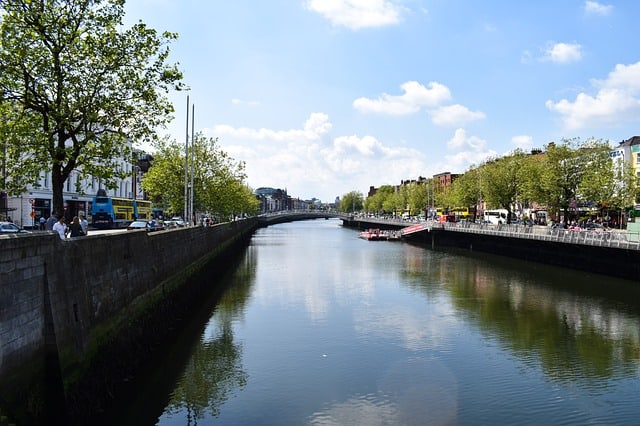 Thank you to Marta from Learning Escapes.
Dublin is a lovely destination for a city break with kids. Its city center is compact and easy to explore on foot, it has beautiful parks with fabulous playgrounds and is well equipped to welcome even the youngest of visitors thanks to play centers, family-friendly hotels, and an overall family-friendly atmosphere.
We have been living in Dublin for over 10 years and we have some firm family favorite when it comes to activities. In terms of sightseeing, my kids love the Viking museum of Dublin called Dublinia: this is an indoor, interactive museum teaching about Dublin's Viking times. You have a reconstruction of the old city, medieval games, and a fun treasure chest to play dress up. Perfect for learning about the city while having fun.
If the weather allows, we also like to explore the city parks and even stretch out legs to the outer neighborhoods of Dublin such as Howth, along the coast.
This part of Dublin is outside of the city center but it has beautiful scenery and something that usually kids cherish: seals! They live in the cold water of this old city fishing harbor and bob up and down in front of the many fish restaurants in the area. They are always a hit with the kids and this proximity to nature is typical of Dublin, which one of the main reasons why I think a trip here as a family is just fabulous!
You can learn more about visiting Dublin as a family here.
---
Cork