Travel Planning Guide
There are so many things that you have to keep in mind when you plan your vacation. It can be quite overwhelming especially if you travel with one or more children.
I highly recommend to plan ahead and create a Travel Planning Guide/ Checklist of what you need to organize before you go on your well-deserved vacation.
That may change depending on whether you are traveling abroad or domestically. If you go through the list below it will give you a good overview of things you can add to your personal to-do-list.
I have also divided this guide into three different timelines to make it more practical for you.
So ready, set, go:
Travel Checklist

  
Things To Get Ready
6 to 9 Months Before Your Journey Begins
Passports/Visa
Flight tickets
Rent a car
Accommodation
Important Things To Organize
3 Months Prior Your Journey
Travel Luggage
Vaccination (if needed)
Credit card/Multi- currency cash passport
Pets – who can look after them
Things To Do
1
Month
Before Traveling
What to pack
Get your (travel) documents ready
Prepare travel activities for kids
Let's talk about these things in more detail
6 to 9 Months Before Traveling
Passports/Visa
First and foremost check if your passport is still valid! Otherwise, you better get it sorted! For most travel destinations children will require their own passports which are usually only valid for five years.
Check if you need a visa for your travel destination. In most countries, you can stay for up to three months on a visitor's visa.
Another important thing to keep in mind is that your passport is still valid for at least 3 months beyond the length of your stay. For example,  if you are going to Europe in July and plan on leaving in August, your passport needs to be valid until November the same year.
If your passport is due to expire in October, you could be in trouble.
---
Flight Tickets
If you are organizing everything by yourself, a Flight Search Engine (such as Jetradar) is a good way to start.
I personally use a travel agent though, because I have found it too complicated to book multiple flights including layovers etc. by myself.
I tend to book at least six to nine months in advance to get hold of the best possible deals. Getting great deals is probably one of the most exciting parts of the planning process.
If you are flying with a baby, enquire with the airline about the use of bassinets.  These are suitable for children under two years of age who don't exceed a certain weight. Your baby can sleep or just lay in there.
It will make your journey so much easier since you don't need to hold the baby the whole time on your lap.
---
Rent a Car
When you arrive at your destination, the best way to get around is often by car. Choose a roomy, comfortable vehicle with lots of storage space for your luggage.
Please check with the company about children's car seats.  Each country has different car seat regulations (for example, in New Zealand my 11 -year- old doesn't need a car seat anymore but in Germany, I had to organize a booster seat for him)
Our recommended car rental company is CarRental8.
CarRental8 – Get a Great Car Rental for Less. Compare Discounts in 125 Countries!

---
Accommodation
So where would you like to stay? In a hotel, an apartment, or a holiday home? The choice is yours and depends on your personal preference.
I prefer to stay in an apartment or vacation home where possible. It feels just like being at home.
Our preferred booking engine is Travelocity Hotels – Low Rates GUARANTEED

Please book well in advance to get the best options at the best prices.
---
3 Months Before Traveling
Travel Luggage
Now it is time to think about what travel luggage you will need for your upcoming trip.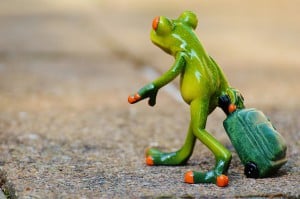 When it comes to luggage, in most cases I  prefer spinner suitcases on wheels to backpacks. I find suitcases easier to pack and easier to handle – it's that simple.
Since the airlines have weight restrictions (between 23kg and 33kg) on luggage, I also choose textile suitcases because they are so much lighter. In my opinion, they are just as sturdy as the hard shell version.
Besides the check-in luggage, I also take a carry-on luggage to have essentials like a set of changing clothes, warm socks and a blanket for the plane, and smaller items for my kids on hand.
Children from the age of three can carry their own little backpack as well as pull the smallest trolley case as carry-on luggage. You will be surprised at how much you can fit into these little suitcases.
Related posts: My Top Travel Luggage for Cool Boys and The Best Travel Luggage for Girls.
This way they can pack they favorite toys, a cuddly blanket, and some clothes on the plane.
From the age of ten, they could even carry/roll a medium sized (24inch/61cm) trolley case.
---
 Vaccination
If the country you are traveling to requires some sort of vaccination, e.g. Malaria or Hepatitis, now would be a good time to make an appointment with your doctor.
---
First Aid Kit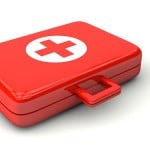 A First Aid Kit is a must-have in your hand luggage. You can buy lightweight kits, or you can put your own kit together.
I prefer the latter since I think there is not a lot you need. My personal first aid kit contains plasters', gloves, a thermometer, and a few natural remedies.
[for my in-depth post about what to pack in your travel first aid kit,
please read here
]
---
Travel Insurance
Before you go on vacation, you should obtain travel insurance which will cover your medical expenses when you travel to another country. Most travel insurances are very comprehensive.
It also covers lost or stolen luggage/items, hospital costs and other crucial things that could costs you thousands of dollars.
It is important that you read the terms and conditions and review what is not covered by the policy.
The great news is that children are usually included in the policy at no extra cost.
More information about travel insurance and why it is so important to have is covered in my post on How to buy the best family travel insurance.
---
Credit Card
The most widely accepted and therefore used Credit cards are Visa and Mastercard. You can't go wrong when you choose either of them. Check with your bank what the fees are for foreign transactions. The best option usually is to withdraw money from an ATM rather than going to a money changer.
 Important note: Let your bank know that you are going abroad. Otherwise, they might put a hold on your card when you are using your card in a different country. It happened to me while I was in Vietnam years ago. You can imagine; it is not a good feeling if you can't access your money.
Multi-Currency  Cash Passport
When we traveled to Europe last year, I used a multi-currency cash passport for the first time. It is a prepaid Mastercard which is double protected by a chip and a Pin number. The best feature is that you can preload the card with up to five different currencies; some even offer up to nine currencies. That way you lock in the exchange rate before you go on a holiday.
As far as I know at this stage (April 2016) this multi-currency cash passport is available in the United States, United Arab Emirates, Australia, New Zealand, Brasil, Japan, UK, Malawi, South Africa, and Zimbabwe. If you like more information about this cash passport, please check this site.
I would recommend using this card. It is safe and secure to use, and you are in control of your finances. You can reload the card by online banking as often as you like. You even get a second card with a different pin number as a backup, just in case …
---
Pets – Who Is Looking After Them?
Do you have pets at home? If the answer is 'yes' then you'll need to make arrangements for looking after them. You may have a relative or friend who is happy to take care of them.
If not, you may need to get in touch with a 'dog&cat' motel or pet sitter.
---
1 Month Before Your Trip
What To Pack
The time is getting closer to your vacation and everyone is getting excited.
When you have a baby or a toddler, you need to think about if you have to take the following items on your trip
Please read our post The Best Travel Gears For Babies And Toddlers for more ideas.
---
Get Your Travel Documents Ready
Before it gets hectic, get all your documents together like travel insurance, passports, flight tickets, maybe some cash in the required currency, contact details for the booked accommodation, and details for your rental car.
Related post: 17 Must-Have Travel Accessories For International Travel.
Make sure to make photocopies and put them in a separate folder.
---
Prepare Travel Activities For Your Kids
Whether you are going by car, train, bus, or plane – it pays to get some travel activities ready to keep your kiddos entertained.
That could be a simple game like 'I spy', a few audiobooks, some books, or crayons plus paper for some doodling. Don't go overboard and keep it fairly simple. It really depends on your child's personality and how active they are.
I have written a couple of posts that will give some ideas on what you could do and bring for your next trip.
Free Fun Travel Activities For Children
and
Our Ultimate List Of The Best Travel Toys for Toddlers
---
I do hope my travel planning guide will help you to get ready for your next family vacation more relaxed and well prepared.
Here is the link to print the guide or download as PDF.
How are you planning your trip? What is the one single item you have to have in your first aid kit? What credit card do you prefer to use?
Please feel free to leave a comment below.
Have Fun and Safe Travels!
anke@funtravelingwithkids.com