A visit to New Zealand is on the bucket list for many travelers, especially families. There are lots of things to do for families with kids on both the North and South Island. From nature walks, surfing, tramping, playing at beautiful beaches and stunning lakes, interactive museums, and wildlife parks, New Zealand is nothing but short on family-friendly experiences.
Our post lists ten top things to do with kids in NZ's North Island so you can plan your vacation for a family trip of a lifetime.
We have listed not only free exciting family-friendly ideas but also paid activities for any budget and travel style.
So, pack your bags, book the flights and accommodation and head over to Aotearoa (the land of the long white cloud) New Zealand.
Related posts: 10 Tips For Family Road Trips In New Zealand
Things You Should Know Before Visiting New Zealand
This post takes you on a journey from Auckland down to Wellington. We hope you will get inspired by these fantastic kid-friendly experiences.
---
Top Things To Do With Kids In New Zealand's North Island
A Visit To The Auckland War Memorial Museum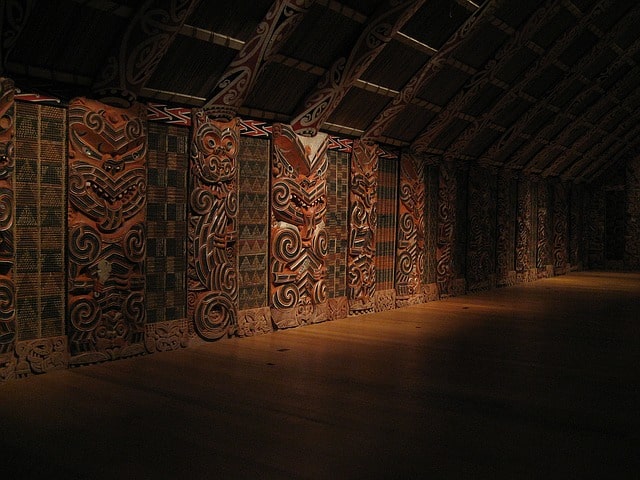 Your starting point when you visit the North Island will be most likely Auckland, a multicultural melting pot and with 1, 5 Million people the largest city of New Zealand.
The Auckland  Museum is sitting on top of the remains of a dormant volcano, with beautiful views right up to Auckland's harbor.
There is so much to explore on three levels, and most likely, a visit to NZ's most important museum will be your first encounter with Aotearoa's fascinating Maori culture. In fact, Auckland Museum exhibits the largest and most significant collection of Maori Taonga (treasures) in the world. It is breathtaking to see (and feel) a hand-carved full-sized meeting house (Wharenui) or the last great war canoes (waka) which was carved from a giant Totara tree.
You and your family can also enjoy a 30-minute cultural performance which takes place every day at 11 am, 12 pm, and 1.30 pm for an additional fee.
Your children will love the 'Weird and Wonderful' gallery, specially designed for kids to explore science and nature through hands-on activities.
Need a break? The kai room ('Kai' is a Maori word and stands for 'food') is a family-friendly area where you can eat your own refreshments and drinks. It is a colorful space with dining tables and provides lockers, a changing table as well as toilets.
Opening Times: Daily from 10 am – 5 pm
Admission: Family Pass: 2 Adults and up to 4 Children: $60; under 5's are free
Admission (general admission plus cultural performance): Family Pass: $100; NZ families: $72.50
Website:Auckland Museum
---
Rainbows End – The Only Themepark In New Zealand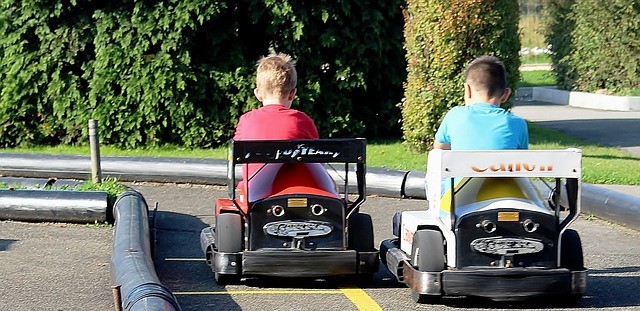 Join the fun at Rainbows End in Auckland and enjoy a day of thrilling rides, or for smaller children the specially created Kidz Kingdom area. The Kidz Kingdom is best suited for kids eight years and younger and offers seven rides including Magic Bikes, Carwash Convoy, or Choco Express.
There is a huge roof for the outdoor area that protects the littlies from the rain and NZ's harsh sun.
The newest attraction is the AA Drivers town where kids up to 12 years old can go for a drive in a mini Suzuki Swift. These young drivers navigate their way through a miniature village with roundabouts, pedestrian crossings, and even traffic lights.
If you need a stroller to get around with ease, just stop by the Guest Service or the Kidz Kingdom and hire one for a small fee.
Please note that the rides operate on a schedule during the week. You'll find the timetable on the website.
Opening Times: Monday to Friday: 10 am – 4 pm; Weekends and Holidays: 10 am – 5 pm
Admission: Spectators: Weekdays $7; Weekends/Holidays $18; Family (2 Adults and 3 Kids) $265; book online $245
Website (for more info and to book your tickets): Rainbows End
---
Get Digging At The Hot Water Beach – Coromandel Peninsula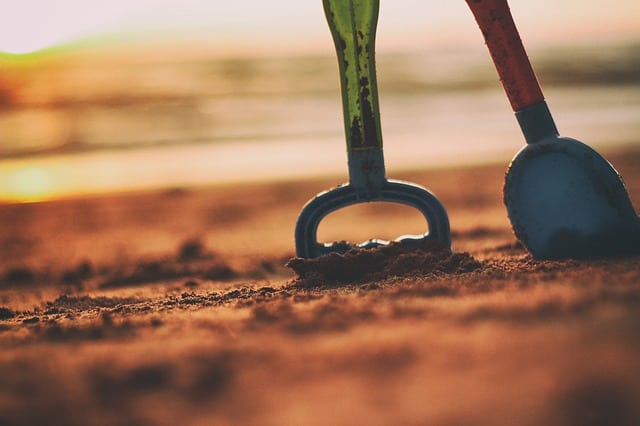 The Coromandel Peninsula is a beautiful coastal area with pristine white sandy beaches and lots of (family-friendly) things to do. It is only a short 1-2 hour drive away from Auckland, depending on where you are going.
One of the most famous attraction besides the Cathedral Cove is the Hot Water Beach which is around 170 km away from Auckland, easy to reach by car.
The Hot Water Beach is one of only a few beaches in the world that has thermal springs flowing underneath it. Two hours before and two hours after the low tide, dig a hole in the beach, and it quickly fills up with hot water.
It is fun for the whole family. You don't even need to bring your own spade. Simply hire one when you get there.
Tip: The beach can get crowded especially in Summertime. It is best to go when the weather is a bit cooler. Swimming in the ocean is not safe due to strong currents. Just enjoy the view and your own hot tub.
There is a car park with restrooms and showers nearby where you need to pay either $2/ hour or $15/day. Alternatively, there are also two smaller free car parks available as well.
Getting There: Mercury Bay – east coast of the Coromandel Peninsula, 12 km south-east of Whitianga
Website:Hot Water Beach
---
Watching Glowworms
Seeing glowworms at night is one of the most magical experiences you can do with your kids. New Zealand has so many places where you can observe these beautiful glowing maggots whether in a cave or outside in bushes or trees.
One great opportunity to watch glowworms is on the bushwalk to the Hot Water Beach. Of course, you'll need to go there in the dark but with a torch its no problem.
The bushwalk starts at the Hot Water Beach carpark, opposite the Top 10 Holiday Park. Follow the walkway to the beach and see the glowworms shining their luminescent light.
---
Rainbows Springs Nature Park In Rotorua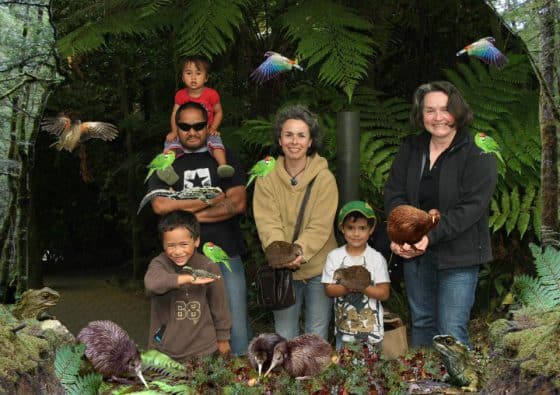 Now, we are heading to the center of the North Island, to one of New Zealand's central tourist area, Rotorua. It is a 3hours drive away from the Hot Water Beach.
Rainbows Springs Nature Park is one of our favorite places to go. It is fun for the whole family. Kiwis ( a New Zealand native bird that cannot fly) can be admired in their natural habitat which is an amazing experience.
With your day pass, you can go back in the evening and watch them in the outside area (without a glass window) even closer.
Related post: Things To Do In Rotorua With Kids
Other rare birds and animals include the Tuataras, Wekas, Moreporks, Keas, and Kakas.
Throughout the day you and your children can watch the Eels Feeding, Trout Feeding, exotic birds, and Water Dragons, just to name a few.
Our kids just loved 'The Big Splash,' an adrenalin racing water ride that plunges down a 12-meter drop. The trip lasts 9 minutes and takes visitors through New Zealand's history. I do love the whole ride, even the finish. I must admit, I am a bit of a scatty cat when comes to rides. 🙂
My son loved it so much and went on the ride a few more times. The great news is that the Big Splash is included in the Parks admission and you can hop on as often as you want. The age and height restrictions are as follow: the child must be five years old and must be taller than 106cm.
After all the excitement, it is time to relax in the large picnic area where you can hand feed some farm animals right next to it.
Admission: Family pass (2 adults plus 3 children) $99; Adult: $40; Child (3 – 15 years) $20; Infant (0-2 years) free
Opening Times: Daily from 8.30 am
Where: 192 Fairy Springs, Rotorua
www.rainbowsprings.co.nz
Related Post: Things To Do In Rotorua With Kids
---
2.2. Skyline Rotorua Luge And Gondola

Right next door to Rainbows Springs you'll find Skyline Rotorua Luge and Gondola. Take a 900-meter ride up the hill of Mt Nongotaha on the Gondola and enjoy magnificent views of Lake Rotorua, Mokoia Island, and the city itself.
On top of the hill, you can have lunch at the 'Stratosfare' restaurant, go on the Luge or explore the nature trails.
The luge has been invented by New Zealanders in 1985 and has become a worldwide success. Tourist can enjoy a Luge ride in Canada, Singapore, South Korea, with more international locations to come.
You can choose from three different tracks which all lead you downhill through beautiful scenery. The Scenic Luge Track is best suited for children. Kids must be at least six years old and 110cm tall to ride down without an adult. Otherwise, they can go for a tandem ride with mom or dad.
Admission: Family pass [2 Adults plus 3 Children (5-14 years)] Gondola plus 5 Luge rides $99; for more price packages please click here.
Children under 5 are free but for a tandem ride on the Luge, it's $2.
Opening time: Daily from 9 am
Where: 178 Fairy Springs
www.skyline.co.nz
---
Free Hot Pools In Kawerau
Kawerau is a small township in the Eastern Bay of Plenty, often overlooked by travelers because it is situated off the usual tourist route. It is only an hour away from Rotorua, on the way to Whakatane, one of the sunniest regions in New Zealand.
Even though you'll find lots of natural thermal hot pools in the Rotorua and Taupo area, this thermal pool in Kawerau is special. It is layout as a swimming pool area with a 30 m pool plus two smaller pools for children.
For pure bliss, there is brand new large spa pool with a small waterfall cascade that will relax those tense shoulder muscles.
Best of all, all pools, except the large pool, as well as the picnic and bbq area have sun shading.
Kids will enjoy the water play feature and play areas. The staff is friendly, and the lifeguards are present at all times.
There are new changing room facilities with heated flooring available as well. To stay hydrated, a free water fountain is there to quench your thirst.
Tip: Not far from Kawerau is the hike to the beautiful Tarawera Falls and Lake Tarawera with a basic campsite. Check in to the Kawerau Information center for detailed information and also to get the Tarawera Forest Access Permits (cost $5). It is worth it!
Kawerau Pools Opening Times: Monday – Friday 8 am – 6 pm; Weekends: 8 am – 8 pm
Admission: FREE
Where: Glasgow Street; Kawerau
---
Take Surf Lessons At Ohope Beach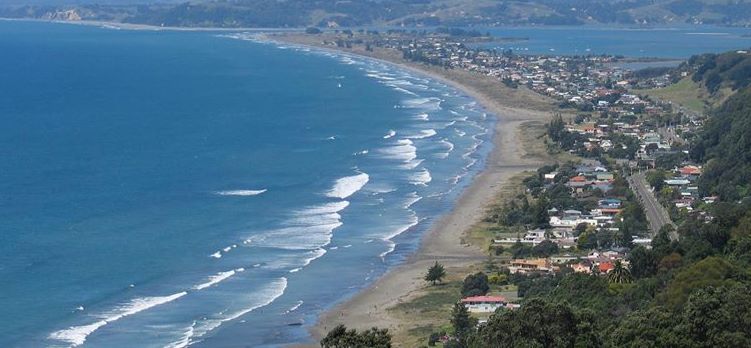 Let's head further south-east, pass Whakatane, over the hill, and you will be greeted by a gorgeous sight of the blue ocean framed by a long stretch of white sand. In fact, Ohope Beach is voted as NZ's most loved beach.
11 kilometers of easy walkable beach, crystal clear water, safe swimming for kids and access to stunning coastal walkways – no wonder Ohope Beach is so popular with locals and tourists alike. It never feels crowded though. 🙂
What better place than going for a surf or taking surf lessons to get started with this fantastic past time.
The 'Salt, Spray, Surf' school is run by friendly local surfers and will make you feel welcome. Deb, the owner of the surf school, is one of the friendliest people you will probably meet on your travels.
Beginner lessons are available every day between October – April and include surfboards, wetsuits, rash vests, and sunscreen. Regarding the other months, please get in contact with them.
For more information and to book surf lessons, please click here: SaltSpraySurfSchool.
Tip: Along the stretch of Ohope township, you' ll find two playgrounds for more kid-friendly entertainment. If you are getting hungry, "Chez Louis" bakes delicious woodfired pizza. Sit outside in the garden setting and enjoy the stunning views of Ohope Beach.
---
Weta Studios In Wellington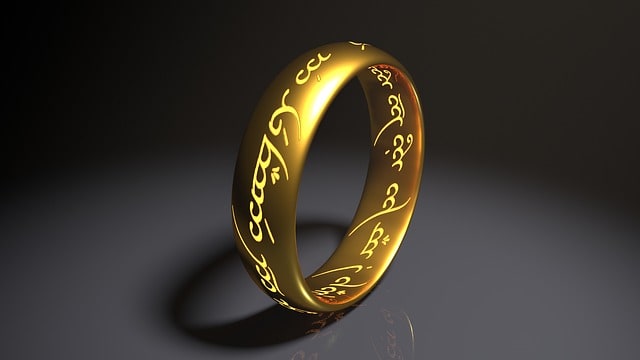 Are your kids into the 'Lord Of the Rings' movies, 'Tin Tin,' 'The Chronicles of Narnia or 'Thunderbirds Are Go' then a visit to the Weta Studios in NZ's beautiful capital Wellington is a must.
Have a look behind the scenes of the Weta Workshop and see how the Oscar-winning props are being made in this exciting place. In general, the entry into the Weta Cave is free and so is the screening of the short film that shows every 30 minutes.
But to get an excellent insight, it is best to book one of the two available guided tours. 'The Weta Cave Workshop' and 'Thunderbirds Are Go Experience Tour' are each 45 minutes long and will excite young and old moviegoers alike.
The tours are best suited for kids over six years of age. We recommend booking the tours in advance since they are hugely popular.
Opening Times: Daily (closed Christmas day); 9 am – 5.30 pm
Admission Tours:  Adults $28, Children $13; Family Pass (2 Adults + 2 Kids) $72, Kid's under 5 are free
Website: Weta Studios
---
Te Papa Museum Wellington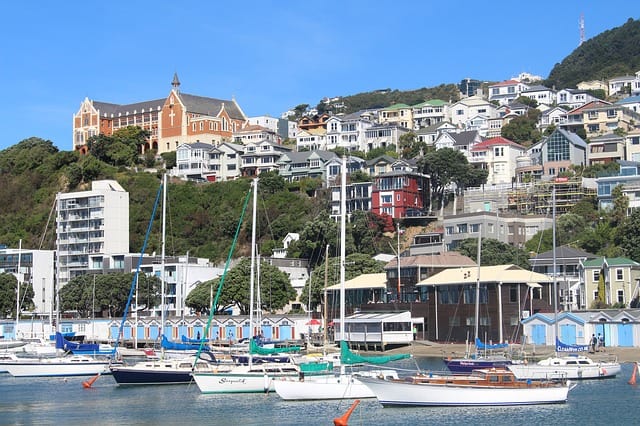 New Zealand's National Museum 'Te Papa' is such a gem and a magnet to over 1.5 Million visitors a year. It is beautifully located right at Wellingtons harbor front.
Besides an impressive Maori exhibition there are lots of hands-on family-friendly activities to explore. Toddlers will love the story place with books, puzzles and storytelling every day at 10.30 am, 11.30 am, and 1,30 pm. For a small cost of $2 for kids and $2 for adults, your toddler will have such a fun time.
The three Discovery Centre's will keep children up to 12 years of age entertained for hours. Inspect an insect under a microscope, dress up in a Maori costume, prepare a Hangi, or go on Scavenger Hunt in Bush City (the museum's artificial outdoor area) – there is so much to do and to explore. You and your kids will love it!
Opening Times: Daily (except Christmas Day); 10 am – 6 pm
Admission: FREE
Where: 55 Cable Street, Wellington
Website: Te Papa Museum
---
Our Recommended Travel Resources
---
We do hope this list of family-friendly activities gives you inspiration and ideas on what do to with your kids on your next vacation in New Zealand. Of course, there is so much more to see and to explore.
If you find this post helpful, please share with your friends and family on social media.
Safe Travels!
---
Please note: this post contains affiliate links.