A trip to Spain with kids should be on top of your bucket list with so many wonderful child-friendly places to visit.
Spain is a fascinating country with a diverse culture and ever-changing breathtaking scenery. Spanish people are well-known for their friendliness, hospitality, and kindness.
Just a while ago I was asking other (family) travel bloggers about the best cities to visit with kids in Europe and so many of them recommended various Spanish cities and places.
So I decided to put this special post together that features some of the best places to visit in Spain with kids.  Many well-traveled bloggers are sharing their experiences and top tips on exploring Spain with kids. A big 'Thank You' to all of them.
I am sure that you'll find lots of inspiration and valuable information for your next trip to Spain with kids in our comprehensive post. So pack your gears and head over to one of the most beautiful countries in Europe.
---
Join Our Friendly Facebook Group "Travels With Little Adventurers" And Share Travel Tips And Advice For Family Travels To Europe, Asia, and New Zealand.
---
Spain With Kids – The Best Places To Visit
Barcelona
Thank you to Justine from Latitude FortyOne.
Its warm climate, vibrantly colorful modernist buildings, and outdoor lifestyle make Barcelona a magnet for traveling families. While it has a variety of things to do, you never run out of ideas or places to explore.
Barcelona is made up of different neighborhoods. It's Old City, "La Ciutat Vella", is full of middle-aged cobblestone streets, Gothic churches, and spots to discover the ancient Roman city of Barcino.
The beach area like Port Olimpic, La Barceloneta, and Poblenou, have wide promenades to stroll, restaurants and sweets shops, and several fun playgrounds to romp in. And kids will love seeing the famed architect Antoni Gaudí: the vivid Park Guell, the towering Sagrada Familia basilica, or his chameleon-toned Casa Batlló.
But it's not just the sights that make Barcelona a popular family destination. The strong family culture encourages children to explore and be outside, peacefully cohabitating this world with adults!
It's no surprise to see young children out at a terrace restaurant past 11 pm on a warm summer day. It's probably why everyone can enjoy the plazas and the public square – for adults to enjoy a meal or coffee while their kids kick around a ball or enjoy the playground.
One must-see spot is the Castell de Montjuic (Montjuic Castle) for kids to explore. Kids will love catapulting themselves into the middle ages – getting behind defunct canons and getting sweeping views of Barcelona and the Mediterranean Sea. Exploring the surrounding area of Montjuic is refreshing as well because it's less congested with tourists and a fantastic way to cap the evening of all-day Barcelona sightseeing.
For more inspiring tips on Barcelona with kids, please read more here.
---
Valencia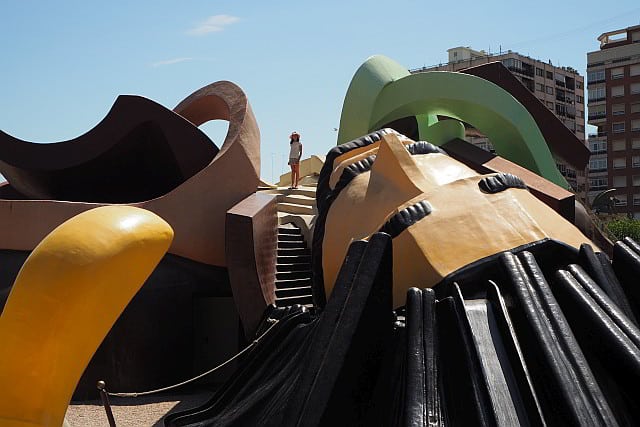 Thank you to Rachel from Adventure And Sunshine.
Valencia is a family-friendly city bursting with fun and engaging things to do with kids. We found the city to be relaxed, safe and easy to walk around as well as accessible by bus, tram, and train.
Our first stop was the Central Market. Housed in a spectacular building, it is considered to be one of the most beautiful markets in Europe. We admired the fresh produce, picked up supplies for a picnic and tried the local drink, Horchata.
Walking the streets around the central market you will come across another great feature in Valencia – street art. There is an impressive array of street art throughout the city, particularly in the area around El Carmen in the north of the city. The kids loved searching murals out as we wandered along the streets.
Our best recommendation for Valencia with kids is to make your way to Turia Garden Park, an enormous green area established on the former Turia River. Complete with bike paths, lakes, sports grounds and playgrounds it is the perfect place to play, picnic and spend an afternoon with kids.
The kids particularly enjoyed visiting Gulliver Park. Not far from the City of Arts and Sciences (which is also worth a visit), the park is dominated by a huge 70m representation of Gulliver, from Gulliver's Travels.
Gulliver has been transformed into a fun climbing playground with ropes, slides and body parts to climb! It was one of the most novel playgrounds we have been to and the kids loved exploring this free park.
---
Girona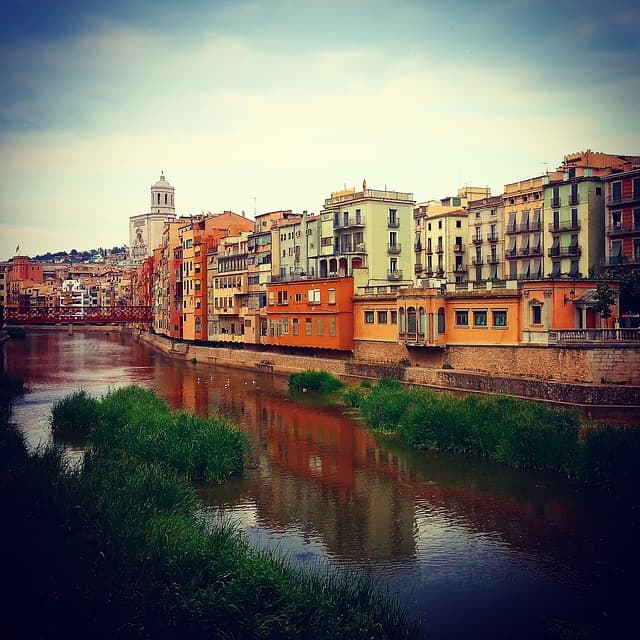 Thank you to Kirstie from Family Adventure Project.
If you have older teens, the Catalan city of Girona is a really good option. Entice them there with Game of Thrones Tour led by one of the extras in the series. Or keep an eye out for filming in the city; parts of the Jewish Quarter became Braavos while we were there.
Whatever age your kids are, be sure to take them to one of the best ice cream shops in the world. Rocambolesc is owned by one of the famous Roca brother chefs who run the local Michelin starred restaurant E Celler de Can Roca and it's all very Willy Wonka.
Take your ice cream to one of Girona's green spots or down to the river to people-watch. Girona has eleven bridges and some are tourist attractions in themselves.
Girona is also a gateway to the Pyrenees where you can explore the mountains on a guided ride with Eat, Sleep, Cycle
If you prefer to chat cycling with a coffee in your hand, La Fabrica café is run by a former cycle champ and packed with memorabilia and energy-giving cake.
---
Santiago De Compostela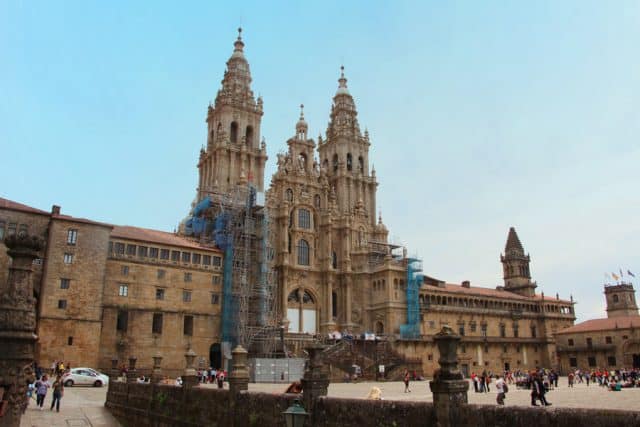 Thank you to Campbell and Alya from Stingy Nomads.
Santiago de Compostela is a great Spanish city with an interesting history, beautiful historical center, stunning cathedral and bakeries selling delicious pastries and desserts. The history of Santiago de Compostela dates back to the 9th century when the remains of the apostle St. Jacob were discovered.
The main city attraction is the cathedral where if you're lucky to be here during the religious celebration like Easter, Christmas or when somebody pays for it (400 Euro) you can see a fantastic ceremony called Botafumeiro. During this ceremony, a huge censer filled with 40kg of charcoal and incense that is suspended from the dome is swung by eight men. It's truly impressive for both adults and children.
The city is surrounded by hills and forest, there are several walking trails through the parks where kids can spot some cute animals like squirrels, rabbits, and many birds. If you travel with small children the best way to explore Santiago is by taking a tourist train that runs through the city center and stops at all main city attractions. The entire ride is 45 minutes.
Another thing not to miss in the city is the Natural History Museum, children of any age will enjoy it. There they can see animals from different parts of the world in their natural recreated habitat, plus there is a nice playground nearby.
If you prefer an active vacation and your kids are a bit older you can venture and walk the last stages of one of the Caminos de Santiago, famous pilgrimage routes that start in several Spanish and Portuguese cities and finish at the cathedral of Santiago. It's an interesting and different experience for you and your children.
---
Tarifa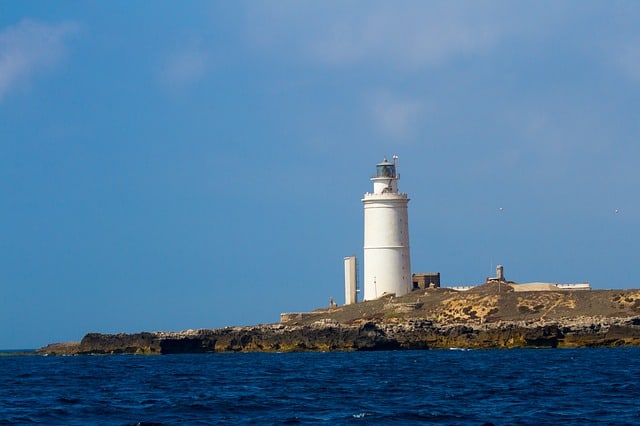 Thank you to Nina from West Australian Explorer.
Tarifa is a gorgeous little town located on Spain's most southern tip and only a quick ferry trip from Morocco.  The fortified old town has loads of charm as well as plenty of cozy cafés, restaurants, and boutiques. It's the outdoors though that is the real star for any visit to Tarifa. Its climate, amazing beaches and wide-open spaces make it a superb destination for a huge range of sports activities suitable for the whole family.
The town's main claim to fame is the wind and Tarifa has long established itself as Europe's mecca for wind and kitesurfing. There are literally hundreds of kite and windsurfers along the coastline anytime the wind blows. No surprise then, that learning to wind or kitesurf is one of the main attractions of Tarifa.
While learning to kitesurf is not recommended for children under 12, windsurfing was a great activity for our seven-year-old who takes to any aquatic activity like fish to water. The best place to learn windsurfing in Tarifa is at Valdevaqueros, located a few kilometers south of Tarifa town. Here the little lagoon at the end of the river gives beginners and kids a safe spot to learn.
If water sports are not for you, or the wind stopped blowing, which it rarely does, Tarifa has plenty of other outdoor activities to try. We loved sunset pony rides along the gorgeous beach, mountain biking in the adjacent hills, stand up paddleboarding and on our next time we'll have a go at rock climbing.
---
Cordoba
Thank you to Rosa from Awesome Andalucia.
Cordoba is a lovely walkable city that is easy to enjoy with kids. Try to plan your visit when the weather is not too hot and you will find many places to explore.
If you happen to be in Cordoba during one of their many festivals it can be fun for all ages. The spring Feria is one of the best in Andalucia, with prancing horses, ladies in colorful dresses and a carnival complete with rides. Another spring festival celebrates Cordoba's lovely patios bedecked with fountains and flowers.
The Mezquita-Catedral is Cordoba's most famous sight. This remarkable structure has an ornate cathedral built inside an ancient mosque. There is a lot of open space to roam but it can get quite busy in the high season.
It is best to head here earlier in the day before the crowds arrive. It's also usually nice and cool inside even when the day is quite warm.
Outside the Mezquita-Catedral there are usually horses and carriages waiting to take tourists around the city. You could take a ride or just check out the pretty horses.
My favorite Cordoba sight to visit with kids is the Alcazar de Los Reyes Cristianos. Head up to the tower and fortress wall for views from above, then explore the large gardens. There are fountains, flowers and lots of space to explore. Bring a snack and drinks and relax on a bench for a bit.
The historic Roman bridge is car-free and a nice place for a stroll. In the evening you can watch the swallows swoop over the Guadalquivir river, catching insects for their dinner.
Visiting Cordoba in the summer? Avoid high temps by limiting time in the afternoon sun. Do like the locals and take a break inside during the hottest part of the day. Another way to beat the heat is to visit the Aqua Sierra waterpark just a few minutes outside of town. It can be reached by public bus if you don't have a rental car.
Cordoba also has a fabulous playground known as Ciudad de Los Niños. At the moment it is under restoration but should reopen soon.
Click here for more things to do in Andalucia.
---
Seville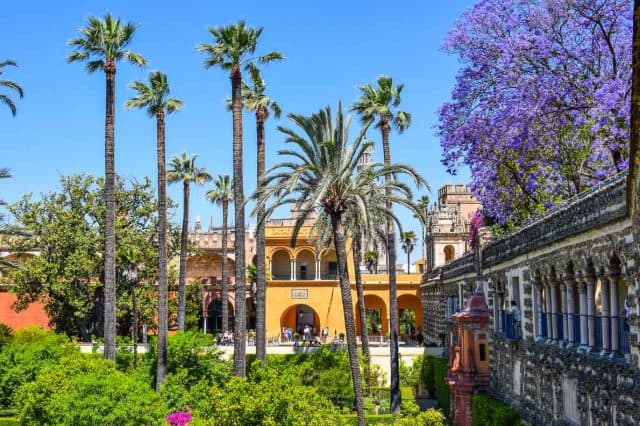 Thank you to Emily from Kids And Compass.
Seville is the largest city in Andalusia, southern Spain.  It's a fabulous city for families to explore as there's something for everyone.  It's definitely one of the best cities we've visited with our young children.
Seville has incredible history and architecture as it was once part of Moorish Spain, so you can find Islamic influences all over the city.  One of Seville's highlights is its beautiful Alcazar, a former Moorish Palace.  While adults will appreciate the intricately carved building more than kids, the waterfalls in the stunning gardens will enchant children.
Another wonderful green space is the Maria Luisa park, not far from the Alcazar.  This park is ideal for kids who can let loose and explore or take a horse-drawn carriage ride around the park – this was our daughter's favorite thing to do in Seville.  The carriage rides stop at Plaza de Espana, a fabulously over the top pavilion decorated with beautifully tiled alcoves.  You can take a boat ride in the semicircular lake which is a sure-fire hit with kids.
For older children, a visit to Seville's cathedral shouldn't be missed.  The view from the top of the bell tower is incredible.  Inside the cavernous interior, kids will love looking at the golden treasures displayed in some of the interior rooms, and looking for Christopher Colombus' tomb.
Other activities you could do with kids include visiting Seville's bullring; walking around the top of Las Setas (the biggest wooden building in Europe) for a view over Seville; or taking a relaxing boat cruise along the river.  And who could forget flamenco – make sure you visit the museum and see a show in the evening.
You're certainly not going to run out of things to do! Please click here for more things to do with kids in Seville.
---
Almeria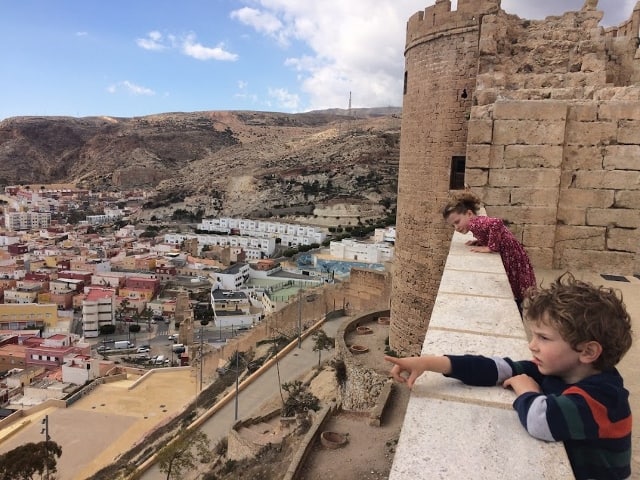 Thank you to Chantal from Earth Nomads.
Would I take my kids back to Alméria? In a heartbeat. This somewhat lower key town in the south of Spain has many tourist attractions for adults. But more importantly, between the beaches close to town and the numerous parks, children can play their hearts out.
Parque de las Familias stood out for us. Between the various playgrounds, kids are entertained for hours while you get a chance to connect with the locals. There are slides, climbing towers, swings, fountains, and sand. It's one large park for everyone, whether you have a toddler in tow or a tween. The park is a great place to exercise.
If you do want to see more traditional parts of the town, you can easily bring kids to the Alcazaba. This fortress on top of a hill offers little waterways as well as spectacular views of the city and the Mediterranean. Plenty of stairways allow for everyone to get energy out, which is not unimportant when traveling with little ones.
Read more about Alcazaba here.
Down the hill from the Alcazaba is Parque Nicolás Salmurón. When walking this green strip along the coastline, you hit one little playground after the other. The ancient trees are gorgeous.
You are now walking distance from the Cathedral. We enjoyed it on the outside and walked on to have hot chocolates and cappuccinos at the Plaza de la Virgen del Mar. Not crowded so you can enjoy your coffee while kids run around. To top it off here are several landmarks where different movies were filmed last century.
A visit to Alméria is both educational and relaxing. You decide the balance.
---
Tenerife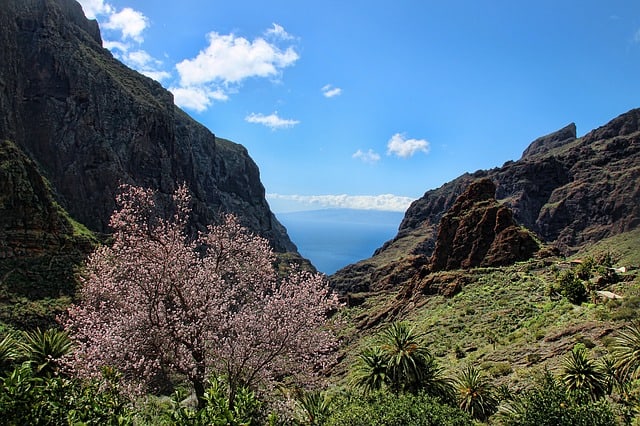 Thank you to Samara from Tiny Fry.
If you're lucky enough to take a trip to the Canary Islands, Tenerife is the place to be. It is the largest and most populated of the Canary Islands and packed full of stuff to do for families. Make sure that you're comfortable with the water, because not only are you on an island, but islanders take full advantage of that fact.
My family and I could have been in our swimsuits the whole trip, between boat trips and scuba diving. When we weren't on or in the water, we took a couple of tours to enjoy the majesty of the inland.
While there is a lot of history on the island just like the rest of Spain, the true wonder is the landscape of Tenerife. I think my favorite part of the day was the end when we could relax in our hotel room and look out the window over the island at night.
If you're going with kids, I would say that one must-visit sight is Siam Park. They claim to be the most spectacular water park in all of Europe, and once you're there, it's hard to dispute that fact.
Do your family a favor and buy the fast pass because this park is so popular that the lines are almost always an hour or more. Also, bring sunscreen and clothes to wear when you're not enjoying the park. It's easy to spend a whole day here and still want more, so make sure to get their early.
---
Granada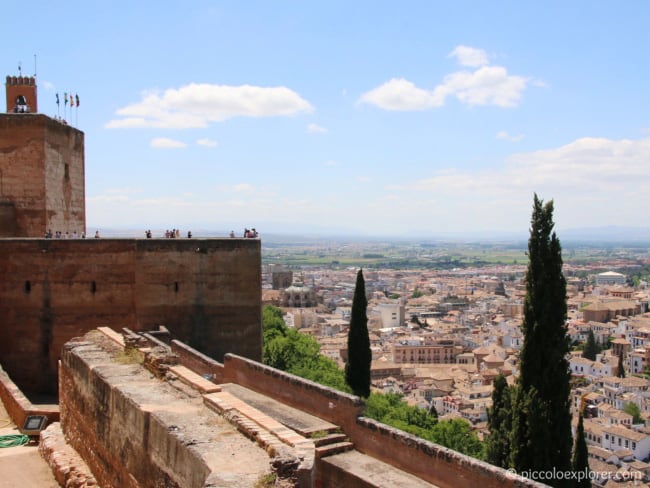 Thank you to Cindy from Piccolo Explorer.
Located in the Andalusia region in southern Spain, Granada is known for its historic architecture, vibrant culture and lively markets that make for a wonderful city break for families.
Exploring Granada's UNESCO World Heritage sites top most people's lists when visiting the city. The Alhambra, built between the 13th and 14th centuries, is the most popular monument in Spain and a must-see that the whole family will enjoy. Make sure to buy your tickets well in advance especially to visit the splendid Nasrid Palaces.
Albayzin, the old Moorish quarter of the city, is a pleasure to wander around with its maze of narrow streets and traditional houses with secluded courtyards and vibrant flowers. It's also an excellent location to stay in for exploring the city, with stunning views of the Alhambra on the adjacent hill and several sights including Granada Cathedral only a short walk away. Albayzin is on a steep hill which is something to keep in mind if you're traveling with little ones or using a stroller.
Another highlight when visiting Granada is watching a flamenco performance in the Sacromonte caves. We watched a brilliant, energetic performance at Zambra Maria La Canastera, which kept my son captivated throughout.
We also enjoyed exploring Granada's markets. There were food markets, clothes and souvenir markets and stalls along the main streets selling tea leaves, dried fruit, and nuts. Mercado de Artesania, near Granada Cathedral, is full of shops and stalls to browse for clothing, handmade fans, Moroccan textiles and babouches, and plenty more.
For more inspiration about visiting Granada with kids, please click here.
---
Malaga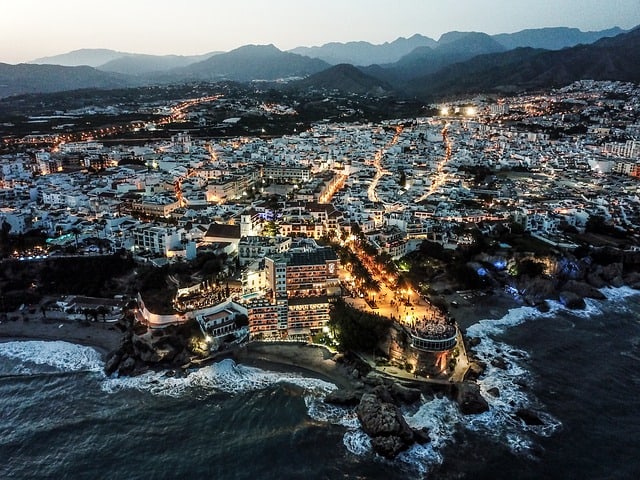 Thank you to Emma from Our Spanish Life.
Malaga is a wonderful introduction to Spain and a fabulous place to travel with kids.
Like most of Spain, families are welcome everywhere and it's not unusual to see children playing in the plaza until late at night while their parents talk and sip coffee with friends and neighbors.
Malaga is easy to get to with low-cost carriers flying into Malaga airport from most major destinations in Europe.

The airport is connected to the city with a clean and safe train service so you can make your way into the center without spending a fortune, plus the kids love the novelty of train travel.
Once you're in the city center, it's easily walkable and stroller-friendly if you're traveling with a baby. Many Malaga attractions such as the Alcazaba and the Roman Theatre are open-air, so you needn't worry about your kids making noise in a museum or gallery.
Eating with kids in Malaga is super-simple too. We loved the cafe chain, Granier, for an easy and quick lunch stop for the kids. For around 3 euros they can get a mini-pizza or bocadillo (a filled roll) and a drink. Plus, for the grownups – their coffee is top-notch and only around 1.20 euros for a cafe con leche – Bueno!
Our favorite thing to do in Malaga with kids is to be outdoors. The weather in Malaga is almost always great,  so hanging out at the playground in the plaza (there seems to be one on every corner, usually with a cafe adjacent) or heading to the beach are fun and cheap options.
There are plenty of blue-flag beaches in Malaga and further down the coast. Closest to the city center you have Playa la Malagueta, or further afield I can recommend Playa de Los Boliches, about a 30-minute train ride from Malaga.
---
Our Recommended Travel Resources
To find the best and affordable tours in Spain and elsewhere, please click on the banner below
Booking.com is our recommended search engine to find affordable hotels and resorts; Click on the banner to find the best deals.


We do love to stay in holiday homes, with a kitchen and a play area for the kids. It feels more relaxed and also helps to stick to a budget.
There are lots of options through Airbnb from townhouses to apartments at affordable prices; if you are new to it you could save money on your first booking via my link.