Baby carriers are excellent for traveling, hiking, and everyday use. They are versatile, mostly lightweight and make your life easy when you go out and about with your baby, infant or toddler.
My guide to the best baby carriers for babies and toddlers showcases the different features and which one might be best suited for your child.
So when you go traveling with your kids taking a baby carrier is a great alternative or addition to a lightweight stroller. The advantage of a baby carrier is that it is easy to store e.g. in your carry-on luggage, and you always have your hands free.
Baby carriers are designed to help baby feel comfortable and close to mom and dad. There is a wide world of baby carriers out there; from slings, wraps, front, and backpacks or special carriers when you go hiking.
My guide is split into three parts (for easy reference use the Table Of Contents), starting with the front and backpacks, baby slings and lastly baby carriers for hiking.
In each section, I will also discuss, how each of the different baby carriers will benefit you and your little darling.
---
1.Baby Carriers Front And Backpack
Comparison Chart For My Favorite Baby Carriers
| My Top Picks | Brand | Suitable For | Price | Description |
| --- | --- | --- | --- | --- |
| Lillebaby Airflow | Lillebaby | From birth to 3 to 4 years (45lbs) | $$ | The Lillebaby is suitable for a newborn up to a toddler and provides lumbar and neck support! Excellent product! |
| NimNik Baby Carrier | NimNik | From 12lbs to 45lbs | $$ | This soft structured baby carrier offers four different carry positions. |
| Veenev Baby Carrier | Veenev | From 8lbs to 25lbs | $ | The Veenev baby carrier features an extra pocket, snap-on cloth, and sleeping hood. |
---
Why Do I love Front and Backpacks
I love the ease of use and the versatility on how many different ways you can carry your child. My favorite three baby carriers have a few important things in common:
They are lightweight and machine washable.
They are affordable.
 Your baby will sit in an ergonomically correct position at all times.
Your back and shoulders will be supported by padded shoulder straps and lumbar support.
Your child will feel secure, comfortable and safe.
They provide at least three different carrying positions.
The sling position is perfect for nursing; having your child on the back is ideal for exploring and facing in encourages bonding but also helps you to check on your baby, e.g., is he asleep, does he feel comfortable, etc.
My favorites are the carriers you can use both as front and backpacks, and that's why I am going to talk more about them and introduce my top three favorite choices. Here are my top three choices.
---
#1 SIX-Position, 360° Ergonomic Baby & Child Carrier by LILLEbaby – The COMPLETE Airflow
 The Lillebaby carrier is made from soft and durable 3D mesh constructions that help to control the temperature inside the carrier. This is so important in the hot season, so your child doesn't overheat.
This beautiful baby carrier provides lumbar support, neck support, and a sleeping hood. It has got a zippered pocket which is a nice little feature.
The biggest advantage of this baby carrier is that it is suitable for a newborn (you don't need an extra infant insert!) up to a toddler; from 7lbs to 45lbs. That is fantastic.
A big plus for this baby carrier is also that you can buy a waist extension to increase the waistband size of 52″ by another 9″.
The above image shows you the six different positions you can carry your child. The Lillebaby Airflow ticks all the boxes and will be invaluable when you travel with your little munchkin.
Please Check The Price On Amazon
---
#2 NimNik Baby Sling Carrier Ergonomics Lightweight Hipseat
This soft structured baby carrier offers four different carry positions and is made from machine washable cotton. The NimNik carrier is suitable from 12lbs to 45lbs (5.6kg -20kg) which make for a long-term use.
What I love about this baby carrier is the detachable ergonomic hip seat which is a fantastic feature. So easy to use and really handy.
The waistband goes up to 50″ and there is no extension available yet.
The NimNik carrier comes with a lifetime money back guarantee. Woohoo, that is awesome!
Please Check The Price On Amazon
---
#3 Ergonomic Baby Carrier for Infants and Toddlers – 3 Carrying Positions by Veenev
This beautiful baby carrier includes a removable sleeping hood, a washable snap-on cloth and a pocket with zipper for diapers and wipes. These are very useful features to have and make your (travel)life a little bit easier.
The wide shoulder straps and belt help to distribute the weight of your child evenly and relieve the shoulder pressure.
The Veenev baby carrier is suitable for children from 8lbs up to 25 lbs. The weight limit is a bit lower than the other baby carriers I introduced earlier. There are also no color choices which is a con for me.
Overall, the Veenev carrier is a good baby carrier with great features like the extra pocket, snap-on cloth, and sleeping hood.
Please Check The Price On Amazon
---
How Does A Baby Carrier Benefit You and Your Child
When you are traveling with babies and toddlers, a different environment can be upsetting to the little ones. The closer you can hold your child, the easier it is to comfort them and make them feel at ease.
It is especially true when you are flying or may be experiencing a big crowd at a popular tourist destination.
[Read more in My Top Tips For Air Travel With Kids.]
A close body contact is comforting for babies and toddlers.
You have your hands free to carry your luggage or other things.
Your child gets carried in an ergonomic correct position.
If you have a very active toddler, holding him in a carrier helps to have more control and keeps him or her safe.
The carriers are well constructed to keep the weight of your child off your back. 
---
Summary Baby Front And Backpacks
In a nutshell, here are the features all three carriers have in common and are paramount in my opinion.
The baby carriers are breathable and machine washable.
They are lightweight and easy to use.
They offer at least three different carry positions: sling, backpack, front facing.
They provide an ergonomic seating position for your child.
The shoulder straps and belt help to distribute the weight of your kid evenly and take the pressure off your back and shoulders.
---
2.Baby Sling Wraps
Baby sling wraps are such a great item to own when you have a baby. You can still do your chores around the house or settle your little one. When you are traveling it is useful when you need to have your hands free and baby can snuggle in the wrap at the same time.
Baby slings are best suitable for newborns and toddlers up to 18 months.
I used a baby sling when my kids were little, and I can remember that it took me quite some time to get used to it. Twelve years ago, there was no YouTube, and the instructions were somewhat complicated. Nowadays it is so much easier to get help and support by various social media.
I loved the fact that I had my hands free and at the same time my baby felt safe and secure close to my body. Carrying your baby in a sling is a marvelous way of bonding with your child.
---
Features To Look Out For
When I looked at the baby slings you can buy today I had certain features in mind that I feel are paramount.
Firstly the Material:
It should be breathable.
It should be slightly stretchy.
It has to be machine washable.
Secondly the Size:
The sling should be long enough for plus size women.
It should be wide enough so you can stretch the sling over your shoulder. This way it distributes the weight of your child and therefore reduces the pressure on your back and shoulders.
Here we go…
---
 My Top Recommended Baby Slings -Reviews
#1 Eco Cub Baby Sling Wrap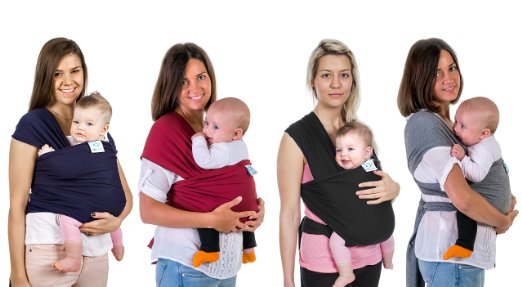 Here are some more great features in a nutshell: the material is soft and made from a blend of 95% cotton and 5% spandex. The sling has a convenient center tag, so you always find the middle with ease.
It also features a carrying pouch and detailed video instructions. As you can see in the image, you can choose from different colors also.
As a special bonus, the Eco Cub has got a lifetime guarantee!
Please Check The Price On Amazon
---
#2 Boba Baby Wrap, Organic, Dark Grey
This sling is a bestseller on Amazon. It is made from 95% organic cotton and 5% spandex.
It is available in one size and suitable for plus sized women as well.
I love the fact that it is made from organic fabric especially since your baby will be wrapped up in it. The sling comes with clear instructions on how to use it.
Please Check The Price On Amazon
---
#3 Unordinary Design Baby Wrap | Pattern baby sling by Babypeta
This Babypeta sling has got a stylish design and is made from 95% eco-friendly cotton and 5% spandex.
With this sling, you will also get a matching bag for storage or easy carrying.
You can choose from different color options which are great.
The embroidered logo is easy to find so you will always know where the middle is.
A family-owned company is producing this lovely sling and offers a 30-day money back guarantee.
Please Check The Price On Amazon
---
Summary For Baby Slings
A baby wrap sling is great to have when you are on the go, traveling, or you need to settle your child. They are lightweight and easy to store in a bag or stroller.
Even though they are made of breathable fabric, please keep in mind though that babies can get a bit hot in summer time. I recommend having different options available, either a sling/wrap, a structured baby carrier or a lightweight travel stroller.
Tip: Always wear your child in a front-facing position. Stretchy slings are not suitable for carrying your baby on your back.
Baby slings are affordable. The ones I reviewed on here cost less than $50. I think it is worth the investment.
Also, the method on how to put on a sling is always the same no matter what brand you choose. Here is a short video that will show you how to do it.

---
3. Baby Carriers For Hiking
Now on to baby carriers for hiking.
I have done my research on various forums and Amazon and soon found out, that there is a close race between two brands: Deuter and Osprey. Both are similar in price but also in their particular features which I will highlight in my review.
At the end of the day, it will be your decision which one you prefer. If you can, try them on in a shop first. That way you will know what feels most comfortable and practical for you and also your child.
Before I get started just a little note; carriers for hiking are not suitable for newborns. Your child should be able to hold her head up by herself.
---
Deuter Kid Comfort 3
Deuter is well known for their great outdoor backpacks, and this one is no exception. The Deuter Kid Comfort 3  is a high quality,  fully framed,  durable, sturdy and lightweight child carrier, that is built to last.
It weighs 7lbs 11ouz and offers a packing volume of 18 liters.
Let's have a closer look at the features:
Suitable for a child from 6 months old
Max. Weight to carry is 50lbs including luggage
Anatomically shaped shoulder straps and a wide padded hip belt
Lots of storage space and side pockets; big enough to pack clothes, diapers, at least a 3 l water bladder, cell phone, etc.
The height is easily adjustable so that you can swap the carrier with your partner with ease
Side entry for your  child plus a footrest, so the feet don't dangle down
Integrated sunroof to keep baby's delicate skin protected
A solid kickstand bar
A breathable foam back to keep your back well ventilated
A detachable washable soft padded pillow in case baby wants to take a little nap
A padded 5 point safety harness that holds your kid safe and secure
The seat is height adjustable
Pros:
In my opinion, the 5 point safety harness and the footrest plus the integrated sunroof are excellent features to have in a carrier for hiking.
Lots of storage space is also an essential when you go out and about with your little munchkins. A nice little extra is the rear view mirror that is stored in the small pocket attached to the hip belt. Now you can have a peek look what your baby is up to.
The backpack also features a little teddy bear as a special gift for your child.
Cons:
One user said it is hard to pull the kickstand back on your own. Also, someone else stated that the Deuter is not very comfortable when you are taller than 6 foot. But then again, other people had no issues at all.  If you get the chance, try out the fit at a REI store as I said at the beginning.
Overall, the Deuter Kid Comfort III ticks all the boxes. Best of all, your child will feel very comfortable and safe in it. This bag is a high-quality product that you and your family will enjoy while hiking or traveling.
Please Check The Price On Amazon
Here is a great video that will show you all the features in more detail.
---
Osprey Poco AG Plus Child Carrier

Osprey is also well known for their quality, and the Osprey Proco AG Plus is no exception either. The Osprey carrier weighs 7.7lbs. The material is high quality, durable and sturdy.
This carrier has received great reviews on Amazon because of the quality and its practical features:
Max. Weight to carry is around 50lbs including luggage
The hip belt is expandable by 3″/7.5 cm on both sides and fits 26″ to 52″ hips
The framing around the child seat is fully padded for more comfort and protection
Lots of storage space e.g. for clothes, diapers, water bottles, etc.
A built-in sunshade
The child seat is padded and also has a removable drool pad
The seat is adjustable and as well as the foot stirrups
There is a mesh back panel for excellent ventilation
The height is easily adjustable
Side entry for your child when he or she gets older
There is a water bladder compartment big enough to hold a 2l bladder
The padded shoulder straps are easy to adjust
Pros:
Just like the Deuter, your child can access the pouch from the side when he is a little bit older. You could also attach a daypack to the bag. (which you have to purchase separately) That would extend the storage capacity even more.
Another plus is the attached sun shade which has received an awesome feedback by customers. Another cool feature is the color-coordinated safety clips.
I do love that the Osprey Poco AG Plus comes with a limited lifetime warranty. That is a fantastic service for customers!
Cons:
It is a little bit tricky to put the sunshade back into the compartment and also when you pull back the kickstand it compresses the lower storage compartment.
Similar to the Deuter, one customer noticed that the extension for the back needs to be larger to suit taller people.
Overall, I think the Osprey child carrier is a fantastic product and will help you to explore and enjoy the outdoors with your young child.
Please Check The Price On Amazon
Here is a video that will show you the Osprey child carrier in great detail.

Summary Baby Carriers For Hiking
Which one of these child carriers will you choose? One thing is for certain: these baby carriers for hiking are fantastic to explore the outdoors with your little ones. They are comfortable, sturdy and provide a nice stability and structure when you have them on.
Tip's: it's a good idea to familiarize yourself with the instructions before you use the bags. Don't feel intimidated by all the straps and features. You will soon be a pro in using them. 🙂

These two child carriers are not only great for hiking but also fantastic when you go traveling. They might be even replacing a travel stroller all along. Whatever you decide, I do hope that my review will help you in making a decision.
Safe Travels!
Anke
---
funtravelingwithkids.com is a participant in the Amazon Services LLC Associates Program, an affiliate advertising program designed to provide a means for sites to earn a commission by advertising and linking to Amazon properties including, but not limited to, amazon.com.  Amazon offers a small commission on products sold through their affiliate links.
 If  funtravelingwithkids.com links to an Amazon product (with a special code for affiliates embedded in the link) and you buy this item or any other product, funtravelingwithkids.com will get a small percentage of the sale.
The product will cost the same either way if you make a purchase through an affiliate or non-affiliate link.
 I always recommend products I have used or would recommend to friends and family.