The city-state Singapore has so much to offer: from the Universal Studios to food markets, from the Singapore Flyer to Little India and Chinatown.
If you are looking to explore different cultures or you just want to enjoy the fun activities, Singapore is full of superlatives. I find this city exciting, child-friendly, very affordable and it has an easy to use public transport system.
In this post, I will show you a few more kids activities you can do with your family in this vibrant city. A couple of them I have visited with my three children (at the time six, nine and ten years old); the rest is on the wishlist for our next visit.
---
#1 The Singapore Flyer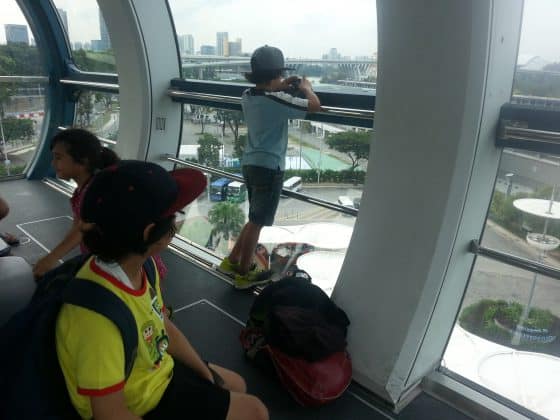 Opening hours: daily from 8.30am – 10.30pm
Admission: Adults – S$33/$24; Children (3-12 years): S$21/$15
Public Transport: MRT Promenade Station, CC4; from there it is a 5 min walk, you just need to follow the blue pedestrian signs.
The Singapore Flyer is Asia's largest observation wheel. It has the height of a 42-storey-building, all up it reaches 165 m from the ground. We felt very safe in on of the 28 capsules that fit 28 people. This particular number is there for a reason. In Feng-Shui the number 28 means "double prosperity" or "easy to prosper."
The duration of the ride is half an hour. We enjoyed beautiful views of the Marina Bay Sands, the Singapore River and beyond.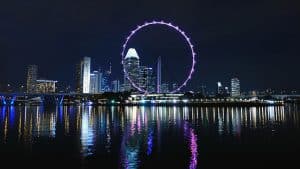 The complex around the Singapore Flyer is lovely with a built-in rainforest where you can stroll and relax, some food stalls and even a fish foot spa. I hadn't seen a fish spa before, and we didn't try it either. You put your feet into a shallow basin where Dr. Fishes/"Garra Rufa" nibble on the sole of your feet and give you a pedicure. I would be too ticklish, but it looks like a lot of fun.
My Tip: I would recommend going in the evening and enjoy a spectacular sight of Singapore at night time. If you travel without kids or have a babysitter, you can book a special dinner in one of the capsules.
#2 Singapore Zoo
Opening hours: daily 8.30 am – 6 pm
Admission: Adults S$33/$27; Children (3 -12 years) S$22/$16
Public Transport: MRT station Choa Chu Kang, NS4 – Redline, from there take the Bus 927
or MRT station Ang Mo Kio, NS 16, from there take the Bus 138


This fantastic Zoo opened in 1973 and is nestled on 26 hectares of the Mandai Rainforest. The Singapore Zoo welcomes around 1.7 million visitors each year.It provides lots and lots of space for over 2500 animals; 315 different species ranging from mammals, reptiles, and birds. I love that these animals can roam relatively freely in naturalistic surroundings.
One of my favorite animals besides the Gorillas are Orang Utans. The Singapore Zoo is the first Zoo in the world that features a free-ranging habitat for these fascinating apes. You can watch them in their natural surroundings: that's just brilliant!
If you ever get tired of walking, you can hop on a guided tram ride (unlimited rides) for an additional fee of S$5 for adults and S$3 for children.
Or, you can take your children to Rainforest Kidzworld (open from 9 am – 6 pm) where they can play in the water playground, visit farm animals and where they can visit a traditional Kampang house. I think that is quite a unique feature. The Kampang House is a heritage home with some lovely "unusual" pests/guests 🙂 like mice and cockroaches. The children can explore the inside of the house, open the drawers, etc. I just love interactive activities for children.
My Tip: Plan at least half a day or even better a full day to visit the Zoo. If you don't have a stroller, you can rent a stroller or wagon for a fee of $S$9 and the wagon for S$15/day. Take some swim gear and towels for the kids, so the can have fun in the water playground.
#3 Singapore Night Safari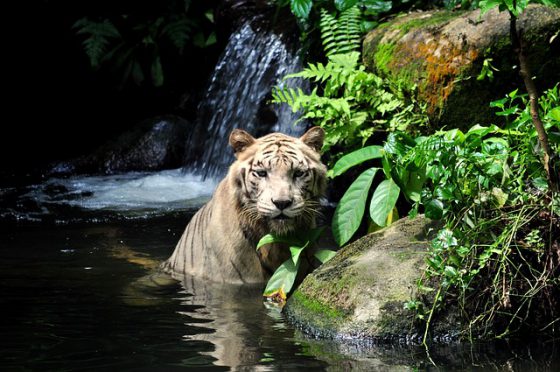 Opening hours: daily from 7.15 pm – midnight
Admission: Adults S$45/$31; Children (3-12 years) S$30/$22. The ticket price includes the Tram ride.
Public Transport: same as going to the Singapore Zoo


The Singapore Night Safari opened its doors in 1993 as the world's first safari park for nocturnal animals. Every year, over 1.1 million people come to visit this extraordinary place with 2500 animals to admire.
I had been to the Night Safari 14 years ago before I had my children. I remembered it fondly and loved every minute of it.
Take the guided tram ride that will take you across six geographical zones: from the Himalayan Foothills to the Asian Riverine Forest, from Africa to the Indian Subcontinent. Afterward, it is a good idea to go on one of the four walking trails to see even more animals. For instance, there is a giant aviary where you can observe fascinating creatures like Malayan flying foxes and flying squirrels.
You can also visit two shows. The first one is "Creatures of the Night" and is 20 minutes long. The times are 7.30, 8.30. 9.30 and 10.30 pm. Don't miss the second show either which is on at 7, 8 and 9 pm. The Thumbuakar Performance, performed by Thumbuakar warriors, will leave you in awe about their cultural dances, stunts and 'flame-throwing' demonstrations. A must see experience!
 My Tip: You can have dinner in the traditional village surroundings of the Ulu Ulu Safari Restaurant. The restaurants are open from 5.30 pm.
#4 Jurong Bird Park
Opening hours: daily from 8.30 am – 6 pm
Admission: Adults: S$29/$24; Children S$19/$14
Public Transport: MRT Station Boon Lay (East-West; green line) from there Bus 194


Another superlative, this is Asia's largest bird paradise with 5000 colorful birds from 400 species. The area stretches over 20 hectares with beautiful landscapes and giant walk-in aviaries.
Feeding Sessions are at 10.30 am and again at 2.30 pm; this is helpful to know when you are planning your visit. Some of the attractions are the Waterfall Aviary, the Southeast Asian bird's aviary, the Penguin coast and Dinosaur Descendent.
In the World Of Darkness, Asia's first nocturnal house, walk through the jungle and watch Snow Owls, Malay Fish Owl and much more. In the Waterfall Aviary, you will walk through a rainforest, along mangrove swamps and observe Parrots, Turacos, and Yellow-billed Storks.
For the kids, there is a special wet-play area which is open from 11 am – 5.30pm. So don't forget towels, swim gear, and sunscreen and let your children have lots of fun on the water fun playground.
#5 Visit Little India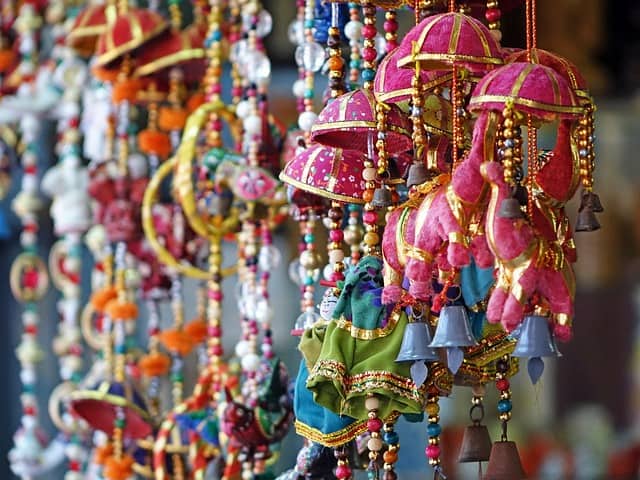 Public Transport: MRT Station Little India and Farrer Park (North-East Line)
After all the excitement, it is probably time to explore some of the different cultures you can find in Singapore. You don't need to travel to India, just take the MRT to Little India and get a glimpse of the diverse Indian cuisine, shopping centers, and Hindu temples.
We loved trying the different foods, especially the Roti prata (like a pancake) filled with eggs or beef or lamb curry. Yum!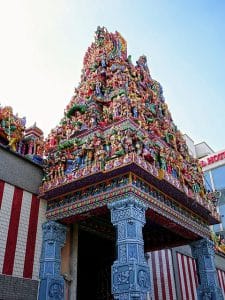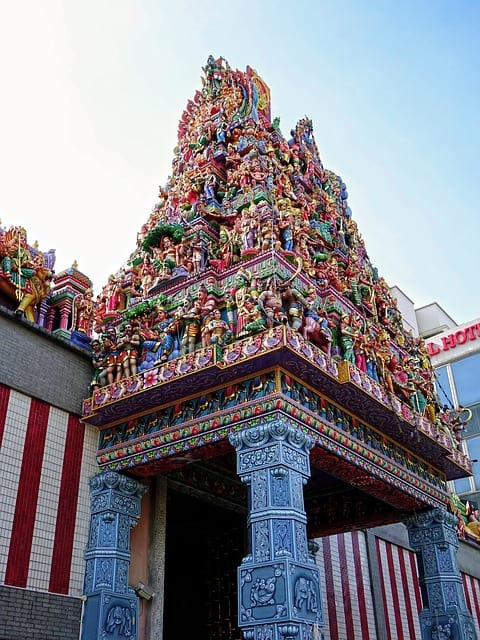 A very famous attraction is one of the oldest Hindu temples in Singapore, the Sri Veeramakaliamman. Built in 1881, the temple was dedicated to the goddess and destroyer of evil Kali.
Just stroll through the streets at your leisure, enjoy the vibrant colors, smells from all these food stalls and discover a mix of Hindu and Chinese temples as well as Mosques and Churches. And don't forget a visit to the 24 hour open Mustafa Center, a shopping institution with 300000 items. But it is very crowded!!!
A Quick Wrap Up
These five activities are just a short list of so many things you can do in Singapore. But most visitors stay for only a few days, so planning in advance is necessary. Otherwise, a visit to Singapore could be a bit overwhelming.
My best tip is to pre-order your tickets for the various attractions online to get the best deal. Klook.com is one of the most reliable companies on the market that offer great deals on ticket prices.


Singapore has a tropical climate; therefore the weather can be a bit unpredictable. An umbrella and a raincoat might be quite useful to have. Don't forget your sunglasses and sunblock as well as an insect repellent.
I also carry a bottle of drinking water with me at all times.
I do hope my post gave you some travel inspiration. Please tell me in the comment box below, what you would like to do with your family in Singapore.
Please read my other posts about the Universal Studios Singapore and The Magic Of Sentosa Island to get even more inspiration and ideas for your next vacation.
Happy Travels!
Anke
Founder of funtravelingwithkids.com
 Note: This post contains affiliate links. If you decide to purchase one of these products I will earn a small commission fee. I always recommend products I have used or would recommend to friends and family.