Berlin with Kids is such an exciting city to visit. There are so many places to explore, historical but also fun places. My biggest advice would be to spend at least a few days, or even longer, in this vibrant, multicultural city.
Berlin is forever changing, but in other ways, it has remained its consistent somewhat rough charm and warm atmosphere.
I had been living in Berlin for almost thirteen years but have decided nearly thirteen years ago to move to the other side of the world (aka New Zealand). But I have been back to my all-time favorite city a few times with my children, and they love this place just as much as I do.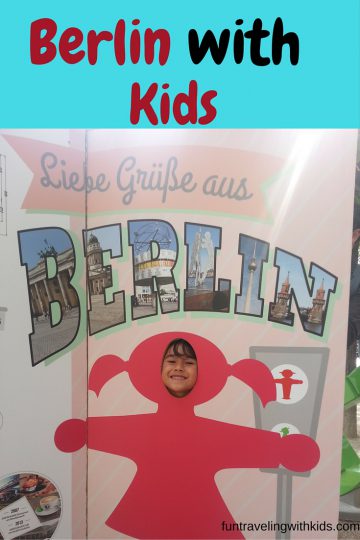 In my post, I will give you tips about
Why I love Berlin (I used to live there for more than 13 years)
How to get around in Berlin the easiest and cheapest way.
Where to stay at an affordable price.
Places to visit with your children.
Things you must do with your kids.
Lastly, I have a bonus tip for you at the end of my post. An insider location not many people know about. I discovered it just a few days before we left Berlin on our last trip.
---
What I Love About Berlin
There is no doubt about it – Berlin is a busy place. Tourists from all over the world visit but also people (from 190 different countries) have come to live here and make Berlin to this unique, cultural, and inspiring place.
I love:
the various kinds of food available at every corner for little money, from the traditional German " fast food"  Currywurst  with Pommes Frites to Lebanese, Turkish, Vietnamese, Mexican food – the list is endless
the parks, lakes, the two rivers, Spree, and Havel – Berlin is a green city
 the playgrounds, mostly themed adventure playground, even designed for different age groups
the public transport – easy and affordable
the child-friendly cafe's and restaurants
the many kid-friendly museums and other attractions
Where To Stay?
Berlin is subdivided into 12 districts. If you would like to stay close to the city center, I recommend staying in one of these districts: Schoenberg, Kreuzberg, Wilmersdorf, Prenzlauer Berg and Friedrichshain.
You can also choose other areas, just make sure the apartment is close to Berlin's public transport (BVG). That way it is so much easier to explore the city.
When traveling as a family, I always prefer to stay in an apartment rather than a hotel but ultimately, it is up to you.
Berlin has many choices that will suit any budget, from budget hostels to luxurious accommodation.
Travelocity is one of our recommended resources to book hotels because it offers some of the best package deals for flights and accommodation plus car rentals. Click on the banner to find the best deals.


As I have mentioned before, we do love to stay in holiday homes or apartments, with a kitchen and a play area for the kids. It feels more relaxed and also helps us to stick to a budget.
One of the best options is Airbnb where you can book townhouses and apartments at affordable prices; if you are new to it you could save money on your first booking via my link. Click Here To Find A Great Deal.
---
How To Get Around
Berlin has a fantastic, very complex public transport. You can hop on a bus, a tram, subway or train.
You can purchase Day tickets or tickets valid for two days up to 6 days. It is called the Berlin Welcome Card and in my opinion incredible value for money because one adult can take up to three children aged six to fourteen for free! Children under six years old travel for free also your luggage, a dog, and a stroller. 🙂
With your Welcome Card, you will also receive a coupon booklet that entitles you and your family to 25% up to 50% discount for 200 tourist highlights.
The prices for a 48 hour Welcome Card start at Euro 19.50 ($21.95) for travel zone AB.  If you would like to see the nearby city Potsdam or you need to go to the airport, it is best to get a ticket for zone ABC.
Places To See With Your Kids
Playgrounds: Berlin has over  1850 playgrounds, and most of them are themed playgrounds. Choose one that is nearby or search for one on here. Don't forget to take a blanket and a picnic and enjoy the outdoors. Do what Berliners do best, relax and watch the world go by.
Visit Checkpoint Charlie and see where Berlin was once divided into East and West Berlin.

My Kids with my friend Anke at Checkpoint Charlie

Checkpoint Charlie is a symbol of the cold war and has become a big tourist attraction.  My children can't imagine what it meant for the people to live in these difficult political times. It still gave my kids a relatively good idea about history.

Berliner Fernsehturm: with a height of 368 meters the Fernsehturm is the tallest building in Germany. The view of the city is beautiful, and I bet your children will love going up on the elevator.
The Gendarmenmarkt: in my opinion, it is one of the most beautiful historical places to see in Berlin. You can sit down with your kids for a coffee or an ice cream and admire the Concert Hall, flanked by the French and German Church. Just stunning. If you go in Winter time, the Gendarmenmarkt hosts a wonderful Christmas market.

Gendarmenmarkt-Berlin

• Berlin Zoological Garden: Even if you are not a big fan of zoo's (like me), the Berlin Zoo is a lovely place to visit. It was opened in 1844 and is, therefore, the oldest zoo in Germany. With 1504 different species it is the most species-rich zoo worldwide. (Wikipedia)
Pergamon Museum: this is the most famous museum in Germany. The Pergamon Museum is a must visit in Berlin. We loved it. Be inspired by the Pergamon Altar and other treasures.
Things You
Must

Do With Your Kids
Fancy a Pizza, fresh from a wood-fired oven? Il Casolare is the place to go. I have been going there for years. It is my go-to place whenever I am in Berlin. I don't know exactly how long this busy, casual, rustic Trattoria has been around, but I think for at least 15/16 years. And it hasn't changed a bit; even the waiters are the same. If you would like to go for dinner, it is best to make a reservation. Otherwise, lunchtime and late afternoons are usually alright without it. I am sure, you and our kids will love it.
How about ice cream for dessert? Next to Il Casolare is a lovely Gelateria with gorgeous ice cream sundaes. Yummy!!

Yummy Sundae!

Take a boat tour on the river Spree and discover Berlin from a different perspective. We took the one hour tour starting at Burg street in the opposite of the Berlin Cathedral. The boat ride will take you down the Spree to see the Museum Island, the Regierungsviertel and Reichstag, the Chancellor's office and many more historic places. One hour is not too long for the kids, and it is such an enjoyable ride.

Boat tour on the Spree

Afterward, you can visit the nearby Monbijoupark, sit in the sun at the Summer Beach Bar and try the refreshing famous Berliner Weisse with a shot of red or green syrup. You deserve it! And the kids can have a play at the playground behind the beach bar. Life is good!
A visit to Berlin is not complete without having tried a Currywurst with Pommes Frites. You can even visit the Deutsche Currywurst Museum in Berlin. The best Currywurst you will find is at Witty's  at Subway Station Wittenbergplatz, right across the road from KaDeWe. Delicious. From here you can go off to explore the famous Kurfuerstendamm.

Berliner Currywurst

How about using public transport and hop on the Double Decker Bus Line 100? This famous line will take you from Zoological Garden to Berlin Alexanderplatz. If you are lucky, the bus driver will explain a few of the sights along the way.
One of my favorite markets in Berlin is the Turkish Market in Kreuzberg. Make sure to visit either on a Tuesday or Friday and enjoy this unique atmosphere of all sorts of food stalls, Turkish bread, cheese, olives, and other delicacies.
---
Summary Plus A Bonus Tip
Great, you made it thus far. As a Thank You here is my bonus tip!
For a few weeks, we lived in an apartment 50 meters away from it and didn't know it even existed: Cafe Klunkerkranich,  a fantastic place to go for a coffee and relax on the rooftop of the shopping mall Neukoellner Arcade (UBahn Rathaus Neukoelln). 
There are no signs on the street to guide you to this cool and unique place. So, how do you get there?  Go inside the shopping center and take the elevator to the last possible parking deck.  Exit there and follow the signs. I promise you will be amazed by what is awaiting you!!!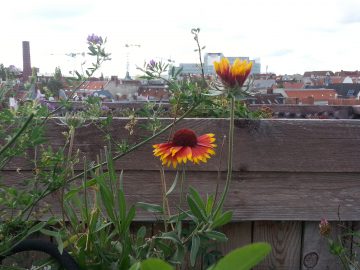 I do hope this post will inspire you to visit Berlin one day, or it might have helped you planning your next trip to this amazing city. There are so many more things you will discover.
This post reflects my personal short collection of what to do and see in Berlin.
In Berlin with Kids – Part 2 I will talk about day trips you can do to explore Berlin's beautiful surroundings.
If you'd like to go and see other cities like Prague and Paris, please read more in my guides:
Paris With Kids, 5 More Kids Activities In Paris and Prague With Kids.
To discover more about Europe on a budget here is my list of the cheapest places to go in My Top 7 Cheapest European Countries To Visit With Your Family and also How To Enjoy Cheap Family Holidays In Europe.
If you have any question, please leave a comment below. Liked the post? Please share on your favorite social media platform. Thank you!
All the best and safe travels ~ Anke
---
Please note: this post contains affiliate links.