Prague, the capital of Czech Republic, is such a beautiful and charming city. Millions of tourists come here all year round. It is also one of the most affordable capitals in Europe you can visit with your family.
Prague has been one of my favorite European cities for a long time. Growing up in East Germany, Prague was easy to reach by train, only a few hours away.
When I visited Prague with my three kids in Summer 2017, it was the first time that I had taken my children there. We were lucky enough to stay with my good friend Magdalena who was born and bred in this gorgeous city.
We spend three days in this gorgeous city and enjoyed every minute of it.
Lucky for us, we didn't have to worry about accommodation or an experienced tour guide at all which felt so luxurious.
But if you need accommodation, please check out Airbnb for fabulous apartments that suit any budget.
A search engine I highly recommend is Booking.com, where we always find affordable hotel rooms and even holiday homes.


Prague with kids is worth a visit, that's for sure.
---
How To Get To Prague
We took the train from Berlin and arrived at the central train station in the middle of the city. From there it is easy to catch the bus, metro or tram.
If you arrive at the airport, I would recommend taking a Taxi since the public transport from the airport to the city center can be a bit complicated with catching the bus and then changing to hop on the metro. With kids and a whole lot of luggage, that's a nightmare.
---
How To Get Around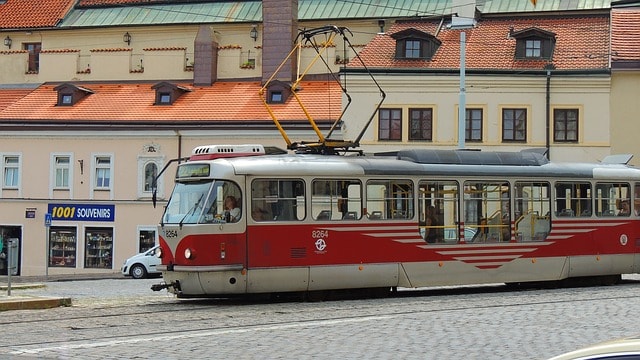 Otherwise, public transport in Prague is efficient, complex and reliable. And affordable! A three-day pass for an adult and children over six years costs $13 each. Children under six years old travel free.
Prague's city center is quite compact, so it is easy to walk around. If you use a stroller for your child, just be aware there are lots of cobblestones. You probably would need a sturdy stroller.
---
Best Time To Visit
Prague is a tourist magnet all year round.
My general advice is to visit from May until the end of June and again in September and October. July and August are traditionally the months of the Summer school holidays in Europe and it can get very crowded.
If you don't mind cold days filled with rain or snow then, of course, you could also go to Prague in Winter time.
---
What To Pack For Prague With Kids
Even in Summertime, you need to be prepared for all kind of weather. It can be rainy but also very hot.
Here are my suggested must-haves
For more suggestions, please read my post The Best Travel Gears For Babies And Toddlers.
---
Prague With Kids – The Best Things To Do In 3 Days
Well, I have to tell you, my friend Magda loves walking, and we walked a lot. Amazingly enough, my children didn't complain much. We bribed them with yummy ice cream and palacinka, a thin crepe-like version of a pancake. Delicious!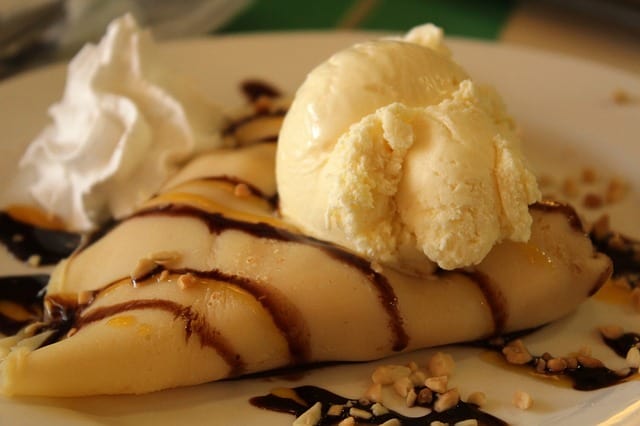 We had three full days to explore what Prague has to offer. And I know we will go back for more.
---
Prague Zoo – Our First Day
We started off with the world-famous Prague Zoo and spent the whole day there.  The Prague Zoo is set on nearly 60 hectares and is rated Top 4 of the world's best Zoos.  Be prepared to walk a lot.
There is such much to see and do. Some of the attractions besides the animals is a miniature cable car, a huge playground, and a little train that will take you all around the Zoo. Hop on and off as you like.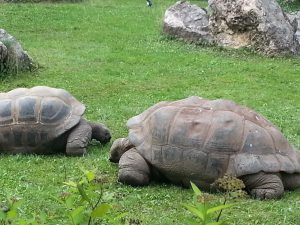 The ticket prices are affordable. For a family of four, you will pay $25.
If you use public transport you need to take the metro to "Nadrazi Holesovice" and from there the bus 112 to "Botanicka Zahrada" or take the Zoo bus which is free to use.
But you could even go on a steamboat ride. I think that is such a cool thing to do. Cruise on the river Vltava for an hour, watch the historical sites along the way and then off to explore the Zoo. Pure Bliss.  For a family pass one way you will pay $16.
Prague Zoo Admission(High Season April – September)
Adults: 150 CZK (US$7); Kids (3-15 years): 100 CZK (US$4.50); Family Pass (2 Adults +2 Children): 450CZK (US$20)
Opening Hours: Daily 9 am – 6 pm
Getting There: Metro Station Nadrazi Holesovice (Line C); from there take the Zoo Bus – it's free; leaves every 10 minutes.
---
Exploring The Old Town Square And Prague Castle – The Second Day
Our second day was all about exploring Prague Castle, Charles Bridge and Old Town Square with the famous medieval Astronomical Clock.
As mentioned before, most of the historical sites are within walking distance. Of course, with children, you have to take your time. So we stopped at cafe's, breweries and a playground on the way. Otherwise, it would have been too tiring for all of us.
I love to sit down and watch the world go by. It's a fantastic way to take in the atmosphere of a place. Prague has a magical atmosphere in my opinion.
The Old Town Square is an incredibly busy place with masses of tourists. So be aware when you go there with your kids. It gets really busy just before the hour when everyone is gathering in front of the Astronomical Clock.
It is the oldest one in the world still operating. On the hour you will see statues of all 12 Apostles at the doorway above the clock.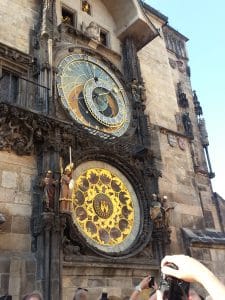 ---
Splashing In The Pools – The Last Day
Our third and last day in Prague was all about relaxing. Two days of walking, exploring and taking in new sights made us tired.  So we decided to head off to a public outdoor pool just a few minutes away from Magda's place.  Here is a website, that lists more public pools and lakes in and around Prague.
What can I say –  it was fabulous, perfect for adults and children alike with a big pool, a paddling pool, an awesome water slide, a playground, and food stands. We could relax on the huge grassy area next to the pools. What a beautiful way to end these three days in Prague.
Oh wait, I am not quite finished yet. 🙂
A visit to Prague is not complete without visiting one of the many breweries in the city. Prague is famous for its beer. You deserve it!
---
Other Things You Can Do With Your Kids
Visit A Puppet Show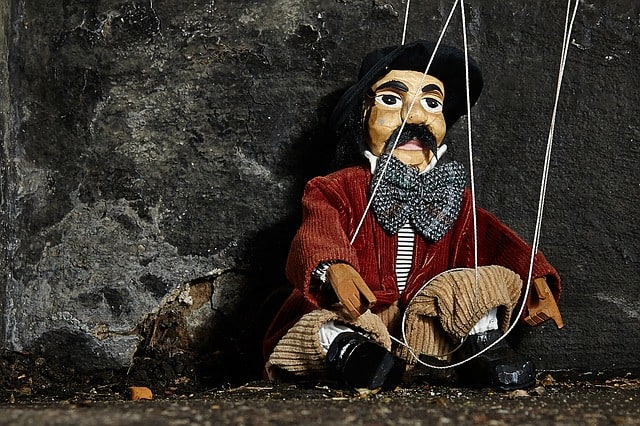 The best place to visit a puppet show is the National Marionette Theatre. The most popular show is 'Don Giovanni'. The show features life-size puppets dressed in period costumes.
The show is ideal for all ages and nationalities since there are little or no spoken words.
Marionette theatres have a long tradition in the Czech Republik and appeal to young and old.
Address: National Marionette Theatre, Zatecka 1, Old Town, Prague
Getting There: one minute walk from Old Town Square; Metro: Staromestska (Line A)
www.mozart.cz
---
Prague Toy Museum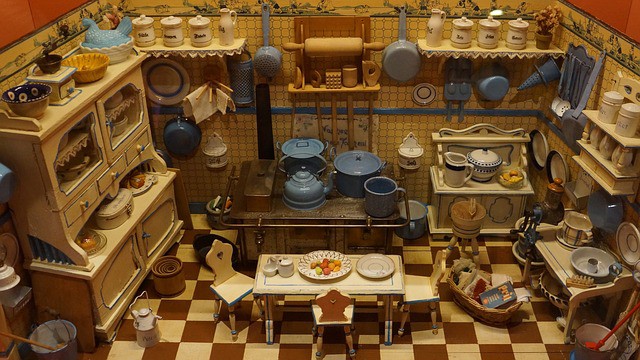 The Prague Toy Museum is worth a visit for families. With seven exhibition rooms stretched out over two floors, it is the second largest toy museum in the world.
You can admire toys from the Greek ancient era right up to the modern Barbie dolls.
On display are also traditional toys from Czech and Bohemia. A visit would be especially great on a rainy day.
Admission: Adults: 60 CZK (US$3); Children under 15 years are free
Opening Hours: Daily; 9.30 am – 5.30 pm
Getting There: Prague Castle; Jirska 4
Website: Toy Museum
---
Petrin Hill And Observation Tower 
To enjoy a splendid view of Prague and surroundings, a visit to the Observation Tower is a must. People also call it Prague's Mini Eiffel Tower and it really looks a lot like the Eiffel Tower.
The Observation Tower opened in 1891. To get to the top you'll have to climb 299 stairs! That is a good exercise.
After your visit, you can stop at the nearby restaurant "Nebozizek" for lunch or dinner. And your kids will love the playground at the base of Petrin Hill.
Admission: Adults 60CZK; Children (3-15): 40CZK; Family Pass (2 Adults, 2 Children) 60 CZK
Opening Hours: Daily; May – September: 10 am – 10 pm
Getting There: from Tram Stop Ujezd Street (9,12,15,20,22) take the Funicular Railway – it is part of the Public Transport
Website: pragueexperience.com.
---
Eating Out In Prague With Kids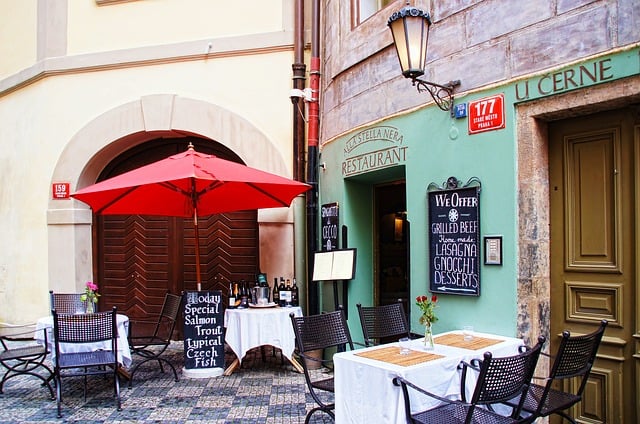 It is so affordable to eat out in Prague, even for a family. And, there are so many places to choose from that offer international or rustic Czech cuisine.
Here are some of our recommended eateries that offer delicious food and are child-friendly too.
U Zavesenyho Kafe (The Hanging Cafe)
We visited this unique and cozy cafe at lunchtime when it was very quiet. In the evening it is filled with locals that enjoy a tasty beer and some local cuisine.
The 'Hanging Cafe' is an institution and is worth a visit, only a few hundred meters away from Prague Castle. I loved the artwork on the walls which created such a quaint atmosphere.
You can have lunch outside on the terrace with an amazing view of the city.
Address: Uvoz 169/6, Prague
Opening Hours: Daily, 11 am – midnight
Website:Hanging Cafe
---
Vegetarian Restaurant 'Maitrea'
We enjoyed a delicious dinner and a well-deserved rest at the same time, to finish off our second day which was filled with a lot of sightseeing.
Maitrea is not your usual Czech restaurant. Instead, it is a calming place with two fountains, a Buddha, a fireplace; everything is placed according to Feng Shui. It's the ideal place to have dinner after a busy day of walking and sightseeing.
It felt like an oasis in the middle of a busy city and even my children seemed more relaxed.
The prices for the meals are a bit higher but it is worth it. The food is delicious!
Note: I would recommend booking in advance. I am not too sure if this restaurant is suitable for babies and toddlers. My youngest was five years old when we visited.
Address: Týnská ulička 1064/6, Praha 1 – Old Town
Opening Hours: Monday – Friday: 11.30 am – 11.30 pm; Saturday/Sunday: noon – 11.30 pm
Website:restaurace-maitrea.cz
---
U Medvidku
U Medvidku is a great place to get some refreshing home-brewed beer and a rustic Czech dish at the same time. This place has been a Prague institution for years and years.
The founding of the U Medvidku restaurant dates back to 1466! Today it is a large beer hall that is occupied by locals and tourists alike.
When it gets too busy, you can sit outside in the large beer garden.
Address: Na Perštýně 7, 100 01 Praha 1 (Old Town)
Opening Hours: Monday -Friday: 11 am – 11 pm; Saturday: 11.30 – 11 pm; Sunday: 11.30 am – 10 pm
Website:umedvidku.cz
---
Wrapping It Up
I do hope my guide Prague with kids has given you ideas on what to do in this amazing metropolis. It is still one of the most affordable cities in Europe to visit.
I am sure you'll love this city as much as we did.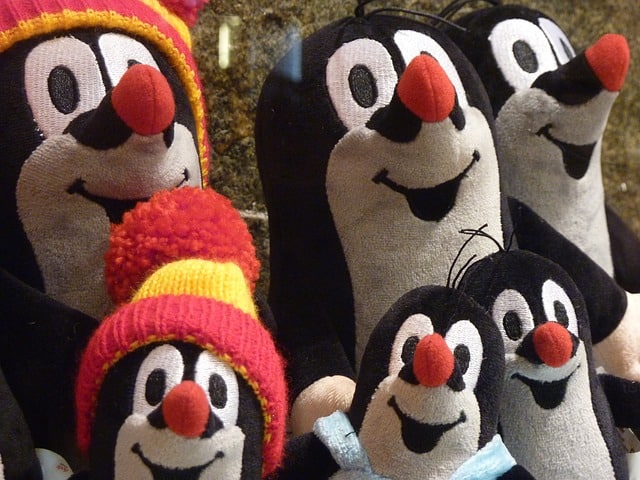 By the way, this is the little Mole; the Czech name is Krtek. Krtek first appeared at the Venice Film Festival in 1957. He is such a lovable, cuddly character.
Growing up in East Germany, Krtek was very popular on German TV and loved by all children.
You can get all sorts of toys, stamps, calendars, cups, books and more with Krtek on it.
It is a beautiful souvenir to take home.
---
Have fun visiting Prague with your family! I hope you will enjoy and have a fantastic time. If you have any tips or feedback, please leave it in the comment box below.
If you enjoyed this post, please share it with your friends on social media.
Have Fun and Safe Travels!
Anke
---
This post contains affiliate links. For more information please click here.