This post is Part 2 about Singapore with Kids but this time; it is all about the Universal Studios Singapore situated on Sentosa Island.  If you are visiting Singapore, you will need to spend at least (!) one day on Sentosa Island.
Sentosa Island is an Island Resort in Singapore that opened in 1975. Over 20 Million people alone are visiting the Island every year. There is a good reason for it; the numbers of attractions, hotels, and restaurants are huge.
For more attractions on Sentosa Island, be sure to read The Magic Of Sentosa Island.
 The Universal Studios in Singapore are amazing!!!! To be fair, I am not a big fan of theme parks, but I would revisit this one anytime. In fact, it will be on our travel list for next time, that's for sure. If you'd like to know what our favorite rides were, please read on.
If you'd like to know what the Universal Studios in Singapore on Sentosa Island has to offer and what our favorite rides were, please read on.
Let's start with some details first.
---
Some Facts about the Universal Studios Singapore
The Universal Studios in Singapore cover a massive area of 20 hectares (49 acres).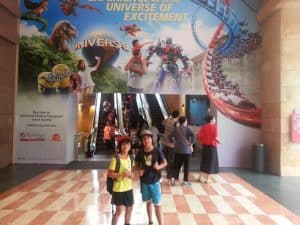 It is part of the Resorts World Sentosa. The park was officially opened on March 18, 2010, so it is quite a young theme park.
The movie based attractions are featuring: Sci-Fi-City, Ancient Egypt, Lost World, Madagascar, Far Far Away, Hollywood Boulevard and New York.
Each of these 7 zones has their own attractions, thrilling rides as well as dining and shopping areas.
Discover Dinosaurs at the Lost World, meet Puss in Boots and Shrek in Far Far Away, explore the jungle and meet your favorite characters in Madagascar.
Enter the breathtaking world with Transformers in SciFi City, get a photo taken with Cleopatra in Ancient Egypt, watch a live performance on the Hollywood Boulevard and visit Sesame Street in  New York City.
Wherever you go, in every corner there are new fantastic sights to take in. Just stunning!
---
Admission Fee
Adults S$74/$54; Children (4 -12 years) S$ 54/ $40
The park is open on Saturday: 10 am – 8 pm and Sunday – Friday: 10 am – 7 pm.
How To Get There
Getting to the Universal Studios is easy. The fastest, affordable and most convenient way is by Taxi.
By Train: take the MTR North-East or Circle line to Harbour Front Station. Exit to Vivo City, go to level 3 and board the Sentosa Express. Exit at Waterfront Station and walk to the Universal Studios
You can also walk from the Vivo City Shopping Mall or take a bus. Of course, if you have hired a car; that would be another option.
How about taking the Singapore Cable Car? Walk towards exit B within the Harbour Front train station; then follow the signs leading to the Singapore Cable Car station. Take the cable car to Imbiah station and from there take the Sentosa Express train to Waterfront Station. From there it is a short walk to the Universal Studios.
---
Our Experience
Well, I said it before, my three children and I loved every minute of spending at the park.
At the time of our visit, they were 5, 9 and 10 years old. I think that is a perfect age to visit the Universal Studios. But even with a toddler or preschooler, they are many attractions available. Most rides have a minimum height restriction. Here are a few examples:
Madagascar: 80 cm
Sesame Street Spaghetti Space Chase (so cute): 92 cm
Transformers the Ride: 102 cm
Revenge of the Mummy: 122 cm
The park never felt crowded to us even though we went there during the holiday period. Even getting our tickets didn't take very long. But for next time I would preorder them online because every minute counts!!!
My biggest Tip would be to get a Fast Pass ticket. We had to wait in average around half an hour to go on a ride. We didn't mind waiting at all.
I was surprised how patient my kids were. But it is still frustrating to watch how quickly the people in the fast lane were able to board the rides. Nevermind, there is always the next time. 🙂
Where can you get the Fast Pass?
You can buy the Fast Pass inside the park. That way you can check out first how busy it is and if it's worth the additional investment. The waiting times are displayed in front of each ride.
---
Update on October 5, 2016
One of my lovely readers (Thanks, Caroline ♥) asked a question in the comment section below that made me realize that I had forgotten an important information. How much is a Fast Pass Ticket?
There are two different versions available. The first one is the Universal Express Pass and costs from S$30/$22. It allows you a 1(!) time access to each of the seventeen participating attractions.
The second version is the Universal Express Unlimited and as the name suggests gives you unlimited access to all participating attractions. The ticket price starts from S$50/$36.
---
Our Favorite Rides
I asked my children about their most favorite rides. Arthur, my ten years old thinks the craziest one was the Battlestar Galactica roller coaster. I didn't go on it; it was even scary to watch.
This rollercoaster is the world's tallest dueling roller coaster. My son was waiting 90 minutes to get on it (all by himself) Here is a video of the ride I have found on youtube, just to give you an idea.

Karl and Arthur both loved the Revenge of the Mummy ride. Mariana really enjoyed the Sesame Street Spaghetti Space Chase; me too by the way!
But what a change from this cute ride to my absolute favorite Transformers the Ride in 3D. Poor Mariana had to come with me twice since I couldn't leave her on her own. Guess what; she liked it too on the second time!
We spent the whole day there, and if we could we would have spent the whole night too! 🙂 But sadly, our feet got tired, and we had a flight to Paris to catch.
My Tips In A Nutshell
Plan a whole day to visit the Universal Studios.
Take a Taxi to go there. It is the most convenient and fastest way. Or stay in one of the 14 Hotels on Sentosa Island.
Wear comfortable shoes, take plenty of water, an umbrella for sun protection and if you have a little one you will need a stroller or baby carrier. There is a lot of walking involved.
If you can afford it, buy a Fast Pass Ticket and avoid long waiting queues. It will save you a lot of time.
Get your ticket online to avoid queuing up. Click the box and book your tickets for a discounted price.
---
My Verdict
You guessed it; I highly recommend a visit to the Universal Studios Singapore. If you have the time, go there and enjoy with your family what this park has to offer.
Fun, thrilling rides, live shows like dance, music and stunt shows. Take a photograph with Cleopatra, Transformers, Frankenstein and many more movie characters on it.
I am sure, you and your kids will love it. We certainly did!
If you have any questions, please feel free to leave a comment below.
~Anke
 Note: This post contains affiliate links. If you decide to purchase one of these products I will earn a small commission fee. I always recommend products I have used or would recommend to friends and family.