A visit to Germany wouldn't be complete without visiting the gorgeous city of Dresden, the capital of the Free State of Saxony. My top 10 list of things to do in Dresden with kids will show you lots of fun and exciting activities for the whole family.
I grew up only a short 40 minutes car drive away from Dresden and remember fondly family outings to this charming city. Even as a kid, one of the most impressive sights and favorite places to go was the Zwinger Palace and its famous art gallery 'Alte Meister.'
The old town center is surprisingly compact and can easily be explored by foot. On your family trip to Dresden, you will discover exciting museums, yes, even for the kids, parks; you can go on one of the oldest suspension railways in the world, enjoy a bike ride along the Elbe riverbanks or take a boat tour in a traditional paddle boat.
There is plenty to do for parents and kids alike. You can easily spend a few days in Dresden and its beautiful surroundings.
Let's start off with some general tips that will make your trip so much more relaxed and enjoyable.
---
How To Get To Dresden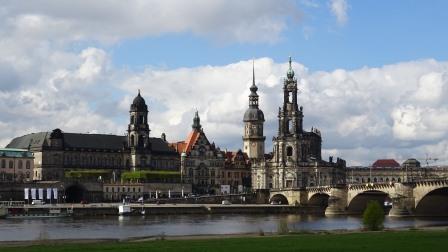 The beautiful city of Dresden is accessible either by airplane, bus, train, or car.
The airport is just a twenty-minute train ride away from the city center and with only €2.30 is one of the cheapest airport shuttles services in Germany.
Another favorite way to get to Dresden is by train. It is only a 2 hours train ride from Berlin and 1.5 hours away from Prague (Czech Republic). That makes Dresden an ideal place for a stopover.
---
How To Get Around
Dresden offers a great, affordable public transport system and to make your journey easier you can choose city cards for families starting at €15/a day which is valid for a family including four children up to 14 years of age.
City cards are available for one, two or three days and besides the free use of public transport offer a vast range of additional discounts for attractions and restaurants.
Please click here for more information and details.
---
What To Pack
A visit to Dresden is best in the months from April to October. Please note that it is more crowded in the Summer months in July and August due to the school holidays.
December is a great month to visit if you want to get a glimpse of the pre-festive season with magical Christmas markets. The only downside is the cold, and sometimes miserable weather and some of the attractions are not open.
Depending on the season, don't forget to pack these items:
Comfortable walking shoes
Hiking shoes
A raincoat
Casual clothing
A travel adapter for Europe
A good camera
Items like diapers, baby wipes, sunblock, etc. can be purchased at any supermarket.
---
Top 10 Things To Do In Dresden With Kids
A Visit To Dresden Zoo
The Dresden Zoo is a beautiful place to take the kids and observe the animals in beautiful settings. With over 13 hectares, the Zoo is quite compact but still allows reasonable space for over 1700 animals including penguins, giraffes, orang-utans ( my favorite), lemurs and many more.
There is plenty to do for your kids. Let them run loose on one of the six playgrounds, visit the petting zoo with domestic pigs and a charming mouse castle, or watch a puppet show with the Zoo Kasper.
Even though the puppet show is in German, your children will be fascinated by the colorful and imaginative play. Kasper appears from April to October every Tuesday and Thursday, as well as the weekends.
If your kids don't feel like walking then hire a handcart for a small fee. Visiting with a baby?  There are lots of changing facilities, and the Zoo even provides diapers free of charge. Now that's what I call family-friendly.
Opening Hours: Daily; Summer: 8.30 am – 6.30 pm
Admission: Family Pass (2 Adults with up to four children) €30
Getting There: Tiergartenstr. 1,Dresden; Tram or Bus Number 9, 13, 75
Website: zoo-dresden.de
---
Explore Grosser Garten Park (Great Garden), Dresden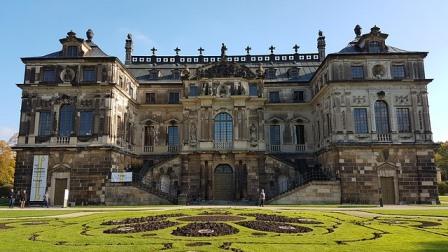 After your visit to Dresden Zoo, it is time to explore the Great Garden, a baroque style park situated right in Dresden center. As a matter of fact, the Zoo is part of this beautiful green area of Dresden.
Here, the children can fly a kite, play mini golf, or let some steam off on the playground.
What makes the park, so unique for children (and adults alike) is the miniature railway that takes young and old on a scenic ride through the park.
On your half an hour journey at a speedy 20km/hour (12 mph), you can enjoy views of the Summer Palace, lake Carola, and some of the animal enclosures from the Zoo.
What makes this train ride even more special is the fact that children are carrying out most of the service's roles. It is fantastic to see how confident these kids get their jobs done.
Operating Season and Hours: April – October; 10 am – 6 pm
Fares:Family Pass (2 Adults, 4 Children): €15
Website:parkeisenbahn-dresden.de
---
Transport Museum Dresden (Verkehrsmuseum)
A visit to the Dresden Transport Museum is suitable for all ages. Located in a beautiful historical building the 'Johanneum,' next to the Church of Our Lady (Frauenkirche), it has lots to offer to keep young and old entertained.
Take a journey back to the beginnings of transportation with Old-timers, Steam trains, Bicycles, Ships and last but not least, a model railway that is with 325 sqm one of the largest in the world.
The second floor is dedicated to the children with play areas for kids three to six years of age and an outstanding interactive children's exhibit area for older kids.
The littlies can ride bobby cars and navigate along the 'streets,' complete with traffic lights and even tunnels. Parents can have a rest and watch their kiddies having fun.
Children from 5 to 12 years old can try science experiments or go on the flight simulator.
Either way, there is lots to do and to explore for the whole family.
Opening Hours: Tuesday – Sunday; 10 am – 6 pm
Admission: Children under 5 are free; Family pass (2 Adults plus four children) €15
Website:verkehrsmuseum-dresden.de
---
Climb The Dome Of The Church Of Our Lady ( Frauenkirche)
Vis a vis to the Transport Museum is one of Dresden's most famous landmarks, the Church of our Lady (Frauenkirche), which was destroyed during the bombing raids in February 1945.
In 2005, nearly 50 years after WWII ended, the Church of our Lady was reopened in all its majestic beauty.
At the height of 67 meters (220 feet), the viewing platform offers the most magnificent views of the Elbe valley and the city itself.
You can reach the platform via a narrow staircase that can be quite tiring to climb. Even though children under six years old are not allowed to go up due to the strenuous walk upstairs, with a baby carrier for younger children, the ascent to the dome is doable.
Overall, the breathtaking views are worth the effort.
Opening Hours: March to October: Monday – Saturday: 10 am – 6 pm; Sundays: 12.30pm – 6 pm; November to February: Monday – Saturday: 10 am – 4 pm; Sunday: 12.30 am – 4 pm
Admission: Families: €20
Website: www.frauenkirche-dresden.de
---
The Famous Zwinger Palace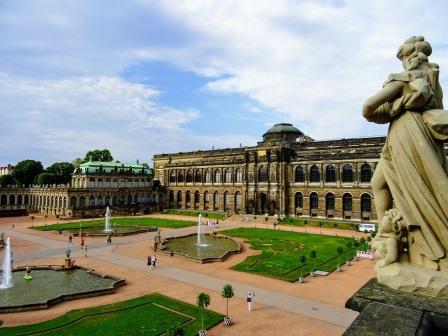 Well, I have to admit a visit to the beautiful and impressive ensemble of the Zwinger palace is probably more for the grown-ups. 🙂 But I am sure children will enjoy these gorgeous surroundings too.
Even when I was young, the Zwinger palace has always been one of my favorite places when my family visited Dresden. The beautiful Baroque architecture, the palace gardens, and the famous Baroque fountain Nymphaeum are magical.
It is a bit of a time travel, back to the times of Augustus the Strong in the eighteen centuries.
Today, the Zwinger Palace is home to various museums including the well-renowned "Gemäldegalerie Alte Meister" (Old Masters Picture Gallery) with Raphael's  famous 500 years old enchanting masterpiece 'Sistine Madonna.'
If your children are into knights and shining armors, then I highly recommend a visit to the Royal Palace with its impressive exhibition in the "Rüstkammer." Admission for under 17 years old is free.
Zwinger Art Gallery
Opening Hours: Tuesday – Sunday; 10 am – 6 pm
Admission: Adults €10; Children under 17 years free
Website: gemaeldegalerie.skd.museum
---
A Cruise On A Paddle Steamer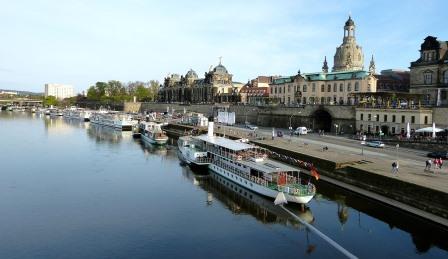 You and your children might enjoy a relaxed cruise on one of eight historical paddle steamers after so much sightseeing and be walking about.
The Saxon Steamship company operates the oldest and largest fleet of paddle steamers in the world which are around 100 years old.
You can choose from different tours, ranging from scenic day tours to Saxon Switzerland, or short city tours.
In my experience, an hour-long tour is sufficient with children since they get easily bored on a boat. But that is a reasonable time frame to get a taste of this unique experience.
---
 A Ride On A Historical Suspension Railway (Schwebebahn)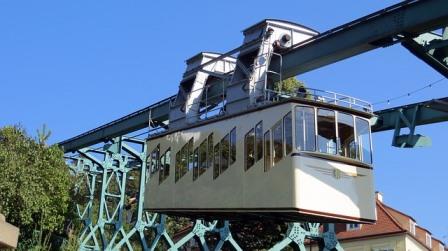 Here is another unique thing to do. Dresden is home to one of the oldest suspension railways in the world, operating since 1901. Just a 20-minute tram ride from the Old Town Center, this historical 'train' takes you up a hill to a viewing platform from where you can admire the spectacular views of the Elbe river valley.
One of the attractions you will see is the 'Blue Wonder' (Loschwitz Brücke) that ones was counted as a technical masterpiece in the 19th century.
Next to the Schwebebahn is the funicular railway (Schwebebahn) which has been operating since 1895.
It is a fun trip for the whole family. On top of the hill is a small cafe for some ice cream or coffee. Enjoy the view, sit back and relax!
---
Go On A Bike Tour
If your children are a bit older, then Dresden is the ideal place to go for a leisurely bike ride along the Elbe river bank. The Elberadweg is hugely popular; from here you could even bike all the way to Hamburg, in North Germany.
The cycle path is wide, safe and comfortable to ride with no hills, perfect for younger children as well.
There are plenty of bike hire stations available in the city center with a variety of bikes for adults and children. If you have a toddler, you can use a children's seat or trailer for kids to sit in.
Here is a great place to hire a bike, situated in the Old Town next to the Frauenkirche (Church of our Lady): dresden-fahrradvermietung. Have fun!
---
A Day Trip To Saxon Switzerland National Park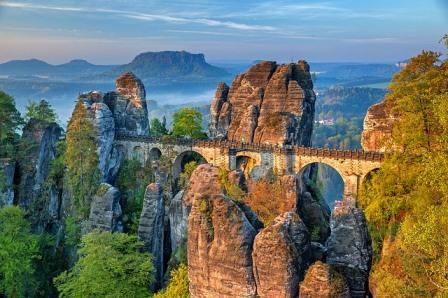 The Saxon Switzerland National Park with the Elbe Sandstone Mountains are only less than an hour away by train from Dresden. It is such a fantastic place to take the whole family for a day trip.
You won't find this unique variety of landscapes from rocky mountains, valleys, ravines and table mountains anywhere else in the world.
Most hiking trails are suitable for young children and are wide enough to take a stroller or buggy for babies and toddlers.
To get more inspiration and ideas for activities like climbing or horse riding, please click here.
One of the most famous landmarks of the region and must-see attractions is the Bastei which is a magnificent rock formation that rises over 300 meters above sea level.
The Bastei Bridge is a man-made bridge that connects several rock formations and is an absolutely stunning sight.
The views from the panoramic lookout over the mountains and to the river Elbe are just spectacular.
Getting To Saxon Switzerland National Park: by train: 40 minutes from Dresden to Bad Schandau (train goes every 1/2 hour)
Admission: none
Open: all year round
---
Conquer Königstein Fortress
The Königstein Fortress is another must-see attraction with lots of superlatives.  This massive fortress looks back at over 800 years of history.
Imagine 40 meters high walls with an ensemble of 50 buildings in different architecture styles from Gothic, Renaissance, Baroque to the 19th century inside.
Your children will surely feel like a princess, knight or king while they are exploring this impressive fortress.
There are audio guides for children available suitable for kids from six to 12 years old. You don't have to pay when you get one for yourself for €3.
Children from eight years old can explore the fortress by solving a riddle. The riddle forms can be picked up from the information office.
Getting There: from Dresden to Königstein town by train: 1 hour; from their courtesy train to the Fortress
Opening Hours: Daily, March – October: 9 am – 6 pm; November – February: 9 am – 5 pm
Admission: Family Ticket (2 Adults, up to four children; children under 7 years are free) €21
Website: festung-koenigstein.de
---
Our Recommended Resources
To find the best hotels for the best price we highly recommend Travelocity.com. Click on the banner below to find the best hotel deals.
---
Wrapping It Up
I do hope you enjoyed my top 10 things to do in Dresden with kids post and have found some ideas and inspiration for your next trip to Dresden/Germany.
Please share with your friends on social media.
~ Anke
---
* This post contains affiliate links. For more information click here.