The Spreewald is a stunning region in the Lower Lusatia, only 100 km southeast of Berlin, easily reached by car or by train. My post will show you why this beautiful UNESCO biosphere reserve is the perfect place for your next family vacation.
Even if you don't have time to stay for a few days, you should at least plan a day trip from the hustling and bustling Berlin.
I grew up only a hop, skip and a jump from Spreewald's central town Luebbenau and fondly remember countless family trips,  visits to Museums Dorf Lehde, and going on the ever so popular traditional punting tour.
Not only will you discover regional food specialties like Leinöl and Quark (linseed oil and curd cheese served with boiled potatoes), the (always a favorite) pickled gherkins, picturesque streams, vast meadow landscapes and more than 200 canals you can cross over wooden bridges. You will also explore the culture of the Sorbs who settled here 1000 years ago.
Road signs are bilingual in German and Sorbian language, and there are a few schools that teach the Sorbian language as the first language.
Here are my top things to do with your kids when you are visiting the Spreewald and the surrounding area.
---
Getting There
As I mentioned before, you can take either the train from Berlin or, if you want to stay for a few days I'd recommend hiring a car.
By Train: Take the Regional train RE2 from Berlin, S-Bahn Alexanderplatz to Lübbenau (Spreewald). The train goes every 60min. You will get to Lübbenau in just under an hour.
From the train station, it is another 10min walk to the main center to go on a punt tour or to hire bicycles or kayaks.
By Car: From Berlin: Go on the A 13 (towards Dresden) and take Exit 9 – Lübbenau
Our Recommended Resource For Hiring  A Car Is CarRental 8 – For more info, please click on the banner. (#affiliatelink)
---
Finding Accommodation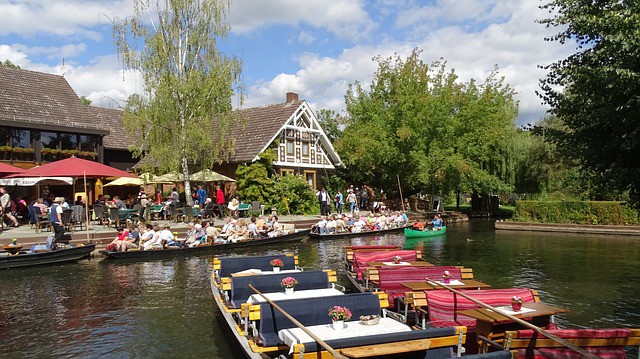 Lübbenau is the most central place to stay when visiting the Spreewald with plenty of hotels, holiday homes, and apartments. To save money, I would recommend booking outside of Lübbenau especially when you travel by car.
The distances are only short in between the sights, no more than a 15 to 30-minute drive. Sometimes all it takes is a quick stroll.
We stayed in a holiday home with a fully equipped kitchen and a big garden with plenty of space for the kids to play.
Please note, you need to book at least six months ahead for the main season June, July, and August. If you can, it is best to visit in May or September and early October.
---
Spreewald – Top Things To Do With Kids
Take A Traditional Punt Tour (Kahnfahrt)
Going on a punt tour is one of the most popular ways to explore the small canals in Spreewald. The biggest punt harbor is located in Lübbenau with its gorgeous historical center.
You sit in a small wooden boat that is pushed forward through shallow waters by a boatsman who pushes a pole against the riverbed.
A typical punt tour takes around two to four hours and includes a break to have lunch or, in the afternoon, a coffee and cake. The guided tours are usually in German, but there is one guide available who offers tours in English and Spanish. Here is the link to make a booking for a guided tour in English.
A punt tour might not be suitable for very active toddlers who want to move a lot. Otherwise, it is a lovely activity for the whole family.
Along the way, you'll be offered pickled gherkins out of wooden barrels and they are delicious. I highly recommend you to try one.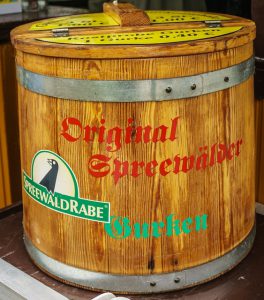 ---
Museumsdorf Lehde
A visit to the open -air Freilandmuseum Lehde is a must.  This museum is interactive with lots of unique things to explore for kids and parents alike.
The kids (and parents) can learn traditional games, walk on wooden clogs and dance a traditional dance (don't forget the video camera 🙂 )
Get a  fascinating insight of the life and culture of the Sorbs over 100 years ago where families had to live with no power or water from the tap. They lived in small wooden cottages in one room and shared one bed. It is a time travel back to the 19th century.
My children loved to have a go at washing the laundry the old-fashioned way.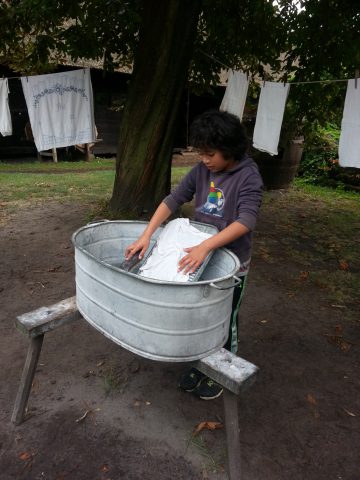 The only access to the museum is by crossing bridges because it is surrounded by water. Have fun exploring this fantastic open-air museum!
Getting There: By car, foot (a 30-minute walk from Lübbenau center), bike or by a punt tour
Opening Hours: Daily, 10 am – 6 pm
Admission: Family pass(2 Adults plus three children) €10
---
Go Paddling
My favorite way of exploring the peaceful surroundings, Spreewald villages like Leipe and the little canals is by hiring a canoe and paddling your way around.
It is so much fun to go at your own pace and discover little gems away from the tourist route. With some luck, you might even spot some storks or beavers.
All canoe hire stations offer lifejackets for little ones and maps that show routes of different lengths. Stop at various cafes and restaurants along the way, see the traditional wooden houses from the river, and enjoy the tranquility of this extraordinary region.
Prices for a canoe or kayak start from € 8 for a minimum of two hours (2-seater) and € 19 for the day.
I highly recommend making a reservation because canoeing is very popular. Here is a website with a list of canoe hire stations in the Spreewald region.
---
A Leisurely Bike Ride
The Spreewald has a fantastic network of cycle paths which are easy to ride since the region is so flat. The most well-known one is the "Gherkin Bike Trail" (Gurkenradweg) which measures around 260 km in lengths.
Of course, you don't need to do all of it! Even a short bike ride of about an hour gives a good idea of the unique scenery and enchanting villages that you will encounter along the cycle trail.
There are lots of little cafes and restaurants for a much-needed snack or ice cream on your route, or you could even pack a light picnic.
Please be aware that sometimes you'll need to carry your bikes up some stairs at a few bridges. That might be a bit tricky with younger children. Otherwise, the trails are flat with no climbs whatsoever.
Please click here to find places around Lübbenau for bikes to rent.
---
Wildpark Johannismühle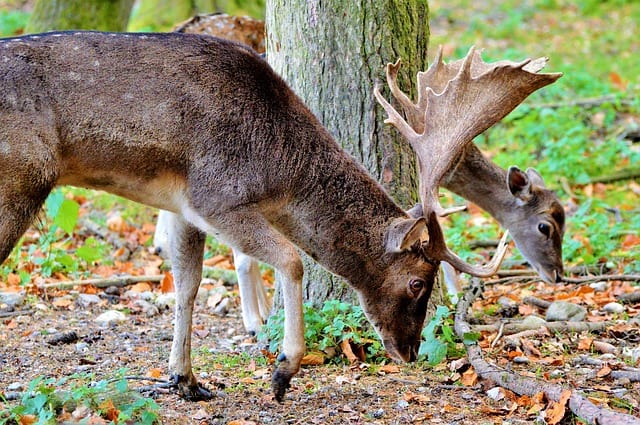 Even though the Wildpark Johannesmühle is geographically not part of the Spreewald region, it is only a 30 minutes car drive from Lübbenau and well worth a visit.
Around 500 animals of 50 different species can call this vast forest like area their home. You can see brown bears, black bears, wolves, lynxes and even lions in generous enclosures – some of them were part of the East German circus and live now in a natural habitat.
Visitors have the chance to observe animals like black and red deers without any fences. The two circular trails are ideal for strollers and even wide enough for people in wheelchairs.
A petting zoo, playground, and waterbird pond keep the littlies happy. My kids had so much fun feeding the big hungry carps in the pond.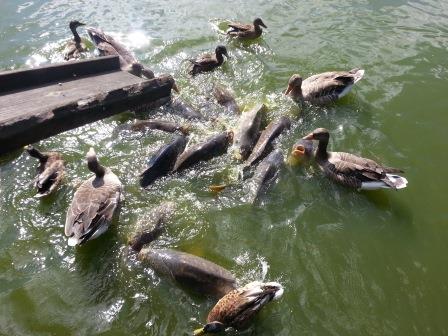 Getting There: From Lübbenau via B115 going to Klasdorf
Opening Times: Tuesday – Friday; 10 am – 7 pm ( March-August) in Winter closing time is at 4.30 pm
Admission: Family pass 1 ( 2 Adults + 2 Kids) from €20; Family pass 2 (2 adults + 4 Children) from € 24; children under three are free
---
Museumsdorf Baruther Glashütte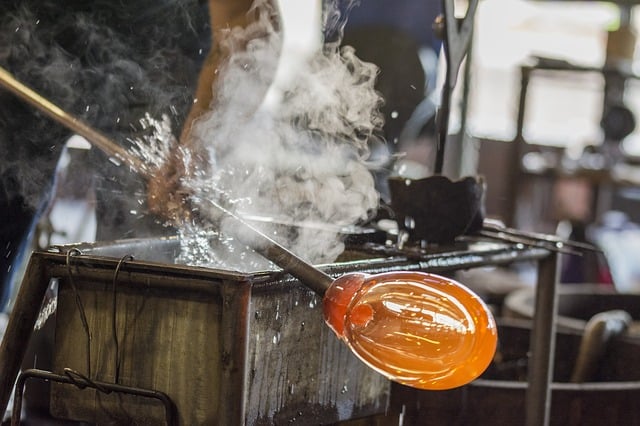 The Museum Village Glashütte is an ensemble of an old glassmaker factory( which is now a museum), beautiful old houses, cobblestone roads, a nature path, playgrounds, artisan shops, an art gallery, cafes, and restaurants. It makes this living museum village a perfect place to spend a morning or afternoon.
It is only a short drive (7 minutes) from the Wildpark and definitely worth a visit.
The museum features a living glass studio where children and adults can blow their own glass globe. It was the highlight of our visit and glass bulbs even 'survived' the flight back from Germany to New Zealand.
It is such a peaceful place with a relaxed and welcoming atmosphere. One of the main attractions in the summertime is the Children's festival which happens each August.
Next to the Glashütte heritage center are various cycleways and trails for inline skating.
Getting There: From Lübbenau via B 115 (30 minutes by car)
Opening Times Museum: Tuesday – Sunday 10 am – 6 pm
Admission (Museum): Children under 7 years are free; Family pass (2 adults + 3 children) € 13; extra fee for glassblowing € 7
---
A Day At The Tropical Islands
The Tropical Islands are full of superlatives. Not only will you find this water theme park inside the world's largest airship hangar but it is also the world's largest indoor rainforest.  Also, it holds the world record for the world's largest indoor waterpark. This place is truly gigantic.
It is home to Germany's highest water slide tower and many more attractions. You can visit the Tropical Village and admire its entrance, the Balinese Temple Gate or you can go shopping or take a trip in a balloon.
The younger children can explore the Tropino Club with a huge climbing play area, XXL- lego blocks or they can try out go-karting.
A few years ago the enormous outdoor pool area 'Amazonia' including an adventure playground for kids opened its doors. It adds even more fun to this activity-filled place.
Tropical Islands are open all year round and you can even book an overnight stay.
Getting There (from Lübbenau): via A 13, 25 minutes away
Opening Times: Daily; 6 am – midnight
Admission: Tickets are from € 42  for adults, from € 28.50  for children, under 5's stay for free
---
Summary
I hope you are inspired to visit the stunning Spreewald region with your kids. It is a unique and truly magical place in the heart of Europe. Enjoy the tranquility of this amazing place rich in tradition, culture, unspoiled nature, pristine lakes, and tasty regional specialties.
Whether you come for a day trip or have time to be here for a week, I am sure you'll enjoy the special atmosphere the Spreewald has to offer.
---
Please note: this post contains affiliate links. Please read my affiliate disclosure for more information.
More Places To Discover In Europe
Berlin, Dresden, Prague, Spain