Welcome to our definitive list of the best carry-on backpacks for domestic and international travel available in 2020.
Traveling light is the new trend for excellent reasons:  skip the long queues for checking in your travel luggage, save money for paying extra for check-in luggage when traveling with budget airlines and also save time when you leave the airplane.
In the spirit of traveling with kids, it is also about maximizing the amount of luggage you can take aboard. Every little bit counts when you are 'on the road' with children.
It is vital that the size of the backpack matches the recommended size for a carry-on travel bag required by each airline. The carry-on backpack should also feature a robust suspension system with padded straps and a hip belt to relieve strain off the back. Different compartments are also essential to organizing your travel gears.
Related Post: The Best Carry On Luggage on wheels.
Let's get started to find out which are the best carry on travel backpacks not only for international travel right now.
---
Comparison Chart For The Best Carry-On Backpacks International Travel
For people who want to have a quick overview, here are my top picks for the best carry-on travel backpacks for domestic and international travel.
| My Top Choices | Size | Volume | Weight | Rating (out of 5) | Price | Description |
| --- | --- | --- | --- | --- | --- | --- |
| Osprey Farpoint 40 | 22" x 14" x 9" | 40l | 3lbs | 4.8/5 | $$ | The Osprey Farpoint 40 is a fantastic backpack with a great suspensions system and lots of storage space. |
| Kelty Redwing 44 | 22" x 15" x 12" | 44l | 2.6lbs | 4.5/5 | $$ | A great backpack which is comfortable yet stylish looking. |
| Osprey Porter 46 | 27" x 14" x 7" | 46l | 1.2lbs | 4.5/5 | $$ | A great backpack with lots of storage space. Extremely lightweight. |
| Osprey Ozone 46 | 20"x 13" x 12" | 46l | 3.3lbs | 4.5/5 | $$ | A practical travel backpack which you can secure to a wheeled luggage handle. |
| Kelty Women's Redwing 40 | 23" x 14" x 12" | 40l | 2.6lbs | 4.4/5 | $$ | A solid and comfortable backpack designed especially for women. |
| SwissGear Laptop Backpack | 18.5" x 13.5" x 9" | 31 | 3.2lbs | 4.2 | $ | The Swissgear Backpack is designed to safely hold your laptop but is roomy enough to pack a few clothes and toiletry. No waist belt. |
Now it's time to have a detailed look at each of my top picks for the perfect carry-on backpack for international travel.
---
 Our Definitive List For The Best Carry-On Travel Backpacks In 2020
Osprey Farpoint 40 Review
Before I get into the nitty gritty I admit it; I am a huge fan of Osprey. My travel backpack (over 20 years old) traveled the world, was the best companion when cycling on my bike or for daily commuting for work with hardly any signs of wear and tear.
I still would have it, if it hadn't been stolen by someone who apparently liked the look of my fantastic travel companion. It was a sad day.
Osprey offers a fantastic lifetime warranty on all their products which they call "The All Mighty Guarantee."
Osprey will repair any damage or defect for any reason free of charge – whether it was purchased in 1974 or yesterday. If we are unable to perform a functional repair on your pack, we will happily replace it.  (Osprey website)
Osprey does deliver on their high-quality standards consistently. Even though their packs are a bit more costly, it will pay off big time in the long run.
What Makes The Osprey Farpoint 40 Our Number One Choice?
The Osprey Farpoint 40 ticks all the boxes I have been looking for in a perfect carry-on travel backpack. This bag comes in three different colors and two sizes, either S/M for people shorter than 5.9″ and size M/L for people taller than 5.9″.
The Farpoint is super comfortable through its suspension system that is very similar to a hiking backpack. I do love that you can hide the shoulder and waist belt just by zipping them away. Nothing is in the way when you store it on the plane or train.
Let's face it; nothing is worse than straps that are flopping around and always get in the way. The zip-away suspension system converts the Farpoint to a suitcase-style bag or uses the extra shoulder strap to carry it as a shoulder bag.
Let's talk about the different compartments.
The front compartment is a bit smaller than the main compartment and is designed to hold a 16″tablet or laptop plus travel documents and accessories for your electronic gadgets.
The main compartment is large enough for your travel clothes. It features the front panel opening for easy access plus compression straps to reduce the bulkiness of the clothes.
The front compression straps are reducing the bag size even more.
Some More Cool Features
The mesh panel helps with ventilation in hot climates.
There are also loops in the heavy-duty zippers that can be locked with TSA approved lockers.
You'll also find two mesh pockets in the front for drink bottles, and two padded carry handles; one the top and one on the side.
Are There Any Drawbacks?
I only found a few negative reviews about this bag. One tall person 6.1″ found the suspension system uncomfortable and another one complaint about wear and tear after two years of use. Also, when the bag is fully packed, it is hard to fit a water bottle into the front mesh pockets.
Our Verdict
In my opinion, the Osprey Farpoint 40 is not only the best carry-on backpack but also the best bag for international travel and the best travel backpack for women due to the two different sizes that cater for short and tall people.
My advice is before purchasing any backpack: try it on to check if it is the best fit for you.
The suspension system is supportive and comfortable, the zippers are lockable, and the Farpoint can be carried in three different ways which are an advantage. The zip away option for the straps is excellent as well.
---
Kelty Redwing 44 Review

The Kelty Redwing 44 is a popular backpack and a packing volume of 44l offers more packing space than the Osprey Farpoint 40.
All Kelty products have a limited warranty as outlined by the company.
Kelty branded products (tents, backpacks, sleeping bags, and kid carriers) are warranted to the original owner against manufacturing defects in materials and workmanship for the lifetime of the product. […]  This warranty does not cover consequential damages or any other losses arising from any defect of the product. Damage not covered under warranty may be repaired for a reasonable rate and a fee will be charged for return shipping.(read more on their website)
The Kelty Redwing features thick padded straps and waistbelt that takes the weight off your shoulder and makes it comfortable to wear, even for longer times. The internal aluminum frame, which you can remove, by the way, is ideal for stabilizing the weight also.
Who doesn't dread a sweaty back after a long walk or in hot, humid conditions? No problems with the Redwing which offers a mesh back panel for improved airflow.
With this pack keeping organized is easy with side pockets on each side, a zippered compartment in the top lid and a stash pocket with organizers in the back. The laptop sleeve is in the back also and will keep your 17″ laptop well protected.
You can access the bag as a top-loader or by using the U-zipper as a front loader.
The Redwing is best suited for a torso length of 14.5″ to 18.5″.
Are There Any Drawbacks?
The zippers are not lockable, and you can't zip away the suspension system. I also find it looks too bulky. But that's my taste. The handles need improvement as well.
Our Verdict
The Kelty Redwing 44 is a spacious backpack with lots of compartments to stay organized. The suspension system is of high quality and makes carrying this bag a breeze.
---
Osprey Porter Travel Backpack 46 Review

The Osprey Porter 46 is a good-sized travel backpack that is suitable as carry-on luggage. It has a slim duffel bag look which is quite stylish, yet it's a very functional bag. You can easily convert it from a backpack to a suitcase-style bag.
The suspension system is basic, not as supportive as the Osprey Farpoint but still, it does a good job. You will be able to tuck the straps and waistbelt away behind the back panel. The main pouch is large and easy to access through the front panel.
Important features to point out are the load lifter straps and the adjustable sternum straps which are fantastic especially for women. You will be able to tuck the straps and waistbelt away behind the back panel. The main pouch is large and easy to access through the front panel.
You will be able to tuck the straps and waistbelt away behind the back panel. The main pouch is large and easy to access through the front panel.
The large front panel pocket contains the padded laptop/notepad sleeve plus other smaller compartments to store charger cords etc.
The handles are well-padded and comfortable, and I really like the padded sidewalls that compress and protect your belongings but also give the Porter a super stylish look.
One of my favorite features is the four cord loops on the front panel that allow you to attach the Osprey Daylite pack. (click here to see it) A fantastic way to expand the packing volume.
Are There Any Drawbacks?
Some people were questioning why the laptop sleeve is inside the front panel. They feel it is not protected enough. I think there is enough protection when you use it as a carry-on bag. If you check it in, I would recommend to take the laptop out and put it in a daypack. Better be safe than sorry.
Our Verdict
The Osprey Porter is a solid, stylish bag with lots of storage space, lockable zippers and extremely lightweight.; excellent for your next trip to Europe or anywhere in the world. 🙂
Due to the adjustable sternum straps (with an attached whistle) it is also a great travel pack for women.
---
Osprey Ozone 46 Travel Pack Review

The Osprey Ozone is another fantastic example of a lightweight, practical backpack that will be a reliable companion for all your travels.
It features a padded laptop compartment that you'll have direct access to if needed. The front area has two mesh pockets for a water bottle, smaller items you want to access quickly. The compression straps hold these items firmly in place.
You can tuck the harness and waistbelt away independently, so nothing gets in the way while checking in on the plane.
A neat feature is the lower zipper compartment where you could put your dirty clothes, extra shoes, a rain jacket and so on. The compression straps don't run across the bag as seen on the Farpoint and Porter. Therefore you can easily access the three front pockets without undoing the straps.
Another feature I like is the Handle-It slot to secure the bag to a wheeled luggage handle. As with the other Osprey backpacks, the zippers are lockable with a TSA approved lock.
This bag is available in three colors; black, red and blue.
Are There Any Drawbacks?
One person found the size too short for his torso length (21″) and the buckles on the straps to flimsy.
Our Verdict
The Osprey Ozon is a robust and practical travel backpack with lots of space for your travel belongings.
---
Kelty Women's Redwing 40 Review – Travelpack Designed For Woman

The Kelty Women's Redwing corporates the best features of the Redwing 44 into this bag designed for women only.
What makes it so special for us ladies? The padded shoulder straps and the hip belt are contoured to provide support for the body shape of women. The sternum system is adjustable, and you will also find load lifter straps.
The straps, waist belt and back are lined with mesh to provide excellent airflow and prevent us from sweating too much.
The front pocket has space for a notepad and the large main pouch can either hold a water bladder or a laptop. You'll find lots of compartments to get your gears organized, from a top pocket to two large side pockets, two mesh pockets for water bottles and a stash pocket between the front and main pouch.
One thing is to note though: the main compartment doesn't fully open up which can be an issue for some people.
The hip belt is removable for easier storage in the airplane.
Are There Any Drawbacks?
The zippers are not lockable, and you can tuck the shoulder straps away. It would be great to have a whistle on the sternum strap for safety. Also, the main compartment doesn't open all the way which can make packing a bit tricky.
Our Verdict
The Kelty Redwing for women is a reliable and durable backpack which lots of packing space.
---
SwissGear 1900 Travel Gear TSA Approved Laptop Backpack
The SwissGear Laptop Backpack is a bit different from the other reviewed travel packs. It is smaller, has no hip belt and is the most affordable one. But it is mostly designed to hold your electronic gadgets plus a bit of luggage.
This bag is hugely popular on Amazon with over 5000 sold items. The SwissGear is designed with airport security in mind with lay-flat technology. That means you can leave the 17″ laptop in the bag and it can still be scanned by TSA security.
There are multiple pockets to keep your belongings organized.
The straps are padded, and there is also a mesh pocket for your water bottle. I do love the five different colors from sporty to business like looking.
Are There Any Drawbacks?
Some people feel it has too many storage compartments, the zippers are a bit big, and there is not enough space for other things in the main compartment.
Our Verdict
The SwissGear Laptop Backpack will keep your gadgets safe and secure while traveling and leaves some space for extra travel gears.
---
Buying Guide For The Best Carry-On Travel Backpacks
Travel packs are very different from hiking backpacks. The latter is designed to be carried for an extended period of time and therefore have a robust suspension system with thick shoulder straps, a padded hip belt, and sternum support.
The downside is that these hiking backpacks are only accessible from the top which makes it harder to get stuff out you will need in an instant.
Travel backpacks are different. The suspension system is usually not as sophisticated as a hiking pack. The big advantage of a great travel bag, no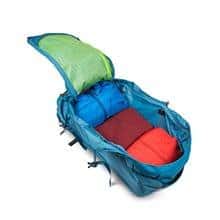 matter for business, domestic and international travel is that you can access them just like a suitcase. It is called a panel loader which means the zipper goes all the way to open the front. (as you can see in the picture)
What Are The Pros Of A Carry-On Travel Backpack
Easy access to your gears through a large front panel opening.
Suitable for business and international travel.
Most travel backpacks have a compartment for your laptop.
Extra pockets for organizing stuff.
Shoulder straps and zips can be stored away.
Sometimes it is the only luggage you will need for your travels.
What Are The Drawbacks
The suspension system may not be as supportive as the one in a hiking backpack.
They are not designed to carry them for more extended periods of time.
The zippers can be a weak point.
Some travel backpacks don't have a hip belt.
They can look a bit bulky.
---
What Do My Top Choices Of The Best Carry-On Backpacks Have In Common
Well, I know it is paramount that a travel backpack needs a good suspension system, so all of my reviewed bags (with one exception) have a hip belt to evenly distribute the weight which your back will be thankful for.
The best travel backpacks for a carry-on need to fit the size regulation required by the airlines. The typical size accepted by most airlines is 22″ height x 14″ wide x 9″deep.
The carry-on backpack should be no larger than these dimensions. Also, a 50litre bag is the maximum size to be counted as a carry-on luggage backpack.
Please note: always check with your airline about their specific regulations. If you want to be on the safe side, you might want to choose a slightly smaller backpack.
It is also imperative to have a compartment to store a laptop in my carry-on luggage. Who wants to carry two bags around? Most people need their notepad or laptop whi