This review might be a bit off subject since my primary focus on this website is writing about travel tips and experiences as well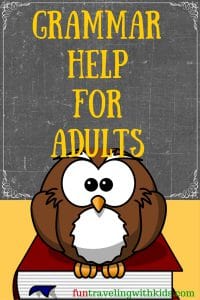 as reviewing travel related products. But grammar help for adults is close to my heart.
Admittedly, ever since I started writing this site, I needed help with grammar, spelling and proper use of prepositions and the likes. I was searching for grammar help.
In my case, it was important since English is not my first language. By coincidence I stumbled upon Grammarly, signed up for the premium version, and using Grammarly has been a lifesaver ever since.
So I'd like to share this incredibly helpful tool with you. Not only can it benefit you but also your school-aged children or anyone else living with you.
In my opinion, Grammarly is one of the best proofreaders available on the market and therefore I became part of their affiliate program. (more under Affiliate Disclosure)
I  will give you an honest review with pros and cons I have discovered. At the end of the day, I only promote what I believe in and would recommend to friends and family.
You can also watch this video if you don't mind my German accent. 🙂
Let's start at the beginning.
What is Grammarly? How does it work? What are the pros and cons?  And how could you benefit from it?
What Is Grammarly?


Grammarly was founded in 2009. It is an automated proofreader that can correct up to 150 different types of errors e.g. in writing, spelling, punctuation, etc. (in the free version).
In the premium version, it will detect up to 250 different types of errors and also enhances the usage of vocabulary.
As you can see, there are two versions available: a free and a premium version.
What does the Free Version include?
It corrects up to 150 different types of spelling, grammar, and punctuation errors.
You can copy and paste your text into the online editor.
It is available to install for both Mac and Windows operating systems.
You can download a free Browser extension to Chrome, Safari and Firefox.
It automatically loads when you use Gmail, Facebook, Twitter, LinkedIn, and Tumblr.
These features are pretty impressive. But I decided to sign up for the premium version since I felt I needed more support with enhancement of my vocabulary, spelling, and punctuation.
What do you get with the Premium Version?
Grammarly corrects up to 250 types of spelling, grammar, and punctuation errors.
It also provides suggestions to enhance the usage of vocabulary.
The program detects Plagiarism.
It provides citation suggestions.
It works in Microsoft office. Woohoo!
You can decide between American or British English.

By the way, Grammarly also shows an explanation when it suggests a correction.
So you can make a decision whether or not you would like to correct the issue.
On the screenshot, I marked with red what I need to fix. To do so, I just click on the word in the right field.
If  I don't want to correct it, I just press x.
There are three different subscriptions options:
Monthly:$29.95, Quarterly:$59.95 ($19.98/month), Annual: $139.95 ($11.66)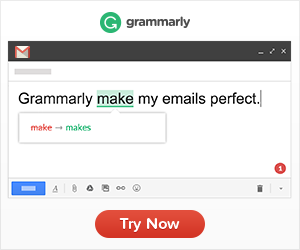 What Are The Pros And Cons?
In a Nutshell, here are the pros and cons of the premium version I have noticed:
Pros:  
Grammarly automatically loads into your writing program e.g. WordPress, Emails, Facebook, Pinterest, Microsoft Office.
Grammarly explains why corrections might be necessary; so you can decide if it makes sense in the particular context

and

 you learn more about grammar, correct spelling, punctuation, etc. at the same time.
Choose a document type e.g. Business, Casual, Academic, Technical, Medical, Creative.
 It makes editing a breeze. No more red eyes because you don't have to proofread over and over again. You can finish writing your post much faster. Yeah!!!
Everyone, who uses your Laptop/Desktop can use and therefore benefit from it!
Customer service:  via email but very quick, friendly, helpful and efficient.
Overall, Grammarly is very user-friendly.
Cons:
It doesn't work in Google plus.
Now and again I discover little mistakes Grammarly hasn't picked up on in my posts.
There is not a  LiveChat option, which would be great to have. That is just a small criticism. As I mentioned the customer service via email was great.
How Could Grammarly Benefit You?
Grammarly is a fantastic tool if English is not your first language and/or you have difficulties with grammar and spelling in general. It helps to enhance your writing skills. And you can improve your knowledge about grammar just by reading the explanations this proofreader offers.
You will be able to finish your writing faster since editing is so incredibly easy. Just click on the word that needs correction (as seen in the screenshot) and you are done. No more red eyes from too much proofreading!
If you have school-aged children they can use it when writing their homework, essays or other school related work. And in return, it will improve their grades as well. A win/win for everyone.
The best part is you can choose either the free or premium version. No trouble at all.
I can't live without Grammarly anymore. Can you? 🙂
Click the link below to try it out for yourself!
⇓            ⇓          ⇓          ⇓          ⇓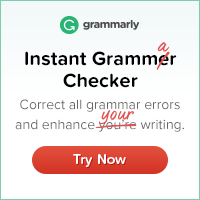 ---
Have you had any experiences with Grammarly? Or have you got another favorite proofreader program? Feel free to leave a comment in the box below.
 Have Fun and Happy Writing!
anke@funtravelingwithkids