Free Fun Travel Activities For Children
"Are we there yet?" – Who hasn't heard those much-dreaded words when traveling with their kids. You've just been driving down the driveway; the train is about to leave the station, and the plane hasn't taken off yet.
If you are on a long haul flight, it might be not too bad. The airlines offer a fantastic in-flight entertainment with movies, games to play or music nowadays.
But what if you don't want your kids to be on the screen for the whole time, or you might be on a road or train trip? So here are my ideas on fun travel activities for children. The best part is these activities don't cost a dime.
Number One
I remember when traveling with my three years old son to Germany that the passenger next to me helped me out big time to keep him busy.
Only use a magazine or brochure and ask your toddler to find things like cars or airplanes or dolls in it. You could count them; you could talk about what is happening in the picture, etc. You can give him/her challenging or simple things to find. It depends on their age as well.
I promise this will keep your littlie busy for ages.
Number Two
Sing Nursery Rhymes (not too loud please when you on a plane ♥), kids just love them. You probably still know Humpty Dumpty, the Wheels on the Bus or Old Mac Donald had a Farm ….Let your child choose which one to sing. It's also fun to do the actions that go with the song.
If you don't like singing, you might like ….
Number Three
How about playing 'I spy with my little eyes'? This activity is so much fun for every age group from a toddler, preschooler up to an adult. You could spy something that is green, round, purple; whatever ideas you can come up with. The person who gets it right first is next in line to have a turn.
If you had enough playing this game, check out ….
Number Four
This game we often play after dinner. You choose a letter from the alphabet e.g. "B". Each family member has to say a type of food that starts with this letter say for instance bread, banana or burritos. When everyone had their turn, the next one can choose a letter. As a variation, you could say the alphabet quietly, and someone else has to say 'stop.'   Also instead of selecting a type of food it could be a country, an actor/actress or musicians (these are hard ones I guess).
This game is not about winning; it is about being creative and even imaginative. This game is fun to play, and even littlies can join in with a bit of help.
Number Five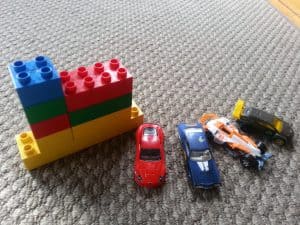 Who doesn't like Lego /Duplo and Hot Wheels? We do, especially my boys. So always when we go away for a holiday they pack their favorite hot wheels and a set of Lego blocks.
These toys don't take much space and are easy to carry around. And of course, playing with them keeps my boys happy.
My daughter usually takes either her doll or a soft toy.
There you go, keep them handy in your hand luggage, and it will be all good.
Number Six
Other essential items to have in your hand luggage are felt pen, paper, and stickers. These are a must have in my opinion. Why? The kids can get creative and use their imagination. They can draw and do pictures with the stickers.
And for a change, you can have a rest and might even have time to take a nap. Wouldn't that be great!
Number Seven
We always take our favorite books. I must admit my family loves reading. My kids still love it when I read them a story even though they can read by themselves.
Kids just love listening to their favorite stories over and over again. The books don't take much space, and I promise you won't regret that you took them.
I have a few particular books I love to read to my children and would like to recommend. They are all available on Amazon.
My boys, who are ten and eleven years old absolutely love Roald Dahl books and my six-year-old daughter adores "The little Critter" and "Fancy Nancy".
---
I do hope you like these ideas and will find them helpful when you are traveling with your kids.
I would love to hear if you have any favorite activities when you are traveling. What could you add to the list? Do you have any favorite children's books or games? Please leave a comment in the box below.
Have Fun and Safe Travels!
anke@funtravelingwithkids