Samoa With Kids
Let's be honest. Who hasn't dreamed of white sandy beaches, crystal-clear waters, sipping fresh coconut milk right out of the shell, surrounded by pristine nature? Well, there is this little paradise in the South Pacific called Samoa which has become even more popular since Disney's blockbuster success "Moana."
What better place to take your family on a trip of a lifetime. Samoa with kids is exciting, relaxing, and will create memories that last a lifetime.
Unfortunately, my family and I haven't been to Samoa (yet), but my friend Nat together with her husband and their three children enjoyed seven fun-filled days on Upolu, one of the two main islands.
The island of Upolu is home to Samoa's capital Apia and has the most population. The Polynesian people of Samoa are warm and welcoming, and you can hear a friendly "Ta'lofa" when you visit the local villages.
Nat and her family loved their vacation and are planning already their next visit.  Here is what they got up to…
---
Where To Stay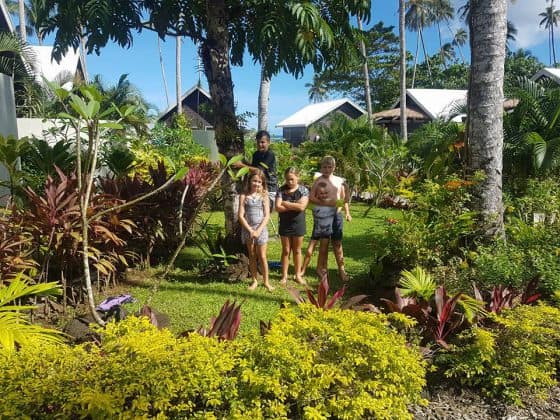 You'll find many hotels on Upolu but Saletoga Sand Resort, a four-star family-friendly resort, was a perfect choice. It takes a 40 minutes drive from the airport in Apia to get there, but of course, the hotel has a pick-up service.
Please be aware that you can only drive slowly here because of the many potholes in the road.
Saletoga Sands offers bungalows big enough for a family of five,  in a lovely garden setting with views to the pool or the ocean. Either way, it feels private and relaxing. The outdoor shower is fantastic.
Each bungalow has tea and coffee making facilities, a fridge and super comfortable beds.
Kids Fun
The beach is safe even for littlies, and the resort pool caters for safe swimming for all ages.
The Kids Club will keep your children entertained while you may want to relax with a book or to have a massage.
Beach equipment like kayaks and life jackets are complimentary and make your (water) adventures even more fun.
One of the family's highlight during their stay was the cultural day the hotel organizes weekly.
It starts in the afternoon when hotel guests can watch local women showcasing their weaving skills and men climbing the coconut trees.
The guests are encouraged to help to prepare an 'Umu,' a traditional Samoan earth oven. The latter is not for the faint hearted though with some piglets going into the ground together with taro and other vegetables.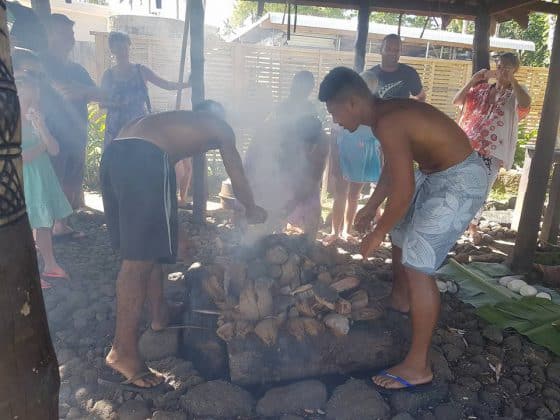 The day finishes with a Fiafia night where the guests enjoy the delicious food from the 'Umu' and watch traditional dances like the Fa'ataupati (Slap Dance), fire poi's and songs.
---
How To Book Your Family Hotel
You can book your stay directly through the Saletoga Sands website (here is the link) or through a hotel search engine.

A search engine I highly recommend is Travelocity, where you can book flights, hotels, rent cars or book package deals like flights plus hotels, for great prices by the way.


---
The Best Things To Do In Samoa With Kids
There are so many fun things to do with your kids in Samoa. Most activities are suitable for children from six years plus. Younger children will be happy to play at the beach, building sand castles or splashing in the shallow pristine waters.
Nat's biggest tip is to book a guided tour. The guides know insider tips you as a tourist would easily oversee. They speak English really well and will also tell you more about the Samoan culture.
If you are not keen on a guided tour, you can always rent a car at the hotel and explore the Island at your own pace.
Here is our list of the best things to do in Samoa with kids.
---
A Trip To Turtle Island (Namu'a Island)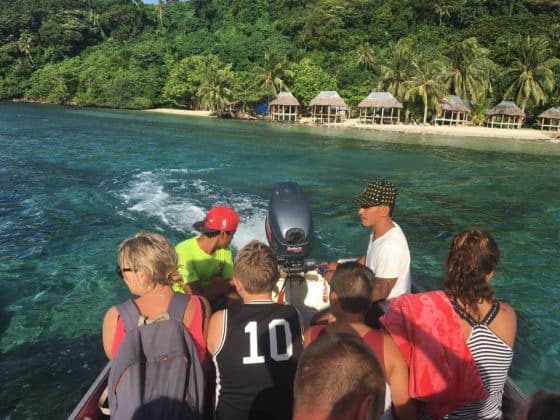 Turtle Island is only a 10-minute boat ride away from the mainland and is a perfect place to spend a day (or even a night) swimming, snorkeling or just laying on the beach in a Fale (grass hut). Nat's kids, Angus 7, Sasha 10 and Hayden 12 years old, had a blast at crab racing.
Enough sunbathing?  Climb a steep hill for 20 minutes and take in breathtaking views of your beautiful surroundings. Be aware of large fruit bats hanging on the trees. They are harmless, but some people might be a bit scared.
The local families cook lunch for the visitors, and if you book an overnight stay,  they even provide breakfast and dinner. There is not much luxury on the Island, but you still have flushing toilets and showers to wash the salt of your skin.
As for Turtles, Nat reports that they haven't seen many during their visit. The best time to spot them is in the early mornings or early evenings, so it pays to bring some snorkeling gears.
---
To Sua Ocean Trench
'To Sua' means giant hole and is probably the most magical natural swimming pool one can find. This pristine place is located near the Lotofaga village and is surrounded by beautiful gardens.
A ladder with rather slippery steps (be careful) leads 98 feet (30 meters) down to crystal clear water with tropical fish and canals that lead to the South Pacific Ocean. The brave one can even swim underneath a rock tunnel out to the ocean.
Climbing down the ladder is not suitable for younger children but Angus who is seven years old did really well.
Besides exploring these natural wonders, you can also find rock pools, discover blow holes and marvel at the tropical gardens. Take a picnic and sit in Fales (huts) and just enjoy.
Opening Times: Monday to Saturday: 8.30 am – 6 pm; Sundays: 12.30 pm – 6 pm
Admission:Adults: $ST 20 (US$ 8); Children 6 – 11 years $ST 10 (US$ 4); Children under 6 years are free
Lotofaga Village
---
Papase'ea Rock sliding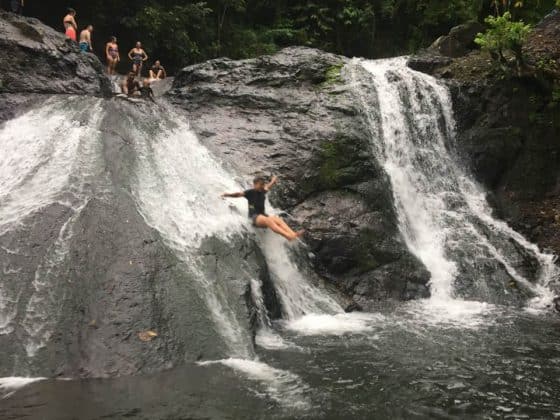 The Papase'ea sliding rocks are perfect for cooling off on those hot Samoan days. If you are brave enough to slide down the 5-meter long slide; the three smaller ones are ideal for the kids.
Nat highly recommends going on a guided tour so your guide can advise you on the best spots to go down these natural rock slides. If you don't feel brave enough, you can still splash in the refreshing freshwater rock pools which are also safe for little children.
You'll find toilets and change rooms at the parking area. It is best to leave your belongings in the van.
Admission:Adults: ST$ 5 ; Children under 12: ST$ 2
20 minutes from Apia to Seesee (Faleata District)
---
Togitogiga Falls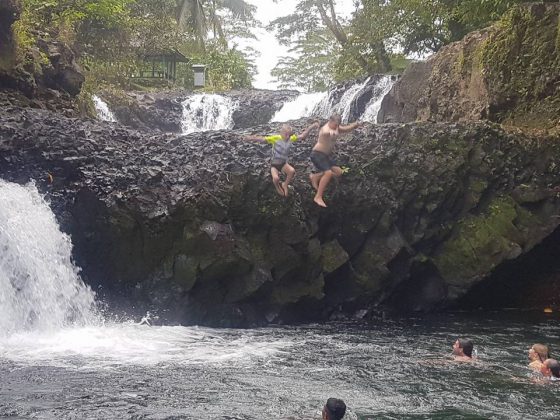 Another beautiful trip is a visit to the Togitogiga waterfalls with freshwater swimming pools. Pure bliss to cool off and extra fun for the ones who dare to jump off the cliff.
Bring your picnic and enjoy another day in paradise.
The waterfall is also well-known as a swimming area for the great warriors of Samoa in the past. Only a few miles away is the O Le Pupu-Pue  Nationalpark.
Opening Times: Monday to Sunday: 8 am – 6 pm
Admission: free
Where: Village of Saleilua
Area offers restrooms and change room facilities.
---
Apia Markets
A visit to the markets in Apia is a good way to get a glimpse of the Island culture and how the locals live. The market which Nat and her family visited was in an open shed, covered from the hot sun.
Locals are selling lots of fresh produce like taro, coconuts, an abundance of fruits and vegetables as well as necklaces, sarongs, and souvenirs.
Nat admits that the market was not really her favorite outing since she was missing street food and the general flair of an open market. It just didn't seem to be very traditional.
---
Other Things To Do
A Visit To Robert Louis Stevenson Museum
R.L. Stevenson lived the last five years of his life on Samoa, highly respected and much loved by the locals. They called him Tusitala which means 'teller of tales.'
The former magnificent homestead has become a museum that tells about Stevenson's life but also how life on the island used to be.
The guided tour takes around 40 minutes and is well worth it, not only for the fans of R.L. Stevenson.
Next to the museum is a walk that leads up to Mt Vaea where you can visit Stevenson tomb. The track will take you through lush rainforest and rewards you with a panoramic view of Apia.
The walk takes either 30-minutes or 45-minutes, depending on the route you are choosing.
Opening Times: Monday – Friday: 9 am – 4.30 pm; Saturday: 9 am – noon
Admission: Adult ST$20; Children under 12 ST$ 5
for more information go to www.rlsmuseum.org
---
Sunday Church In Samoa
The Samoans are deeply religious, and therefore it is safe to say that not much is happening on Sundays. Besides, going to church and relaxing afterward.
Why not join in and visit one of the many churches and mix and mingle with the locals. A great way of learning more about Samoans culture.
---
Feed The Turtles
9 km east of Apia is a pond where you can hand feed Giant Turtles. The Malua Turtle Feeding Pond is situated on the grounds of the Malua Theological College.
An amazing experience for young and old. The turtles love bread and fresh Papaya and eat right from your hand.
Free Entry, but you need to bring the bread or papaya.
---
Self-Guided Tour
Hire a car and explore Upolu at your own leisure, stop at beautiful beaches, go snorkeling or take a hike. There is so much more to discover.
---
General Tips
Currency
Currency is the Samoan Tala. One ST$ equals 0.55 NZ$ equals 0.40 US$. The costs for Dinner at a (Resort) Restaurant are similar to New Zealand.
Driving
Always drive on the left-hand side. As mentioned before, the roads are a bit rough, so careful and slow driving is necessary.
Climate
Samoa has a tropical climate with two distinct seasons: the dry season from May – October and the wet season from November – April.
Best Time To Travel
The best time to go is the dry season from May – October.
Necessities
Always carry water, insect repellent, and sunscreen with you. For better sun protection wear a hat and thin long sleeve shirts.
Travel Insurance
Please read my post about Family Travel Insurance and find the best for you. We never travel without one.
Flight Time
From Auckland to Apia (Upolu) = 4 hours
From Los Angeles to Apia = 10 hours, perfect for a stopover on the way to New Zeland :-).
---
Wrapping It Up
I do hope; this post has inspired you to book your next vacation on Samoa. I think we all need some special 'Island Time' now and again.
Samoa is a beautiful place to take your family, and I am sure your children will love it.
A big 'Thank you' to Nat for sharing her experience and photos with us.
I definitely know where my family and I  want to go next for our trip.
---
Did you enjoy this post? Please share it on social media with your friends and family.
---
Please note: this post contains affiliate links. For more information, please click here.