*The links in this post are affiliate links and I will receive a small commission if you make a purchase after clicking on my link.
** Updated December 20th, 2022
 Welcome To My Little Passports Subscription Box Review!
My detailed Little Passports review will show you all the features and benefits that come with this amazing subscription box. The main focus will be on the World Edition box but you'll also learn in more detail about the Little Passports USA Edition and Little Explorer subscription box.
One of my most important family vacation tips is to get the kids involved in planning your next trip. That is where the Little Passports for kids subscription come into play.
But not everyone can afford a family trip every year.  How can you still spark your children's interest in learning about geography and the world?
In my Little Passports review, I will show you how this fun and action-filled subscription service will spark your child's imagination and curiosity about various countries and cultures. You basically can travel the world with your children from the comfort of your home without spending a fortune. How cool is that!
Every month a new parcel will get delivered to your mailbox with a new topic or country. These boxes are filled with stickers, activity sheets, and even country-specific souvenirs.
By the way, besides monthly subscriptions boxes, Little Passports for kids also offers gorgeous  Christmas and Birthday gift ideas for ages 3 years to 9 years and older.
Take advantage of Little Passports Christmas deal with code: GIVING and you could save up to 20% on a subscription
Award-winning subscriptions for curious kids.
---
The Idea Behind Little Passports
The Little Passports subscription box was founded by two moms who both were exposed to different cultures when they were growing up. Their vision was to inspire children to learn about the world, and that's when the idea of Little Passports was created and got launched in 2009. It has been a success story ever since with the product being available in 10 different countries.
 Little Passports provides an opportunity to learn about different countries, the language, and culture in a fun and exciting way. Best of all it sparks your kids imagination.
When children learn about various countries, it opens their eyes to the wonderful world of adventures, all kind of foods, exotic animals and new languages. That is why my children (and I) have enjoyed this program so much.
It doesn't matter if you can take your children to a different country or not. Little Passports create an opportunity for everyone to explore the world.
Let's have a closer look at what this fun and engaging subscription service offers.
In my post, I will show you why my children loved it, and if this subscription box might be an excellent choice for your kids.
By the way, what is a subscription box? It works like subscribing to a magazine; you pay upfront, and the box will be delivered each month by email. You can choose to pay monthly, or a six months or 12 months subscription.
---
 Little Passports Review
A Subscription Box For Every Age
No matter how old your child is, Little Passports has you covered. 🙂
I like that Little Passports has three different subscription boxes addressing different age groups. That means each activity box is age-appropriate which is important otherwise your little darling might get either overwhelmed or bored.
Choose from:
Early Explorers
for 3 to 5 years old
World Edition
for 6 to 10 years old
USA Edition
for 7-12 -year- olds
We opted for the World Edition box since my kids are six, ten, and eleven years old.  The World Edition box introduces a new country each month, and that is what my kids are most interested in; learning about different countries.
But before I get into more details about the World Edition box,  I'd like to share what you'll get with the Little Passports Early Explorer subscription and the Little Passports USA Edition.
---
Early Explorer  Subscription Little Passports – A Quick Review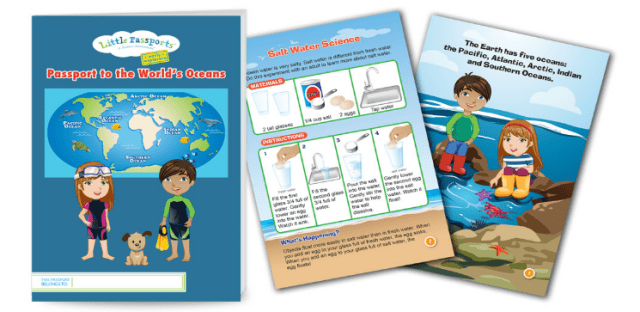 The Early Explorer edition from Little Passports is designed for younger children from three to five years old.  Every month they get to discover a new theme like 'Space', the Ocean or 'World Music.'
The first box  (starter kit) comes with a bright-colored orange suitcase, a large world map to put on the wall, stickers, and an activity booklet.
Each following box includes a 20-page activity booklet, fun souvenirs, stickers, luggage tags, letters, sometimes even a game and flashlight activities.
Pack the electronic devices away and go on a fun and exciting trip with your kids. It is so much fun to see the world through their eyes.
You can choose from three subscription options:
Option 1: a monthly subscription for $18.95 plus shipping.
Option 2: a six months subscription for $107.70 plus shipping as a one of payment. The price equals a monthly payment of $17.95 so you save one dollar a month compared to option 1.
Option3: a 12 months subscription for $203.40 plus shipping. The price equals a monthly payment of $16.95 and will save you $24 compared to option 1.
Please Click On The Banner For More Information.
---
The Little Passports USA Edition – A Quick Overview
The Little Passports USA Edition is another fantastic subscription box. This one it's suitable for seven to twelve-year-old children.
The first box, the Discovery Kit, contains a USA field guide, a scratch book, a wall-sized USA map, and a photo scavenger hunt project.
The other packages feature two new states, a 32-page activity-packed starter journal, pop-out models, and online activities.
These activities will keep your youngster engaged for hours.
Here are the different subscriptions and price options.
Option 1: a monthly subscription for $14.95 plus shipping.
Option 2: a six months subscription for $83.70 plus shipping as one payment. The price equals a monthly payment of $13.95 so you save one dollar a month compared to option 1.
Option3: a 12 months subscription for $155.40 plus shipping. The price equals a monthly payment of $12.95 and will save you $24 compared to option 1.
Please Click On The Banner To Find Out More.
---
 The Little Passports World Edition Box Review
The Little Passports World Edition box is aimed at children six to 10-years old. Because two of my children are in this age range, I thought the World Edition would be the best option for us.
And it turns out it was the right choice for us.
What an exciting day for my kids! I had been telling them about Little Passports, and they have been asking me every day when the parcel would be arriving.
Finally, the day has come, and the parcel shows up in our mailbox. Yippee!
After we sorted out, who is allowed to open up the parcel, everything that is inside is inspected and laid out on the floor.
The first pack includes a large world map, a suitcase, a letter from Sofia and Sam who are going to be our pen pal's, your child's passport, stickers plus an activity sheet. Also, not to forget, a boarding pass with a unique code to access online games for more activities.

Recently, Little Passports has also added three animal toy squishies to the introductiory Eplorer Kit.
When the first box arrived, it didn't look like much to start off with, but it kept my children entertained for days. (And we didn't even play the online games 🙂 )
Their favorite piece by far was the suitcase. My little girl just carried it around for days, packing and unpacking the boarding pass, the stickers, and some small toys.
---
 The Following Months
Every month focuses on one country. The second pack we received from Little Passports was all about Brazil, and the third package introduced Japan.
Each of the packs is filled with a new boarding pass with access to more online games, a postcard from Sofia and Sam, activity sheets, and stickers for the suitcase.
My kids loved the country-specific souvenirs. The Brazil pack featured a real Amethyst (very cool) and the Japan pack contained a sushi eraser and an origami kit.
Wow, the origami kit was a huge hit with my kids. We love doing arts and crafts and being introduced to this amazing art of folding paper into little boxes and animals was so much fun.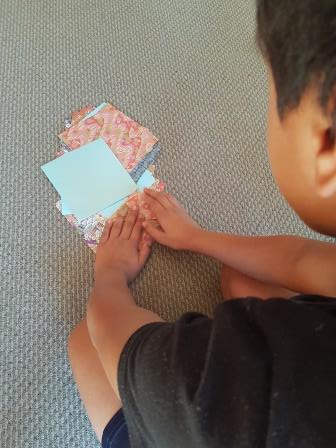 Another fun activity was cooking a country related dish. Yummy!
---
Is Parent Help Required?
Especially younger children will need help now and again from mom and dad. For instance, my 6-year-old daughter needed help with reading the letters and the instructions on the worksheets.
The Japan pack contains beautiful origami paper and how -to-do instructions.  Younger ones like Mariana will need some guidance whereas my boys had no problems at all to figure things out by themselves.
Another example is cooking one of the recipes.  My children helped with preparing the food and using the stove (under my supervision) Yet again, my boys are quite independent, but my daughter couldn't do it by herself.  That's when mom and dad can (and need) to help the younger ones too.
By the way, I think doing these activities together is fantastic for bonding with your children and creating long lasting memories.
One of the fun activities we loved was to look for the country on the world map and place the right sticker on it. The next step was to find out what it is that makes that country unique like food or traditions they might have. There is an endless list of activities you can do together with your children.
I can imagine that this subscription would be also valuable when you are homeschooling your kids.
The activities are engaging and encouraging to learn more by reading, doing the activities and researching. It doesn't feel like learning at all which is fantastic.
---
 How Much Does The World Edition Cost
Little Passports has got a few subscription options on offer.
Option 1: a monthly subscription for $16.95 plus shipping.
Option 2: a six months subscription for $95.70 plus shipping as one payment. The price equals a monthly payment of $15.95 so you save one dollar a month compared to option 1.
Option3: a 12 months subscription for $179.40 plus shipping. The price equals a monthly payment of $14.95 and will save you $24 compared to option 1.
 Get The World Edition
For Your Child
Please note that the subscriptions auto-renew, but Little Passports will send you an email with a notification, so you can stop the renewal at any time if you wish.
Little Passports ships to 10 countries, including the United States, Canada, Japan, New Zealand, Australia,  Hong Kong, Israel, Singapore, South Korea, and the UK.
Related post: 10 Tips For Family Road Trips In New Zealand
---
Why We Love Little Passports
We have found Little Passports to be a fun and educational program to help your kids learning about the world.
Every month you can travel to a different destination right at your doorstep. It is a fun and exciting way for children to develop an interest in various cultures, traditions, and languages.
If you plan your next vacation, it will get you and your kids off to a good start. And even if you don't go on a trip, your children can still learn about our world.
I do hope you have found our Little Passports Review helpful. If you have any questions, please leave them in the comment box below.
Little Passports always kept me updated about the next shipment and the upcoming renewal of my subscription.
---
What Did My Children Say?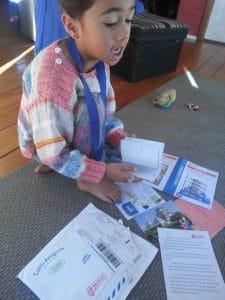 I am sure you guessed it!
They were so excited to receive a parcel with their name on it and loved the suitcase to store all the little treasures. Especially my 10-year-old-son couldn't wait to solve the word games and finding the countries on the world map.
My daughter was fascinated by Sam and Sofia and read their letters over and over again. The activities kept them busy for ages and even after a few weeks they still go back and carry on e.g. doing origami.
Quite often they were asking when the next parcel would be arriving. It was so special to both of my children.
My oldest son, who is 11-years-old was not as keen as his siblings, but I guess it has to do with his age and different interests.
---
My Verdict
Our family loves Little Passports. I think it is an excellent choice if you want your children to learn more about the world in an exciting and fun way. And yes, I think it is a worthwhile investment.
It sparks the children's imagination and inspires them to look at the world in a different way. You can do the activities together with your darlings and enjoy some special bonding time.
Not every family can afford to travel. Through Little Passports, you can still give your children the chance to explore the world. Learn, Explore, Be Creative, Have Fun!
As I mentioned before Little Passports might even be a fantastic tool if you are homeschooling your children. It is also a great gift for birthdays or Christmas since the parcels are personalized which means it has the name of your child on the box.
It is a gift that keeps on giving.
Read More About The Award-winning subscriptions for curious kids.
What is your experience? Have you heard about Little Passports before? I would love to hear your feedback. Please leave a comment in the box below.
Have Fun and Safe Travels!
Anke
---
*All views in this review are my opinion and based on my experience with this product. I don't recommend a product I don't use and love.
** All links to Little Passports are affiliate links. That means if you click on the link through my website and purchase a subscription, I will get paid a little commission at no additional cost to you. Read more here.
*** A special thanks goes to Little Passports who send me a three months subscription for my kids to try out Little Passports for the purpose of this review.
Here Are More Travel Related Product Reviews
Kid's Headphones, Strollers, Kid's Luggage, And More