One of my biggest dreams is to travel the world with my family and being able to earn money at the same time. But how can I do this? Read more in my blog, on  how I have come closer to achieving my goal.
---
More and more people want to escape the 9 to 5 drill. They want to work less and enjoy what life has to offer. It is not always about being able to travel. If you are a parent like me you want to be there for your children, doing activities together, not feeling stressed and watch your kids growing up.
Eleven months ago, I was researching an MLM company because a friend of mine tried to get me on board. But to be honest, MLM (MultiLevelMarketing) is not for me. But I found something else instead that changed my life.
Leveraging The Internet
Whilst doing my research I stumbled upon an article about working online, building a website and becoming an affiliate marketer. What the heck is affiliate marketing? How can I create a website? How can I earn money with it? I didn't know anything about it!!!
---
But I loved the idea. Over 2 billion people are having access to endless opportunities on the internet. Over 2 billion people are searching online for products, looking for advice, reading the news, looking for jobs etc. That was mind boggling . What a huge audience this is.
So I did more research and found a platform that has helped me getting started, that supports me and offers ongoing training opportunities. I have become part of the most helpful and supportive online community called Wealthy Affiliate University.

What Is Wealthy Affiliate University?
First up a few words about affiliate marketing.  It means that you build a website about a certain niche and offer help and advice for people who are searching for a particular keyword e.g. 'how can I stop my dog from barking.' If your website is about dogs and you write a blog about it, then this person will most likely find your page on google.
Through becoming an affiliate for instance with Amazon.com, you can link your site to certain products on Amazon and earn a commission on the sale. That is called the passive income.
It is not a get rich quick scheme! It takes time, effort and consistency to build your own  website aka your online business. Any business takes time to evolve and attract customers. The same applies to your online business.
Wealthy Affiliate University is a highly comprehensive training platform for everyone who wants to build an online business. It is also a community of like-minded people who help each other in achieving one's goal – building a thriving successful online business that creates passive income. 
What Does A Premium Member Get
Included in the membership are:
Video Tutorials
Live Webinars
Keyword Research Tool
Training tutorials
Hosting of 25 websites you own plus 25 free siterubix websites
Website Security Package
Website Backup
Coming in December: free SSL
Live Chat
 Feedback and quality comments for free on your website
Support and Help by other members of Wealthy Affiliate
How Has Wealthy Affiliate University Helped Me?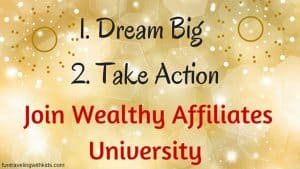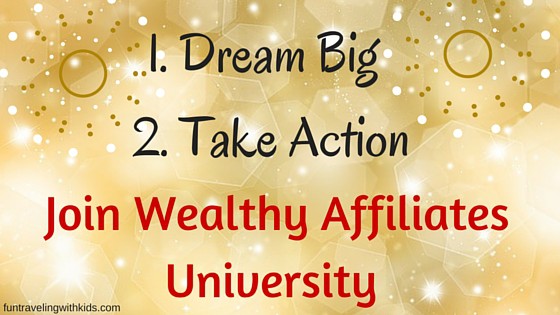 When I became a member of Wealthy Affiliate (WA) 10 months ago it opened my eyes to an entirely new and fascinating world of opportunities – the internet. I have never heard of SEO, keyword research, PPC, WordPress, Meta tags (and the list goes on) before.
I felt quite overwhelmed by it all but I knew this is my path of becoming an online entrepreneur.  My dream of travel and work online, earning a passive income , has become one step closer.
Wealthy Affiliate offers a free Membership that includes 2 free websites and an online course that will show you step by step how to build a website, how to find a niche, how to write content and how to monetize your site.  Check it out for yourself. There is no Credit Card required.
After I tried Wealthy Affiliate for free, I decided to become a Premium Member to have access to even more features and tools like video classes, life chat, more online courses, a keyword research tool and free hosting for up to 25 (!) websites.
In the past few months, I have build two websites and the first trickle of income is coming in. When I had my first sale, I thought I had won the lottery. It was so exciting.
How Can Wealthy Affiliate University Help You?
Are you unhappy with your job? Would you like to travel, work online and make money at the same time? Do you want to escape the 9 to 5 drill? Do you want to work flexible hours? Do you want to be your own boss? Do you want to spend more time with your family? Do you want some additional income?
Then becoming an affiliate marketer might be the right choice for you. Wealthy Affiliate University is the best place to start and will support you all the way on your exciting journey ahead. If I can do it everyone can.
Here are the impressive features in a nutshell:

Summary
Joining Wealthy Affiliate University has changed my life. I have learned and achieved so much in just 10 months like building two websites and getting my first commissions/sales.
I am so excited what the next year will bring. I am by no means an expert yet but I keep learning every day, thanks to the support and training tools provided my the most amazing training platform out there – Wealthy Affiliate University.  

Hope to see you there!!!
I am more than happy to help you out and will personally welcome you into the WA community. Here is the link to my profile page.
You can also check out my website HonestSuccessOnline.com to get more in-depth information.
If you have any questions or feedback, please leave a message in the comments box below. I would love to hear from you.
To Your Success!
Anke
Founder of funtravelingwithkids.com
---
 Note: This post contains affiliate links. If you decide to purchase one of these products I will earn a small commission fee. I always recommend products I have used or would recommend to friends and family.