The first holidays (Easter) of the year are just around the corner. Time to get ready to hit the road or to jump on the plane to your next family trip destination.
The idea of flying with little ones can be terrifying for parents and probably prevents many parents to travel with young kids.
There is no doubt about it, a plane ride with young children can be challenging. There is not a lot of space to move around. And there is the stress of keeping them quiet and well-behaved for a length of time.
Depending on the personality and temperament of your kids, you need to be prepared for keeping them happy, entertained and hopefully as well behaved as possible.
Parenting on an airplane can be tough at times, takes patience and a good sense of humor. I have compiled a list of my top tips for (sort of) easy breezy air travel with kids.
I can't promise you that your children won't have a meltdown, but my tips will give you some ideas to make traveling with your munchkins less stressful.
---
 #1 – Prepare Your Children
 It is important to chat with your kids about the trip on the airplane. If your children are younger, you could have a look at a book about being on a plane and explain certain situations by looking at the pictures.
Talk about the airport, what it is like on the plane and most importantly what you expect from your children. They have to be reasonably quiet and have to sit in their seat for a lengthy time. That is a lot to take in for a little person, so start a few weeks ahead of your journey.
Even small children understand simple instructions, and all they want is to please their parents. You could have a sticker chart and reward your children's efforts. Maybe pack some little surprise gifts to keep them happy.
---
 #2 – Prepare Yourself
That sounds probably a bit funny but what I mean by that is get yourself into a positive mindset. Try to have a good rest before the flight, so you feel less stressed.
Get your documents, your carry-on bag, travel luggage, and other things ready well in advance. That will give you the feeling of being in control and relaxed.
If you travel with your partner, husband, or a friend it might be good to discuss situations like e.g. your child has a tantrum and how can you react. Or your child doesn't want to sleep or is crying. What is the best way to deal with it?
For infants, I would use a Baby Sling or Baby carrier to calm them down by walking down the aisle or just take something simple like their favorite toy or blanket.
Have a water bottle or some snacks handy for yourself and your children. You can easily get dehydrated on the plane.
Being thirsty is quite often the number one reason for grumpy children.
---
 #3 – Travel Activities For The Kids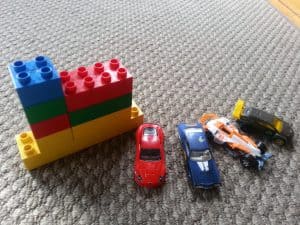 Pack some toys and games in your carry-on luggage that will keep your little munchkins entertained. Here are some posts for more ideas: Free Fun Travel Activities For Children and The Best Travel Toys For Toddlers.
On long-haul flights, there is a lot of in-flight entertainment even for little ones available. If you decide to use them for your kids, please consider taking your own child approved headphones. I have reviewed the most suitable ones in my post My Guide To Buy The Best Headphones For Kids and Toddlers.
Nothing is worse than coping with a bored child on a plane, so I hope my posts will give you some inspiration.
---
#4 – Let Your Kids Pack Their Luggage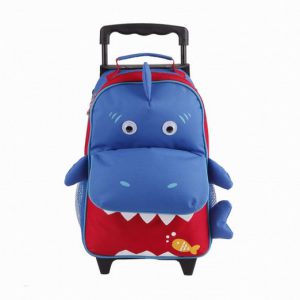 Whaaat!!! No way – I can hear you saying.
Of course, if your kids pack their carry-on luggage (even two and three years old can do it) you need to do it together. But rather take a back seat and make gentle suggestions. You don't want to end up with ten pairs of socks and one pair of undies. 🙂
Your children will feel independent. They can take their favorite tops, pants, and toys. When I got my kids their very own travel luggage, the excitement was incredible. The bags had got packed weeks before the actual holiday started. It was so much fun for all of us and got them excited about our big journey.
Here are some excellent rolling bags for boys and gorgeous travel luggage for girls.
For more travel accessories read my guide Best Travel Gears For Babies And Toddlers.
---
#5 – Schedule Your Flight
I always try to get flights that leave in the evening so my kids can hopefully get a reasonably good sleep. It is not always possible but if you are flexible with dates the easier it will be to book the time that suits you and your family.
But don't worry, if it doesn't happen. You'll still survive. It's only a few hours, right? 🙂
---
 #6 – Changing Clothes and Pull Ups
In my carry-on luggage, you will always find changing clothes for my kids and even for myself. You never know what can happen. Your luggage doesn't arrive at your destination, your child gets a tummy bug or spills the drink all over you. So, yes, there is no harm to have a few spare clothes handy.
Pull-ups are great even if your child is already toilet trained. Sometimes the bathrooms are occupied; some kids are too scared or too shy or too excited and forget to use the loo. Better be safe than have a wet seat and an embarrassed child.
---
 #7 – Talk To Your Neighbors
Traveling with little ones can be stressful for parents but also for other passengers on the plane. Just let them know that you are traveling with young kids and tell them you are trying your best.
You don't need to become best buddies, but small gestures like introducing yourself and explaining your situation will go a long way.
You'll be amazed at how understanding and supportive people will become towards you. If you are lucky, they might even help you out a little bit.
---
#8 – Arrive Early At the Airport
Be early at the airport rather than last minute. That will give you and your family enough time to check in and to go through security. Once you have mastered this first step, you can take a deep breath. I am always glad to get rid of the big luggage. There is still enough to carry though.
Now is the time to explore the airport, maybe have something to eat and use the play areas with your kids. They will (hopefully) get tired and are ready to have a nap once you are boarding the plane.
---
#9 – Use A Stroller
I have found that traveling with a stroller makes life so much easier.
How To Travel With A Stroller Made Simple (a guide) and  My Top 9 Best Lightweight Travel Strollers (Not Only For Airplane Travel) (product reviews).
Get your baby, infant or toddler from A to B at the airport in the stroller and who knows, they might even have a little nap. My suggested strollers can even go on the plane which has a few advantages. You can put stuff in the storage basket; your child can't run off while sitting in the stroller – very important when you travel as a single parent –  the stroller won't get damaged because of rough handling, and … the stroller is right there when you leave the plane.
I can't recommend enough to use a stroller, combined with a baby sling or baby carrier.
---
 #10 – Snacks And Drinks
It's a good idea to have snacks and drinks in the hand luggage. Please avoid sweet things though like biscuits, juice, chocolate or fizzy drinks.
Water is best and also some pieces of fruit (apple, pear, grapes, and oranges are good), popcorn and crackers.
---
#11 – Have An Emergency Kit
My emergency kit is in my hand luggage and contains extra nappies, baby wipes, a change of clothes, and a basic travel first aid kit. Read more in my guide What To Pack In A First Aid Kit When Traveling With Kids.
99% of the time you won't need it, but there is always the 1% … "Better be safe than sorry" is one of my favorite quotes.
That reminds me, have you organized your family travel insurance yet? My post How To Buy The Best Family Travel Insurance got so many comments from readers saying they have never thought about getting a travel insurance. That was quite a big surprise for me and has shown me how important it is to get such information out to my readers.
---
Summary
Thanks so much for reading my post. I do hope these tips will help you take the stress out of air travel with your little ones.
Do you have any hints or tips you would like to share?
I would love to hear from you! Please leave any additional tips, questions, and feedback in the comment box.
If you liked this article, please share it on your favorite social media platform.
Take care and Safe travels!
~ Anke