I get asked this question a lot, and I will try to answer as best as possible. 'What is the best age to travel with kids' depends on different factors.
Where are you planning to go?

How long are you going to stay?

Are you traveling by plane, car or bus?
I am speaking purely from my own experience. I have been traveling with my kids at different stages in their lives and would like to share a few things to keep in mind when you are planning your vacation.
In general, I'd say the younger your children are, the more planning for your holiday is necessary. You will also need to take more luggage since babies and toddlers need diapers, lots of changing clothes, bottles, maybe a travel bed, a stroller or baby carrier, and some travel toys.
For more information, please read my post-Best Travel Gears For Babies And Toddlers.
 You can take your child at any age for a holiday. In saying that,  you will have to compromise on certain activities and plan your itinerary around your kids if possible.
Also when traveling by car it is best to stop a few more times than you would normally do.
The same applies for long-haul flights. Stopovers are perfect to break up a long journey. By the way, you possibly won't get much sleep either. 🙁
I have noticed with myself that I had to change my attitude. 'Expect the unexpected' and 'Take it easy!'
Let's get down to the nitty-gritty.
---
Traveling With Babies Up To 12 Months Old 
We had taken our son to Germany when he was six months old. Traveling from New Zealand to Germany meant 24 hours straight flight time. We didn't consider any stopovers. We just wanted to get the flights over and done with.
For us, it was a perfect time to travel with our baby. He basically slept and ate and wasn't crawling then. We just had to carry him around in our baby sling when he got upset.
I was breastfeeding him and bought some ready made food in glasses. No need for bottle sterilizers and the likes.
We only had to pay around $100 for his airfare which kept the costs very low.  The costs for the airfare vary from airline to airline for children under two. But in general, it is cheap.
The bassinet on the plane (you have to make a reservation) was perfect for his sleeping time.
While traveling in Germany, we took things easy. Lot's of breaks and a light schedule for sightseeing tours made common sense. This way it was enjoyable for all of us.
Pros
As long as our son wasn't crawling it was a breeze traveling with him. We didn't need lots of stuff to take, only a travel bed and a baby sling. Since I was breastfeeding, it was not necessary to take any formula or milk bottles.
Airfares for kids under two are very cheap which is a bonus.
Cons
Be prepared that your baby might be crying a lot on the plane. A lot is going on: lots of people, noises, etc. that can be upsetting for a little one. Take a blanket and a sling or wrap to calm him down. If your baby is used to a pacifier take a few just in case …
Once baby starts crawling it might be a bit trickier to keep him or her happy especially during a flight.
Overall, I have found traveling with our baby very easy as long as he wasn't crawling. He used to have a nap at around noon, so we had to put this into our schedules. Another option is to take a stroller where your baby can have a sleep as well. That way you are less restricted when you are out and about.
Always have lots of diapers, baby wipes, bibs and changing clothes on hand. Also, check out my tips on a travel first aid kit with some handy remedies.
---
Traveling With Toddlers From 12 Months to  36 Months 
The next time I went, my oldest son was 30 months old and my second son was 14 months. This time my husband had to stay home, so it was just me and my two little darlings. But that is another story. 🙂
Traveling with two toddlers can be quite challenging especially if you have a toddler who is very curious and has to climb onto anything and everything.
Luckily my fourteen months old son Karl was so different, very quiet and content to sit in his stroller. Anyway, to make things easier I took a double stroller which I was able to take on the plane. (check with your airline about requirements) Without it, I wouldn't have been able to get my luggage and my kids from A to B at the same time.
Toddlers are so very active and want to explore their surroundings. Some toddlers don't like changes, and it will take some time for them to settle in a new environment.  Therefore, I would recommend staying in one place for a few nights before going to the next one.
For the journey either in the car, bus or plane,  take little toys and drawing pads, etc. to keep your toddler entertained.
Always have little snacks and something to drink in your hand luggage as well as diapers, changing clothes and bibs.
Most toddlers need a nap during the day. So either take your stroller for day trips or just plan short day trips and relax with your kids at the playground or the beach afterward.
Pros
Toddlers are more aware of their surroundings and get a first glimpse of different cultures, food, and new languages. When I am traveling with my kids it seems to me that people are more helpful and supportive.
Cons
Traveling with a toddler can be challenging depending on their personality. Giving them time to adjust to a new environment and also cutting back on planned activities has helped me a lot. There is a bit more luggage involved like a stroller, maybe a baby carrier, plenty of clothes and some toys.
Once your toddler is older than two you have to pay 75% of the airfare. It's getting more expensive.
Overall, with good planning, the right gears and lots of patience traveling with a toddler can be enjoyable. Be aware that at the toddler stage, everything in their world revolves around them. So you will get most likely a fair share of tantrums. These happen mostly in public and also when your toddler is very tired.
My tip: Make sure he/she gets a good sleep and is well fed. Have a strategy how to deal with these tantrums. It's always good to have a plan A and plan B in mind. Stick to a routine if you can. It helps your toddler to feel more secure.
---
Traveling With Preschoolers From Four To Around Six Year's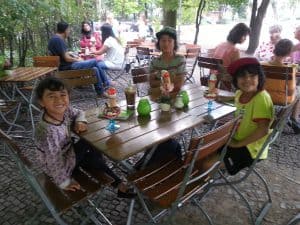 Once my children became preschoolers I've found traveling much easier. They are more independent; my kids were much better at entertaining themselves and had a better understanding of what was going on while traveling.
My children got their own little rolling luggage ( here are my top 5 luggage suggestions for boys and girls) with their clothes, some books, and toys. They were able to roll it around the airport and took it on the plane etc.
I also put more effort into getting them involved in planning our holiday's and what activities we could do. I have found the Little Passports subscription for kids very helpful in learning more about different countries and cultures (read my full review here). They loved it!
I am very lucky that my children are not picky eaters and are open to trying new foods. They also don't have any allergies which is fantastic also.
Pros
My children were more independent at this stage which made traveling much easier. They also gained a good understanding of other cultures and still remember certain things from our journeys. We didn't need to stick to a sleeping routine. My kids adapted quicker to the new surroundings. Going out for dinner was more enjoyable as well.
They also had their own little travel luggage.
Cons
The costs of traveling are increasing. You pay more for airfare, more for food, admission fees, and the likes. My daughter also missed her friends from daycare and was always looking to make new friends along the way.
Sometimes, they got tired of all the travel and just wanted to play in our rented apartment.
Overall, I find traveling with preschoolers a bit easier since they are more independent and adaptable. I do recommend to get them a GPS bracelet for a peace of mind. I "lost" two of my children on two different occasions (in Paris and Prague) and had wished to have one of these devices. Luckily with the help of friendly locals, I found him and her quickly.
It is important to plan lots of child-friendly activities to keep your children happy. Otherwise, they get easily bored.
---
Summing It Up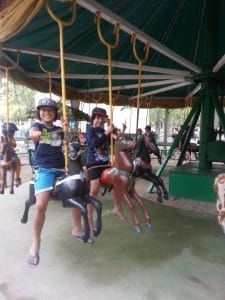 So, what is my answer to the initial question? What is the best age to travel with kids?
For me, I found it was very easy to travel with my baby at around six, seven months old and again from five years old plus.
The most challenging time for me was traveling with my toddler sons. Dealing with tantrums, lot's of nappy changes, sticking to a sleeping routine while 'on the road' was quite tiring. It took a lot more planning and heaps more luggage to carry around.
It is manageable and a lot depends on your child's personality as well. As I said, my boys were so different, one was so active and my second son was so content just sitting in the stroller.
Here are two general tips for traveling with kids: Please, always take a first aid kit in your handbag (kids can be so clumsy) and secondly, consider getting a Family Travel Insurance.
I love seeing the world through my children's eyes. Traveling with them is so much fun and the memories we've made along the way are just priceless. I also enjoy traveling at a slower pace. It made me appreciate the little things. Just sitting on a bench and watching my children on a playground in a foreign country and how they make new friends is awesome.
What is your experience when traveling with kids? What age did you find the best? What are your best tips you would like to share? I would love to hear from you! Please leave a comment below.