Things To Do In Rotorua With Kids
Rotorua is a must stop for everyone visiting New Zealand. There is plenty to explore for the whole family, and you can easily stay for at least a week without getting bored. Let me show you all the fun things you can do in Rotorua with kids.
This vibrant city, in the heart of the New Zealand's North Island, has been a famous tourist destination since the 1800's when it established itself as a spa town, with geothermal activity, geyser's, mud pools and other natural attractions.
Rotorua's is also known by its nickname 'Rotovegas.' Everything is aimed at tourists,  with events, lots of entertainment, and countless tourist attractions (without the gambling factor though).
Rotorua combines everything New Zealand has become well-known for: the beautiful nature, a rich Maori cultural, friendly and hospitable people and a laid back atmosphere. Even though the city is a tourist magnet, Rotorua never seems busy or overcrowded.
Another plus is the central location. It is only an hour away to Taupo, Tauranga, and Hamilton. To Auckland and the Coromandel Penninsula, it's only a two a hours drive.
Therefore Rotorua presents itself as a perfect spot for day trips to various locations or to plan your next route to explore The North Island of New Zealand.
Before you see Rotorua, you will smell it from miles away due to the sulfide emissions.  Have you ever heard of the 'rotten egg' smell? Yep, that's it. But don't let it put you off otherwise you'll miss out on a fantastic travel spot. 🙂
---
Discover Rotorua
The best way to travel through New Zealand is either by car or by a Campervan. Public transport doesn't really exist except maybe in the bigger cities like Auckland, Tauranga, Hamilton or Christchurch. To take in all the marvelous spots throughout your journey, it is best to have your own car.
Please read my guide Things You Should Know Before Visiting New Zealand for more information.
So when I talk about the attractions, I assume you got a (hired) vehicle. Please remember, always travel on the left side of the road.
Rotorua is not a big place so traveling from A to B doesn't take longer than 20 to 25 minutes or even less.
My family and I love Rotorua. We live only a 1,5 hours drive away, but more about it will follow in a different post.
---
Accommodation
Rotorua has a huge variety of accommodation from holiday parks, holiday homes, motels, hotels to Camping sites and hostels. There is something for every budget.
We recommend staying in a cabin at the Rotorua Thermal Holiday Park. It has a huge playground, clean toilets and showers, and hot pools as well. It is also very close to one of the main attractions in Rotorua, Te Puia. ( more about it later)
Related posts: Best Things To Do In Auckland (NZ) With Kids
10 Tips For Family Road Trips In New Zealand
A fantastic booking site for finding holiday homes is bookabach.co.nz where you can find simple to luxurious homes that suit any taste and budget.
Staying in a house is our favorite accommodation especially with younger children.
---
How To Get To Rotorua
Most visitors arrive by car or on tourist buses either from Auckland or the Taupo area.
Rotorua has also a lovely small airport for domestic flights connecting the city with Auckland, Wellington, and Christchurch. Enjoy a coffee and a view of picturesque Lake Rotorua.
All major car rental companies have a desk at the airport but you can also use a shuttle service or taxi to get to your accommodation.
---
What To Pack
When you travel to New Zealand, you will need to be prepared for all kinds of weather. Rain, sunshine, cold spells, hot weather – it can all happen no matter if Summer or Winter time.
You will need (not only for Rotorua)
A good quality sunscreen
 A sun hat with a wide brim
A rain jacket and robust walking shoes
A comfortable day backpack
Merino undergarments for Winter
A good camera
---
Best Time To Visit
In my opinion, February, March, and April are the best times to visit the North Island. The weather is stable with not a lot of rain. In saying that February is the hottest month of the year and the sun is very strong.
Please avoid visiting from mid-December until the end of January. The Summer holidays for New Zealand school children are starting around then and most businesses are closing for the festive season and the staffs annual holidays as well.
Everything is crowded and accommodation can get really expensive.
---
Fun Things To Do In Rotorua With Kids
1. Free Activities
1.1 Redwood Forest (Whakarewarewa Forest) 
Enjoy a day out in the most stunning surroundings of California Coast Redwood trees and other exotic plants and trees. The Redwood Forest is the home of over 100 miles of walking, hiking, and mountain biking tracks.
It's a lovely area to take your children, and the tracks are suitable to take pushchairs.
Start your walk at the visitor center or the Waipa car park.
For a 30 minute stroll the Redwood Memorial Grove track and be astonished by the up to 219 feet (67 meters) tall California Coast redwood trees or choose the longer 1-hour Waitawa walk.
Admission: free
Getting there: Long Mile Road, 5 minutes by car
www.redwoods.co.nz
---
1.2. Hamurana Springs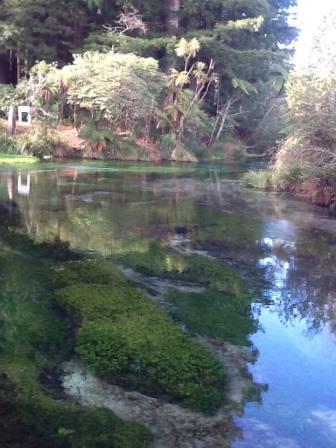 The Hamurana Springs is a beautiful spot that is easily accessible through a 15-minute walk; suitable for pushchairs and wheelchairs. Wander alongside the stream to the viewing platform where you can see the crystal clear waters of the spring.
If you didn't have time to visit the Redwood Forest, you can admire the majestic Californian Coast Redwoods also at Hamurana Springs.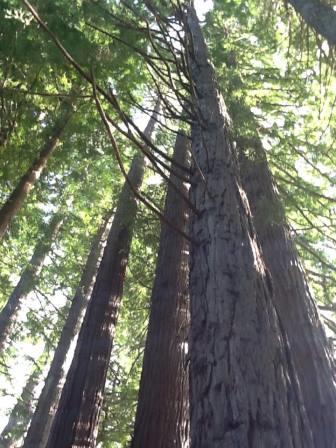 For more information about this gorgeous place, please read here. Karen did a fantastic job putting some more info's together.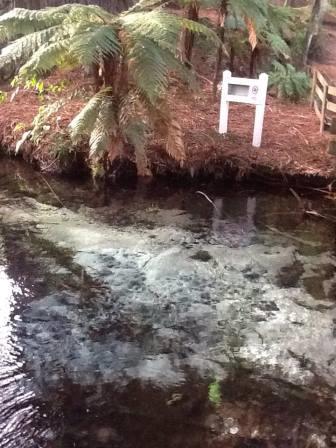 The water is quite shallow and will be a safe swimming spot in the Summertime for children. It is freezing cold though.
For a lovely day out, you'll find picnic tables, bbq's, toilet facilities and a playground across the road from the car park, right by the lake.
Admission: Free
Getting there: 773 Hamurana Road, a 15-minutes drive north-east of Rotorua
www.doc.govt.nz
---
1.3. Volcanic Playground By The Lake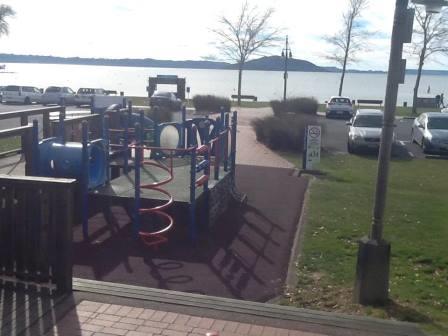 Time to burn off some energy at the volcanic playground situated next to Lake Rotorua. This volcanic themed playground is suitable for children of all ages.
Enjoy the lakefront view of Mokoia Island and a picnic by the lake. The views are stunning.
The playground opened in 1995 and has lots of equipment like swings, slides, monkey bars and more.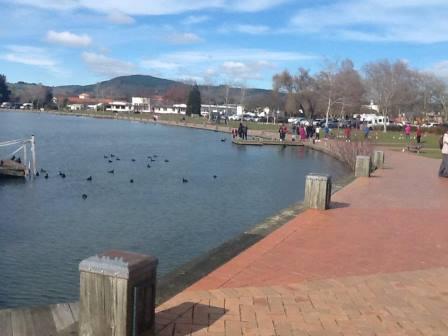 Getting there: Lakefront Drive
---
1.4. Kuirau Park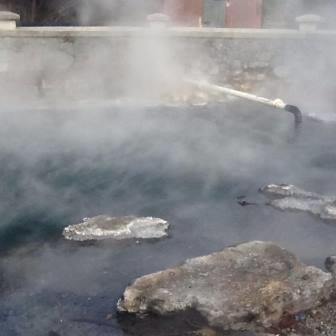 Kuirau Park is the only public geothermal park in New Zealand. It is home to a large playground ideal for toddlers and older children and a great place to walk around, see bubbling mud pools or soak your feet in one of the free thermal pools. Pure bliss!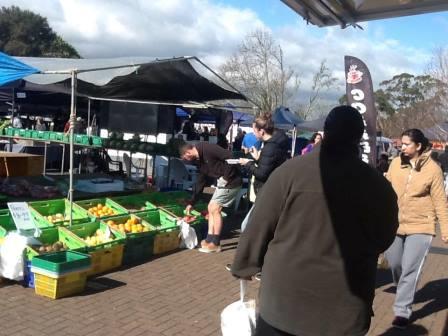 Each Saturday morning, starting at 7 am, you can also do your vegetable shopping and indulge in various international cuisines at the Saturday market. Mix and mingle with the locals, discuss politics or pick up some insider knowledge about Rotorua.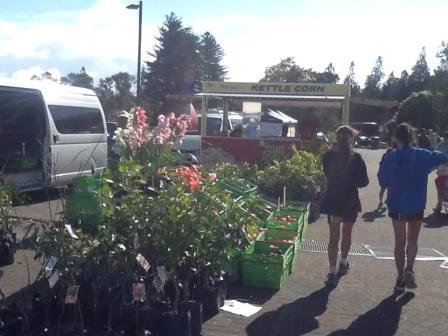 Why not have breakfast here, start the day by soaking your feet in the Hot pools and watch the kids playing on the swings.
That's what I call a holiday!
Where: Off Pukuatua and Ranolf Streets
---
1.5. Kerosene Creek
Rotorua the 'thermal wonderland' has plenty of natural hot pools. Most of them are paid, but they are also some gems that are free to use. One of these magical spots is 35 km outside of Rotorua on the way to Taupo.
Kerosene Creek can be found in the Kaingaroa Forest. Directions to get there
Getting There
Heading south from Rotorua on the road to Taupo (about 30km):

Pass the turn off to Murupara on your left
Pass a lake on your right
Then take the next left turn, just past a small bridge (only about 1/2 km from the Murupara turnoff)
The signpost is Old Waiotapu Road
Trip your odometer at the start of this forestry road
Stop exactly 2.2km down the road and pull over to the grass verge on the right

(Directions provided by Rowena Yalland, New Zealand)
Follow the stream for about 200 meters through the native bush until you see the natural pools and waterfall.
Two important tips: 1) Please don't take any valuables on your trip if you can. Don't leave anything in the car.
2) Don't put your head under the water for health reasons.
---
 1.6 Okere Falls Scenic Reserve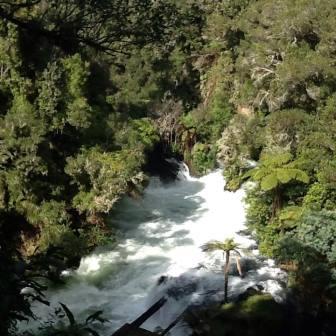 The Okere Falls Scenic Reserve is a lovely spot with three waterfalls, a cave, and a mostly easy walk through the beautiful bush. Okere Falls is a place rich in Maori culture. You can also see the remains of the fourth hydroelectric power station built in New Zealand.
Another point of interest are the remains of the fourth hydroelectric power station built in New Zealand.
The 30-minute walk (one way) leads along the Kaituna River to Okere Falls and from there to the main lookout platform by Hinemoa's step where you can watch rafting boats and kayakers "sweep over the highest commercially rafted waterfall in the world." (www.doc.govt.nz)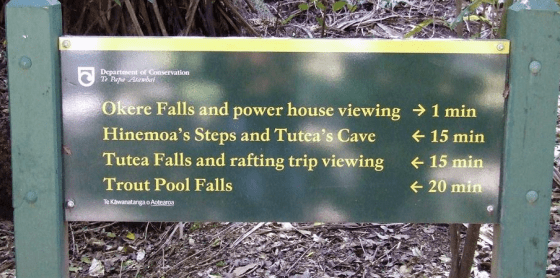 The walking track is suitable for pushchairs except for the steep steps down to Tutea's cave. The steps can be quite slippery so be careful when you go down.
You'll find information panels along the track that will tell you more about the historical background of this area.
Not too far from the bush walk, you'll find a lovely cafe "The Okere Falls Store" with a nice beer garden setting where you can even get German beer.
Relax, sit back, have a beer and let the kids run wild. 🙂 The store itself has a wide array of specialty products and quirky things.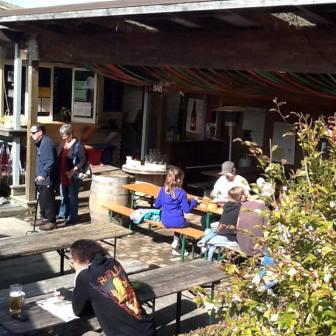 Getting There: 20 km from Rotorua on State Highway 33 (route to Tauranga); turn left into Trout Pool Road – it's best to use a GPS because the turn off can easily be missed.
---
2. Other (Paid) Fun Activities
2.1. Rainbows Springs Nature Park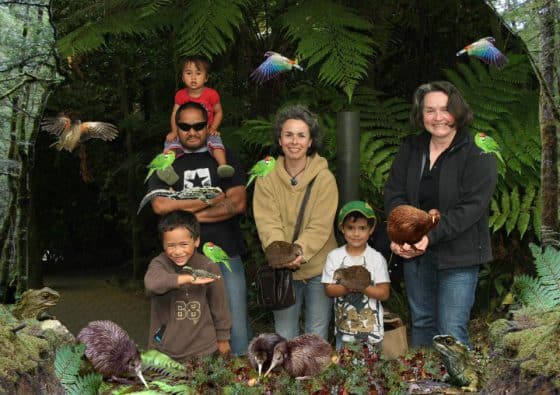 Rainbows Springs Nature Park is one of our favorite places to go. It is fun for the whole family. Kiwis ( a New Zealand native bird that cannot fly) can be admired in their natural habitat which is an amazing experience.
With your day pass, you can go back in the evening and watch them in the outside area (without a glass window) even closer.
Related post: Top Things To Do With Kids In NZ's North Island
Other rare birds and animals include the Tuataras, Wekas, Moreporks, Keas, and Kakas.
Did you know that the Tuatara has been on this earth for almost 200 million years and can live up to 100 years? Fascinating! Read more interesting facts here.
Throughout the day you and your children can watch the Eels Feeding, Trout Feeding, exotic birds, and Water Dragons, just to name a few. Each day at 11.30am you can see the Free-Flight Bird Show.
Our kids just loved 'The Big Splash,' an adrenalin racing water ride that plunges down a 12-meter drop. The trip lasts 9 minutes and takes visitors through New Zealand's history. I do love the whole ride, even the finish. I must admit, I am a bit of a scatty cat when comes to rides. 🙂
My son loved it so much and when on the ride a few more times. The great news is that the Big Splash is included in the Parks admission and you can hop on as often as you want. The age and height restrictions are as follow: Age of the child must be five years and must be taller than 106cm.
After all the excitement, it is time to relax in the large picnic area and hand feed some farm animals.
Admission: Family pass (2 adults plus 3 children) $99; Adult: $40; Child (3 – 15 years) $20; Infant (0-2 years) free
Opening Times: Daily from 8.30 am
Where: 192 Fairy Springs
www.rainbowsprings.co.nz
---
2.2. Skyline Rotorua Luge And Gondola

Right next door to Rainbows Springs you'll find Skyline Rotorua Luge and Gondola. Take a 900-meter ride up the hill of Mt Nongotaha on the Gondola and enjoy magnificent views of Lake Rotorua, Mokoia Island, and the city itself.
On top of the hill, you can have lunch at the 'Stratosfare' restaurant, go on the Luge or explore the nature trails.
The luge has been invented by New Zealanders in 1985 and has become a worldwide success. Tourist can enjoy a Luge ride in Canada, Singapore, South Korea and with more international locations to come.
You can choose from three different tracks which all lead you downhill through beautiful scenery. The Scenic Luge Track is best suited for children. Kids must be at least six years old and 110cm tall to ride down without an Adult. Otherwise, they can go for a tandem ride with mom or dad.
Admission: Family pass [2 Adults plus 3 Children (5-14 years)] Gondola plus 5 Luge rides $99; for more price packages please click here.
Children under 5 are free but for a tandem ride on the Luge, it's $2.
Opening time: Daily from 9 am
Where: 178 Fairy Springs
www.skyline.co.nz
---
2.3. Te Puia – Experience Maori Culture
Te Puia is an extraordinary place where you can experience Maori culture first hand, see the world famous Pohutu geyser, discover Pikirangi village and see how Maori's lived hundreds of years ago.
I'd recommend going on a guided tour to get as much information as possible. Your children will enjoy the cultural show where Maoris perform the Haka, traditional waiata (songs), the pois and show some ancient stick games. The general term is Kapa Haka.
It is entertaining and gives you a good insight of the traditions and language of Maoris which are very much alive in modern New Zealand. Maoris were able to keep their identity alive despite the hard times they had to face in the past.
Te Puia offers day and evening tours. During the latter, you can book a Hangi dinner. A Hangi is an earth-oven where meat, potatoes, and pumpkin are steamed over hot stones. When cooked properly it is delicious and definitely a unique experience.
Admission:  for the package including the cultural show: Adults NZ$66; Children (5 -15 years) NZ$33; Family Pass (2 Adults plus up to 4 children) NZ$178
Opening Time: Daily 8 am – 5 pm; guided tours are leaving every full hour; cultural show (45minutes) 10.15 am, 12.15 pm, 3.15pm
Getting There: by Bus Rotorua Route 2 from Rotorua CBD; by car Hemo Road, 5 minutes from Rotorua CBD
www.tepuia.com
---
3. Child-Friendly Cafes And Restaurants
3.1. Cafe The Fat Dog
The Fat Dog is a Rotorua institution. It is a busy, fun and quirky place with a casual atmosphere. Indulge in yummy dishes that also caters for vegetarians and has gluten-free options on the menu.
The menu is extensive with a kids menu as well. Check it out here.
Opening Times: Daily; 7 am – 9 pm
Where: 1161 Arawa Street
www.fatdogcafe.co.nz
---
3.2. Cafe Abracadabra
Abracadabra is a beautiful family-friendly cafe with a focus on Mexican and Moroccan food. There is an extensive selection of vegan, vegetarian, gluten and dairy free meals.
Kids can choose from a dedicated kids menu. You'll also find baby changing facilities and toys for the kid's entertainment.
By the way, the food is delicious. Check out the menu here.
Opening Times: Tuesday – Saturday 10.30 am – 11 pm; Sunday 10.30 am – 3 pm
Where: 1263 Amohia Street
www.abracadabracafe.com
---
3.3. Restaurant Lone Star Rotorua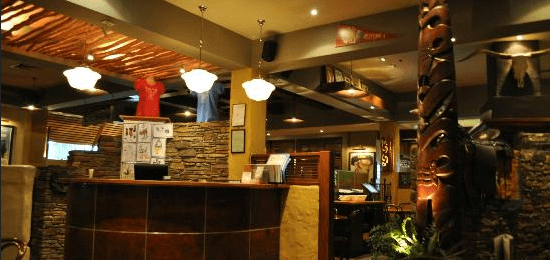 We do love Lone Star Rotorua as a family-friendly place to go out for dinner. The staff is always friendly and helpful and the coloring in pencils and sheets help to keep the children happy.
The food is delicious and generous in size. We do love the kid's menu which is healthy and tasty at the same time. Also, the dessert and first drink (juice, milk, fizzy drink) are free. Nice for the wallet.
Opening Times: Monday – Friday 5 pm – late; Saturday/Sunday 11 am – 3 pm, 5 pm – late
Where: 1182 Whakaue Street
www.lonestar.co.nz
---
3.4. Gengy's Mongolian BBQ Buffet Restaurant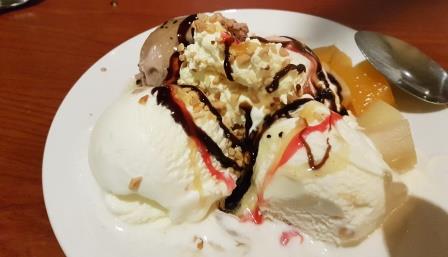 Gengy's is another very popular family-friendly restaurant especially for adults and children that have a big appetite. It's an all-you-can buffet/restaurant with a huge selection of meat (lamb, beef, pork), seafood and chicken.
Grab a bowl and place the things you like to eat in there. Next, take it to the hot plates where it will be cooked right in front of you. Children will need some help but at least they can choose exactly what they want.
There is also soup, sushi and hot food like chicken wings, chips or fried rice available.
The best part, for the kids, is the dessert section. They can decorate their own sundaes and pancakes with sauces, fresh fruit, cream and more.
My tip: go as early as possible because it gets very busy at around 7 pm. It's best to book in advance.
Opening Times: Monday – Thursday, Sunday 5.30 pm – late; Friday/Saturday 5 pm -late
Prices: Adults NZ$ 31.95, Children (up to 12 years) NZ$3 plus $1/age, Students/Seniors NZ$ 24.95
Where: 1272 Amohia Road
www.gengys.co.nz
---
Wrapping It Up
My list of things to do in Rotorua with kids is ongoing since we quite often go to Rotorua for day trips or to visit friends. There are countless more things to do but for now, these are our favorite ones.
I hope you will enjoy your time at these amazing places. Please let me know if you have been to Rotorua and what your favorite activity was. Looking forward to hearing from you.
~ Anke
---
Please note: this post contains affiliate links. For more information please click here.