The State of Fun or Asia's Favorite Playground – these are the attributes that describe Sentosa Island the best. This five km² (1.9sqmi) Island is nothing short of superlatives.
The things you can do with kids on Sentosa Island promise endless hours of fun, adventure, and excitement for the whole family.
The vast numbers of attractions, beautiful hotels, beaches and wonderful sights can be overwhelming for any visitor. It features two golf courses, three beaches, 14 hotels plus Resort World Sentosa with its main attraction the Universal Studios Singapore.
[Read my post on the Universal Studios here.]
A visit to Sentosa Island (Sentosa, translated from Malay, means peace and tranquility) is a must especially when you are traveling with your family. But it also requires a little bit of planning to make the most of your stay.
My guide to Sentosa with kids will show you my choices of the main attractions, how to get there and even some free activities.
---
How To Get There
There are a few options to travel to Sentosa Island. You can use your car, a Taxi, bus, cable car or you can walk.
Sentosa Boardwalk
Take the MRT to Harbour Front Station and from there take a leisure walk to Sentosa Island. Admire the only garden-themed park in South-East-Asia with five tropical landscapes indigenous to Singapore. To encourage more people to walk instead of using the car, you don't need to pay an admission fee to enter the island till 31. December 2016.
Cable Car
open daily: 8.45 am – 10 pm
Standard Price: Adults: S$33/$24; toChildren (3-12) S$22/$16
The ticket also covers the admission fee for Sentosa Island as well as entry to Asia's first cable car museum.
From the MRT Harbour Front Station take exit B and follow the signs to the Singapore Cable Car Station. Enjoy a beautiful view of the Island and Singapore city.
Taxi
If you are short on time or you are visiting with (younger) children, I'd recommend using a taxi. It is the fastest way and also very affordable. From the city center, it will cost approx. around S$15 to S$20 one way. You also have to pay S$5 for admission per taxi.
Getting Around On Sentosa Island
It is very easy to get from one attraction to the next on Sentosa Island. There are three Bus lines plus the Sentosa Beach Tram.
Bus 1 (blue): from 7 am – 10.30 pm; on Saturdays from 7 am-midnight: Frequency: every 10 mins
Bus 2 (red): from 9 am – 10.30 pm daily; Frequency: every 10 mins
Bus 3 (orange): from 8 am – 10.30 daily; Frequency: every 30 mins
Sentosa Beach Tram: from 9 am – 10.30 pm, on Saturdays: 9 am-midnight; Frequency: every 10 mins
Hotels On Sentosa Island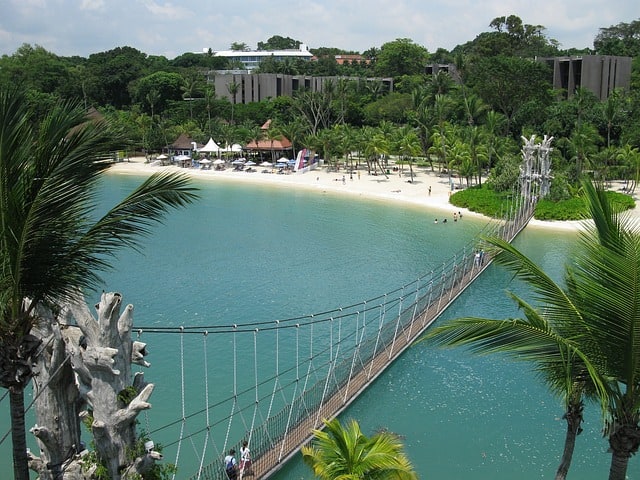 Why not stay on Sentosa Island? You can choose from fourteen hotels that cater for different budgets and needs.
Type in Sentosa Island and Trivago will show you the best deals and directs you to the website e.g. Expedia or other providers.

From the Hard Rock hotel to Movenpick, from Shangri La's hotel to the Siloso Beach Resort, only to name a few, you will find something to fit in with your spending plan and ideas of a family-friendly environment.
But you can stay on the mainland as well. Either way, everything is just a hop, skip, and a jump away. We remained in a two-star hotel close to the city center and took a taxi to Sentosa Island. I felt that I wanted to show my children more of Singapore's culture. (you can read my post here)
If you are in for a fun holiday full of adventures and excitement for your kids, then I would recommend staying on Sentosa Island.
---
Free Kids Activities On Sentosa Island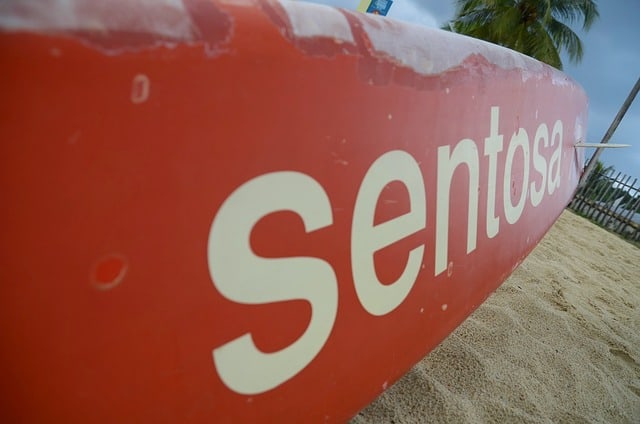 Yes, this is right. There are some free (!) activities on the Island.
#1 Sentosa Boardwalk
As mentioned before, everyone has to pay a small admission fee to enter Sentosa. But if you use the Sentosa Boardwalk, it doesn't cost you a dime. At least until the 31. December 2016.
#2 Fort Siloso
open: daily from 10 am – 6 pm
Transport: Bus 1 and 2 or Sentosa Beach Tram
Fort Siloso is the only preserved coastal fort in Singapore. It was built by the British in the 19th century to defend the Island from Sea invasion. It is a historical attraction with lots of memorabilia of pre-WWII and guns from the WWII era. Explore this monument with your kids and enjoy beautiful sea views.
#3 Fort Siloso Skywalk
open: daily; Lift operates from 9 am – 7 pm; you can also use the stairs near the lift lobby
Transport: Bus 1 and 2 or Sentosa Beach Tram
The Fort Siloso Skywalk is 11- story high and 181 m long. It takes you on scenic route amongst treetops with beautiful views of the sea, the rainforest, and Singapore's skyline. I am sure it will be exciting to do with your kids.
#4 Animal and Bird Encounter
daily shows from 2 pm and 5.30 pm
Transport: Bus 1, 2 and 3 plus Sentosa Beach Tram
You can find the Animal and Bird Encounter at the Palawan Amphitheatre. There you get the chance to get in close contact with monkeys, reptiles, and colorful parrots. From 2 pm – 2.15 pm watch the Lory feeding at the bird aviary. From 3 pm -3.20 pm it is on to the Bird Encounter. $ pm – 4.15 pm shows close encounters with the animals and the last show from 5 pm – 5.30 pm takes you on the wild side.
---
My Choice  Of The Main Attractions
There are countless exciting activities and attractions you can explore with your kids on Sentosa Island. I have chosen three activities out of many.
To check out everything you can do on Sentosa Island click on this link for a Free Essential Fun Guide Of Activities.
#1 S.E.A Aquarium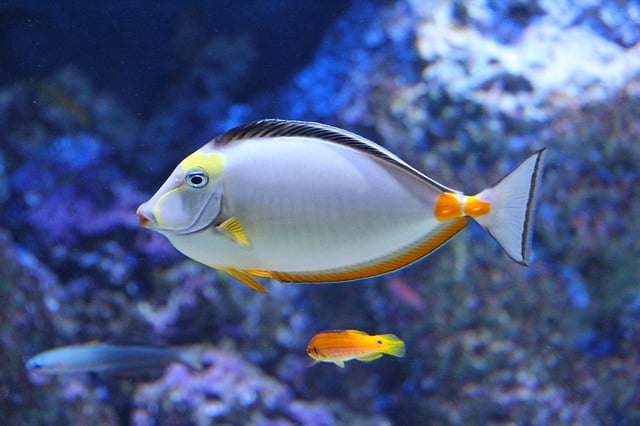 Open: daily from 10 am – 7 pm
Admission: Adults – S$34/$24; Children (4-12 years) S$24/$17
Transport: Bus 1 and 2
The fee includes The Maritime Experiential Museum that will take you back in time to explore Singapore's past as trading port. You will admire replicas of Asian sailing boats and so much more. The most exciting part will be probably the 360°Theatre where you board a sailing ship and experience a horrible storm. Afterward, it is time to visit the Aquarium.
The South-East-Asia-Aquarium (S.E.A.) is home to more than 100000 marine mammals of over 800 species.The aquarium features 49 (!) habitats like the Shark Seas, South East China Seas, East Africa and the Red Sea, just to name a few.
There is always something magical to look at colorful fishes, majestic sharks and elegant sting and manta rays. The children can touch sea stars, sea urchins, and sea cucumbers at the Discovery Touch Pool.
My Tip: plan at least a half day to visit the museum and aquarium.
---
#2 Tiger Sky Tower
Open: 9 am – 9 pm
Admission: Adult – S$18/$13; Children (3- 12) S$12/$9; unlimited rides: Adult – S$23; Children – S$15
Transport: Bus 1 and 2 to Imbiah Lookout; Cable Car to Imbiah Sentosa Cable Car
The Tiger Sky Tower is an observation tower that lies 131 meters (430 foot) above sea level. The cabin, with a capacity of 72 visitors, takes you gently high up in the sky to enjoy panoramic views of Sentosa, Singapore, and the Southern Islands.
My Tip: An alternative to the Tiger Sky Tower might be the Fort Siloso Skywalk which is a free activity.
---
#3 Skyline Luge and Skyride
Open: daily from 10 am – 9.30 pm
Transport: Bus 1 and 2 or Cable Car
Admission: Family Deals: 4 Ride Pass (includes 4 sky rides and 4 luge rides) S$50/$36; 8 ride – S$68/$49; 12 ride – S$84/$60
-The rides can be shared between adults and children as you like. Children under 6 years and less than 110cm (3.6f) tall have to go with an Adult on the luge ride and pay S$3/$2 per ride.-
Height restriction: Luge: at least 110 cm tall, otherwise the child can go with an adult; Skyride: min height 85 cm (2.8f) to go with an adult. To go by himself min height 135 cm (4.4f)
Going down the luge is fantastic. You can either speed down or choose a slower ride. You can ride down the 688m Dragon Trail or the 628 Jungle Trail.
Before you hop on the luge ride, the staff will explain exactly how to operate the luge cart which is pretty straightforward.
I have known the luge from New Zealand where it was invented nearly 30 years ago. It is hugely popular over here. And I promise you; it is so much fun riding the luge.


---
#4 Port Of Lost Wonders
Open: daily from 10 am – 6.30 pm
Transport: Bus 1, 2, 3 and Sentosa Beach Tram
Admission: S$10/$7 per child. Weekends and school holidays S$15/$11. Adults get a free entree with a hug from their children!!!
Port of Lost Wonders is Sentosa's first kid's club by the beach and is located at Palawan Beach. Compare to other activities; the admission fee is reasonable. From here you can also go to the bird and animal encounter and enjoy free shows. These two activities will keep you busy the whole day at a low cost.
There is so much to do, from exploring the pirate ship with water guns and water slides to making your own souvenir or having fun at a bubble party. The kids can listen to storytelling, do some gardening or play board games like snakes and ladders.
You will find lots of food stalls and shops as well, a grassy picknick area and heaps of other things to do. So grab your swimming gear, sunhat, towels and head over to the Port of Lost Wonders and have fun with your kids.
---
Some More Attractions
My list could go on and on. How about visiting Madame Tussauds, Kidzania, the Wings of Time, the Butterfly Park and the Insect Kingdom, or the Adventure Cove Waterpark? Or the Tricky Eye Museum, Dolphin Island, and the Mega Adventure. You can read more about these attractions in my post Things to do in Singapore with Children.
For your free and printable comprehensive Essential Guide to Sentosa Island, please click here.
If you would like to read more about our visit to the Universal Studios Singapore, please check it out over here.
---
I do hope, you enjoyed this post and got inspired to visit Asia's biggest playground – the magical Sentosa Island. Leave a comment below and tell me what you would like to explore in Singapore.
 Note: This post contains affiliate links. If you decide to purchase one of these products I will earn a small commission fee. I always recommend products I have used or would recommend to friends and family.