Singapore is a fascinating city-state with a diverse cultural population. I went to Singapore thirteen years ago before I had my children and loved it. To find so many different cultures in such compound space is remarkable.
I  have found Singapore to be a safe place to travel, and there are countless things to explore. That's why I decided to stop there for a few days with my kids before heading to Europe in Summer 2015.
And I am glad we did. We had a few days to discover Singapore and my children loved it. This post is the first part of three to cover as much as possible about this beautiful city and all the activities you can do with your children. If you are interested in visiting the Universal Studios Singapore, please read more here.
If you are going to visit Sentosa Island, please read my post The Magic Of Sentosa Island – a beautiful place full of fun for the whole family. Sentosa Island is also called the biggest playground in Singapore.
In this article, I have listed twenty fun things to do with your children, the best way to find accommodation and how to get around.
And if you want to find more activities, here is my post More Kids Activities In Singapore.
By the way, everyone speaks English in Singapore, and the people are very friendly, open minded and helpful. It always struck me how incredibly child-friendly this modern, multicultural city is.
Without further ado, here we go!
---
Fun Things To Do With Your Children In Singapore
Science Centre Singapore

Whether you want to spend a couple of hours or a whole day, the Singapore Science Centre is a fascinating place with a vast area to explore. The exhibitions are hands-on and interactive.
Discover the Tinkering Studio or get close to the butterflies in Singapore's first and only indoor butterfly enclosure. Other areas to explore are The Marine Alcove, the Eco Garden, Earth or become a scientist for the day.
There are nursing rooms available, and you can hire a stroller or a buggy for$6/day.
In close distance to the Science Centre, you will also find Snow City, the Omni- Theatre, and KidsStop.
Admission: Standard Rate Adults: S$12, Children (3 to 12 years): S$8
Opening Times: Daily 10 am – 6 pm
Getting There: by Cab: 20 minutes from Orchard Road or City Hall; by MRT: East-West Line – Station Jurong East, from there a 8 min walk
Website:www.science.edu.sg
---
Snow City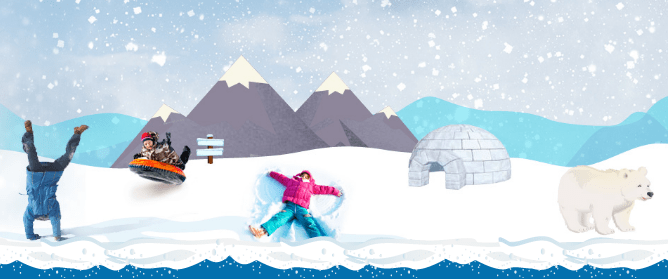 Get into the spirit of Winter and visit Snow City, where you can down the 60 m snow slope or experience a realistic snowfall. Your children can even go on an Arctic Avenger hunt!
On weekends at 12.30, the children can listen to the storytelling about the Inuit and how they survive in cold temperatures.
Zone 1 is the arctic playground where children can learn about the Inuits way of life. Zone 2 is the Snow Field where you can even experience a snow blizzard. Zone 3 features a traditional Inuit Igloo and children can try ice fishing. Lastly, Zone 4 is all about having fun sliding down the 60 meters long snow slope. Very cool!
Admission: includes Winter Jackets and Boots; Gloves can be hired for around S$2; Adults (2-hour session): S$28; Children (3 to 12 years): S$23
Opening Times: Daily 10 am – 6 pm (last admission at 5 pm)
Getting There: East-West Line Station Jurong East- 10 min walk
Website: www.snowcity.com.sg
---
KidsStop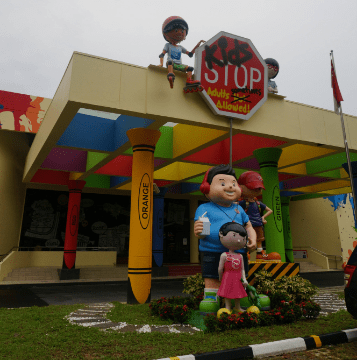 KidsStop calls itself an 'edutainment' centre for children where they can learn and play at the same time. On an area of 3000m², children can Imagine – Experience – Discover – Dream.
They can become a paleontologist in the Dinosaur pit, a cafe owner in a Cafe, go shopping in a Supermarket and learn about various spices in cooking or learn about each planet of our Solar system.
In each zone, there are trained science communicators who will guide and help the children during their stay. What a fantastic place to take your kids!
The icon of KidsStop is the 9 meters high Dream Climber for children to explore.
Please note: strollers, food, and drinks are not allowed on the premises, but you'll find a restaurant as well as a nursing room. KidsStop is best suitable for children from 18 months to 8 years.
Admission: weekdays – Adults S$10 weekends: S$13; weekdays – Children (18 months to 8 years) S$20, weekends S$23
Opening Times: Daily, first session: 9.30 – 1.30; second session: 2 pm to 6 pm
Getting There: East -West – Line Station Jurong East, 21 Jurong Town Hall
Website: www.kidsstop.edu.sg
---
Omni-Theatre
Why not finish off an exciting day at the Science Center, KidsStop and Snow City at the Omni Theatre, the world latest 8k digital planetarium system and South-east Asia's largest seamless dome screen.
Most movies are around 30 min long and are suitable for children from 7 years and older. The most popular one is probably "Dinosaurs At Dusk: The Origins Of Flight."
Watch the trailer here:
Admission: S$14 per person
Opening Times: daily starting at noon
Getting There: East- West Line, Station Jurong East – walk 8 min
Website: www.omnitheatre.com.sg
---
Sentosa Island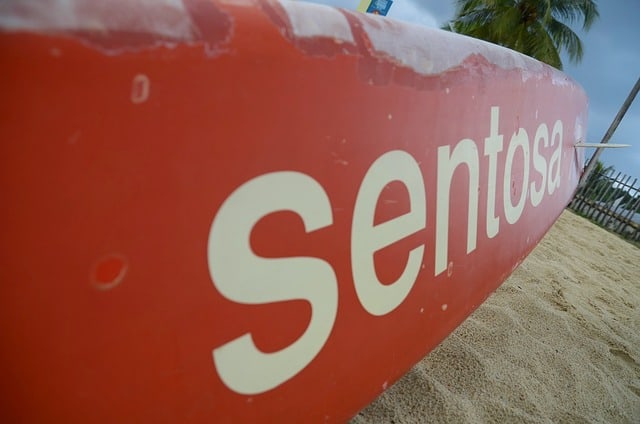 There are so many things to do on Sentosa Island that you could easily spend a whole week just there. Read more in my post The Magic Of Sentosa Island. One of our highlights was a visit to the Universal Studios where we spent a whole day.
Getting There: the easiest way is to take a cab. It is convenient and affordable; Public Transport: MRT : Take the North-East Line or Circle Line and alight at the HarbourFront Station. From there, you may either take the Sentosa Express located at the 3rd level of VivoCity shopping mall (Lobby L), or take a leisurely stroll down along the Sentosa Boardwalk into Sentosa.
---
Palawan Pirate Ship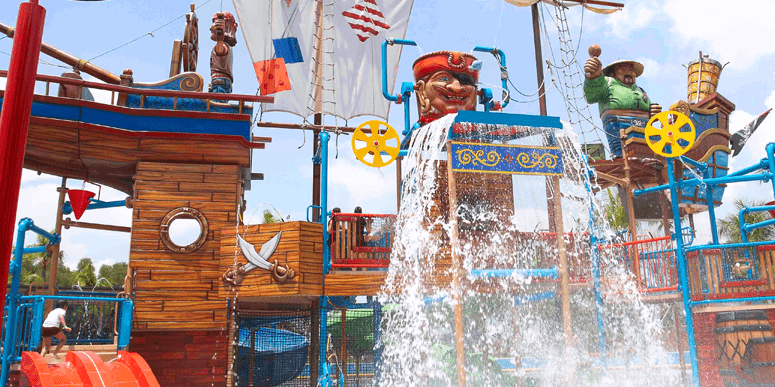 You don't always have to spend money to have fun. Why not start the day with a visit to the Palawan Pirate Ship, a water playground for children from 3 to 10 years old?
You can put your belongings in lockers and moms can tend to their babies in a nursery room.
Your children will have so much fun splashing in the water and swooshing down the water slides. Guaranteed fun for the whole family!
Admission: Free
Opening Times: daily from 10 am – 6 pm
Getting There: Sentosa Beach Tram
---
Adventure Cove Waterpark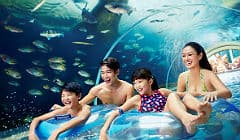 Speaking of water, a visit at the Adventure Cove Waterpark is nothing short of amazing. Most water rides are more suitable for older children, but there is also lot's to do for little tots.
You and your family can hop in a tube and float down the Adventure River and discover 14 scenes like a lush jungle garden or an underwater tunnel with lots of colorful fishes.
The Seahorse Hideaway is perfect for your toddler; splashing in shallow waters and enjoy playful fountains.
Another attraction is the Big Bucket Treehouse where gallons of water get tipped out, and lots of interactive water plays are waiting to be explored by your children.
Admission: Adults: S$38; Children (4 -12 years): S$30
Opening Times: Daily from 10 am – 6 pm
Getting There: Sentosa Express, Waterfront Station
Website: www.rwsentosa.com
---
Kidzania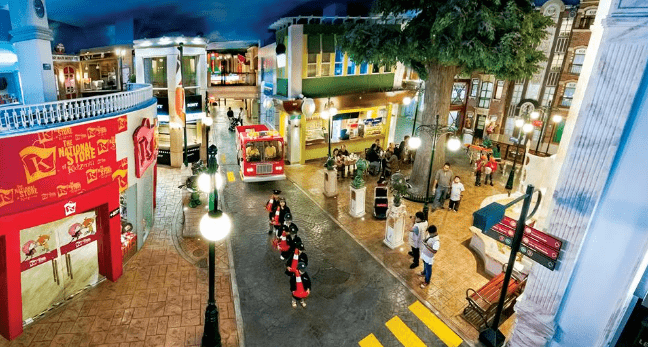 Kidzania has become a worldwide success with places in over 25 cities around the world. On 81000f² children can explore a miniature world where they can try anything everything they want to be.
From becoming a firefighter, an accountant, visiting a makeup atelier, a film studio – learning about the world through realistic role play has never been more fun.
Kidzania is fantastic for children from 4  to 17 years. But Kidzania also caters for younger kids from 2 to 3 years old. They can have fun at the Kindergarten with different activities and toys.
Children can even explore a Boing 737 and be the flight captain or part of the cabin crew. Parents can be a part of playing the cabin passengers.
I guess, the hardest part is to choose from the overwhelming array of options.
Admission: Adults: S$35; Children (4 to 17 years): S$58; Toddlers (2-3 years): S$25; My tip: it is cheaper to book online
Opening Times: Daily 10 am – 6 pm
Getting There: Sentosa Express; Beach Station
Website: www.kidzania.com.sg
---
Trick Eye Museum

A visit to Trick Eye Museum is definitely on our top list for our next visit to Singapore. Visitors are encouraged to step into the paintings and artwork and create their own imaginary world.
You can touch everything you see and create your very own masterpiece. Don't forget the camera and see for yourself how the 4D world appears in front of your eyes.
Lot's of fun for the whole family guaranteed!
Inside the museum, you'll find six themes: Mystery, Excitement, Supernatural, Fairy Tale, Fantasy, and Trick World. I do love the idea of becoming part of an installation and artwork.
Admission: Adult: S$25; Children: S$20; Family (2 Adults + 1 Child) S$70; Family (2 Adults +2 Children) S$90
Opening Times: Daily 10 am – 9 pm
Getting There: next to Universal Studios Singapore
Website: trickeye.com/singapore
---
Butterfly and Insect Kingdom

If your children love colorful butterflies and insects like beetles, scorpion and stick insect, then a visit to the Butterfly Park should be on your to-do list. The park features an authentic tropical rainforest with a beautiful lush green scenery.
Make your way to the butterfly aviary to the bird and animal aviary. The Pupa House shows the life cycle of a butterfly and how it transforms from a tiny egg to a beautiful insect.
You'll also discover lizards, parrots, and tortoises. Take your time and enjoy a couple of hours in these beautiful surroundings.
Admission: Adults: S$16; Children: S$10
Opening Times: Daily 9.30 am – 7 pm
Getting There: Sentosa Express, Imbiah Station
Website: www.jungle.com.sg
---
For more information and fun activities on Sentosa Island, please be sure to read my post  The Magic Of Sentosa Island.
---
Gardens By The Bay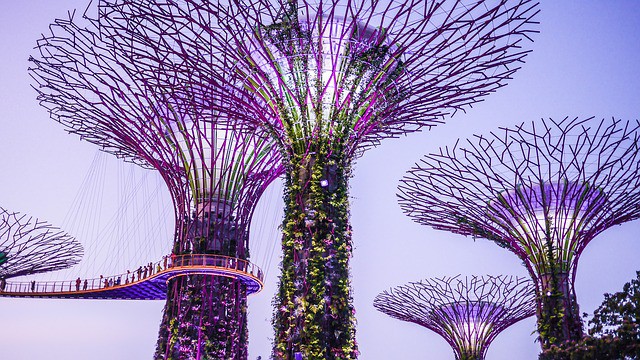 Gardens By The Bay is a magnificent place that has won numerous accolades over the years. There is a garden specially designed for children called Far East Organization Children's Garden.
It's a place fun packed with a toddler play zone (1 to 5 years old) where your littlies can play in the water or on an interactive playground. Older children (6 to 12 years old) can climb the Rainforest tree house and explore a 130-meter long forest trail. How cool is that!
There is a water play for older children as well – splashing and swimming are the best way to burn all the energy off.
If you get hungry, you can grab a snack at the Children's Garden Cafe.
So pack your swimming gear, towels and head off to the Gardens By The Bay.
Admission: Free
Opening Times: Tuesday to Sunday, 10 am – 7 pm
Getting There: Circle Line or Downtown line, Station Bayfront – follow the signs
Website: www.gardensbythebay.com.sg
---
Singapore Zoo
A visit to Singapore is not complete without a visit to the famous Singapore Zoo. It is the first zoo in the world that features a free-ranging habitat for Orang Utans. You can observe over 2500 animals in their natural surroundings.
You can watch over 2500 animals in their natural surroundings.
Singapore Zoo covers a large area, and little feet can get tired quickly. You can either hop on a guided tram ride (unlimited rides) for an additional fee of S$5 for adults and S$3 for children. Or you can rent a stroller or wagon for a fee of $S$9 and the wagon for S$15/day (if you don't have your own).
For more kids fun, you can take your children to Rainforest Kidzworld (open from 9 am – 6 pm) where they can play in the water playground, visit farm animals and also visit a traditional Kampang house. I think that is quite a unique feature. The Kampang House is a heritage home with some lovely "unusual" pests/guests 🙂 like mice and cockroaches. The children can explore the inside of the house, open the drawers, etc. I just love interactive activities for children.
My Tip: Plan at least half a day or even better a full day to visit the Zoo. Take some swim gear and towels for the kids, so the can have fun in the water playground.
Admission: Adults S$33/$27; Children (3 -12 years) S$22/$16
Opening Times: Daily 8.30 am – 6 pm
Getting There: MRT station Choa Chu Kang, NS4 – Redline, from there take the Bus 927
or MRT station Ang Mo Kio, NS 16, from there take the Bus 138
Website: www.zoo.com.sg/
---
 Singapore Night Safari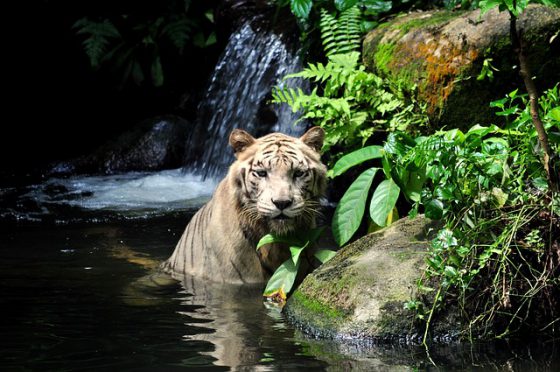 Another one of my favorite things to do in Singapore. It is so fascinating to watch nocturnal animals in their habitat at night time. A truly unique experience.
The guided tram ride takes you across six geographical zones: from the Himalayan Foothills to the Asian Riverine Forest, from Africa to the Indian Subcontinent. Afterward, you could go on one of the four walking trails to see even more animals. For instance, there is a giant aviary where you can observe fascinating creatures like Malayan flying foxes and flying squirrels.
Don't miss out on two stunning shows. The first one is "Creatures of the Night" and is 20 minutes long. The times are 7.30, 8.30. 9.30 and 10.30 pm.
The second show, which is on at 7, 8 and 9 pm, features dances performed by Thumbuakar warriors. The Thumbuakar Performance will leave you in awe about their cultural dances, stunts and 'flame-throwing' demonstrations. A must see experience!
 My Tip: You can have dinner in the traditional village surroundings of the Ulu Ulu Safari Restaurant. The restaurants are open from 5.30 pm.
Admission: Adults S$45/$31; Children (3-12 years) S$30/$22. The ticket price includes the Tram ride.
Opening Times: daily from 7.15 pm – midnight
Getting There: same as going to the Singapore Zoo
Website: www.nightsafari.com.sg
---
Exploring Singapore's Culture
Besides the incredible amount of fun activities for children, another factor for taking my children to Singapore is the variety of different cultures, we could explore by visiting just one city.
Singapore is a cultural melting pot with lots of citizens coming from Malaysia, China and India. Despite all the different languages and religions, people live together in harmony and respect each other.
I highly recommend to take some time out to visit either Little India or China town to get a glimpse of the cultural diversity Singapore has to offer.
---
A Visit To Little India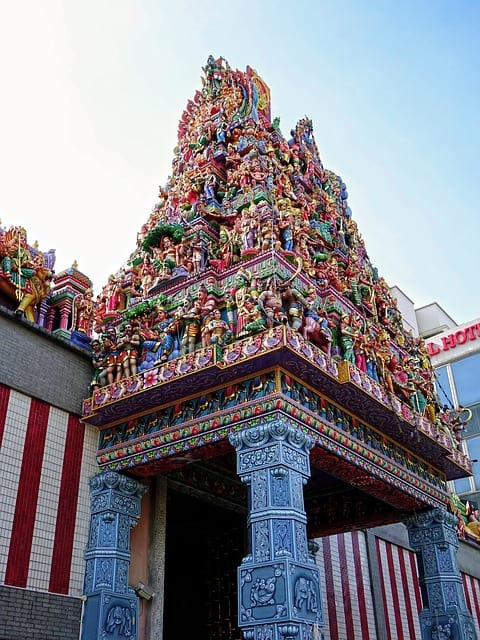 You don't need to travel to India, just take the MRT to Little India Station and get a glimpse of the diverse Indian cuisine, shopping centers, and Hindu temples.
We loved trying the different foods, especially the Roti prata (it is like a pancake) filled with eggs or beef or lamb curry. Yum!
A  famous (tourist) attraction is one of the oldest Hindu temples in Singapore, the Sri Veeramakaliamman. Built in 1881, the temple was dedicated to the goddess and destroyer of evil Kali.
Just stroll through the streets at your leisure, enjoy the vibrant colors, smells from all these food stalls and discover a mix of Hindu and Chinese temples as well as Mosques and Churches. And don't forget a visit to the 24 hour open Mustafa Center, a shopping institution with 300000 items. But it is very crowded!!!
Getting There: MRT Station Little India and Farrer Park (North-East Line)
---
A Visit To China Town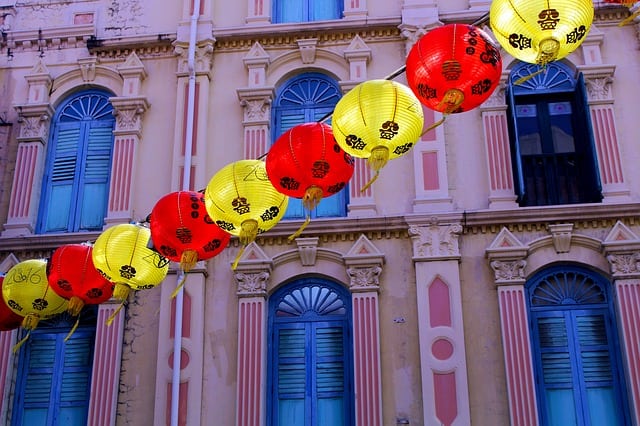 A visit to China town is another must-do; wander around the narrow streets, take in different sights, smell and architecture and try traditional chines food.
The China Town Heritage Centre in Pagoda Street will take you back in time to get a glimpse of the early residents of Chinatown. It is open daily from 9 am – 8 pm and is a great starting point to learn more about the history of the first Chinese settlers.
Another tourist attraction is the Buddha Tooth Relic Temple where you can admire an array of Buddhistic artifacts.  A guided tour lasts around two hours; admission and guided tours are free of charge. For more information, please click here.
Getting To Chinatown: MRT Station Chinatown
---
Finding Accommodation
Singapore has a vast number of Hotels and guesthouses. From five-star hotels with all luxurious amenities down to one star with necessary facilities. The choice is yours and depends on what is important to you and your budget.
It took me quite a while to find something that ticked all my boxes. We needed a large family room accommodating four people, a clean and quiet place, close to public transport and with eating places and shops nearby.
A search engine I highly recommend is Travelocity, where you can book flights, hotels, rent cars or book package deals like flights plus hotels, for great prices by the way.


I eventually decided on a two-star hotel with excellent reviews especially about the service and how clean the rooms are. For two nights, I paid $176 which was a pretty good deal for a family room with two queen beds, a shower, bathtub, a huge TV (of course the highlight for my children), drinking water as well as coffee and tea making facilities. The hotel is called Venue Hotel "The Lily," and you will find it on trivago.com.
One of our taxi drivers though suggested we should stay in a different suburb next time because of nightclubs in the area. Well, they didn't worry me at all since we wouldn't go out at night anyway. And as I said before, Singapore is a safe place to travel, but of course, I am using my common sense like I do wherever I go.
---
The Amazing Food
The title says it all – the food is just delicious. No matter if you choose to eat in a food court, street market, a simple takeaways place or a restaurant. The hardest part is to decide what you want to eat. The food court places are incredibly cheap. We had breakfast with banana prata, curry sauce, iced chocolate, and coffee for S$10.00.  It was filling and yummy!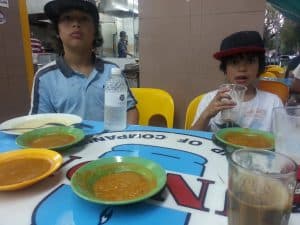 If you like Indian food, Malaysian, Japanese or European cuisine, whatever it is you fancy, you will find it. And if you rather go to a well-known fast food chain – there are plenty around.
I usually choose places where the locals eat because they know where to get the best meals. I am so lucky that my children are not fussy eaters or have any allergies. That makes life much easier. They are quite open to trying new things which is fantastic.
An excellent way to find inexpensive food is to visit the Hawkers centers. These are open-air food markets with countless food stalls. You can eat your way around the world, or at least around Asia.
Also, to find authentic food you could visit Little India, Chinatown, and Kampong Glam. (more about these in my next post) Not only will you find delicious cuisine but also a rich cultural diversity embedded into Singapore city.
---
How To Get Around In Singapore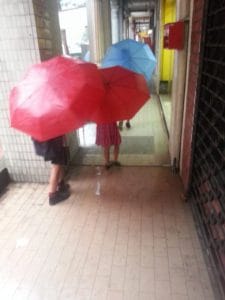 Of course, as you can see on the picture, walking is a great way to get around. During our short stay, we used taxis, buses and the MTR (mass rapid transit). The public transport has an extensive network and is easy to navigate. The train stations are readily available for families with strollers.
If you would like to use the bus, it is important to have the exact change ready. A bus trip cost us on average S$2.00 for the four of us. My kids were complaining about the bus ride because it got quite crowded by locals at times. But I think it is a good way to get an impression of the daily life in a city.
A great option for cheap and unlimited rides on the public transport is the Singapore Tourist Pass. You can choose from a 1-day, 2-day and 3-day pass for as little as S$10.00/$7.00 a day. At least you don't have to worry about having the exact change in your wallet. 🙂
If you are in a hurry, I would recommend using a taxi. They are very cheap and comfortable. If you are lucky, you find a friendly driver who gives you a bit of a sightseeing tour and tips on what you should see during your stay.
Here is a bit of a funny story: on our last day, we visited the Universal Studios Singapore. After we had finished, we had to take a taxi to our hotel, get our luggage and go to the airport. First of all, the queue at the taxi stand on Sentosa Island was long, really long.  We waited at least half an hour to get a cab. Oh no, I thought it is getting late. We needed to be at the airport at 8 pm (I must admit we had so much fun at the Universal Studios that we left late. And I underestimated the, waiting time for a taxi.)
Finally, we get the cab, and on our way to the hotel, I asked the driver if he could wait at the hotel. We just need to get our luggage. His reply was "No, I need to go toilet" What!!! Luckily, the hotel organized another taxi in a flash, and we just made it in time to the airport.
Moral of the story: leave early, and it saves you a lot of stress. But we were laughing and had told this story a few times.
---
Summary
I hope my guide has inspired you to visit Singapore with your family. I recommend staying at least for three days to explore this child-friendly, fascinating and modern city.
I do love Singapore. It is one of a few places in the world where you can explore different cultures basically in a nutshell. It is so easy to get around either on the public transport or by taxi. Accommodation, food,  attractions and public transport are inexpensive.
It is a safe but also exciting place to take your family on a holiday. The Singaporean are very friendly, helpful and hospitable. Well, and the activities you can do with your kids are just fantastic.
By the way, I haven't even mentioned the shopping malls yet.:-)
Please read more about Singapore here:

All About Universal Studios Singapore Sentosa Island
---
 Note: This post contains affiliate links. If you decide to purchase one of these products I will earn a small commission fee. I always recommend products I have used or would recommend to friends and family.