To be honest with you and to speak from experience, when you go on a holiday with your infant, toddler or even preschooler, to travel with a stroller is a necessity. It will save you lots of stress, to say the least.
No matter how you travel, if by car, train, bus or on the airplane, having a stroller with you will help to take the stress out of going with a young family on a holiday.
In this post, I will give you good reasons, why you should take a stroller.  I will also talk about the requirements for a stroller, especially when you go by plane.
If you want to find out which stroller is the best to take on a holiday abroad, check out My Top 9 Best Lightweight Travel Strollers (Not Only For Airplane Travel)
Good Reasons To Travel With A Stroller
I can hear you saying; we have already enough luggage to carry. Why would I bother taking even more?
Just imagine, you just checked in your luggage at the airport, and now you have to walk around with an overexcited, very active or tired infant or toddler. Or, you are visiting a Zoo, Theme Park or a Shopping mall.
These are all very busy places, and it is challenging to supervise your child. If you have a toddler, who loves to run around like my oldest son used to do, a stroller will be your lifesaver.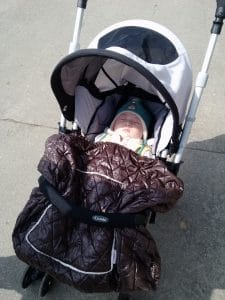 You can keep them safe by putting them in the Stroller and make him or her happy by giving them a little toy or a snack. Usually, most kids love sitting in the stroller and observing their surroundings.
And you will have a well-deserved break from running around after your child. It's a win-win for both of you.
---
 Taking The Stroller On A Plane
You can reduce the hassle of taking a stroller on the aircraft when you stick to the requirements set by the airlines. In general, strollers are checked for free in addition to your usual luggage.
There are two options available: you can either a) check it in with your other luggage or b) take the stroller on a board of the plane.
I don't recommend option a because chances are, that your stroller might get damaged. Simple is that.
Option b gives you a peace of mind. Your child doesn't have to walk, you can go faster from A to B. And, if you are lucky, your youngster might take a little nap while you are waiting to board the plane. So that means you can use it right until departure time, and the stroller is right there when you arrive.
---
 What Are The Requirements For A Stroller To Take On A Plane?
The best stroller to take is the so-called Umbrella stroller. It folds down to next to nothing. They are lightweight, small and the most important factor, they fit into the overhead locker. So, the most important requirement is: the stroller needs to fit into the overhead bin. 
Every airline has got their rules and regulations; this is the one, most of them have in common: you are allowed to take a stroller on board for free in addition to your carry-on luggage.
Here is more information for American Airlines for instance.
What kind of stroller is not allowed to check in at the gate:
stroller's, that don't fit into the overhead bin like three-wheeled "Jogger" Style strollers
stroller's which don't fold inwards when collapsed
stroller's, that weight more than 20Ibs/9kg.
If you go by train or bus, I would also recommend taking a small stroller since storage space on a train is limited as well. When going by car, you need to keep in mind to have room to store your luggage and the stroller.
In conclusion, make sure, you take a small,  lightweight  (under 20Ibs), inward folding stroller.
If you are looking for a great stroller, please go to my post about my best lightweight strollers for your next vacation.
---
I do hope , this post will help you making traveling with a stroller simple.
What are your tips and experiences when taking a stroller on a trip? Which one is your favorite pick? I'd love to hear from you. Please leave your feedback in the comment box below.
Have Fun and Safe Travels!
Anke