Auckland with kids has so much to offer for the active family but also for families that love to relax a little bit now and again. You will be surprised at how 'green' Auckland is and how many beaches are easily accessible.
The largest and most populated city in New Zealand is nothing short on family-friendly activities.
Auckland will be most likely your entrance point when arriving for your well-deserved family vacation in the 'Land of the big white cloud', New Zealand. Most travelers usually spend a few days on arrival here and also before leaving this beautiful country.
There are so many things that you can do with your kids in this cultural melting pot of different nationalities.
I am going to share my favorite spots and some of the best activities you can experience with your family in Auckland, also known by its nickname 'City of Sails'.
My family and I are going regularly to this hustling and bustling city since we only live a five hours drive away, and lots of my husband's in-laws are based here.
Related post: Top Things To Do With Kids In NZ's North Island
Things To Know When Visiting New Zealand
I still remember how overwhelmed I felt on my first visit to Auckland. It is a large city with over 1,4 Million people, which equals over 33% of New Zealand's population.
Before I share the best things to do in Auckland with kids as well as some practical tips, here are some interesting facts you should know about Auckland.
Some Fascinating Facts About Auckland
Auckland's Maori name is 'Tamaki-makau-rau' which means 'Tamaki with a hundred lovers.'
Due to the sheer amount of yachts, you can spot from Auckland's two natural harbors, it also has the nickname 'City of Sails.'
Auckland is home to the largest Polynesian population in the world.
Auckland is built on one of the world's youngest volcanic fields. "It is the only city in the world built on a basaltic volcanic field that is still active." [Wikipedia]
One of the many tourist attractions is the Sky Tower, with 328metres the tallest man-made structure in the Southern Hemisphere. By the way, a visit to the Sky Tower is one of the recommend things you should do with your kids.
---
Auckland With Kids – The Best Things To Do
A Visit To The Sky Tower
A visit to the tallest building in the southern hemisphere should be on top of your must-do things when you are visiting Auckland with your kids, only on a clear day with great visibility though.
The 360º view of Auckland, the harbor and the Pacific Ocean are simply breathtaking. Walk around the observation deck and dare to stand on glass tiled parts of the flooring. It took me a while to do it!
It is even more thrilling to watch people doing a  SkyJump or SkyWalk – it is definitely not for the faint-hearted. Just watching them got my heart racing.
Fancy some ice cream, snacks, a cup of coffee, and a fabulous view? At 182 meters high, you can visit SkyCafé and enjoy delicious NZ made Kapiti ice cream.
Admission: Adult: NZ$32; Children (6-14 years): NZ$13; Children under 6: free; Family pass: NZ75
Opening Times: every day 8.30 am – 10 pm
Getting There: right in the city center, corner Victoria and Federal Streets; a short 10 min walk from the Britomart train and bus station
Website: www.skycityauckland.co.nz
---
Explore Auckland Museum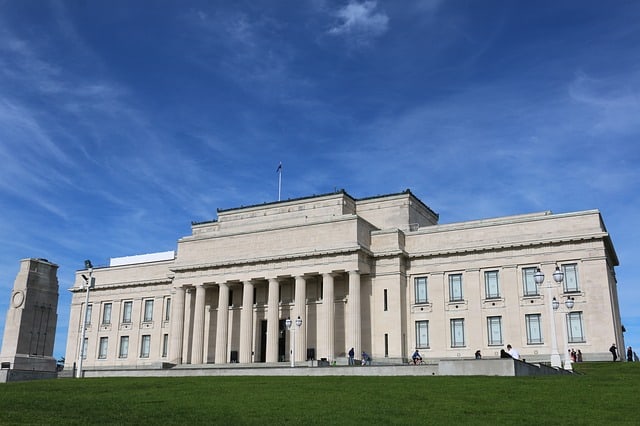 The Auckland  Museum is sitting on top of the remains of a dormant volcano, with beautiful views right up to Auckland's harbor.
There is so much to explore on three levels, and most likely, a visit to NZ's most important museum will be your first encounter with Aotearoa's fascinating Maori culture. In fact, Auckland Museum exhibits the largest and most significant collection of Maori Taonga (treasures) in the world.
It is breathtaking to see (and feel) a hand-carved full-sized meeting house (Wharenui) or the last great war canoes (waka) which was carved from a giant Totara tree.
You and your family can also enjoy a 30-minute cultural performance which takes place every day at 11 am, 12 pm, and 1.30 pm for an additional fee.
Your children will love the 'Weird and Wonderful' gallery, specially designed for kids to explore science and nature through hands-on activities.
Need a break? The kai room ('Kai' is a Maori word and stands for 'food') is a family-friendly area where you can eat your own refreshments and drinks.
It is a colorful space with dining tables and provides lockers, a changing table as well as toilets.
Opening Times: Daily from 10 am – 5 pm
Admission: Family Pass: 2 Adults and up to 4 Children: NZ$60; under 5's are free
Admission (general admission plus cultural performance): Family Pass: NZ$100; NZ families: NZ$72.50
Website: Auckland Museum
---
Rainbows End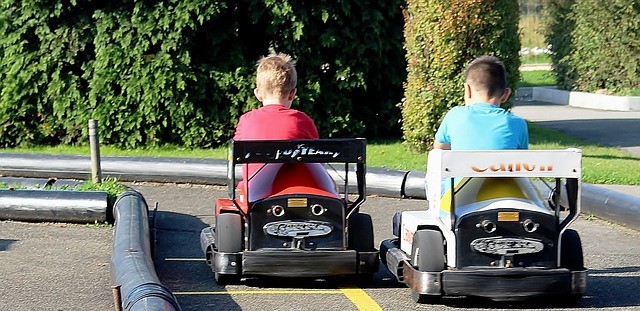 Join the fun at Rainbows End, NZ's only theme park, and enjoy a day of thrilling rides, or for smaller children the specially created Kidz Kingdom area.
The Kidz Kingdom is best suited for kids eight years and younger and offers seven rides including Magic Bikes, Carwash Convoy, or Choco Express.
There is a huge roof for the outdoor area that protects the littlies from the rain and NZ's harsh sun.
The newest attraction is the AA Drivers town where kids up to 12 years old can go for a drive in a mini Suzuki Swift. These young drivers navigate their way through a miniature village with roundabouts, pedestrian crossings, and even traffic lights.
If you need a stroller to get around with ease, just stop by the Guest Service or the Kidz Kingdom and hire one for a small fee.
Please note that the rides operate on a schedule during the week. You'll find the timetable on the website.
Opening Times: Monday to Friday: 10 am – 4 pm; Weekends and Holidays: 10 am – 5 pm
Admission: Spectators: Weekdays NZ$7; Weekends/Holidays NZ$18; Family (2 Adults and 3 Kids)NZ $265; book online NZ$245
Website (for more info and to book your tickets): Rainbows End
---
Butterfly Creek
I still remember our last visit to Butterfly Creek fondly. There is so much to see and do for your family. Get close up with NZ's only saltwater crocodiles (imported from Australia) and be astonished by their huge size. It is truly impressive watching them from a safe distance.
But this is just one of the highlights for your family to explore. The tropical butterfly house is home to colorful butterflies from mainly Asia and Central Asia. Watch how they come up close and indulge in their vibrant colors and patterns.
Lovers of small reptiles will enjoy the close encounters to fascinating creatures like the Blue Tongue Lizard, Leopard Gecko, and Alligators.
Another highlight for us was the train ride, that goes around the farmyard area which is an attraction by itself. Especially toddlers and preschoolers will enjoy patting the guinea pigs, rabbits, and may get tickled when hand feeding the goats.
Overall, it is such a fun and exciting way to spend at least half a day here with your family.
My tip is to plan a visit to Butterfly Creek before your departure from Auckland International Airport, especially when your plane leaves in the afternoon/evening. It is only a few minutes away from the airport and Butterfly Creek provides a free shuttle service.
Admission for all attractions: Adults: NZ$28; Children (3-15 years): NZ$16; Family Pass (2A+2C): NZ$75
Admission Farm Animals Only: Adults: NZ$13.50; Children (3-15 years) NZ$10; extra costs: train ride: from NZ$3.00
Opening Times: daily 9.30 am – 5 pm (except Christmas and Boxing Day) last entry at 4 pm
Getting There: it  is situated only minutes away from Auckland airport; either walk or take the free shuttle bus
Website: www.butterflycreek.co.nz
---
Spend A Morning/Afternoon In Devonport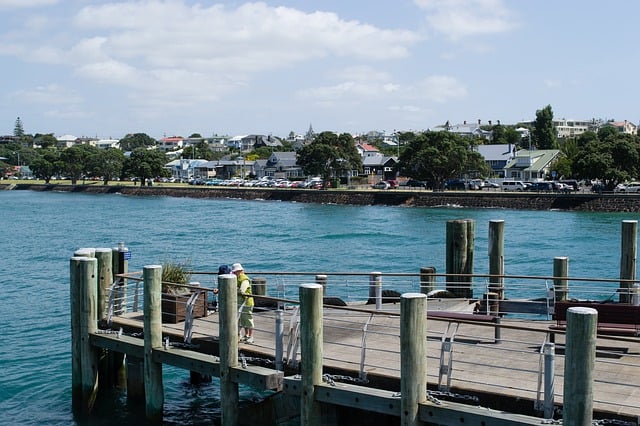 One of my all-time favorite places in Auckland, is one of the city's oldest suburbs, Devonport. You will love the relaxed atmosphere, gorgeous old buildings, quirky shops, and the amazing views of Auckland's skyline.
Devonport is only a short 12 minutes ferry ride away from the hustle and bustle of Auckland's city center.
Your kids can play at Devonport beach, and the nearby playground. For the more active families, I suggest to go for a 20-minute walk up Mount Victoria, by the way, the tallest volcano in the North Shore, and enjoy breathtaking panoramic views of the Hauraki Gulf, and the city.
If your kids like military tunnels, guns, and bunkers, then a visit to North Head, another volcanic cone, is worth the 2 km walk from Devonport wharf. From the top, you'll also enjoy vistas of Rangitoto Island, one of Auckland's iconic landmarks.
After all this exploring, walking, and burning of energy, I highly recommend to stop by at Corelli's Cafe for breakfast, lunch, or dinner. They are open every day from 7 am, and you'll love the warm and family-friendly atmosphere. And the food is just yummy!
How To Get To Devonport

Take the ferry from Auckland's downtown ferry terminal; public transport fees apply
---
Coast To Coast Walk
One of the many attractions in Auckland is the coast-to-coast walk that will lead you from the Tasmanian Sea to the Pacific Ocean in around 4 hours. How cool is that!
You can start the  16 km walk either from Manukau Harbor to Waitemata Harbor or vice versa. The walk is fairly easy and is suitable for strollers (and wheelchairs).
Alternatively, you could also hire bicycles if walking is not your favorite thing to do. Also, you don't need to do the whole distance if it gets too much for your kids.
Along the way, you'll find plenty of cafes, ice cream shops, restaurants, and drinking fountains to refill your water bottles.
Explore important landmarks like One Tree Hill/Maungakiekie Summit ( amazing views of both harbors), Auckland Domain (you could stop for a visit to Auckland Museum and the Botanical Gardens), and climb the summit of Mount Eden to take in the stunning views of the Hauraki Gulf.
Click here to access the downloadable PDF with more details.
It is up to you how much you want to see and if you want to spend a few hours or the whole day exploring along the walkway or maybe just a part of it. Either way, you will be surprised by how many green spaces Auckland has to offer.
---
Visit The Sharks At Kelly Tarlton's Sea Life Aquarium
Kelly Tarlton's Sea Life Aquarium is an Auckland institution, loved by young and old. It opened its doors back in 1985.
As a matter of fact, Kelly Tarlton was the one who invented the curved acrylic that made it possible for visitors to admire sea creatures in aquarium tunnels.
It is a concept that has been adopted by all Sea Aquariums around the world.
Kelly Tarlton' is divided into various exhibit areas like the Shark tunnel, Turtle Bay, where rescued turtles are being rehabilitated to go back into the wild, and Seahorse Kingdom.
Your kids will love seeing the adorable King and Gentoo penguins in their natural habitat.
My kids also enjoyed the 'Amazing Creations' area, where they could color in fishes and other sea creatures and bring them to life via an interactive projection wall. Very cool!
To top things off, have a cup of coffee and a snack while your little munchkins explore the 'Shipwreck Shores' indoor playground with water play and crawl through sea caves.
Admission: Adults: NZ$39; Children (3 – 15 years) NZ$27; under 3's: free; Family pass (2A+2C): NZ$120; extra tip: you save up to 20% when you book online via the website
Opening Times: every day 9.30 am – 5 pm (last entry @4pm)
Getting There: 23 Tamaki Drive; click here to get all transport details
Website:  www.kellytarltons.co.nz
From Kelly Tarlton's it is only a five-minute drive to Mission Bay. While we are speaking of it …
---
Relax At Mission Bay
Mission Bay is a beautiful place where you can relax, go for a swim, have a picnic, or just want to sit in a cafe and enjoy the stunning views of the waterfront with Rangitoto Island as a backdrop.
Your children will love the water fountain, the playground, and the safe swimming at the beach.
If you prefer to be more active, you can hire roller blades, bicycles, kayaks and paddleboards. For more info on kayak and bike hire, please click here.
The promenade is flat and easy to navigate for kids.
Mission Bay is a popular spot for locals and tourists alike. The short 15-minute car drive from downtown Auckland makes it easy to escape the busy city center and enjoy some quality time outdoors
How To Get To Mission Bay (from downtown Auckland)

By public transport: Bus Route746-769 departing from Britomart Transport Center
By Taxi: a 15-minute drive
By Car: a 15-minute drive alongTamaki drive
By Foot: it takes around 45minutes
---
A Visit To The Otara Flea Market – Explore The South Pacific Island Culture
The Otara Flea market is well-known for its multicultural and vibrant atmosphere. Pick up some bargains, indulge in delicious street food from different corners of the world. How about trying an Island doughnut, fry bread, or a Hangi (different meats, sweet potato, pumpkin cooked in an earth oven)? Or, do you fancy a hearty bacon&egg roll?
My family and I love street markets and never miss an opportunity to mingle with locals wherever we travel. The Otara market is no exception. If you are looking for souvenirs, you'll have plenty of opportunities to pick up some handcrafted items like kete's (woven bags made from flax), bone carvings, or pounamu pendants (jade/greenstone).
If the weather is fine you might be lucky to experience some live music. What a great way to spend a Saturday morning!
Getting There
When: every Saturday from 6 am to midday
Where: on the car park behind Otara town center/Watford and Newbury Streets;
It takes around 60 minutes by train and bus from downtown Auckland; click here to get directions
---
Practical Matters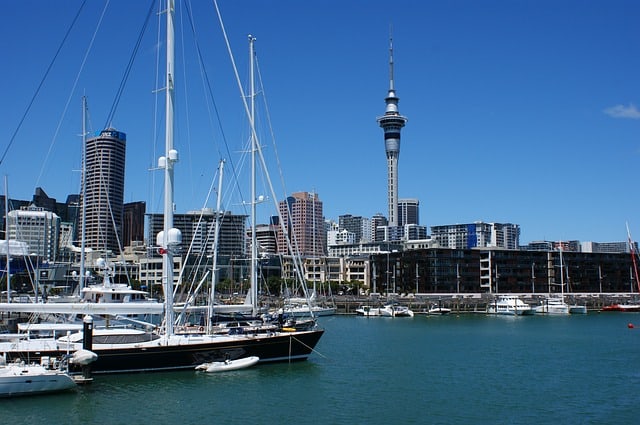 How To Get Around
Auckland is a busy city with lots of traffic and not enough parking spaces. If you have never driven on the left-hand side of the road, then driving through Auckland is probably not the best place to get used to.
In general, I would recommend using public transport, which is not cheap but will get you from A to B without much hassle.
There are many buses and shuttle buses that will take travelers from the airport to downtown Auckland.
Auckland has an extensive bus system,  trains, and ferries. If you are staying longer it might be useful to get the AT HOP card which is a prepaid card that makes traveling around very easy.
The initial costs are $10 and you have to top up with at least $5. Using the card will save 20% on the usual ticket price. Find more information here.
To me, it is very disappointing that you won't find any family passes to make public transport for families more affordable. The good news is that kids under five travel for free.
Best Time To Travel
The main holiday season for New Zealanders is starting just before Christmas and lasts up to the End of January due to the long Summer school holidays. Accommodation is so expensive during this time, Holiday parks are overcrowded, and the road traffic is even busier.
The best time to visit is from February (very hot) until the end of May. The weather is quite stable in Autumn with sunny days and little rain. The Winter season can be okay too but it is unpredictable with the possibility of many wet and rainy days.
Where To Stay
If you are relying on public transport then it is best to stay in the city center with easy access to buses and trains. My favorite suburb to stay is Devonport, for all the reason you have read in my post. The ferry leaves every 15 minutes and takes you right to the center of Auckland.
We do prefer to stay in a holiday home or apartment booked via Airbnb because it is affordable and more relaxed for us as a family.
The screenshot shows available options in Devonport starting from NZ$130/night.
Click here to find your desired accommodation in Auckland.
Our Recommended Travel Resources
To find the best and affordable tours in Auckland and its surroundings, please click on the banner below or type in the search bar
Booking.com is our favorite search engine to find affordable hotels and even holiday homes. Click on the banner below to find the best deals.
We do love to stay in holiday homes, with a kitchen and a play area for the kids. It feels more relaxed and also helps to stick to a budget.
There are lots of options through Airbnb from townhouses to apartments at affordable prices; if you are new to it you could save money on your first booking via my link. Click Here.
---
Wrapping It Up
I do hope, my post Auckland With Kids has inspired you to spend a few days with your family in the 'City of Sails'. Whether you are an active family or prefer to spend some relaxed days with some exploring here and there, there is so much to choose from.
Auc