My family and I are very busy planning our upcoming trip to Europe in 2020 and Barcelona is on our top priority list to visit.
Not only is Barcelona with kids very family-friendly but it will also offer something for mum and dad from a variety of interesting museums, foodie places and not to forget architectural highlights created by Antoni Gaudi.
So I have asked other (family) travel bloggers about their best tips on things to do in Barcelona with kids.
Barcelona is not only one of the biggest metropolis in Spain and the capital of Catalonia but it is also the place of nine UNESCO world heritage sites, including the Park Güell.
Besides these world-famous attractions, you'll also find numerous clean urban beaches where families can relax from the hustle and bustle of a big city.
Related Post: Spain With Kids – The Best Places To Visit With Your Family
As I have mentioned before, many well-traveled bloggers are sharing their amazing experiences and top things to do in Barcelona with your kids in this article. A big 'Thank You' to all of them.
I am sure that you'll find lots of inspiration and valuable information for your next vacation to Barcelona with your family in our comprehensive post. So pack your gears and head over to one of the most beautiful cities in Europe.
---
Top Things To Do In Barcelona With Kids
A Visit To Park Guell
Recommended by Angela from ReadingInspiration.
Park Guell provides open green space for the kids to explore and its quirky structures are wonderful for children to see. You will see a lot of architecture by Antoni Gaudi across Barcelona, but Park Guell provides some of the most colorful and fun, yet also stunning examples of Gaudi's work.
It's particularly good for families with older children who are developing a sense of wonder, as it's such a memorable sight!
We were lucky enough to visit when the park was completely free, but there is now a charge for timed tickets to visit the Monumental Zone of the park. You can access the rest of the park free, however, the ticketed area is where you can see Gaudi's work.
The lizard near the entrance is fascinating for children. The mosaic walls and bench around Nature Square's terraces are beautiful and something you won't see anything like anywhere else. From there you can see incredible views out across Barcelona.
Beyond the mosaic-filled terraced area, the columns of the Laundry Room Portico create a more natural look, and it's great fun for kids to run around in its spiral wave shapes – this was a more relaxed area when we visited as it tends to be less busy than the grand steps near the entrance and the terraces of Nature Square.
Away from the Monumental Zone, the rest of the park is relaxing and also great for kids, with lots of wooded shaded paths to explore and let off steam!
---
The Barca Museum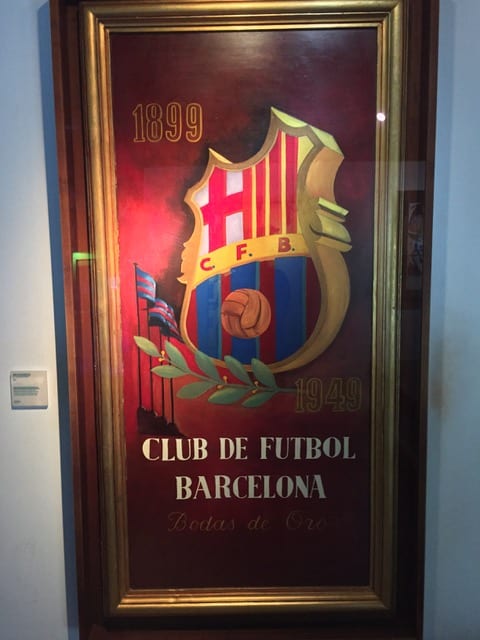 Recommended by Paula from The TravellingExpat.
You do not have to be a Barca fan to love and appreciate this football club. This museum is not only educational it also leads to the biggest Football shop I have ever seen (and I have seen a few). You can buy anything and everything here, whether you choose a jersey and have your name printed on the back or pick up a Barca monopoly game, your kids will be in soccer heaven.
There are a few types of tours that you can choose from the basic package which allows you to visit both the museum and go on the basic tour (you can also opt for the flexible package which allows you to attend after 3 pm) or 2 other options which are the virtual or guided tour of Camp Nou. Ensure you plan ahead because if Barcelona is playing then the tours are either not running or cut short.
Surprisingly, we all found this museum and tour entertaining regardless of our love of the sport or club. I would highly recommend the guided tour so that you are able to ask questions (we all know how much kids love asking questions) and you all do not miss important information.
If you are in Barcelona long enough (and lucky enough) to watch a game at the stadium, well then you must not miss it. The crowd is electric and the game is incredible (even for the non-football fans in the family), every child will remember it, I know my children all still talk about the experience.
---
Visit Parc de la Ciutadella and Barcelona Zoo

Recommended by Catherine from PassportsAndAdventures.
Barcelona is a great place for families and if you want to escape the busy tourist attractions such as La Sagrada Familia and Parc Guell, I highly recommend a visit to Parc de la Ciutadella. Located on the edge of Ciutat Vella, this 70-acre park is a beautiful place to let the kids run free.
With a lake, many shaded areas thanks to the trees, fountains, and home to the Museum of Natural Sciences, it's a great place in Barcelona to visit with kids.
Barcelona Zoo is located on the southwestern edge of the Parc de la Ciutadella and is a brilliant zoo to visit with kids. It is huge and has animals from across the world including elephants, gorillas, Komodo dragons and our son's new friends, meerkats.
There are also dolphins in the zoo but these are no longer performing animals, with Barcelona Zoo having stopped dolphin shows in 2016. There are a few cafes for snacks and a great children's playground too. It took us over four hours to do one circuit of the zoo and still didn't see everything.
And once you are finished in the zoo, take a walk back north towards the far end of the park and you will get a chance to visit Barcelona's Arc de Trimof. Not as big as the one in Paris, but still worth seeing.
---
Montjuic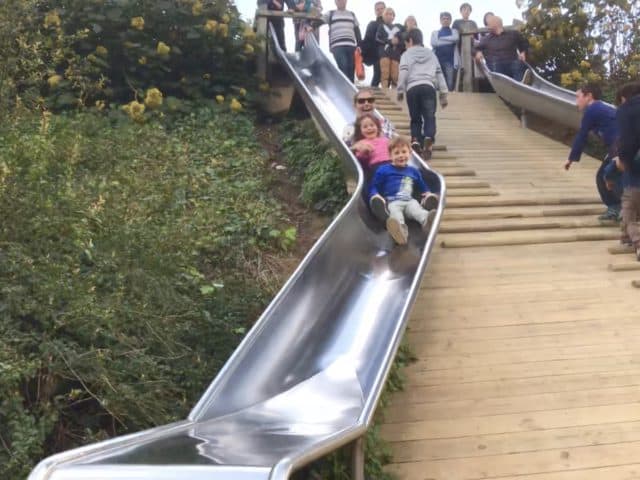 Recommended by Melissa from The FamilyVoyage.
One of our favorite activities in Barcelona with kids is visiting Montjuic, the famous hill in the southern part of the city. It's a perfect activity for the entire family!
You can take the cable car from the base of the hill up to the top where the Castle is an interesting site to visit, telling the story of Barcelona from antiquity through Spain's 20th-century civil war. Both the cable car and the fortress offer incredible views of the entire city and the harbor.
But don't take the cable car down! It's better to walk down the hill with kids – trust me. Halfway down the hill, you'll find lovely gardens, cafe carts and amazingly fast slides for the whole family!
It's a great way to spend an afternoon chatting with local parents and other tourists while you sip a beer or coffee and the kids enjoy lots of open space to run around.
For more tips read here.
---
Biking in Barcelona With Kids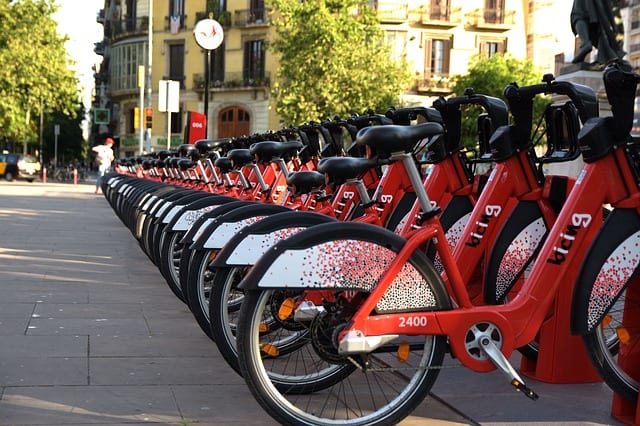 Recommended by Diana from the ElusiveFamily.
Barcelona is among the best places to take your kids when you travel in Europe.  The city has a lot to offer families. A great way to experience Barcelona is to do a bike tour with kids.  
There are numerous bike shops that can be found all over the city, and without needing to make any prior arrangements, you can pop into one and rent out bicycles for the whole family to explore the city. 
 All bike shops should be equipped with additional kids' seats that are attached to the back of the adult bicycle for smaller children.  Smaller bicycles are also available for kids who know how to ride a bicycle, usually aged 6-12.  Many bike tour companies will also have pull along trailers to accommodate more than one child during the bike tour.
Bike tours are usually several hours long and take your all around the city.  They can range from small groups of 8 people, all the way up to 20-30 people. Barcelona has many bike lanes and areas where it is car-free, so no experience navigating in a large city is necessary when taking part in the tour.
 Kids riding their own bicycles need to have basic road awareness and understand traffic lights.
Group or private bike tours should be booked in advance, particularly during high season where there is a higher likelihood of the tours being sold out.
 If you do not want to participate in a bike tour and simply want to explore the city on bicycle, there are plenty of bike shops that rent our bicycles for a few hours, half days, and full days.
---
Parc del Laberint (Labyrinth Park)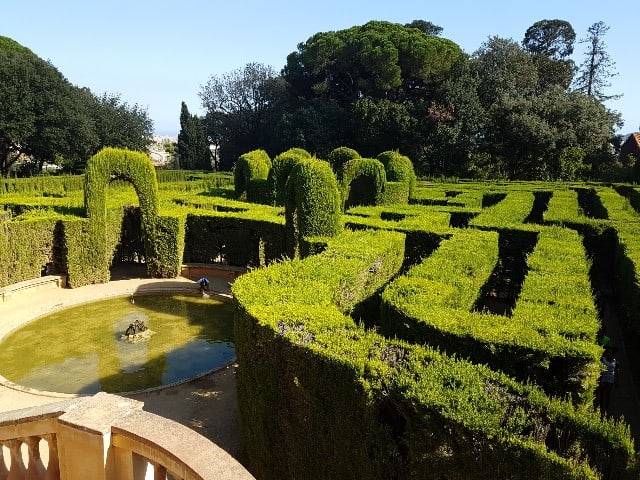 Recommended by Justine from LatitudeFortyOne.
One of the most interesting and fun places to visit in Barcelona with kids is the Parc del Laberint d'Horta or the Labyrinth Park of Horta. This park isn't on the typical Barcelona tourist itinerary because its location is outside the city and not the easiest to get to. The upside to this is that it isn't crowded!
The Parc del Laberint was an estate in the early 1800s and was eventually passed on to the Desvalls family. In the 1970s Barcelona City Council took it over, and it opened as a park in 1971.
It has 18th-century Neoclassic gardens, running streams, and a romantic waterfall. It's also a fun place to spend a whole afternoon. Its main feature is the labyrinth, which is made of tall, well-manicured cypress hedges.
The objective is to reach the center, where you'll find a statue of the Eros, the Greek god of love. After you exit the labyrinth, you can climb up several steps to a charming pavilion. Behind it, you'll find a large, picturesque pond that pays homage to nine muses.
The kids will love running around the tranquil pond and looking to spot some of the fish. It's also a beautiful area to take photos. The park also has a playground surrounded by a grassy area, which is perfect for a picnic lunch on a sunny day.
If not, you can sit at the terrace cafe nearby while the kids play too. If you're bringing a stroller, be prepared to have to carry it up some steps. The park is on three levels, and it's not the most wheel-friendly destination.
There's a small fee to enter except for Wednesdays and Sundays.
---
La Boqueria, Spain
Recommended by Kate from TearFreeTravel.
While in Barcelona, we had fun visiting the La Boqueria market with our kids.
What I love about Europe with kids is that it's easy to make an entire afternoon out of a visit to something as simple as a Market. This market is located just off the main street of La Rambla.
La Boqueria boasts a wide variety of food stalls from almost every cuisine. We had fun checking out all the stalls, and trying some tasty foods while we were here.
A lot of the fruit stalls offer freshly squeezed smoothie drinks and this is a perfect option with picky kids. We also enjoyed trying some of the cured meats, which of course are an important part of Spanish cuisine.
The highlight for our kids was the candy stalls that were plentiful in the market. Their eyes lit up when they saw all the yummy treats!  They each got to choose a bag of sweets and this made their day. There is space for kids to relax and enjoy the beautiful weather just outside the market and this is where we set up for a bit to relax.
You can visit La Boqueria via metro (Liceu Green Line, L3), taxi, uber, and it is also nearby to a stop on many of the hop on hop off bus tours of Barcelona.
If you have a chance, I would definitely recommend stopping at La Boqueria on your visit to Barcelona with kids.
---
A Day Trip To Sitges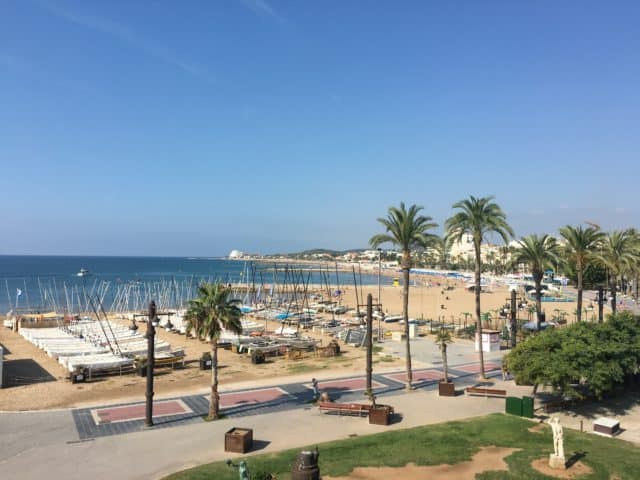 Recommended by Mar from OnceInALifeTimeJourney.
One of the best ways to spend a day away from Barcelona is by taking the train or bus down to Sitges, about half an hour away, at the other side of the Garraf mountain range and natural park.
Sitges is the birthplace of Spain's first pizzeria and also of the founder of Bacardi, the rum. He emigrated from Sitges to the new world, to Cuba, and started the now famous rum company. It was him and other "americanos" as they are referred to, who returned to the village years later with money and developed it into a playground of the rich.
The small town has a lot of history, a mostly pedestrian town center, and 3km of beaches and a beachfront promenade that everyone comes to for a stroll. The sun shines here longer than in Barcelona, thanks to the Garraf mountains, and it is also a bit milder.
Sitges has always been a place for wealthy Barcelonins to have second homes and it is a buzzing place in the weekend and summer months.
Children will enjoy some time at the beach, where the many small bays are protected by rock jetties and so are shallow and without many waves, and wandering the narrow cobblestones streets.
There is also a doll museum Museu Romantic, and many seafront restaurants for a great meal. Or have a pizza at the famous first, Pizzeria Cap de la Vila.
For more information about Sitges, please click here.
---
Our Recommended Travel Resources
To find the best and affordable tours in Spain and Barcelona, please click on the banner below
We do love to stay in holiday homes, with a kitchen and a play area for the kids. It feels more relaxed and also helps to stick to a budget.
There are lots of options through Airbnb from townhouses to apartments at affordable prices; if you are new to it you could save money on your first booking via my link.
Click Here To Find The Best Deals With Airbnb
When it comes to booking hotels and affordable resorts, booking.com is our favorite search engine. Be inspired and find the best place for you and your family.
---
Wrapping It Up
I do hope this post has inspired you to put Barcelona in Spain on the top list for your next family vacation. Please let me know, which of the activities you would like to experience with your kids in this fabulous metropolis.
Or, do you have an activity you would like to recommend for Barcelona with kids?
Please leave a comment below. I'd love to hear from you!
All the best from Anke