Welcome to my third and last part of Berlin with Kids. This time around I have put three day tours together you can do with your children.
[Missed the first parts? Catch up here:
Berlin With Kids – We Love It
 and
Berlin With Kids – Part 2 – Exciting Day Trips
]
These tour suggestions are not too jam-packed and leave space for any other activities you might like to add. From my experience with my kids, I have learned that less is more. The key is to have fun parts planned for the children but also sights that are attractive to the adults.
Berlin is a big place, and I always recommend to use Berlin's public transport. The Welcome Card is an absolute must-have and entitles one adult plus three children (6 to 14 years) to unlimited rides by Bus, S-Bahn (City Train), and the Subway. On top of it, you will get huge discounts on 200 attractions plus a city map and guide. A card for 72 hours starts from €27.90. For more details and to purchase your card online, please click here.
To find the best accommodation, I highly recommend Booking.com, where you can find hotels but also apartments.


Some parts of my tour suggestions include walking of approximately 10 to 20 minutes. If your kids are older, it won't be a problem. If they are younger, I would suggest using a lightweight stroller or a baby carrier.
Please keep in mind; these tours are only suggestions. You can mix them up to your liking. By the way, I used the most economical ways to get from A to B and so on.
As an extra bonus, you'll find a link to a PDF with these tours at the end of this article. 
I hope you will love Berlin as much as my family and I do. Have fun to explore!
---
Day 1 – Tour 1
Day Tour Overview: Turkish Market (Berlin-Kreuzberg/Neukölln)⇒ Playground ⇒ Lunch ⇒ Teletower ⇒Nikolaiviertel ⇒Boat tour ⇒ Monbijoupark ⇒Relax!
1) If today is Tuesday or Friday, I highly recommend starting the day with a visit to the Turkish Street Market in Berlin – Kreuzberg.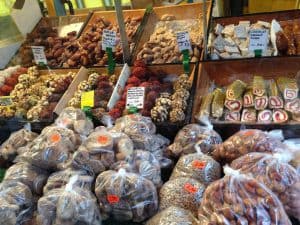 Getting there: Exit the U-Bahn 8 Schoenleinstrasse and head north towards Maybachufer. You can't miss the market.
It starts at eleven o'clock and finishes at 6.30 pm. Take in the exotic smells of herbs, Turkish street food, fresh bread, olives, and cheese. Bring a bag and buy delicious food, fruit, and vegetables for a picknick at the Landwehrkanal or one of the many playgrounds nearby.
Get a fresh coffee and of the many Cafe's and watch your children having fun at the playground. Enjoy your picknick lunch.
2) After some fun time and lunch, hop on the U-Bahn 8 Schoenleinstrasse and go to U-Bahn Station Alexanderplatz. Hop off the U-Bahn.
Here you can go and visit the Berlin Television Tower (Berliner Fernsehturm). Enjoy a bird's eye view of 360 degrees of Berlin. Your kids will love it.
From the Teletower, you can walk 15 minutes to the Nikolaiviertel and visit the reconstructed historical heart of Berlin founded at around 1200. Enjoy a coffee or an ice cream before you carry on.
From the Nikolaiviertel walk along the river Spree toward the Berliner Dom (Berlin Cathedral). You will see a few historical sights on your 10 minutes walk.
3) Go For A Boat Tour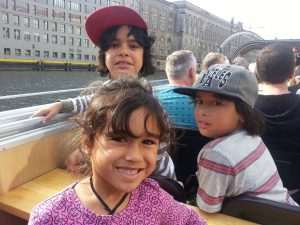 In opposite to the Berlin Cathedral, many boat tour companies are offering tours for 1 hour or longer. We took a one-hour tour to see the Museum Island, the Regierungsviertel and Reichstag, the Chancellor's office and many more historic places. One hour is not too long for the kids, and it is such an enjoyable ride.
Afterward, you can visit the nearby Monbijoupark, sit in the sun at the Summer Beach Bar and try the refreshing famous Berliner Weisse with a shot of red or green syrup. You deserve it! And the kids can have a play at the playground behind the beach bar.
If you still have energy left, you could go and visit the fantastic Pergamon museum situated on Museum Island. It is just a short stroll away from the Monbijoupark.
Mind you; there is always another day! Relax and enjoy – You are in Berlin!
---
Day 2 – Tour 2
Day Tour Overview: Gendarmenmarkt (Berlin-Mitte)⇒ Galeries Lafayette⇒ Lunch ⇒ Checkpoint Charlie ⇒ Berlin Zoo
1) Start the day with a visit to one of Berlin's most gorgeous places: the Gendarmenmarkt and admire the Konzerthaus, the French and German Churches.
Have breakfast in one of the surrounding cafes and take in the stunning views. You can go inside the French and German Church and get a glimpse of Berlin's history.
Getting there: U-Bahn Station U2 Hausvogteiplatz
2) From the Gendarmenmarkt follow the signs to Franzoesische Strasse and visit the beautiful French Department store "Galeries Lafayette." It is only a short stroll away (5 minutes walk) The architecture is stunning. It's worth to visit, and maybe you fancy a bit of shopping at the same time. You can also try some French delicacies and pretend you are in France. 🙂
3) From the Galeries Lafayette, it's another 12 minutes walk to the famous Checkpoint Charlie. Follow the signs along Friedrichstrasse. Some signs will lead you to places of interest everywhere. It's helpful, tourist-friendly and makes it easy to navigate your way through Berlin.
A visit to  Checkpoint Charlie is an eye-opener and shows you where Berlin was once divided into East and West Berlin. I grew up in East Germany and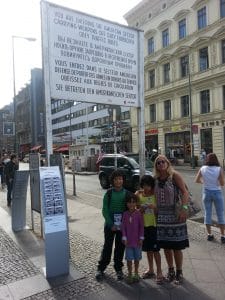 remember when the Berlin Wall came down. It was life-changing for everyone growing up in the GDR.
4) From Checkpoint Charlie, why not catch one of the famous Doppeldecker Bus M29 and go for a twenty minutes bus ride to the Kaiser Wilhelm Memorial Church situated at the Breitscheidplatz. From there it is only a short walk to the Berlin Zoo.
5) A visit to the Berlin Zoo is exciting for children and parents alike. Find more information in my post Berlin With Kids – We Love It. You can easily spend half a day there. There is so much to see and do; your children will love it.
End Of Day Tour Number Two.
---
Day 3 – Tour 3
Day Tour Overview: Cafe Klunkerkranich ⇒Potsdamer Platz ⇒Legoland Discovery Center ⇒ Tiergarten ⇒ Biergarten
1) Start the day with a visit to one of my favorite Cafes Cafe Klunkerkranich;
  it's a fantastic place to go for a coffee and relax on the rooftop of the shopping mall Neukoellner Arcade.
There is even a huge sandpit much to the children's delight. And the views of Berlin are marvelous.
There are no signs on the street to guide you to this unique place. So, how do you get there?  Go inside the shopping center and take the elevator to the last possible parking deck.  Exit there and follow the signs. 
Getting there: U-Bahn Station U7 Rathaus Neukölln
2) After Cafe Klunkerkranich,  take the subway to the new center of Berlin, the Potsdamer Platz.
Getting there: Go to U7 Rathaus Neukoelln and take the U7 towards Rathaus Spandau; hop off at U-Bahn Yorckstrasse and change from U-Bahn to S-Bahn. Follow the signs to the S-Bahn towards Oranienburg, Bernau or Buch. Catch the S1 or S2 and get off at S and U-Bahn Potsdamer Platz.
The Potsdamer Platz is a fascinating place. It is the 'old' new heart of Berlin's city. After the wall had come down, it became Europes largest building site with over 60 hectares of bare land.
Now it is such a bustling part of Berlin and definitely worth a visit.
3) After all the sightseeing, it's time for the children to have some fun. You will find the Legoland Discovery Center at the Potsdamer Platz; exciting times for your kids ahead.
4) Getting tired of the city's hustle and bustle? Why not explore the 'green lung' of Berlin called Tiergarten?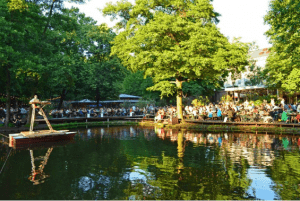 Starting at the Potsdamer Platz, you can go for a 30-minute walk to the Biergarten and Restaurant  "Cafe am Neuen See".
It's a gorgeous, family-friendly place for families to hang out and relax after a busy day. Enjoy a beer, have a pizza or something else from the BBQ. It is a perfect place to finish an exciting day!
---
Some Tips For Rainy Days
Even on a rainy day, you'll find plenty of things to keep you and your children entertained.
You could visit
---
Wrapping It Up
There are so many things you can do in Berlin that would keep you busy for months. My day tour suggestions offer a little insight of the various activities you can do in Berlin with Kids.
Eating out is affordable, and you will find food stalls, takeaways and ice cream shops on every corner.
Berliner and tourists alike love sitting in cafe's and watch the world go by. Having breakfast in the cafe's is also very common. Most cafes have a breakfast menu. It's a lovely way to start the day and you'll see many families with children in cafes catching up with friends.
I do hope you have found some valuable information and feel excited to visit Berlin.
Please let me know, what you have experienced in Berlin or in any other big city. Have you got a favorite city? I'd love to hear from you. Just leave a comment in the box below.
Safe And Happy Travels!
~ Anke
Here is the link to download this post as PDF.