There are countless different types' of luggage for, not only international travel, out there – hard shell, soft shell, rolling luggage,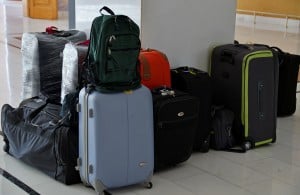 Lightweight suitcases, backpacks, carry-on bags, hand luggage, cabin luggage, bags for him or her, for girls and boys. Confusing right!
Let's bring some light into what I would take on an international flight. What is it that you need to look out for? What is practical, durable and looks stylish at the same time. In short, how do I find the best Travel Luggage for international travel? And how about cool travel luggage for the kids?
Related post: The Best Carry On Backpacks Right Now
In this article, I will talk about some important features for great Travel luggage.
The Rolling Luggage
When I talk about practical, it means to me
I don't have to lift my heavy belongings
I can get my bags from A to B with minimal effort
I can move two suitcases at the same time
The best solution: Luggage on wheels – In my opinion, it's a must-have. It ticks all the boxes regarding practicality and easy use.  Over the years, I have tried different types' of things, but the rolling luggage has always worked brilliantly for me.
How Does Hard Shell Compare To Soft Shell Suitcases?
Hardshell suitcases seem to be sturdier than the soft shell version. Your belongings are better protected by the rough handling at airports. Have you ever watched how the luggage gets thrown into the plane? Arrgh …
Something to keep in mind for the hard shell version though is the weight. Softshell suitcases are in average 1- kilogram lighter than their hard shell counterparts. This weight difference can be crucial when flying abroad. The airline companies have got different weight restrictions on luggage which can vary between 23 – 33 kg per bag. So if you have to pack for a family with more than one child remember – every Kilogram counts.
Looking at the soft shell luggage, I have found that the quality regarding sturdiness, material, and longevity is excellent if you go with a high quality trusted brand. In most cases, you will get a warranty with your purchase as well. So make sure you get the best possible deal.
Here Is My Comparison Chart For My Top Lightweight Suitcases
| My Top Picks | Brand | Size | Weight | Price | Rating (/10) | Description |
| --- | --- | --- | --- | --- | --- | --- |
| Samsonite DK 3 Spinner | Samsonite | 25" | 15lbs | $$ | 9.5/10 | My #1 recommended suitcase. The Samsonite DK3 is a high-quality, durable, and a stylish yet practical suitcase. |
| Victorinox Avolve 2 | Victorinox | 27" | 9.8lbs | $$$ | 9/10 | My runners up, the Victorinox Avolve is a spacious ultralighweight suitcase that comes with a TSA approved lock and a 10-year warranty. It is a bit pricier than the other suitcases |
| Skyway Luggage Superlight | Skyway Luggage | 28" | 11.8lbs | $ | 8.5/10 | The Skyway Luggage Mirage is an an excellent choice when looking for a bigger-sized lightweight suitcase with lots of packing space. |
| It Luggage Megalite | IT Luggage | 26" | 6.8lbs | $$ | 8/10 | This IT Luggage is megalight and therefore gives you lots of packing space for your next holiday. |
| American Tourister Ilite Max | American Tourister | 25" | 9.6" | $ | 8/10 | The American Tourister offers great value for money, is durable, easy to roll and offers 5 different colors. |
Does Size Matter?
Well, it does. You can choose between small (39-41cm/ 16inch), medium (59-61cm/21inch) or big (71-77cm/30inch).
What also matters is the capacity or volume of your suitcase that means how much stuff you can pack. I compared two medium sized hard shell and soft shell bags: The hard shell version had an average of over 20 liters more capacity. On the other hand, the soft-sided suitcase is more flexible because of the material, so you can fit more in.
Some soft-sided suitcases are also expandable to allow for more packing space. They are also easier to fit into more compact spaces.
The smaller sized suitcases are an excellent choice as hand luggage and carry-on luggage. They are certainly big enough for a weekend getaway.  I am always amazed by how much you can fit into these smaller sized bags.
But if you go on a vacation with your family you need much more to pack. Of course, you would need a medium or big sized suitcase. If you choose the largest size of 31inch, you need to be careful of not to pack over the limit. 
That has happened to me. I thought that a big size suitcase would be marvelous to take on our trip to Europe. On the way there it was all good. No weight issues at the check-in counter. I had only 20 kg in there. But on the return flight, it was an entirely different story.
You can imagine after a long holiday the things you have bought while traveling. Souvenirs, gifts, new clothing, chocolate and other goodies, the list goes on. Well, at the check-in in turns out I had 10 kg too much in my bag. What a hassle of unpacking and repacking in the middle of an airport!
The moral of the story is: it is very tempting to pack too much into your big sized suitcase. So my advice would be to choose a medium sized one from 25″ up to 28″ the most.
This way you are more likely to pack light and practical. The chances are that you avoid any trouble of carrying too much.
---
TSA Locks
When you go to the United States, keep in mind that the Transportation Security Administration (TSA) requires access to your luggage without the passenger being present. That gives you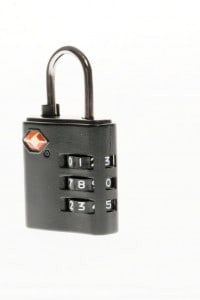 the choice of a) leave your luggage unlocked or b) to secure it with a TSA approved lock.
If you use a non-approved lock, you may risk that your luggage could be damaged by the authorities when they try to open it.
You can buy luggage with a built-in TSA lock or use a combination padlock with a Travel Sentry TSA lock system. You can easily recognize them by a red diamond sign. To get more information regarding TSA locks, you can click here.
Putting It All Together
Overall my personal choice would be a lightweight, soft shell, medium-sized suitcase on wheels for your international travel. Invest a bit more money and buy a quality brand that gives you a few years warranty on your suitcase. This way you will have luggage that
is practical
is easy to handle and move around
has a high durability
has a high packing capacity
is flexible so that you can pack more
easy to fit into more compact spaces
To find out more go to my personal review page for my top travel luggage choices.
---
How About Cool Travel Luggage For Children?
When you travel as a family, encourage your children to carry their own luggage. It is fun for them and gives them a good amount of responsibility as well as feeling more independent.
There is an enormous variety out there for your little darlings, no matter what age they are. Even a two-year-old toddler can carry his backpack.
When I traveled with my three children they all had a  backpack to bring on the board of the airplane and a 41cm (16inch) trolley case as check-in luggage. My 10- year- old son got a medium sized suitcase since he was tall enough to handle it with ease.
All three were in charge to pack their bags (with my help of course: otherwise you might end up with five teddy bears and no shirts in the bag) and in looking after their belongings. They were so proud of themselves. It was great to watch how they took on ownership. Weeks before we even went on our holiday they were packing and unpacking and packing again.
On my review page, I will talk about my top five gorgeous luggage for girls and cool luggage for boys. It sure guarantees a lot of fun for you and your children.
What are your personal preferences in regards to luggage for yourself and your kids? What has worked for you in the past? If you have any recommendations, tips our questions, please leave a comment in the box below. I appreciate your feedback.
---
 funtravelingwithkids.com is a participant in the Amazon Services LLC Associates Program, an affiliate advertising program designed to provide a means for sites to earn a commission by advertising and linking to Amazon properties including, but not limited to, amazon.com.  Amazon offers a small commission on products sold through their affiliate links.
 If  funtravelingwithkids.com links to an Amazon product (with a special code for affiliates embedded in the link) and you buy this item or any other product, funtravelingwithkids.com will get a small percentage of the sale. 
The product will cost the same either way if you make a purchase through an affiliate or non-affiliate link.