Cheap Family Holiday Accommodation in France
Who hasn't dreamed of a holiday in beautiful France known for great food and wine, stunning landscapes and bountiful markets loaded with local produce? A vacation in France can get quite expensive but with the right planning, it is possible to find cheap family holiday accommodation in France.
In my ultimate guide, I will cover what to bear in mind when you plan your holiday. You can apply these tips to other countries in Europe as well. Also, I am going to show you two awesome tools that will help you guaranteed to find a cheap family holiday in France and elsewhere.
A Few Things To Consider When Planning Your Trip
It is a good idea to keep a few things in mind when you are planning your vacation.
Firstly, what month or season of the year would you like to go? If you can, and it mostly depends if your children are going to school or not, avoid traveling to France during the French School Summer Holidays. They usually start at the beginning of July and end at the end of August. (For exact dates, you can click here.)
As you can imagine the country will be crowded by other tourists and holidaying French families. And, of course, the prices for accommodation are much higher than usual.
Secondly,  how long you would like to stay in one place. For instance, if you stay for two weeks, you might like to stay in two different locations. That way, you will see more from the country. Since you are traveling with your kids, I would suggest  keeping travel distances to a minimum.
Thirdly, what is your budget/spending plan? Keep it a bit flexible and realistic.
Fourthly, what region of France would you like to visit? Have a rough guide of where to go and what is on your sightseeing wishlist.
Lastly, what kind of accommodation do you prefer? A Hotel, Bed & Breakfast, a Campsite or Holiday house? Let's talk about this point in more detail.
Hotel or  Holiday Apartment – What is Your Choice?
Whatever type of accommodation you choose, it will have an impact on your budget for your family holiday. I believe, that staying in an apartment or Holiday house will be cheaper in the long run.
Why? Because everything you need is available like a washing machine, a kitchen, TV and most likely toys and games for your kids. Maybe even a garden for them to play. I have found that it is much easier for children to settle in such an environment.
Hey, and the best part is that you can cook breakfast and dinner with produce you discovered at the local market. You also have the chance to meet your neighbors and learn more about daily life and culture in France.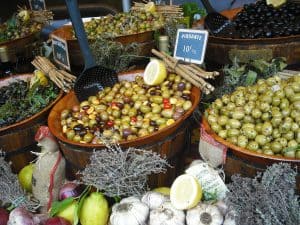 But if you prefer a Breakfast and Dinner Service at a Hotel, maybe even a Babysitter service and Kids Club, there are options available as well.
As I mentioned earlier, it all depends on your personal preferences.
I am going to introduce two search engines to you; both offer affordable accommodation regardless if you'd rather stay in a Hotel or Holiday apartment.
They are called 9flats.com US
 and 

What is 9flats.com?
When I was planning a three-day stay in Paris last year, I was so grateful when a good friend of mine recommend a search engine called 9flats.com US
to me. What a fantastic search engine. I booked a tiny apartment for us (the size was typical for Paris) that had everything we needed – a kitchen, a TV, comfortable beds and it was situated close to the city center. The best part was certainly the bakery close by with scrumptious croissants, freshly baked baguette, and other delicacies.
9flats.com offers over 200000 private accommodation like houses, apartments or private rooms worldwide. The website is easy to use and navigate. Just type in:
how many people including children

9flats.com

your arrival and departure date
the area of where you would like to go
how much a night you would like to spend and your preferred currency
Also, it might be a good idea to check how far your desired accommodation is to the airport, how far to attractions, if there are public transport and other amenities in close distance.
What I always do is I read the reviews about the place but also about the host. Is he or she helpful? Are they providing tips on what to see and do?
You can even send an email to the host if you have any questions. In my case, for instance, I was able to change the check-in time to suit our needs.  A good host will reply very quickly.
The  screenshot on the right shows you a few more useful filter options.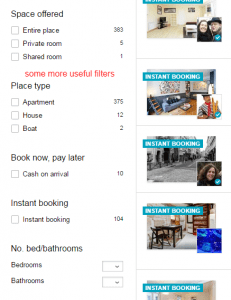 As you can see, you can even book instantly and pay on arrival. Another great feature is that 9flats com shows you an end price including cleaning fee, additional service charges or maybe even a discounted price. So there won't be any unwanted additional hidden costs. What you see is what you pay for.
I can highly recommend this fantastic search engine. It will help you finding cheap family holiday accommodation in France.
Check it out for yourself: ⇒ 9flats.com US
 ⇐
If you are not quite sure if  private accommodation is a right choice for you, read on about my second fabulous search engine. ⇓
 More about Trivago
According to Wikipedia, Trivago is the largest hotel search engine in the world. It has been around for over 10 years now. It searches through 900000 hotel deals, from over 250 booking sites. These are huge numbers.


If you are not quite sure if a hotel is the best accommodation choice for you, you can search for a Campsite, Bed& Breakfast or a Holiday home as well. I think it is such a great feature. It gives you  a vast variety of options.
Some other extra filters include boxes you can check regarding your children: Do you need a Baby cot? check. Do you want a Kid's playground? check … and so on. (please refer to screenshot)
Narrowing down the search by ticking the boxes will save you a lot of time and money because Trivago will present you with the best Deals available. The site is user-friendly and easy to navigate.
Once you have decided on a deal, you will go directly to the booking site so you can complete your reservation. Easy Peezy.
Would you like to check it out? ♥ Click the link below. ⇓ Happy browsing!


⇐
---
Summing it up
I do hope my guide will help you having a fantastic yet affordable Family Holiday  in France. I have used  both  search engines with great success. They are user-friendly and give so many incredible options. No matter how small or big your budget is. Enjoy your next holiday!
Please let me know how you are getting on or if you have any questions.
What is your favorite place to stay? Do you like a hotel or an apartment better? Please leave a comment below.
As always
Have Fun and Safe Travels!
anke @funtravelingwithkids.com