Have you ever experienced the feeling of panic setting in when you got distracted for one moment and lost sight of your precious child? I certainly have a few times. It happened when I traveled with my three kids to Paris, Prague, and Berlin. Luckily, in all three cases, I found them very quickly with the support of helpful locals.
Afterward, you can laugh about it, but when it happens, it can be frightening. GPS tracking bracelets for kids are fantastic to avoid these situations of feeling helpless. No matter if you are in an amusement park, a shopping mall, your child walks home from school, these devices give you peace of mind.
GPS tracking bracelets are a great alternative to cell phones especially if you don't want your child to own a phone due to his/her age. I also think it is easy to lose a phone where else a bracelet stays put around the wrist.
I will discuss three different tracking devices including their pros and cons. But I also show you an alternative option if you don't want an electronic device for your child.
---
 My Top Choices Of The Best GPS Tracking Bracelets
| My Top Picks | Suitable Age | Colors | Network | Suitable For Android and iPhone | Price | Description |
| --- | --- | --- | --- | --- | --- | --- |
| TickTalk | 4 to 12 years | pink,blue, black | T-Mobile | yes | $$ | The TickTalk tracking device is colorful and a breeze to use by your children. |
| LG GizmoPal | 4 years and up | pink and blue | Verizon | yes | $ | The LG GizmoPal does a great job in locating your child and staying in touch. |
| KOBWA smartwatch | 4 years and up | pink, blue and orange | 2G Network | yes | $ | The KOBWA smartwatch is great value for money. |
---
Features In A GPS Tracking Bracelet You Should Look Out For
First and foremost the GPS device should be compatible both with Android and iOS phones. It should have an SOS button, long battery life and also enable two-way phone calls.
They should also be durable, have a cool/fun design and easy to use for kids.
The tracking bracelets require you as a parent to download an app from either Google play store or iTunes App store. Once you got the app, you can set up the tracking device from your cell phone.
Let's have a look at three devices which received good reviews from Amazon. All three are available for under $150.
---
TickTalk 1.0S Touch Screen Kids Wearable tracker wrist Phone w/ GPS locator
Overview 
Kids Age: 4 – 12 years
LED Screen: Touchscreen
Colors: pink, blue and black
Network: T-Mobile
Sim card: GSM Sim card included
With the TickTalk tracking bracelet, you can store up to thirteen numbers. It features a history tracker and three-way locator: WiFi, GPS, and Local Base Station. So you as a parent can keep track of where your child is at any given time.
Your child can make phone calls to the preset numbers, use the SOS button in case of an emergency and can use voice messages. The clock is set to 12-hour regular time instead of military time which is easier to read by children.
The battery lasts from 24 up to 48 hours.
The monthly costs are $19 with unlimited talk, unlimited text plus 100MB data. No contract required. If you are already with T-Mobile, you could add a family line to keep the monthly costs down.
PROS: 
Stores up to 13 phone numbers
Three-way locator
Two-way phone calls
SOS button
Colorful design
High-resolution touch panel
1-year warranty on defective hardware
Can be used internationally as a tracking device, it depends on your carrier service and your plan
CONS
You can't download any games or apps
Overall, this is a great tool to keep your kids safe and for you as a parent to locate their whereabouts on your phone. The TickTalk tracking device is colorful and a breeze to use by your children. I am sure they will love it.
---
LG GizmoPal, Blue (Verizon Wireless)
Overview:  
Kids Age: 4 years and up
Colors: pink and  blue
Network: Verizon
The Gizmo Pal is a cute device that features real-time location, two-way calls with a single button. Your child can make calls to two registered caregivers (the registration is done through the app) and can receive calls from up to four pre-registered numbers.
The minimum rated talk time is 150 minutes and the standby time is 148 hours (roughly six days).
This tracker can only be activated by Verizon. The monthly cost is $25 or, if you have an account with Verizon, it is $5/month.
PROS
Tracking and remote device management
Time alert
If the battery is low, you get a notification on your app
Single-button calling
CONS
Quite big for a child's wrist (younger children)
The design might not be so cool for older kids
Can not be used outside the U.S. as a tracking device
Overall, it is a nice tracking bracelet that is doing a good job in what it is supposed to do: locating your child and staying in touch.
---
KOBWA GPS + Base Station + WIFI  Positioning Kids Smart Watch
Overview 
Kids Age: from 4 years up
LED Screen: 1.44″ HD colorful screen
Colors: pink, blue and orange
Sim card: needs a micro card with 2G Network (buy separately)
The KOBWA Kids Smartwatch offers all the features you need to look for in a good tracking bracelet. It offers three-way location technology: WiFi, GPS and Local Base Station and real-time location.
As a parent, you can set an electronic fence. Once your child leaves the designated area, you will get notified via the app.  You can also switch the watch off during class time (via the app), so your child can't play with it during school.
An attractive feature, in my opinion, is the love hearts you can send your little munchkin.
PROS
free Wechat
SOS button
Alarm clock
Find the watch feature
phonebook – stores up to 23 numbers
Two-way-call
Materials: non-toxic silicon, low radiation values
CONS
cute design, probably more suitable for younger children
Overall, this is a great smartwatch that provides excellent value for money.
---
All three devices are suitable for Android and iPhone. You only need to download the appropriate app from either the Google Play Store or the iTunes stores.
Please keep in mind that except the TickTalk, these smartwatches can't be used as tracking devices abroad.
I've got an alternative that you might find useful when traveling to different countries.
---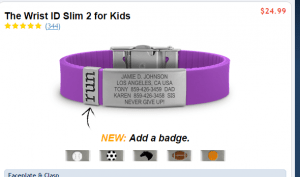 RoadID Emergency Bracelet – An Alternative To An Electric Device
It is a customized emergency bracelet and is available on www.Roadid.com You can choose from various colors, add a badge and put the information of your choice on the ID plate; from emergency numbers to relevant medical information.
The ID plate is interchangeable. The silicone band is latex free and safe to use in fresh and salt water.
The emergency bracelet is perfect for kids of any age.
Get your emergency bracelet on RoadID
---
Summing It Up
From experience, I know how difficult it can be to keep a watchful eye on children. It only takes a moment of distraction and you can lose sight of them especially in busy places like shopping malls, on a field trip or amusement park.
GPS tracking bracelets for kids and the emergency bracelet by RoadID will give you peace of mind.
I do hope, my post will help you to make an informed decision on what is most suitable for you and your kid's needs.
Please let me know if you have any questions!
---
funtravelingwithkids.com is a participant in the Amazon Services LLC Associates Program, an affiliate advertising program designed to provide a means for sites to earn a commission by advertising and linking to Amazon properties including, but not limited to, amazon.com.  Amazon offers a small commission on products sold through their affiliate links.
 I always recommend products I have used or would recommend to friends and family.