Without a doubt, Portugal is one of the most family-friendly places in Europe. Our next trip to Europe is getting closer and Portugal with kids is on the top list of countries to visit.
Portugal's diverse culture, ever-changing stunning landscape, amazingly delicious food, and the warm hospitality by its people have made Portugal a very popular tourist destination not only for Europeans.
To get more ideas and inspiration for this upcoming vacation to Portugal with our kids, we have asked other (family) travel bloggers to share their top places including family-friendly experiences one should put on the must-do list.
See also: The Best European Cities To Visit With Kids Right Now and Spain With Kids – The Best Places To Visit With Your Family
Whether you'd like to relax at the wide golden sandy beaches, explore an extinct volcano on Terceira Island, discover a Bone Castle (great for older kids), or feel like Cinderella at Pena Palace …
Let's find out where you could go for your next family vacation in Portugal with kids.
But before we get started, a big "Thank You" to all the travel bloggers who have contributed to this post with their inspirational travel experiences.
---
Portugal With Kids
Lisbon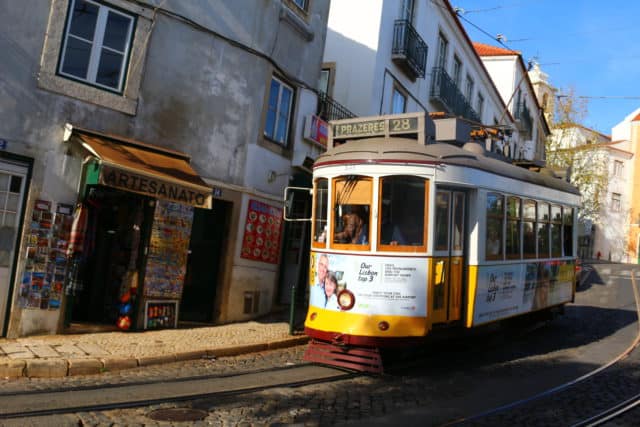 Recommended by Karolina from Karolina Patryk.
Lisbon is the perfect city to take your family for the summer vacation. Being a kid-friendly place, you can expect a supportive and accommodating environment that would make your family vacation hassle-free.
Here, you can expect to find tourist attractions, hotels, and restaurants that are designed to cater for families with children.
The best accommodation for families can be found in the areas of Baixa District and Avenida de Liberdade as these are closer to the city center, making the commute to tourist attractions and restaurants easier.
For longer vacations, however, the resort town of Cascais is highly recommended as it has amazing beaches and top of the line public transport links to Lisbon.
Try not to book your holiday home or hotel in Alfama as it is quite hilly and Bairo Alto and Cais de Sodre as these are rowdy nightlife spots.
Relax at the stunning beaches of Lisbon, where the soft golden sands and attentive lifeguards will ensure that your children are kept safe.
Take the kids on a tram ride through Lisbon´s historical area, where the colorful cottages and old buildings seem to have popped out of a fairytale.
For something more interactive and educational, the Oceanarium, one of the best aquariums in Europe, is teeming with marine life. For 16EU for an adult and 11EU for a child, you can keep your children enthralled for hours.
Be the coolest parents in the world in your kids' eyes by taking them to see some cute, furry creatures at Lisbon´s petting zoo. For those with a preference for reptiles, they will also be amazed by the zoo´s reptile collection.
To top it all of, they will also get to watch some dolphins and sea lion shows. This day-long activity costs 12.50EU for kids who are 3 to 11 years old and 17.50 for 12 and above. This includes entry to the amusement park just outside the zoo.
---
Evora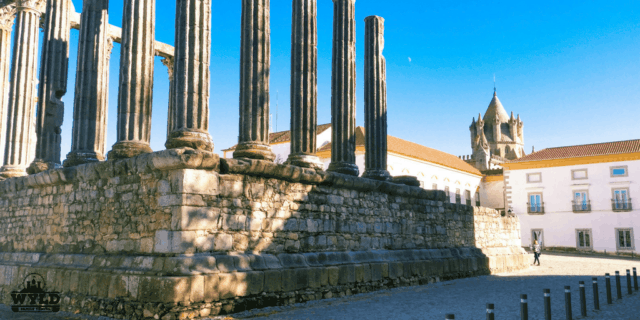 Recommended by Bec from Wyld Family Travel.
A visit to Lisbon in Portugal should be on everyone's list and many who have been will tell you to go to Sintra but not many will know about another amazing place just out of Lisbon called Evora.
Willow, our eldest daughter, had done some research into the town as it had a bone chapel in it and was desperate to see one. Once she had done that it sparked Mark to do some more research on what else the town had to offer.
Here in this amazing little UNESCO town, you will find something for everyone to enjoy.
We started our day at the tourist information center in the town square and wandered through the little streets up to the Temple of Diana which are the ruins of a Roman temple that tower over the square that they sit in, just across the road from there is a Spanish Inquisition museum (unfortunately it was closed on the day we were there) from the temple we walked to the Evora Cathedral.
You can visit the church on the inside but make sure you make time to go right up to the top to the roof for views over Evora. From there we went down to the Church that the town is most known for…Igreja Real de Sao Francisco.
The Church of St. Francis is the home of Capela dos Ossos which is a Bone Chapel. There is said to be the bones of around 500 monks displayed in the Chapel.
Read more about the Bone Chapel here.
After visiting the Bone Chapel we wandered back to the town square to have some lunch. Even though we visited Evora in the winter time, we were still able to sit outside in the sun and enjoy a nice lunch together.
More Amazing Things To Do In Evora
Afterward, we took the opportunity to be driven around Evora in a fully restored 1927 Ford from Top Emotions. The owner of the car was Jose and he showed us all the extra sites like the old walls, the aqueducts and the excavated Roman ruins in the town library. As we drove around he also told us stories of what he remembered growing up in the area and how much it has changed over the years.
He then took us to an old bus terminal that he has fully restored and uses it to house all of his other fully restored cars! We are not car people but all four of us could see the love and care that has been put into getting and restoring all the cars he has there. There were even bikes including a Penny Farthing!
It was amazing to see that one man had taken the time to not only collect and restore these cars but also make a place where other people could enjoy them as well.
We loved our time in Evora and we wish we had more time to spend there. If we return to Lisbon I would love to go and spend a few nights there and see more of the gorgeous UNESCO town.
---
Carvoeiro/Algarve
Recommended by Carrie from Flying With A Baby.
Carvoeiro is nestled in the Algarve, and like many traditional seaside villages has a history of fishing. We had a wonderful family holiday here over July. With appealing and direct flight times, we found it to be very accessible and easy for families.
Whilst several hotels provide in house entertainment, it is very much worth going out and exploring the area. There are a variety of things to do in Carvoeiro with kids. The most obvious is visiting the beautiful golden sandy beach which is nestled in-between some caramel honeyed cliffs.
With a bustling but not crowded central square, surrounded by local restaurants with delicious fresh fish, it is the perfect location to watch your children play and people watch.
Live performances on the center stage serenade you as eat or enjoy watching the sunset, and bouncy castles and balloon makers entertain the children.
A bit higher up, are other incredible restaurants, small and compact but authentically local. Some provide highchairs and all are very welcoming towards families.
I do recommend stopping at "Earth" – a breakfast place on Rua das Flores which is open every day except Tuesdays. Breakfast is available all day but the menu is vast for lunch too.
Their fresh juices are beautifully presented in jam jars and the locally made preserves taste delicious on the freshly baked bread.
---
Tavira/East Algarve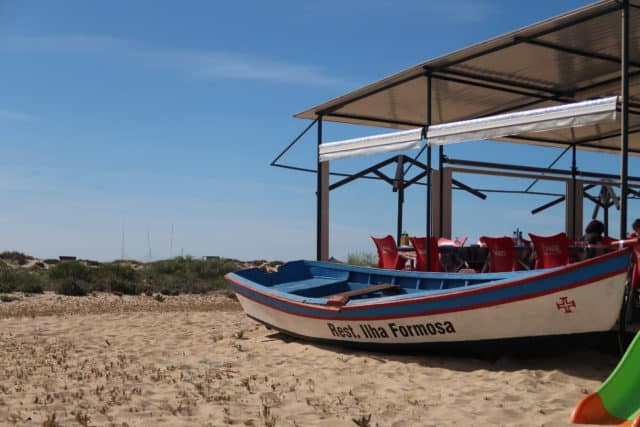 Recommended by Cath from Passports And Adventures.
A little city in the East Algarve that wouldn't be top of the list when thinking of places to visit in Portugal with kids is Tavira. But it should be.
This traditional Portuguese town is a quieter affair than its western counterparts but still has enough on offer for families.
During the main tourist season from April to September, there is a tourist train with an audio guide that rambles around the city. Little ones will enjoy this ride.
There is a castle along the route which the trains tops at briefly, but it is easily reached from the main square. There is also a viewing platform, suitable for older kids, next to the castle from which you can enjoy panoramic views of Tavira.
The best thing to do when visiting Tavira is to hit the beach. Forming part of the nature reserve of the Ria Formosa, Ilha de Tavira is only reachable by boat, with a ferry running during the tourist season. Once there you'll find restaurants and cafes if anyone gets hungry and miles of sandy beaches.
If you want to venture a little further, within 30 minutes you can reach a great medieval castle for exploring at Castro Marim.
You can even venture into Spain from Vila Real de Santo Antonio via ferry or visit another beach where you'll find an anchor graveyard, Barril Beach.
If you want somewhere quieter and more cultural for your family vacation than the tourist traps of the western Algarve, then Tavira ticks all the boxes.
---
Terceira Island, Azores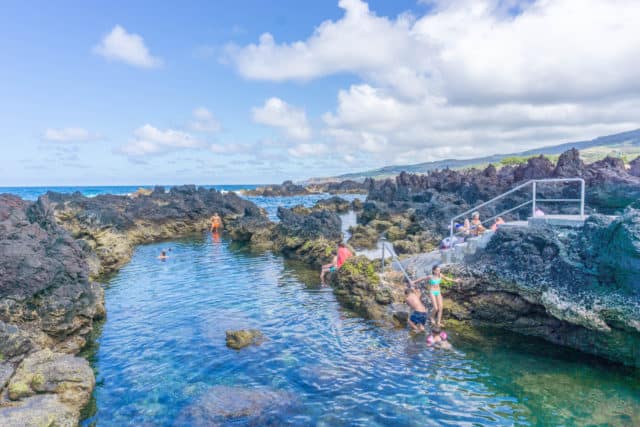 Recommended by Vanda from The Yogi Wanderer.
The Azores are a hidden gem in the middle of the Atlantic Ocean.
Considered one of the most beautiful places in the world and a leading sustainable tourism destination, the archipelago is one of the best places to visit in Portugal with kids.
From pristine nature to rich cultural traditions the 9 Azorean islands offer plenty of fun and educational activities for the whole family.
For a real authentic experience away from the tourist track, I recommend visiting Terceira Island, easily accessible by direct flights from Lisbon and Porto.
A highlight of Terceira Island is Algar do Carvão, one of the few places on earth where children and adults can go inside an extinct volcano. Prepare to marvel at the lush vegetation and unique stalactites, while learning about the geological formation of the island.
Kids will also love swimming and snorkeling in the beautiful lava pools of Biscoitos, or having a picnic in the enchanted Lagoa das Patas Forest Reserve.
For a cultural and educational tour, wander through the cobbled streets of Angra do Heroísmo, Terceira's capital city classified as a UNESCO World Heritage site.
Whale watching and exploring Terceira's many hiking trails are some other great kid-friendly things to do in Terceira Island.
The Azores are the perfect destination for a family vacation, and a unique experience your children and you will remember for a lifetime.
---
Porto
Recommended by Laura from Travelers Universe.
Although much acclaimed for its nightlife and wine tastings, Porto is very much a family-friendly destination.
It has great parks (the Crystal Palace Gardens are my favorite!), the beach is within easy reach, and the World of Discoveries museum includes a small boat ride and plenty of interactive screens for kids to learn about Portugal's history.
But maybe the most fun activity the whole family can enjoy is a boat tour on the Duoro River. Porto has no shortage of gorgeous (and colorful!) buildings. They are perched up in layers on the steep hill and they are quite a sight from the water.
Most kids love waving to people on the shores, bridges and other boats passing by or simply watch the waves, which should give the parents a welcoming respite.
Another fun thing to do in Porto is boarding a tram. Porto still has the historic yellow trams with three different routes to choose from (including one that follows the waterfront). The trams are pretty narrow and can get cramped during peak season so it's best to hop on at the end of the line.
In my opinion, Porto is the most beautiful city in Portugal. It's a great place for foodies, for history buffs and for culture vultures.
The kids will definitely have the opportunity to play and learn new things in a fun way and Porto will leave a long lasting impression on the whole family.
---
Alvor/Algarve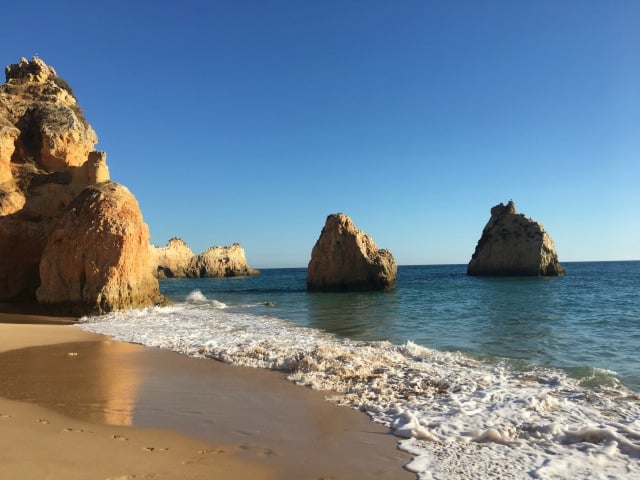 Recommended by Gillian from The Little Den.
Located in the Algarve, the pretty former fishing village of Alvor is a great family friendly holiday destination. It's conveniently located around 45 minutes' drive from Faro airport and is a hub for a number of low-cost airlines.
Whether you have a preference for wide, sandy beaches or little secluded coves, you'll be spoilt for choice. Our favorite is the Praia dos Tres Irmaos (The Three Brother's Beach) which can easily be reached from the Alvor boardwalk.
You'll find the iconic rocky towers, arches, coves, and caves are a wonderful area for kids to explore (although watch out for the tide times so you don't get stuck!).
The Alvor boardwalk, which stretches almost the entire length of the beach, is a great spot for walking, running or going for a bike ride.
A boat trip is a great way to admire Alvor's coastline – there are a number of companies located in the harbor area offering various tours including a magical outing to the sea cave of Benagil. For a true bucket list experience, why not head out on a dolphin-spotting trip.
We found the prices to be very reasonable and the team was very respectful of these amazing creatures.
Another fun activity is taking to the sea on a surfboard – you can hire them or for novices, jump in the car and get signed up to some lessons at nearby Praia da Rocha (10 mins drive).
Our kids went for a few lessons in the summer as well as in October and absolutely loved it. The smiles on their faces at the end of their lessons said it all!
The harbor area, lined with bars and restaurants, is very lively at night-time with plenty of entertainment for kids including a fair, dodgems, bungee trampolines and more.
Alvor is definitely a great base for exploring the wider Algarve and the town has a great family-friendly vibe!
---
Sintra/Pena Palace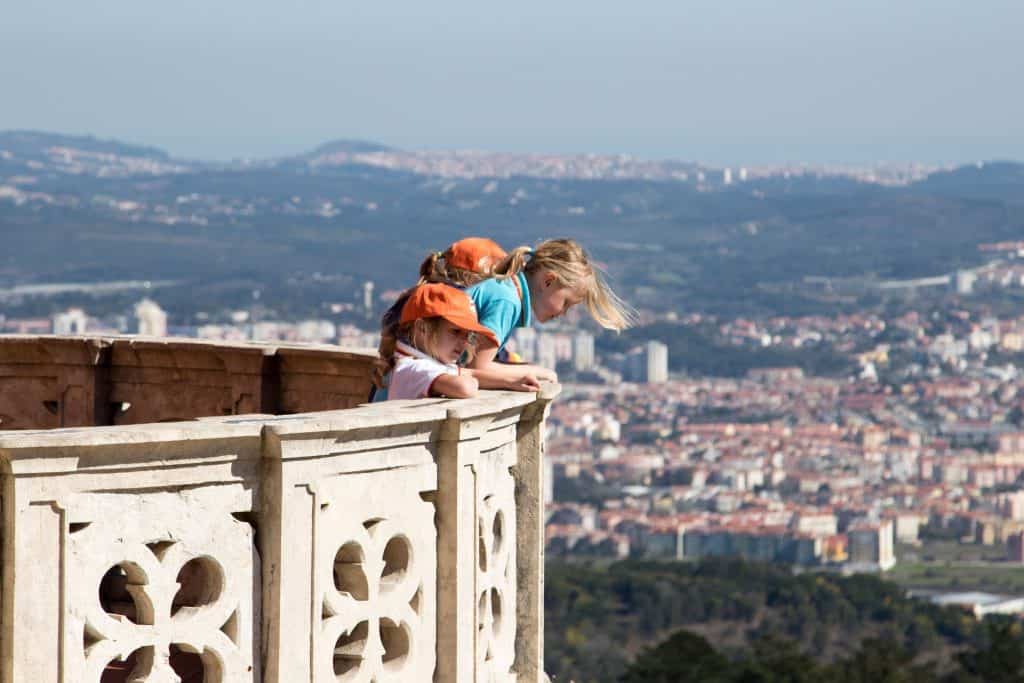 Recommended by Karen from Mini Travellers.
Pena Palace is in the beautiful city of Sintra a UNESCO World Heritage Site in Northern Portugal which is within an hour of Lisbon. We took the train to get there.
I was inspired to visit after seeing numerous incredible photos on Instagram with lots of comments about no filter being needed.  Sintra has several stunning palaces and castles, some of which date back to the 8th century, but most are built high up at the top of the Sintra Mountains.
We only had the chance to visit Pena Palace, and the Castelo dos Mouros (Moors Castle) but I can see why Sintra was the retreat of the Portuguese royalty.
Pena Palace is amazing for kids as mine literally ran around the Pena Palace pretending different wings were Rapunzel's Castle or Cinderella's Castle, they thought beds looked like where Prince Charming slept and they decided different colors of buildings meant different Disney films.
Their enthusiasm was infectious and a lot of older guests told me the kid's stories had made their day.
The above photo is all 3 of them pretending to be Rapunzel at the top of her tower!
The colors of the towers against the vivid blue skies make this one of my favorite photos ever.
Click here for more tips and information about Sintra and the Pena Palace.
---
Burgau/West Algarve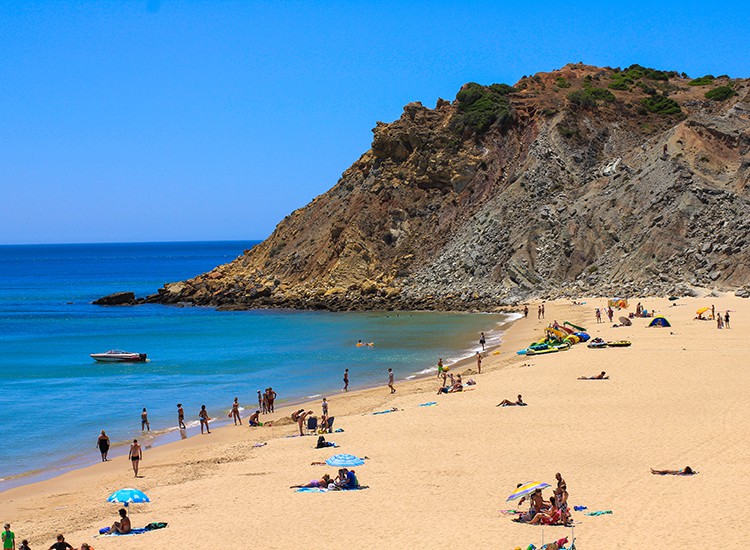 Recommended by Sally from Sally Akins.
The charming little fishing village of Burgau lies towards the western end of the Algarve. I've been visiting Burgau with my family for the last decade, and although it has gradually grown more popular, it still retains its charm and relaxing atmosphere.
The village feels very safe and as my sons have grown up, I've felt very comfortable letting them go off on their own to spend their holiday money in the village's gift shops or buy a home-made ice cream cone from the village square.
The sandy beach at Burgau is perfect for young children to build sandcastles or play a game of beach tennis. And over the time that I've been visiting, I've only known the sea to be too rough for swimming on a handful of occasions.
The Beach Bar is a popular spot for lunch or dinner overlooking the sea, and the local doughnut seller's daily visit is always a popular highlight. When you hear his cry of 'Ola a Bolinha!' you'll see crowds of people flock towards his van!
You can also hire pedalo cars from the Beach Bar to take out into the sea or take a boat ride out for a spot of dolphin watching. Or you're feeling more active, there's a surf school in the village which runs lessons for beginners and more confident surfers alike.
Burgau has plenty of restaurants to choose from, ranging from a very popular pizza restaurant to a number of smart restaurants ideal for celebrating a special occasion. As you'd expect, many of them sell a beautiful selection of fish caught fresh that day, and all of the restaurants are very family friendly.
Altogether, Burgau is the perfect location for a relaxing family vacation.
---
Madeira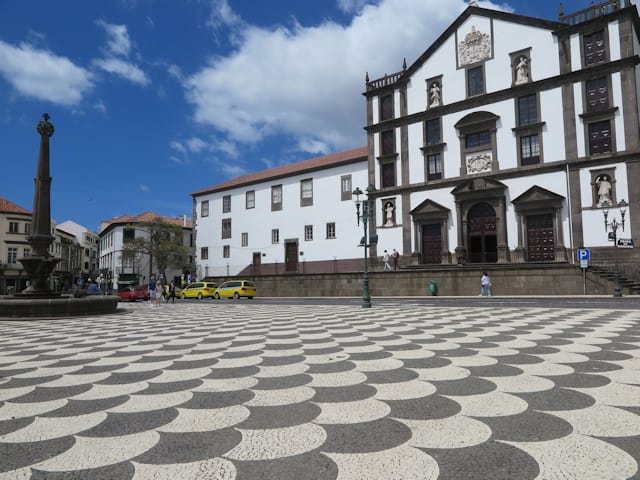 Recommended by Sinead from Map Made Memories.
One of the best places to visit with kids in Portugal is the Atlantic island of Madeira.
The beautiful volcanic island offers diverse attractions such as tropical gardens, swimming in lidos, underground caves, cliff top cable car rides with breathtaking views as well as a range of fun, family activities like whale watching and an exhilarating Aquapark. Plus, there are excellent museums, great architecture, and historical sites to explore.
Kids can learn about the customs and traditions of Maderia at the Parque Tematico in Santana or learn how sugar cane is harvested in Calheta.
Families can test their head for heights on the glass walkway at Cabo de Giro viewpoint, the highest sea cliff in Europe.
A fantastic base for a family trip to Madeira is the capital city Funchal.
In Funchal, don't miss the chance to ride the scenic Teleferico do Funchal cable car to the pretty, elevated village of Monte, returning to the city by the famous wicker toboggans. Our kids loved this thrilling, no brakes ride!
There are many churches to visit in Funchal and a highlight of our trip was a tour of the 15th Century Santa Clara Convent.
Also, football fans will not want to miss the CR7 museum which is dedicated to the achievements of Madeiran icon, Cristiano Ronaldo.
Furthermore, Madeira is famous for its world-class hiking trails which run alongside the islands' complex irrigation system, the levadas. There are Levada walks to suit all ages and abilities which provide jaw-dropping views of the island's dramatic landscape.
---
Our Recommended Travel Resources
To find the best and affordable tours and travel activities in Portugal with Klook, please click on the banner below.
We do love to stay in holiday homes, with a kitchen and a play area for the kids. It feels more relaxed and also helps to stick to a budget.
There are lots of options through Airbnb from townhouses to apartments at affordable prices; if you are new to it you could save money on your first booking via my link.
Click Here To Find The Best Deals With Airbnb
Without a doubt, booking.com is our favorite when it comes to booking affordable hotels and resorts. Be inspired and find the best accommodation for you and your family.