Little Boys from 12 to 36 months (toddlers) are such explorers. They are constantly on the go discovering the world around them.
It can be a bit challenging at times to find a nice (Christmas) present for your toddler but wait, help is here. My Christmas gift ideas for toddler boys show neat toys your kid will love.
These toys are designed to develop fine motor skills and to learn how things work in a fun and exciting way.
Please read on to find some inspiration for this Christmas season.
---
#1 Lego Duplo
My kids and I are big fans of Lego. Lego Duplo is ideal for these little toddler hands. There will be hours of fun for years to come.
The bright colors are so cool, and the Lego quality is top-notch.
This Lego Duplo set contains 95 pieces and includes two child figures, a rabbit, a turtle, numbered color bricks as well as two windows, a door, and a wagon base. And of course, tidying up is easy with the sturdy storage container.
You can't go wrong with a Lego Duplo set. It is one of the presents I highly recommended.
The parts are easy to clean; either put them into the washing machine (might be a bit noisy :-)) or in the dishwasher.
---
# 2 A Ride-On Motor Bike For Toddlers
Here is another fantastic gift for your toddler boy: a ride-on motorbike. Boys just love zooming around on ride-on toys.
Even though it is made from plastic, this ride-on holds up pretty well. We still have got our one even though my kids are too big for it now; they are ten and eleven years old.
This motorbike is proudly made in the USA and is perfect for indoor and outdoor use.
Kids learn pretty quickly how to balance and to get it moving. With under 3lbs this toy is extremely lightweight and can easily get picked up by your toddler.
They will feel like big boys and so much more confident and independent. Highly recommended!
Buy This Cool Orange Motorbike On Amazon
---
#3 A Wooden Train Set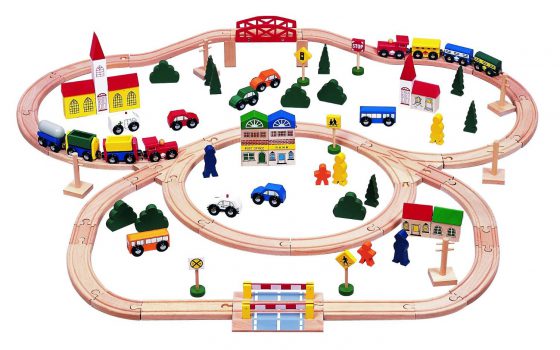 A wooden train set is one of the essentials every boy should have. I also recommended this one for four-year-old boys, but it's also suitable for younger kids.
We bought our train set when our son was two years old, and it was one of the best presents we could have given him. Hours of fun are guaranteed! He never got tired of playing with it.
This train set contains 100 pieces including tank engines, buildings, road signs, trees and cars like a police car or an ambulance. It is made from beautiful beechwood and features lovely bright colors.
The great news is that it's compatible with other major brands like Thomas the Tank engine and the Brio railway system.
---
#4 Wooden Blocks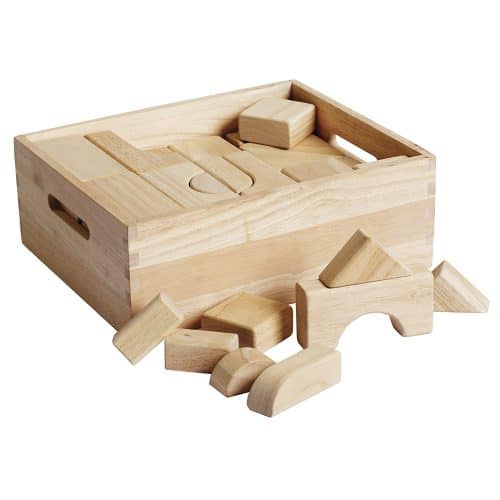 Wooden blocks are another essential toy to have for a toddler. Boys love building things but also busting them when they have finished. Therefore blocks are ideal for them.
Boys love building things but also busting them when they have finished. Therefore wooden blocks are ideal for them.
It is so easy to stack the blocks up or to create something like a castle or a farm or a huge tower. And then, they can be easily "destroyed." It is so much fun and wait, on to the next project…:-)
Cleaning up is easy. Included in this 64 piece set is a box for putting things away.
The wooden blocks are made from rubberwood and feel soft to the touch which is important for little hands. The blocks are hand-sanded for a smooth finish.
The set comes with a lifetime warranty against manufacturers defects.
Buy The Wooden Blocks On Amazon
---
#5 Books – Nursery Rhymes
Books are great to chill and relax after all these exciting games and plays. Having some quiet times is fantastic. Enjoy reading with your kids and some special bonding time.
I have noticed that toddlers love nursery rhymes. And, as a parent, I like them too. Easy to read, not too long, they rhyme (awesome for learning new words), and you can also sing along.
This gorgeous book and toy gift set includes a little soft and cuddly pink pig toy and a CD. The 32-page book is beautifully illustrated.
You will find all the classic rhymes like Twinkle, Twinkle Little Star, Hickory Dickory or Hey Diddle Diddle in the book.
---
#6 Mr. Potato Head from Playskool

Kids love playing with good ol' Mr. Potato Head. It's such a classic and so much fun changing his face by using different eyes, mustaches, and hands.
At the same time, children learn where the eyes belong to and the ears and the mouth.
Mind you; it is also hilarious to put the mouth where the ears would go, the legs where the arms are, etc. 🙂
The Playskool Mr. Potato Head has 35 pieces including two pairs of eyeglasses, four mustaches, and many more items. It's called the silly edition so kids can create endless funny potato faces.
According to some customer reviews on Amazon, the suitcase that comes with this set seems a bit flimsy. It might be a good idea to use a different storage box to keep all these pieces in one place.
---
#7 Set Of Car Toys

This colorful set of four construction trucks is ideal for your little builder to be. It consists of a Tractor, Bulldozer, Mixer Truck and Dumper. If your son is into 'Bob the Builder', he will love this set even more.
It's made from durable plastic and is suitable for indoors and for the sandbox as well.
These trucks run on push and go power. Simply push them forward and watch how they can go.
The company D-Mcark offers a 30-day money back guarantee if you are not completely happy with the product.
---
#8 Dinosaur Toys
Boys and girls alike are fascinated by dinosaurs. This adorable set of four colorful dinosaurs on wheels will be loved by many.
It sparks your child's imagination and encourages his fine motor skills.
I do love that this toy set is free of nasty chemicals – no BPA and lead-free. That is fantastic.
There is also a 60-day risk-free return guarantee.
Happy Playing!
---
# 9 Wooden Puzzle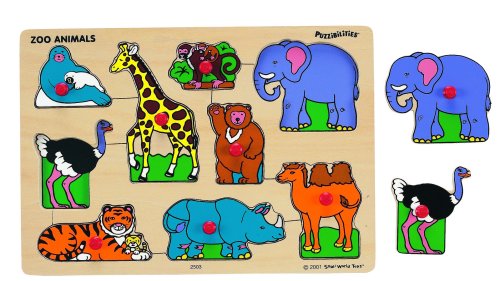 Another neat gift idea for toddler boys: solving a puzzle is fun especially with beautiful colorful images.
Due to the wooden knobs, little fingers can easily lift each of the nine pieces and slot them into their place.
A fun activity for you and your toddler that helps to develop their fine motor skills at the same time. There are puzzles with different themes available.
From farm animals to sea world, the alphabet or numbers – you sure will find one that your kid would love!
---
Summary
I loved putting this little guide together. It takes me back down memory lane when my kids were younger. Have you found some Christmas gift ideas for your toddler boy?
Or, do you have any ideas you would like to share? Please leave them in the comment section below.
Are you looking for gift ideas for older children? Here are the links to my other gift guides:
Christmas Gifts For Four Year Old Boys
Christmas Gift Ideas For 4-Year-Old Girls
The Best Christmas Gifts For Boys (6 to 10 years)
My Ultimate Christmas Gift Ideas For Girls (6 to 10 years)
Ten Cool Christmas Gifts For Kids For Under 15 Dollars
I sincerely hope you'll find some inspiration!
I wish you and your family a Merry Christmas and a wonderful Holiday!
Anke
---
 funtravelingwithkids.com is a participant in the Amazon Services LLC Associates Program, an affiliate advertising program designed to provide a means for sites to earn a commission by advertising and linking to Amazon properties including, but not limited to, amazon.com.  Amazon offers a small commission on products sold through their affiliate links.
 If  funtravelingwithkids.com links to an Amazon product (with a special code for affiliates embedded in the link) and you buy this item or any other product, funtravelingwithkids.com will get a small percentage of the sale.
 I always recommend products I have used or would recommend to friends and family.