Boys at four years old are such explorers. The preschool stage (between 3 and 5) is so exciting in a kids world;  there are dinosaurs, trucks, superman, wild animals that most boys love to play with.
My collection of Christmas gifts for four-year-old boys will give you great ideas on how you can make your son, grandson or nephew happy.
Please read on for my Christmas gift collection. I hope you will find some great ideas and inspiration!
---
#1 A Wooden Train Set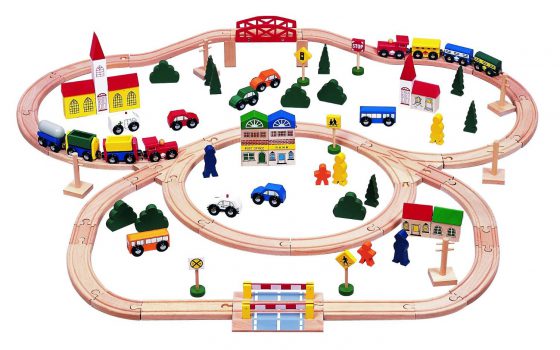 Speaking from my experience, a wooden train set has to be one of the best gifts you can give a boy.
We bought one for our son when he was two years old (10 years ago), and it has been one of the most favorite gifts he ever got.
He used to spend countless hours building it, putting the buildings up and driving the various cars, busses, and tank engines around.
This 100 pieces wooden train track will last for years to come. It is made from beautiful beechwood and is 100% compatible with all the key brands like Thomas the Tank Engine.
I love the quality, the bright colors and the interesting features like the triple-loop layout, a bridge, road signs, figurines and different buildings. Highly recommended!
---
#2 Lego Duplo Batman

I haven't met a child yet who doesn't love to play with Lego. The bricks a sturdy and nearly unbreakable. And if the parts get a bit grubby I put them in a washing bag and off they go into the washing machine.
Lego Duplo is the perfect size for 2 – 5 years old little hands. The Batman theme is perfect for kids who love superheroes.
This set contains Wonder Woman and her motorbike, Batman and his boat, Superman, a cat and bricks to build a bridge and other cool stuff.
It sure will be a hit with your little superhero fan.
---
#3 Melissa&Doug Speed Race Track Rug
One of my boy's all-time favorite toys is hot wheel cars. (By the way, the cars are great stocking fillers as well!) Even though my sons are 10 and 11 years now, they are still happy to find them besides other presents.
And what better to play with the cars than on a speed race track rug from Melissa&Doug. The carpet comes with four wooden cars as well, so the fun starts straight away.
The woven floor mat is machine washable, stain resistant and has a skid-proof backing. The size of 39″ x 36″ is generous enough to provide space for multiple children.
Encourage your child's imaginative play with this cool speed race track. Hours of fun are guaranteed!
---
#4 Dinosaur Toy Box and Play Mat
If your boy is crazy about dinosaurs, then this cool dinosaur toy box and playset might be the right prezzie.
The set includes two 5″ plastic dinosaurs and the toy box with a lid to store more of these fascinating creatures. The box transforms into a colorful playmat by just unzipping the sides.
The box is stackable, and you can even clean the surface with a damp cloth. With 15.2″ x 13″ x 2.5″ it is not too big and will fit nicely into your children's room.
Let's get the dinosaur collection started! 🙂
---
# 5 Cool Luggage For Boys
How about getting your son/grandson/nephew his own suitcase for Christmas? My kids love their luggage – packing, unpacking, storing their little treasures or going away for a vacation or a sleepover.
The Yodo rolling luggage shark is so adorable, sturdy and so colorful. It also transforms into a handbag and a backpack. It is my #1 pick for toddlers but also for older children.
[For a full review, please read My Top 5 Cool Luggage For Cool Boys.]
Your child will feel more independent and just like a big boy who has his very own luggage. The Yodo suitcase is perfect as a school bag too. There are different designs available.
Get The Yodo Rolling Luggage On Amazon
---
#6 Melissa&Doug Deluxe Paint Easel
Boys (and girls) love getting creative – messy play, playing with playdough, drawing or painting.
The Melissa&Doug Deluxe Standing Easel is ideal for accommodating the creativity in your child.
One side of the paint easel features a chalkboard, and on the opposite, you will find a dry-erase board.
The attached two large plastic trays can easily be removed and cleaned. There is also a locking paper roll holder, four clip grips as well as a child-safe paper cutter.
The height is adjustable which is ideal for smaller or taller children.
Please note that you would have to purchase paper, paint, brushes and paint cups separately.
---
#7 Superheroes Dress Up Costumes
This cool set of four dress up costumes will be a favorite with any boy. Dress up as Superman, Batman or Captain America with a cape plus matching masks and bracelets.
These costumes would be also great for a birthday party or playdate.
The superheroes costumes are recommended for any fan of superheroes. They come in one size and are suitable for children from three to 10 years old.
Let's grow superpowers!
The set includes five satin caps, matching felt masks and wrist bands. If you are not happy, the company offers a 100% satisfaction guarantee.
---
#8 ETI Toys Construction Building Set
Spark your four-year-old son's imagination with this awesome building set from ETI toys. They can create their own or build trucks, transformers, robots and more.
The set includes 93 pieces of building blocks plus an easy to carry storage box. You'll also get an 80-page eBook with easy to follow instructions.
The building set will keep your little one busy and entertained for hours.
I do love that the plastic is free of nasty chemicals- no BPA, no Phthalates and lead-free and the blocks are washable.
Enjoy also a 100% money-back guarantee.
---
#9 Wooden Blocks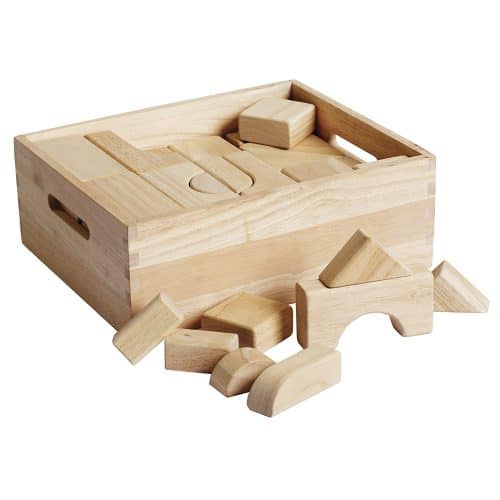 Wooden blogs are such a classic gift for boys. They love building things and at the same time also like busting it. What would be more suitable to nurture their building skills and curiosity than this 64 piece set?
The rubberwood blocks have a  smooth feel and come in a good size in 14 different shapes like squares, rectangles, half circles, arches and much more.
Included in the set is also a wooden storage tub. The bin can also be a building base. Just empty it and flip it over. And when playtime is finished, your kids can pack the blocks away neatly.
Your boy surely will have fun building towers, castles, bridges, animals or anything he can imagine.
---
Summary
I do hope you have found some inspiration and Christmas gift ideas for your four-year-old boy. It is so much fun putting these ideas together since it takes me back a few years down the track when my boys were younger.
Are you looking for more ideas? Please read my gift guides for
I wish you and your family a Merry Christmas and a Happy New Year!
All the best from Anke
---
funtravelingwithkids.com is a participant in the Amazon Services LLC Associates Program, an affiliate advertising program designed to provide a means for sites to earn a commission by advertising and linking to Amazon properties including, but not limited to, amazon.com.  Amazon offers a small commission on products sold through their affiliate links.
 If  funtravelingwithkids.com links to an Amazon product (with a special code for affiliates embedded in the link) and you buy this item or any other product, funtravelingwithkids.com will get a small percentage of the sale.
 I always recommend products I have used or would recommend to friends and family.