My 9 Best Tips For A Fun Family Adventure
These are my nine best tips for a fun family adventure. They sum up my experiences I have collected over the years while traveling with my children.
Mostly it's the little things that can make a huge difference. To be honest with you, sometimes I had to learn it the hard way. Years ago when my boys were still toddlers, I remember waiting for over two hours in a queue to check in my luggage without even a drink in my bag. I didn't expect the unexpected.
So here are my 9 Best Tips For a Fun Family Adventure at a glance:
#1 Always prepare well in advance. Have a checklist ready and tick it off as you go along (see my travel planning guide for more information).
#2 Get your children involved in the planning; talk about the travel destinations, watch documentaries, cook the country's local cuisine.  Share your excitement with your kids! Little Passports offer an incredible program for children age three to twelve years old that will help you and your kids getting ready for your next vacation. Please read my review here. We love it!
#3 Take a little first aid kit in your hand luggage. Here is what I put into my first aid kit.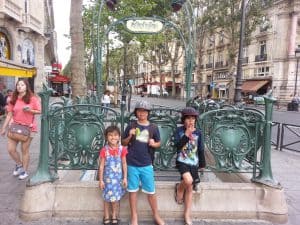 #4 Bring along your children's favorite toys and a blanket – things that are comforting to them. I put a  list of travel toys for toddlers together that I like to recommend because my children love them.
#5 Try to go early in the evening or at night time. In theory, your child should go to sleep en route to your travel destination.
#6 Have little snacks or treats handy and always bring something for them to drink, especially when your child gets grizzly, tired or is feeling stressed. Running short of ideas of how to keep your little darlings entertained? I have put together a list of free fun travel activities.
#7 Carry wet wipes, hand sanitizer, nappies and a change of clothes in your hand luggage.
#8 Prepare a travel diary. It is an excellent way to write about your experiences, put in photo's, basically everything you would like to keep as a memory of your adventures.
#9 Take a copy of important documents like passports, driver's license and credit card number with you.  Leave a copy of it with a family member at home.
---
I would love to hear your thoughts and experiences. What are your best tips for traveling with children? What has worked best for you? Please leave a comment in the box below. 
Happy Travels!
anke@funtravelingwithkids.com