Have you ever wondered why it is fun to travel to the Philippines with kids? My immediate answer to this is because of the people.
Welcome to our comprehensive travel guide to the Philippines with kids.
This post is written by Ailene, a Filippino mum whom I have met a few months ago. I have asked Ailene to write this travel guide for families with kids who have put this amazing country on their bucket list for their next vacation.
Related article: Top Places To Visit In The Philippines With Kids
And who would be better than describing all the important details before visiting the country than a local? So, a big thank you goes to Ailene and her family.
The country's image is not new to challenge and is sometimes shadowed by bad light but Filipinos have always something to be proud of and that is having remarkable qualities as the people of the world.
Filipinos are warm, hospitable, creative and have a great sense of humor. You will be surprised that these Filipino traits can actually make wonders in making your travel with kids to the country stress-free, fun, exciting, and truly memorable.
Let's get started with our travel guide to the Philippines with kids with essential travel tips, the best time to travel, where to stay, what food you need to try, and the best ways of getting around as well as other practicalities.
---
Philippines With Kids – Our Comprehensive Travel Guide
Basic Philippine Geography and Tourism Overview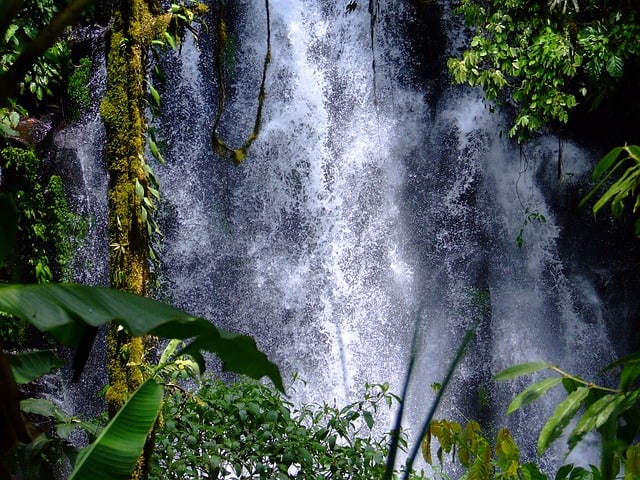 The Philippines is an archipelago composed of 7641 islands with 17 regions, 82 provinces and close to 150 cities. The country is divided into three island groups – Luzon in the north, the Visayas in the center and Mindanao in the south.
These 3 major island groups have their respective metropolitans – Metro Manila in Luzon, Metro Cebu in Visayas and Metro Davao in Mindanao.
The country is known for its rich biodiversity.
World-class beaches, islands, mountains, rainforests, and diving spots consist mostly of the country's top tourist destinations.
The Philippines has also a great historical and cultural heritage. Colorful and spectacular festivities locally known as fiestas are common sightings in different regions in the country year round.
---
The Climate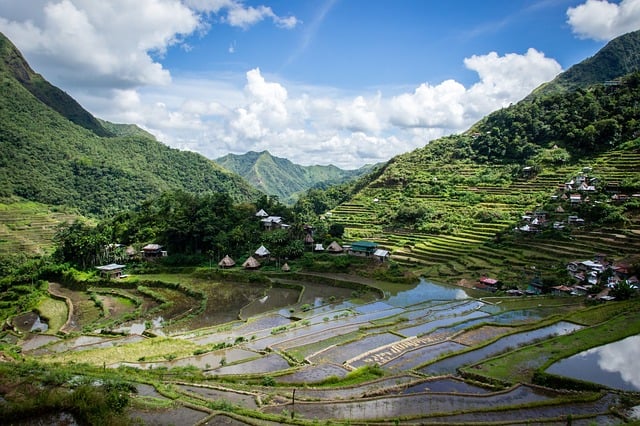 The Philippines are characterized by a tropical climate consisting mostly of the rainy and dry season. Be mindful when traveling to the country from May to October because the summer monsoons bring heavy rains to the majority of the country's regions.
I should say that the best time to travel is during the drier yet cooler season in the months of December to February. Hot summer is from March to April and is usually the peak seasons for beach and island destinations.
The average temperature in Metro Manila ranges from 26 degrees C to 30 degrees C with cooler average temperatures in the months of November to February.
It is also worth mentioning that the Philippines is prone to storm and typhoon occurrence mainly from around July to October. Northern and Eastern Luzon, as well as Eastern Visayas, are the usual victims of these natural disasters.
---
Travel Documentation To The Philippines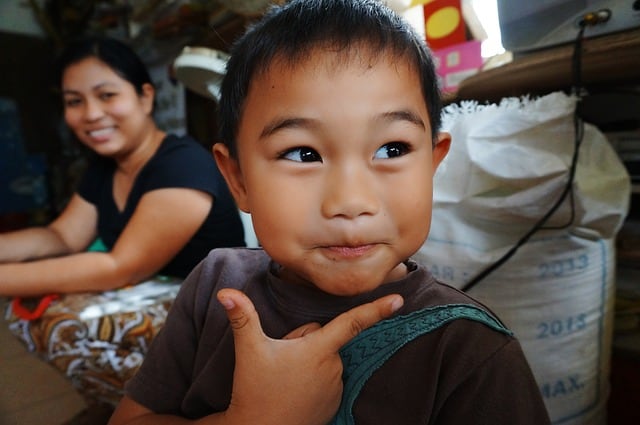 Just like traveling to other countries, you will need to have at least 6-month valid passport, a valid visa, and validly-issued return ticket when entering the Philippines.
Some citizens are allowed for a 30-day stay without a valid entry visa. Some of these countries with 30-day non-visa requirement include the USA, Japan, Canada, Germany, New Zealand, the UK, and many more.
Please be aware as well that foreigners under the age of 15 who are not traveling with a parent or joining a parent in the Philippines must apply for proper documentation.
---
Health Concerns
Here are my top tips to travel healthy with your kids in the Philippines by following our guide.
When in the Philippines please be mindful of the risk of rabies. Make it a habit not to approach random dogs, cats or other animals. Even though animals do not show sign of being sick, they can still spread rabies.
It is highly recommended that you and your kids are up to date with Measles vaccine, Diptheria-tetanus-pertussis vaccine, varicella (chickenpox) vaccine, polio vaccine, and the flu.
You may also discuss with your health provider to have Hepatitis A, Typhoid, Hepatitis B, Japanese Encephalitis, and Malaria vaccines depending on how long you are staying or where you are staying.
Also, make it a habit to avoid bug bites by using insect repellants and the likes. Protect yourself and your kids from UV radiation by using sunscreen lotion.
Reducing exposure to germs by observing proper hygiene, washing your hands before eating or using hand sanitizers are great health practices.
For your added convenience you can bring your medicines or those for your kids but make sure that they are legal in the Philippines.
---
Transportation Overview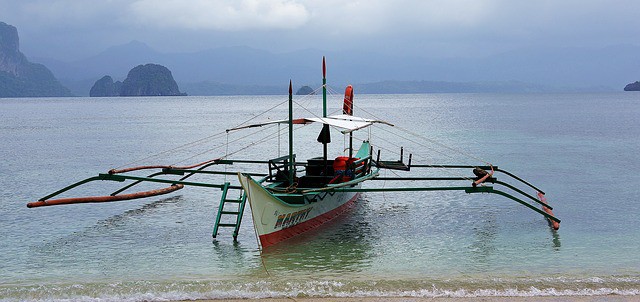 Trains
Trains are available in Metro Manila. There are 4 train lines currently available now including the MRT, LRT1, LRT2 and PNR. Fare may range from Php 12 – 28 (USD 0.23 – 0.55).
Trains are the best transportation to use when you want to escape the metro's traffic congestion. However, please be mindful during rush hours, these trains may be too crowded for you and your kids.
Jeepneys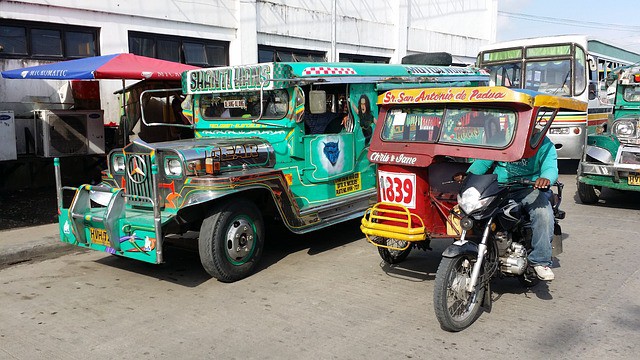 Jeepney is a symbol of the Philippines commuting culture. This country's iconic ride can be found in all places around the country. These rides are great for short travel where you need to pay a minimum of Php9 (USD0.18) per person.
Familiarize yourself with phrases "Bayad po" when giving your fare to the driver and "Para po" when getting off.
You can also tell the driver about your destination so he can drop you off to the nearest jeepney stop.
Bus
Buses are common sightings in the Philippines just like in other countries. Buses are a great means of transport, especially for longer travels. The fare depends on how far your destination is.
The fare matrix for example for airconditioned provincial buses is Php7.75 (USD0.15) per 5-kilometer distance. Bus terminals scatter all around the metro and can be easily found.
For public utility vehicles avoid using those during rush hour especially if you are in the metropolitan areas. Rush hours are usually from 7:00am-9:00am and 5:00pm-7:00pm. Avoid crowded vehicles especially if you are with kids.
Make it a practice to ride and go down at designated public utility vehicle stops. When using public transport, avoid the display of cash, gadgets or jewelry.
Vans
UV Express or private vans are common sightings in the Philippines. They are airconditioned with 10 to 18 person capacity. They are available around metropolitans and have also provincial routes.
When renting private vans from individuals make sure that the vehicle is in good condition and if it is with a driver make sure that your driver is actually professional and experienced.
It would be an added convenience if your driver knows his way around the place you want to visit.
Car Rental
Car rentals are available in the country. If you are staying for 90 days or less, your driver's license issued by your home country can be used as long as it has an English translation. Otherwise, you can obtain an English translation of your license from your embassy.
Having some local friends or relatives will save you the hassle of getting a guide when driving around the country. Waze and other similar apps can also be your go-to guide when the need for it arises.
The rate of using car rental services will depend on the model of the car you will be choosing as well as the length of time you are renting the car. If you do not want to drive, you can inform the car rentals of your need for a driver.
Make sure to follow traffic rules and regulations if you plan to drive. Have your travel documents as well as the car documents from the rental company of your choice with you when traveling on the road.
Taxis
Taxis are available in major cities like in Metro Manila, Metro Cebu, Metro Davao, Iloilo City, and Baguio City among many others.
Taxis in the country mostly have a white body. Currently, the flag down rate is Php 40 (USD0.78) and the total fare depends on the total distance traveled with the rate of Php13.50 (USD0.26) per kilometer.
Airport taxis or yellow taxis are also available at airport terminals in Metro Manila. They are a bit pricier than the regular taxi with Php 70 (USD1.36) flag down rate.
It is safer to get taxis from designated taxi stands with security guard dispatchers so you will have a record of the taxis plate number and you will know where to complain if you get some problems with the taxi driver on the way.
Tricycle
Tricyles are available in most of the regions in the Philippines. You can find tricyles in the cities and they are especially helpful when jeepneys or taxis are not readily available.
In rural areas, tricycles are also common. Just like jeepneys, they are colorful and they come on different designs and capacity.
Motorcycles
For remote places with narrow or steep roads, motorcycles or locally dubbed as habal-habal is your option for transport. Motorcycles can take you to places to experience remote wilderness or the mountains.
Please be mindful though of the safety practices in riding a motorcycle to avoid unwanted accidents on the road.
Sidecar/Pedicab/Padyak
This kind of transportation is usually found in the city and is ideal for short distance travels. This transport is not allowed in the highways and is usually found in subdivisions, villages and the likes.
Sea Travel
As already mentioned, the Philippines is an archipelago and is composed of several islands so sea travel is inevitable. You have the choice of pump boats, ferry boats, passenger ships, and Roros or "Roll-on, Roll-off ships" for sea transport.
Pump boats or locally known as "Bangka" are great for island hopping or nearby island adventures. This is only safe when driven by capable drivers and when there is adequate life-saving equipment such as life jackets that are readily available on the boat.
Avoid the use of pump boats during stormy weather and in unsafe and unventured routes.
Ferry boats, passenger ships, and Roros are great for long travels. Among the popular ports for tourists is the Batangas Port and the Manila Port as well. The Philippines has unsettling and unpredictable waters so be wary when using these kinds of transport, especially during stormy seasons.
Roros is your means of transport if you plan to bring a car from one island to another.
Stay alert to changing weather conditions and don't hesitate to adjust your plans when the weather is not conducive for travel.
Airplane
Traveling by airplane is the fastest means to travel from one island to the other. There are several international airports and domestic airports across the country that can bring you nearer to your island of destination.
Kalesa
Kalesa is an age-old means of transport in the Philippines and are still used in some historical/cultural attractions like in Intramuros and Vigan. It is a horse-drawn carriage and is traditionally used in the Philippines by the nobles and upper classes.
Now, everybody gets to ride a kalesa and is a familiar sight in some tourist destinations just mentioned above.
Application-based Transportation
Now, only the Grab app is operational in the Philippines. This app-based transport is usually considered as a safer means of transport than a taxi.
It is similar to the Uber app in other countries. With the Grab app, you will immediately know your fare upon entering the details of your origin and destination. You may even know the estimated time you will arrive at your destination with this app.
---
Where to Stay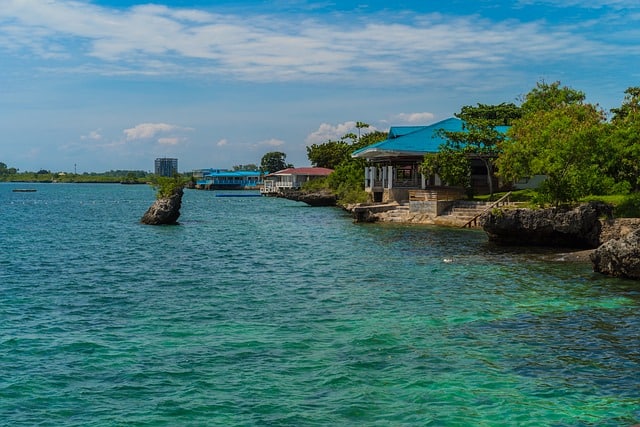 The Philippines have great hotels and family resorts to choose from so depending on the places you want to visit, you can surely find accommodations that will suit your family's needs and preferences.
Find the best hotels, resorts, and accommodation through booking.com
---
Where To Eat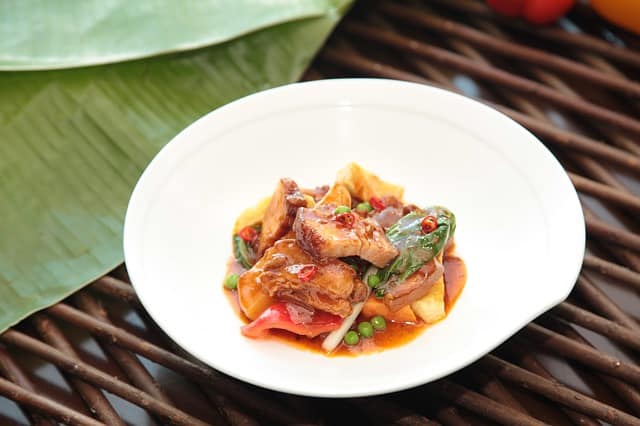 Filipinos love to eat so you will not have a problem finding for places to eat in the Philippines.
Your safer option is to eat in restaurants or hotels. Home-cooked meals are the best in the Philippines so you are lucky if you get an invite to any house party or traditional fiesta celebration.
Among the country's great dishes include the following:
Adobo is a meat dish that may contain chicken, pork or the mix of these two. The meat is sauteed and is seasoned with vinegar, soy sauce, garlic, onion, and ginger.
Sinigang is a sour soup dish with vegetables. The main ingredient can be pork, shrimp or fish.
Lechon or roasted pig is another must-try dish in the Philippines if you are a meat lover.
Lechon manok or roasted chicken is also popular in the Philippines and it is common to see roasted chicken shops along the streets in any region of the country and that actually speaks a lot about the popularity of this dish among Filipinos.
Sisig that is often served in a sizzling plate is a flavorful meat dish that is usually cooked with pig cheek or minced meat and fat.
The country is blessed with a great variety of seafood harvest so it's common to see fresh seafood in some great tasting dishes.
Boodle fight consisting of grilled seafood together with meat served with chili, soy sauce, and eaten with rice is another must-try experience in the country. Here you don't need a spoon or a fork just your freshly washed hands to eat.
Don't know what Boodle Fight is? Read more here.
Eating in Dampa is a popular seafood experience in the Philippines. Here you get to choose the seafood that you want to eat, bring it to the nearby restaurant and for a fee they will cook the seafood for you in accordance with your preferred cooking way.
Bulalo is a tasty soup consisting of beef shank and bone marrow and a load of veggies including cabbage and corn.
---
Fresh Fruits And Buko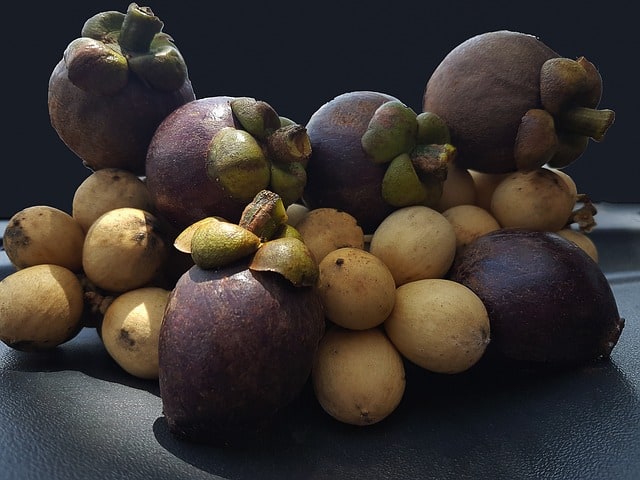 The Philippines is a tropical country and fresh fruits are abundant here.
So when in the Philippines, it is just right to indulge yourself to fruits such as Banana, Pineapple, Pomelo, Durian, Mangoes, Mangosteen, Papaya, Lanzones, Jackfruits, Watermelon, Melon, Avocado, Dragonfruit, Rambutan, Strawberry and many more.
Just like fresh fruits, buko (young coconut) is also abundant in the Philippines. Drinking fresh buko juice is not only refreshing but also beneficial for your health. In addition to these, there are delicious desserts that can be made from this fresh ingredient like the buko pie.
Always make sure that the fruits are fresh, properly washed and peeled before consuming them.
Street foods are popular in the Philippines but be wary when eating street foods from street vendors. They may pose some cleanliness issues.
If you want to try eating local street foods, then you may want to buy them from some kiosk inside the malls and not actually from the street vendors.
It is also important to note not to drink tap or well water in the Philippines. They may not be 100% safe. Better be safe by drinking bottled water that is properly sealed.
---
Other Practicalities
Other things to consider when traveling to the Philippines with kids are as follow:
1. Since the Philippines has a tropical climate, the temperature is relatively hot, so make sure that you have enough spare clothes for your kids whenever you are in the outdoors.
2. Currency exchange is everywhere in the metropolitans but maybe hard to find in rural areas. So make sure you have enough Peso cash with you when you are outside of the cities.
ATMs are also available almost everywhere where you can withdraw some money from your card and will charge you some fee per transaction.
3. Local sim cards can be easily bought when you are in the Philippines. This way, it will be more convenient for you to communicate with local contacts if you need to.
4. Diapers, baby wipes, baby food, and formula milk can be easily purchased in the metropolitan with several supermarkets, drugstores, and hypermarkets selling them. However, in rural areas, supermarkets and grocery stores may be few so before venturing to remote places, make sure you have enough stocks with you for your baby's needs.
5. Always bring water and snacks for your kids and provide entertainment especially if you are going to places that require longer travel time.
Related post: Our Ultimate List Of The Best Travel Toys for Toddlers
---
Other Safety Concerns
Do not leave your things unattended.
Avoid demonstration or large gatherings of people. Joining public protests should never be in your list.
Do not travel in the areas of southern Mindanao and in Sulu area for security reasons.
---
Wrapping It Up
We hope we have provided you with the things you need to know when traveling with kids in the Philippines in this article.
In our upcoming blog, we will give you our recommended places to visit in the Philippines that will surely spike your travel experience to the Philippines and will also make you dub with friends and family that it is indeed fun to travel with kids in the Philippines.
---
This post may contain affiliate links. Please read more here.