Welcome to our post 'Top Places To Visit In The Philippines With Kids', written by Ailene, a well-traveled Filipino mum, who shares her best travel tips and go-to places with my readers and me. A big thank you goes to Ailene and her family.
This article is a follow-up to our post Philippines With Kids – Our Comprehensive Travel Guide we have published earlier.
There, we gave you a comprehensive guide on what to prepare and expect when traveling to the Philippines with kids.
Now, get your globe trotter's sense activated and start planning your itineraries with our list of kid and family-friendly destinations.
We guarantee that you will get to see patches of paradise here and there and experience a truly fun-filled adventure with your kids on a beautiful island called the Philippines.
So, which places are worth visiting with your kids in the Philippines?
In this article, we choose five of the top places to visit in the Philippine with kids. Two from Luzon and three from the Visayas.
We do hope that as we do, you get to appreciate the beauty of these places, recharge your senses, reconnect with nature, build strong relationships and re-ignite your kid's sense of fun and adventure.
Come now and have a look at what these places have to offer.
---
Top Places To Visit In The Philippines With Kids
Subic With Kids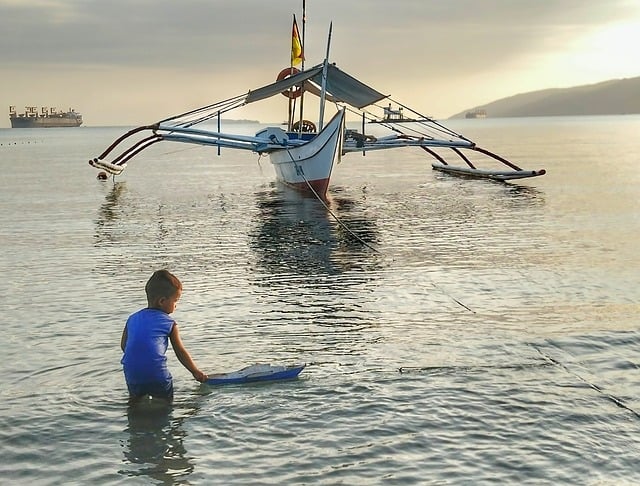 Subic is a special economic zone covering some areas of Olongapo City, Zambales, and Bataan.
This tourist hub has all the must-see places that will surely not disappoint. From theme parks, beaches, eco-tourism parks and camps, dining, shopping, and nightlife destinations, one can certainly say that Subic has it all.
How to Get There
Subic is located around 90 kilometers north of Manila. It is a 2-hour drive from Manila to get there.
There are many different options available to get to this tourist destination.
Hiring a private van is a common practice of families going to Subic.
Public bus transportations, Victory Liner and Saulog are available with routes Manila – Olongapo. The bus terminals are located in Pasay City, Caloocan, Sampaloc, and Cubao.
At the main gate of SBMA (Subic Bay Metropolitan Authority), coasters, mini-buses, and taxis are available to take you to the different points inside the freeport.
By air, if Subic is your first stop, you can use the Ninoy Aquino International Airport located in Metro Manila or the Diosdado Macapagal International Airport at Clark Freeport Zone.
---
Things To Do In Subic With Kids
Subic Ocean Adventure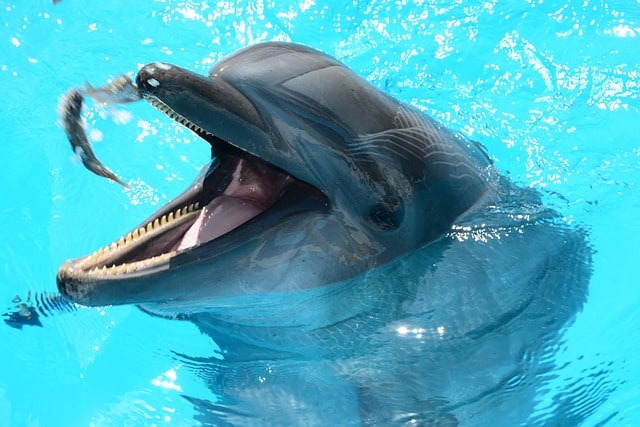 The Subic Ocean Adventure is a must-see destination for kids in Subic. It is an animal observatory and an open-water marine theme park. It is the first of its kind in Southeast Asia and brings world-class adventure and shows to tourists and locals alike.
The attraction takes around 2.5 hours to finish and has 3-4 shows.
The main highlight is the showcase of the dolphin's talent and abilities. Here you will be amazed by how great dolphins and humans can put a jaw-dropping show that surely kids and kids at heart will never forget.
Sealion marine patrol show is another charming show that fills visitors with awe and laughter. Here you get to see the sea lions showcase their talents while they teach you how to take care of the environment.
At the Wild World show, you get to experience the amazing abilities of rare animal species like the Palawan Bearcat, Palm Civet, Philippine Scops Owl, Reticulated Phyton, Large Flying Fox and some rare bird species.
At the Allies of the Ocean show, you get to witness a show-stopping, educational and world-class acrobatic performance. Here be prepared to be awed and be educated as well on how to take good care of our ocean.
In addition to these attractions/shows, there are other activities as well that you can do like swim with the sea lions and dolphins and have a photo session at the same time, view and feed sharks and many more. There is indeed so much adventure that you can actually choose from in Ocean Adventure Park Subic Bay.
Admission

Adults: $15; Children 12 years and younger: $12; Children shorter than 30 inches: free

You can book your ticket for a discounted price here: Ocean Adventure Admission Ticket in Subic Bay
---
Pamulaklakin Forest Trail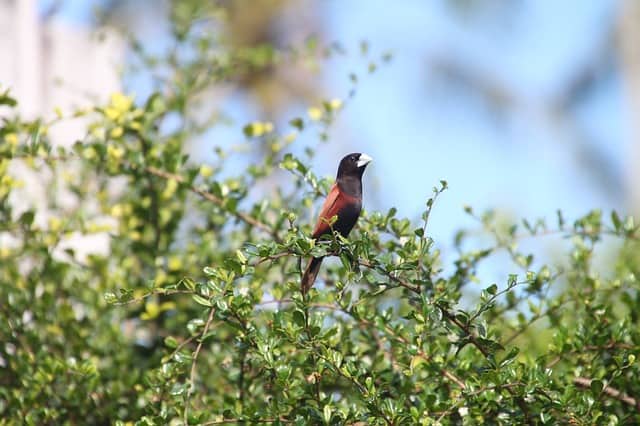 If your kids love walking, of course not too long distances, then the relatively short trail of an hour to explore the native forest might be a great option. Ponger tours are available also.
Under the guidance of a member of the native Aeta tribe, you and your family can come up close with nature. For $2 per person, your guide will show you different plants and how the indigenous people are using them.
This is a great way to come close and learn about a different culture in their own environment.
Tip: it is best to go early before it gets too hot. Take plenty of water!
---
In addition to these 2 kid-friendly destinations, there are other theme parks that tourists can choose from. Subic has great eco-tourism parks and camps as well.
Subic is also surrounded by great beaches. It is one of the nearest and convenient beach destinations if you are coming from Metro Manila.
---
Where To Stay In Subic
When you are in Subic, accommodation for all budgets will never be a problem.
You have the choice to stay at luxury hotels, beachfront hotels, beach inns, and the likes; it really is your choice.
The rate ranges from as low as Php450 (USD8.6) to Php8600 (USD164) per night.
The highly-rated hotels include Mangrove Resort hotel, Club Morocco Beach Resort, Best Western Plus Hotel Subic, Subic Park Hotel, Horizon Hotel, and Lighthouse Marina Resort among many others.
---
Where To Eat In Subic
Subic is a food haven with several choices of restaurants ranging from different cuisines including American, Italian, Chinese, Japanese, Korean and of course Filipino.
Among the highly-rated restaurants in Subic include Sit-n-Bull, Mango's Beach Bar Restaurant, Wild Herbs Restaurant, Buddha's Bowl, Coco Lime, Texas Joe's House of Ribs, Meat Plus Cafe, Seoul Restaurant among many others.
And of course, children are always welcome. Filipinos are so hospitable and just love kids.
---
Boracay With Kids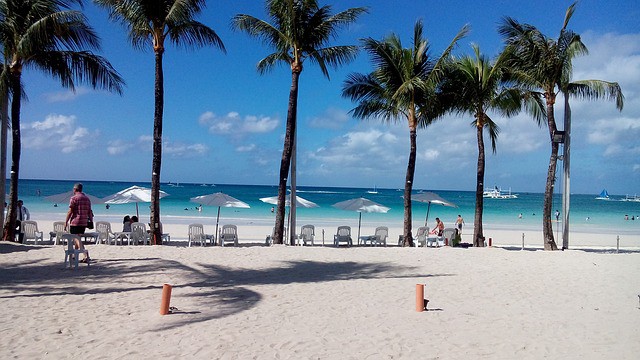 Boracay is a small island paradise located in Panay Island, in the region of West Visayas. It sits 315 kilometers south of Manila and has Kalibo City and Iloilo City nearby.
Boracay is popularly for its world-class white beach resort and turquoise water. It has one of the country's most celebrated beaches.
With the recent renovations done by the government, Boracay should not be missed when you are in the Philippines for a one in a lifetime experience.
A big thank you goes to the government who, despite losing millions of dollars, closed the island for around 6 months to restore this gorgeous island back to its beauty.
Now, 'only' 19 000 visitors will be allowed on the island on any given day. Fingers crossed that the Island will retain its clear waters and white-sandy beaches.
For more information, read here.
Even though Boracay is a small island, it is a great idea to book a Boracay Island Tour
. Your kids will love this fun and adventurous experience.
---
How To Get To Boracay
If you are coming from Manila, you can take commercial flights going to Caticlan airport. There are also other domestic flights with a route going to Caticlan.
As of this writing, there are domestic flights from Cebu, Clark and El Nido Palawan going to Caticlan.
Kalibo International Airport and Iloilo International Airport are also accessible by land travel from Caticlan Port, the nearest seaport in Boracay.
Kalibo International Airport is 68 kilometers from Boracay while Iloilo International Airport is 217.6 kilometers from there.
By sea, Caticlan can be reached by passenger ships and ferry boats coming from Batangas Port and Roxas Port/Bulalacao Port in Oriental Mindoro.
All tourists going to Boracay shall take a boat ride from Cagban Jetty Port or Tabon Jetty Port. Terminal fees, boat fares, and other applicable fees are around USD4 per person for a one-way route.
---
Things To Do In Boracay With Kids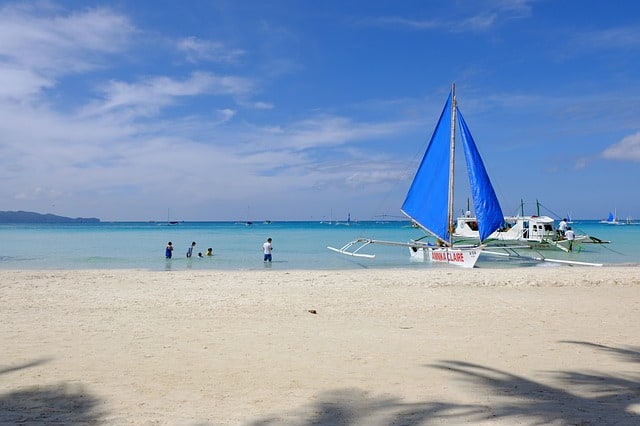 The best time to go to Boracay is during the months of November to February. The Summer season is from March to May and people flock to the island in most numbers during this period.
There are about more than a dozen beaches in Boracay and depending on your preference you can choose which place to go to. We will give you an overview of some of these kid-friendly beaches so you can start planning your itinerary from there.
White Beach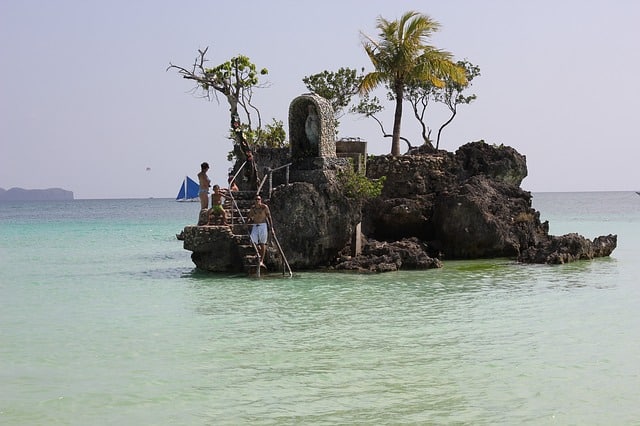 White Beach is the most popular and longest stretch of beach in Boracay. It is popularly known for its beautiful white sand and is the most visited part of Boracay. You can actually say that White Beach has it all, resorts, hotels, restaurants, nightlife, shopping areas, and places to book for water activities.
This is the part of Boracay that is divided into Station 1, 2 and 3.
Station 1 houses luxurious and spacious resorts as well as bars and clubs for nightlife activities.
Willy's Rock, a popular and picturesque attraction in Boracay because of its amazing form that is said to be made of volcanic lava and rock formation from thousands of years back is nearby Station 1.
Station 2 is the center where the popular D'mall – a place to shop – is located. It also has some mid-range resorts and a line of bars and restaurants. This is the area that can become a bit crowded sometimes.
Station 3 is quieter and less crowded. It is also home to a number of budget and backpacker hostels.
Fire dancers performing at night are common sightings in White Beach and kids will love the spectacular sight.
---
Puka Beach
Puka Beach is another beach in Boracay that can be reached by a boat ride or by tricycle ride.
This is also one of the destinations that are included when you go island hopping.
Aside from sunbathing, swimming and watching the sunset, there are activities that are done here like kayaking or paddleboarding.
There are a few restaurants and bars as well.
We recommend a visit to Puka beach because it is one of the beaches in Boracay that is still in its true form, serene and less crowded.
---
Punta Bunga Beach
Punta Bunga Beach is just as beautiful as Boracay's main White Beach.
The only difference is that Punta Bunga Beach is a private resort for guests staying in a few big resorts like Shangri-La Boracay, Ecovillage and Movenpick. This beach can also be accessed through an island hopping package.
Scuba diving, snorkeling, kayaking, and other water sports are just some of the activities that can be done here.
---
Bulabog Beach
Bulabog Beach is very near White Beach and is the best place for kite and windsurfing. If you don't know how to do it and give it a try with your kids, then it can be done because there are schools in the area that are most willing to teach you how to do it.
In Bulabog Beach, you can also find the Boracay Butterfly Garden.
Here, kids may enjoy and learn about different species of butterflies and plants. They will also get to see the life cycle of the butterfly.
Refreshments, plants, and handicrafts are also available for sale.
---
Crocodile Island
If you do love snorkeling then Crocodile Island is the best spot for it. It is a 15-minute ride by boat from White Beach.
Crocodile Island is uninhabited and got its name from how it looks from afar, like a crocodile's head.
---
Where to Stay
Getting a hotel in Boracay is a breeze. There are lots of places to choose from depending on your budget.
After all, the island is home to over 12000 hotels and guesthouses.
If you want to have access to private beaches, you may want to choose some of the big resorts like Boracay Eco Village Resort, Shangri-la Boracay and Movenpick Resort & Spa Boracay among many others.
At the White Beach, Astoria Boracay, Two Seasons Boracay, and Discovery Shores Boracay are some of the most recognized kid-friendly resorts in Station 1 that you may want to check out.
---
Where to Eat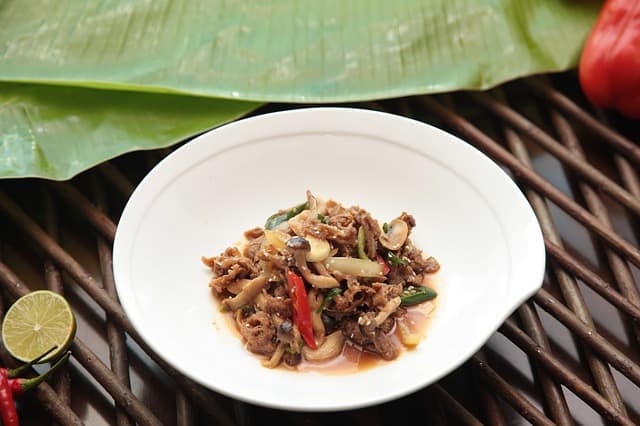 Finding a place to eat in Boracay will never be a problem.
White Beach, for example, has a line of restaurants that you can choose from which serves different cuisines from Filipino to world-class cuisines like Italian, Spanish, American, Japanese, Korean and Chinese.
Boracay has also great supply of seafood and tropical fruit so you can indulge in this kind of food when you are here.
There are also restaurants serving buffet and it is great for the family because the kids can be accommodated for free.
D'Talipapa in Station 2 is a place that you can buy fresh seafood and let the eateries in the area cook for you.
It is also worth mentioning the local favorite spot, the Spider House Resort.
It is one popular destination in Boracay because of its unique construction. It is located in Diniwid Beach.
It is a great place to eat, swim and enjoy the sea view and sunset as well. It is built at the edge of the cliff overlooking the sea and is best reached by a boat ride from your island hopping package.
---
Bohol With Kids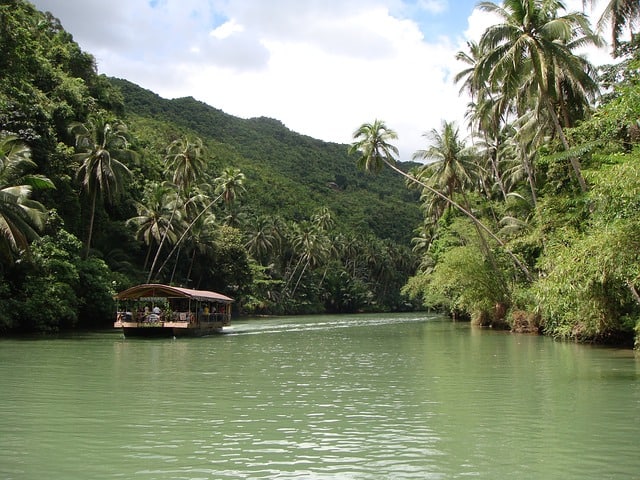 Bohol is another beautiful island located in the Visayas. It is known for its beautiful beaches, the iconic Chocolate Hills and home to the world's smallest primate, the tarsier.
How To Get There
By plane, there are domestic routes from Manila, Davao, Cagayan de Oro, and Clark. It takes around 1 hour to 20 minutes going to Bohol by plane. There is one international flight from Seoul, South Korea as well.
By sea, from Cebu port, it takes around 1-2 hours by a ferry ride, going to Tagbilaran port and Tubigon port, both local seaports in Bohol.
Getting around Bohol is easy. Busses, private cars, taxis, rental cars, jeepneys, tricycles, and even motorcycles are readily available.
---
Things To Do In Bohol With Kids
Chocolate Hills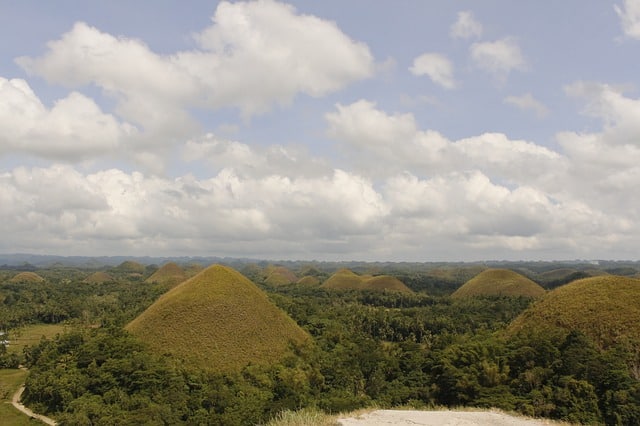 The magnificent Chocolate Hills is located at the center of Bohol and can be viewed from Chocolate Hills Complex in Carmen, which is around 59 km from Tagbilaran City.
It can also be viewed from Sagbayan Peak where an outdoor playhouse for kids with well-maintained gardens, superheros, dinosaurs, and similar statues are standing.
A hot air balloon ride along the skies of the majestic Chocolate Hills is also available during the dry season usually from October to June. There are also zip line activities offered by some parks in nearby areas.
---
Loboc
Loboc is well-known for its floating restaurants along the Loboc river.
It is a must-see place in Bohol and has several great and family-friendly resorts as well.
Some resorts offer free fishing poles that children can use.
Paddleboards and kayaks are also available for rent in some resorts.
Experiencing a firefly boat ride at night along Loboc river is not to be missed when visiting Loboc as it offers a mix of magical and mysterious experience for kids.
If you are up for the thrill of ziplining, Loboc river can also be viewed best from above and there are some zipline and cable car activities offered in nearby areas.
---
Corella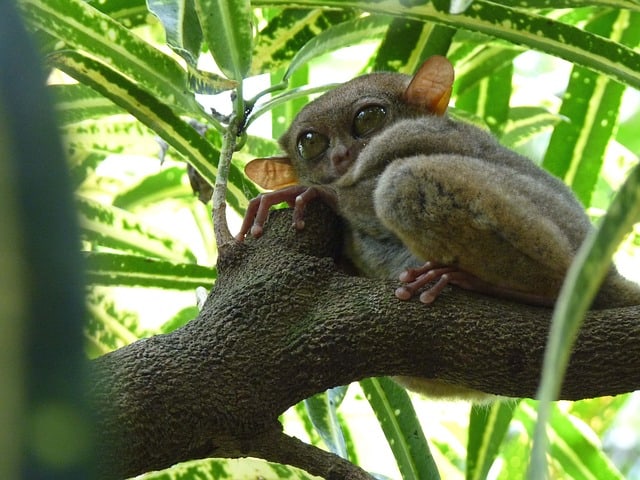 Although tarsiers can be found in some areas in Bohol like in Carmen and in Loboc, the best place to visit and appreciate them is when they are in their natural habitat and this is possible by visiting the Tarsier Sanctuary located in Corella, that is 10-km drive from Tagbilaran City.
The visit only takes around 20 minutes and the admission fee is around $1.20.
---
Bilar
Bilar is home to Bohol's Mahogany man-made forest. The view on the road is majestic with uniform Mahogany trees standing erect with their verdant leaves and protruding roots.
This is one popular stop when going to the Chocolate Hills site coming from Tagbilaran.
Also, if you are up to butterfly appreciation, there is a nearby Simply Butterflies Conservation Center located around 5-minutes from the man-made forest where you will get to release some butterflies on your own.
---
Panglao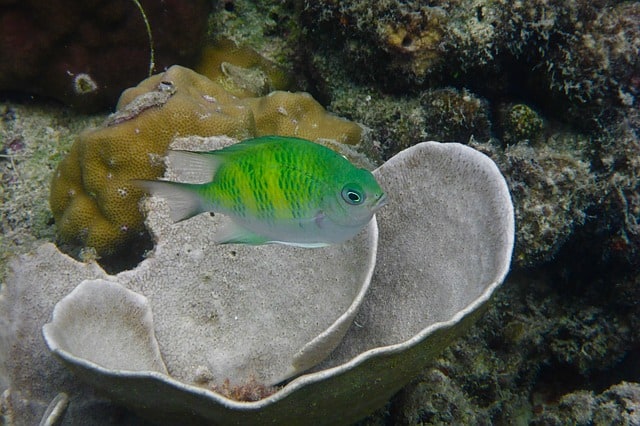 Bohol is known for its world-class diving spots with diverse species of marine creatures. This is best experienced by visiting Panglao Island or by availing a package for snorkeling and dolphin adventure from your resort or hotel accommodation.
Acrobatic dolphin groups, whale and sea turtle sightings are some experiences that your kids will surely get from these adventures.
Panglao Island has the best beaches as well and you can enjoy relaxing at the beach and water sports here.
---
Where to Stay
You will have a lot of choices when looking for a place to stay in Bohol.
Most of the kid-friendly resorts and hotels are concentrated in Tagbilaran City, Panglao Island and the Loboc area.
Staying in Tagbilaran City is like staying at the business center of the island while staying in Panglao or Loboc brings you nearer to the tourist attractions. So, it is really a matter of personal choice.
Among the highly-rated and recommended hotels in Panglao island are: Henann Resort in Alona Beach, The Bellevue Resort, and for a unique stay Glamping Alona, among many others.
---
Where To Eat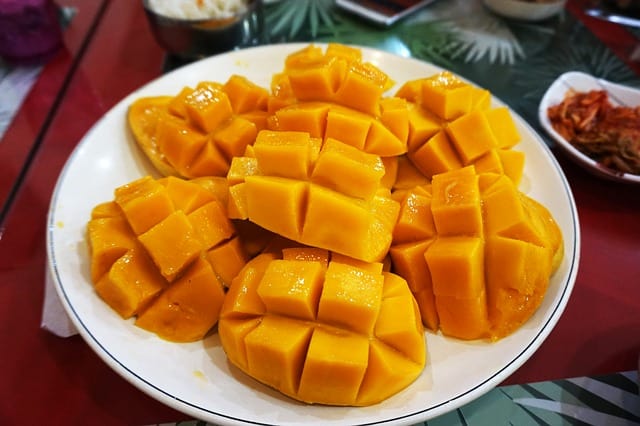 One of Bohol's popular food places is the Loboc Floating Restaurant where you get to experience Filipino buffet while cruising the Loboc river.
Gerarda's Family Restaurant in Tagbilaran City is one popular restaurant serving Filipino cuisine while healthy and organic food is being served in The Buzzz Cafe by Bohol Bee Farm and Luna Rossa Vegetarian Italian Restaurant in Panglao.
For Italian cuisine, popular choices include Al Fresco Bay Cafe in Tagbilaran City and Giuseppe Pizzeria and Sicilian Roast in Panglao,
Another fine dining choice is The Wine Cellar and Tarsier Paprika in Panglao.
Bohol is also home to some sweet Filipino delicacies like peanut kisses, Bohol's version of Hershey Kisses; Calamay made of glutinous rice, sugar, coconut milk and some peanuts, Bibingka or the famous Filipino rice cake and many more.
Tropical fruits and seafood are also abundant in Bohol.
---
Cebu With Kids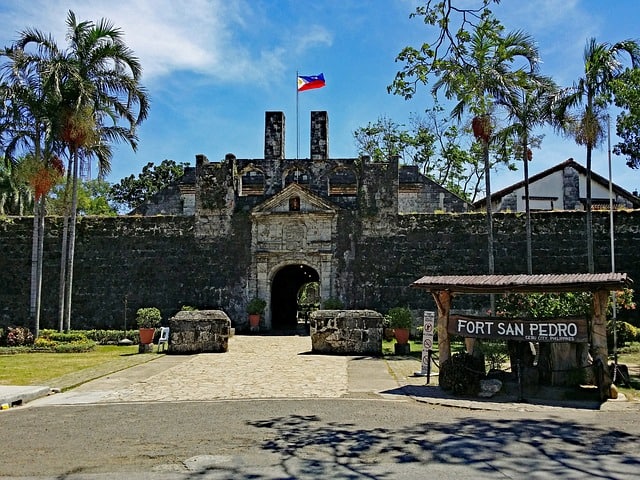 Cebu is home to the Philippines ' second-largest metropolitan next to Metro Manila. It is considered one of the oldest yet most developed areas in the Philippines.
Cebu is well-known for its Sinulog Festival, a 9-day celebration honoring, Sto. Nino, the Child Jesus. Street dances, grand parade, and processions are some of the highlights of this event. This is held on the third Sunday of January yearly.
Cebu has a mix of modern and cultural tourism destinations as well as laid back and serene beach attractions.
---
How To Get There
By air, Cebu is easily accessible with several international flights serviced by Mactan-Cebu International Airport. There are flights arriving directly from HongKong, Japan, Malaysia, Singapore, Taiwan, and South Korea.
Also, Cebu is just a 60-minute airplane ride from Manila.
Mactan-Cebu International Airport is also a popular stopover for domestic flights all over the country.
By sea, Cebu has a well-established seaport with daily ferries ride to and from several local seaports in the Philippines.
Getting around Cebu is easy with almost all kinds of transportation available in the area just like tricycles, jeepneys, taxi, buses, and car rentals.
---
Things To Do In Cebu With Kids
Metro Cebu
The best time to visit Cebu is from the months of December to February.
Kartzone is the best place to visit if your kids love to experience speed.
There are also a number of water theme parks worth visiting in Cebu City. One popular theme park in the city is Skywater Park Cebu on top of J Centre Mall, overlooking parts of Mandaue City.
There is a dinner buffet and show featuring Filipino cultural dances and fire dances. There is also an appearance of a mascot for kids to play with.
Another place for kids to enjoy when in Cebu is to visit the SM Skypark. It is a 20,000 square meter park on top of a shopping mall. It features modern, colorful and kid-friendly facilities for kids to play and enjoy.
If you want a digital experience for your kids then PlayLab located at Robinsons Galleria Cebu is worth a visit. It is a digital playground to spark your kid's imagination as well as give them fun and enjoyment.
Also, overlooking the city is the Mountain View Nature's Park where camping sites, gardens, parks, swimming pools, a mini zoo, and hanging bridges among many others are available for guests to enjoy.
An hour's drive from the City will bring you to Papa Kit's Marina & Fishing Lagoon in Silot Bay, Liloan, Cebu. Here kids get to experience fishing, climbing walls, zip line, hanging bridge, bird watching, horse riding, and canoeing, and many other activities kids will enjoy.
Lastly, before leaving the city, bring your kids to a quick cultural immersion by visiting the Magellan's Cross. It is said to be the first Christian cross planted in the Philippines by European explorers.
---
Mactan Island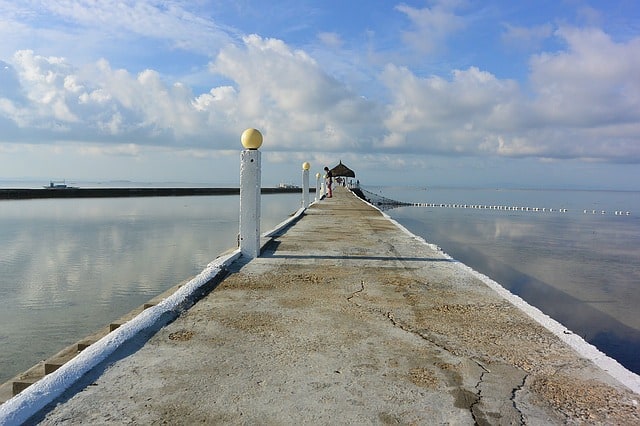 Mactan Island is your first stop upon arrival in Cebu if you arrive by air. Among the popular things to do with kids in Mactan Island is to visit the Jpark Island Resort & Waterpark.
This place is a 5-star family resort with room accommodations, themed pools, dive shop, and private beach among many others.
Or, you may want to choose Shangri-la Mactan. Here, you also get to experience and enjoy the beach and seawater sports such as snorkeling, kayaking, windsurfing, and the likes.
Cebu Happy World Museum Miracle Art is another kid-friendly destination that you can visit with your kids. Let your kid's imagination run wild in this unique and art-filled museum in the municipality of Cordova in Mactan Island.
Also, Lapu Lapu City in Mactan is known as the home to the best guitar and ukulele factory. If your kids are musically-inclined, you can find the best factories here to purchase these hand-made string instruments and even see the makers create them with their bare hands.
---
Where To Stay
There are several pristine beaches in other parts of Cebu but we did not include them here anymore because it may be a bit of challenge to visit them with kids.
In Metro Cebu and Mactan Island, there are wide choices of kid-friendly places to stay.
We already mentioned some like the Jpark and Shangri-la Mactan. Choosing a place to stay would really depend on your budget and personal preference but choosing a place can be a breeze with great choices Cebu has to offer.
---
Where To Eat
A portion of must-try food and take out when you are visiting Cebu is the famous Lechon Cebu and dried mangoes.
Going to Sugbo Mercado at the Cebu I.T. Park, a food market in Metro Cebu is a must-do experience when in Cebu.
Here, you will find several cuisines from Filipino, Korean, American to fusion foods, your choice.
Also, with Cebu's long coastal areas, seafood is rich in this place. So, if you love seafood then there are seafood restaurants galore in the area.
---
Palawan With Kids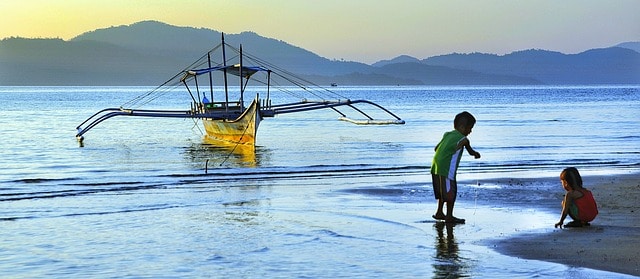 Palawan is a province in the southernmost part of Luzon. It is one province in the country with the most thriving wildlife and splendid sceneries from underground rivers, caves to amazing beaches.
How To Get There
Since Palawan is a long stretch of island, getting there will depend on which place you want to visit. In our opinion, the best places in Palawan to visit with kids are Puerto Princesa, El Nido, and Coron.
It is best to visit Palawan by air if you are with kids. Puerto Princesa International Airport service international flights going to and from Seoul and Taipei.
It also serves the most domestic flights in Palawan from Manila and Clark among many others.
If your first stop is El Nido, then there are flights coming from Manila, Clark, and Cebu going to El Nido Airport. El Nido is about a 5-hour ride from Puerto Princesa. There's also an available flight from Puerto Princesa going to El Nido.
Going to Coron will require you to take domestic flights coming from Manila, Cebu and Clark or from the nearby Puerto Princesa.
Things To Do In Palawan With Kids
Puerto Princesa
One of the most popular things to do in Puerto Princesa is to visit the famous and world-renowned Palawan Underground River.
You can book a tour on your own by purchasing a ticket from National Park at Sabang Port or join a package tour. When inside, the guests ride a boat and then you get to experience the wonder of one unique ecosystem out there hidden under the cave.
Book your tour here: Puerto Princesa Underground River with ATV Jungle Track
To experience the beach in Puerto Princesa, you can book an island-hopping package and visit 2-3 islands in Honda Beach. Here you get to do swimming and snorkeling to your heart's contents.
The fun does not end at night even for kids when in Puerto Princesa. There's a magical firefly watching tour at Iwahig River available at night.
---
El Nido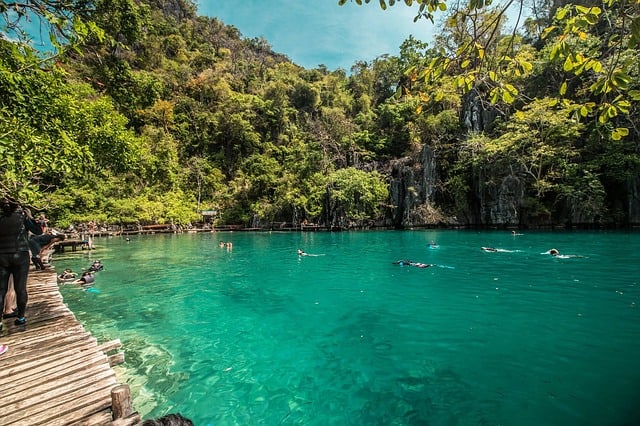 El Nido is all about the beach and beautiful scenery. Island hopping, swimming, and kayaking in the Big Lagoon and Small Lagoon should never be missed.
Coron
Just like El Nido, Coron is all about the beach and touring splendid scenery. Among the popular destinations for island hopping are the Twin Lagoon, Kayangan Lake and Barracuda Lake among many other snorkeling areas.
---
Where To Stay
In Puerto Princesa, if you want to stay near the Underground River and the beach as well, Daluyon Beach and Spa Mountain Resort is a great choice.
While Princesa Garden Island Resort and Spa is one top luxury choice, there are wide choices of kid-friendly hotels in Puerto Princesa as well and you can choose depending on your budget and personal preference.
There are a number of great and kid-friendly resorts in El Nido and Coron as well. If you want to stay in a luxury island resort, El Nido Resorts operate three of these luxury island resorts including Pangalusian Island, Lagen Island and Miniloc Island.
While in Coron, Club Paradise Palawan, El Rio Y Mar Resort and The Funny Lion are just a few of the many kid-friendly hotels and resorts in this area.
---
Where To Eat
Kalui is a must-try dish and the most popular restaurant in Puerto Princesa offering native and homey ambiance and delicious Filipino food.
In El Nido and Coron, a lot of restaurants are offering food inspired by different world-famous cuisines as well as local Filipino food.
Just like most island destinations in the Philippines, Palawan is teeming with seafood and tropical fruit supplies and is commonly served in most restaurants in the area.
---
Wrapping It Up
We hope we've brought Subic, Boracay, Bohol, Cebu and Palawan nearer to you in this blog. We did our best to give you as many details and inspiration for your next unforgettable family vacation.
The moment you plan to visit the Philippines with kids, these places will surely give you fun and long-lasting memories.
Enjoy planning your itineraries and feel free to include these places in them and expect to have fun traveling in the Philippines with your children.
Related posts: Sri Lanka With Kids – Top Family-Friendly Things To Do
Thailand With Kids – Top Places To Visit
---
Please note, this post contains affiliate links. Click here for more information.
More Places To Discover In Asia
Read Our Detailed Travel Guides