Phuket in Thailand is a popular tourist destination not only for couples and young people but also for families. Beautiful beaches, a warm climate, friendly and hospitable people plus a fascinating culture makes Phuket in Thailand the perfect location for a family vacation.
A trip to Thailand, in general, is not only affordable, but Thai people are also super child-friendly and accommodating to families with children. Traveling with kids in Thailand is a great conversation starter and will open many doors if you'd like to learn more about Thai culture.
In this post, I am going to share my friend's Wendy, her partner, and her 11-year-old daughter Phuket experience. They have recently spent an action-packed 8-day vacation on this stunning Island with its lovely people.
It was their first family trip to Thailand and they absolutely loved every minute of it. Even though it was a long journey from Auckland (New Zealand); it didn't take them long to adjust to the fascinating culture and stunning beaches in one of Thailands most favorite tourist destinations, Phuket.
Related Post: Top Places To Visit In Thailand With Kids
From visiting the Big Buddha, James Bond and Phi Phi Island, to seeing a floating village, a cashew factory to spending a whole day at an Elephant sanctuary, Wendy's family made the most of their stay. There was even enough time to relax at the hotel pool and letting these amazing experiences sink in.
They mostly booked guided tours and were absolutely thrilled with the service, comfortable modern minibusses, and the delicious food provided by the tour company.
You can book tours through your hotel or pre-book via Klook.com.
At the end of this post, you'll also find a short yet detailed travel guide to Phuket with kids.
---
Exciting Things To Do In Phuket With Kids
A Guided Phuket Attractions City Tour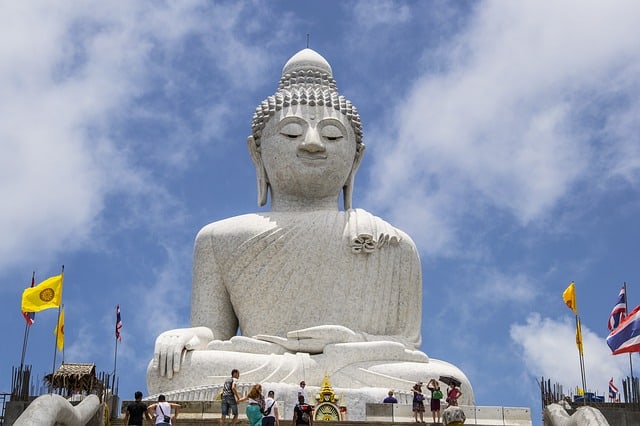 A good way to start your vacation might be exploring the diverse city of Phuket via a guided city tour. If you have younger children a half day tour might be best. With older children, a full day tour could be on the cards.
This city tour will show you some of the main attractions Phuket city has to offer.
Most tours start off with a trip to Kata View Point, a popular lookout with stunning views to the Andaman Sea and the impressive sight of Kata Noi, Kata Yai, and Katon beaches.
Next up will a visit to the Big Buddha who is not finished yet. The building work started in 2005 and the whole sculptor is made out of marble. You can visit the prayer rooms if you wish which are located underneath the Buddha statue.
Please note, that your hair should be covered as well as legs and shoulder.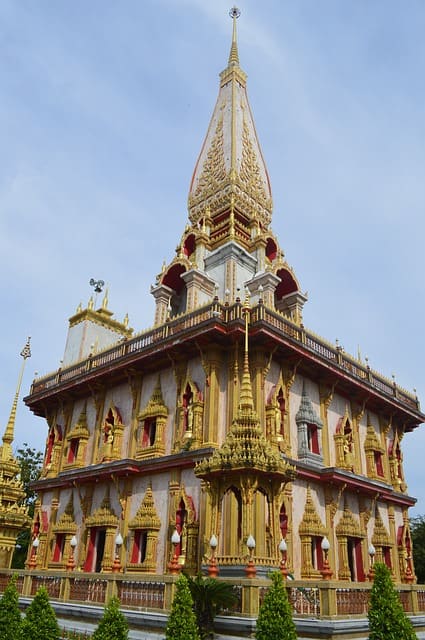 The same applies to your visit to the Wat Chalong Temple. This famous Buddhist temple is looking back at a rich history of legends, wars, and myths. Some even say that you haven't seen Phuket without visiting Wat Chalong.
It is not clear when exactly the temple was built,  somewhere between 1809 to 1842. One of the most precious things you can see here is a splinter of Lord Buddha's bones. You'll find it in the Grand Pagoda.
The Temple is open from 7 am up to 5 pm in the afternoon.
Afterward, the tour guide will take you to a Cashew nut factory where you can experience first-hand how these delicious tasting nuts are being processed.  Of course, you can even try some.
I guess, after so much sightseeing, it is now time to relax at the hotel pool or at one of the beautiful beaches.
---
Visit A Working Village
A visit to a working village where you can see how farmers had been living and growing their food the traditional way, is usually a part of a guided tour. Nevertheless, it is a fabulous way of learning more about the fascinating Thai culture.
Your kids will love to go on a cart ride pulled by water buffalos. And I am certain that the adults find it interesting to learn about how to harvest rubber. You'll also see how they grow pineapples and a traditional rice patch.
Fun Fact: Did you know that you can eat Lotus seeds? You can enjoy them either cooked or raw. Yummy!
Yes, Lotus seeds where part of taste tasting some traditional (and by the way very nutritious) food.
---
Phuket FantaSea – A Cultural Theme Park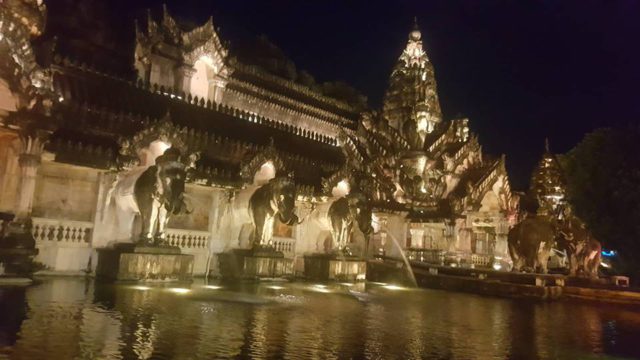 One of the many highlights of the families vacation was to spend an evening at Phuket's cultural theme park 'FantaSea'. This is a grand cultural extravaganza who was enjoyed by the whole family.
The evening starts with an opulent dinner buffet that caters even for the pickiest eater. There are also options for Vegetarians available.
As the advertising brochure promises, this 'Las Vegas-style' production is nothing short of superlatives like special effects, breathtaking stunts, acrobatics, and magicians.
The show is on every day (except Thursdays) at 9 pm. The venue itself is a state-of-the-art theatre which seats 3000 people. This magnificent theatre is called "Palace Of The Elephants" and is such an impressive building surrounded by 999 elephant statues.
Wendy's family was thrilled how kid-friendly the entire experience was, including the seating, the food, and the most opulent show they have ever seen.
Prebook your very own ticket to this amazing show here: Phuket Fantasea Ticket
.
Besides the show, there is so much more to explore like the festival village with shops, live bands, parades, and street shows. Kids will love the Similan Entertainment Center with lots of fun games.
So be prepared for an exciting evening full of colors, entertainment, spectacular shows, games, and, not to forget, unique shopping experience.
---
A Day At The Elephant Reserve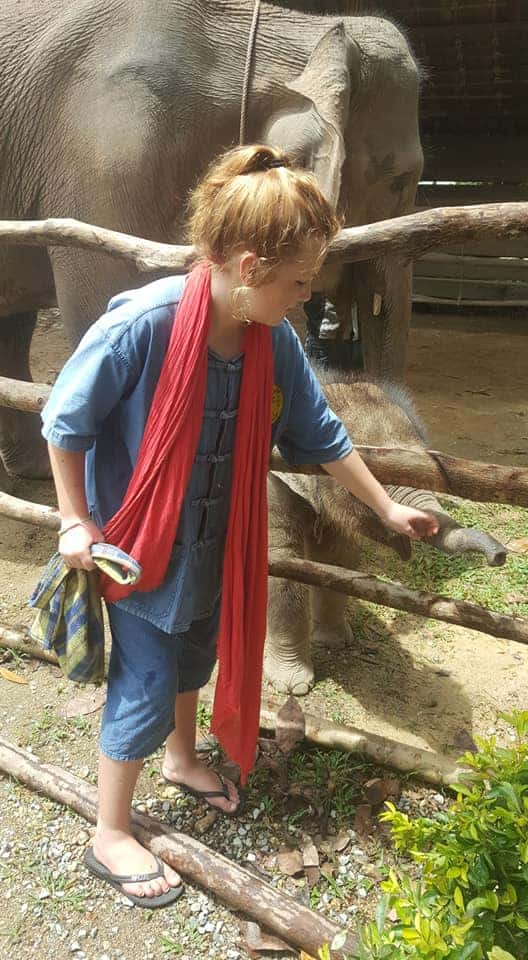 Getting close up to these gentle giants is on the bucket list for most travelers to Thailand. Because of the huge popularity for tourists and the money that can be made with Elephants, there can be also a lot of cruelty surrounding the treatment of these amazing animals to get them trained.
Therefore it is important to support Elephant camps that are operating without being cruel to them and that don't allow riding on them.
Wendy had done a lot of research and found an Elephant reserve that provides a stunning experience that is harmless to the elephants. The SeaLandCamp has received various national and international awards including the TripAdvisor 'Certificate of Excellence' award.
It takes around three hours to get there but if you are going to spend a whole day at the camp, it is worth the time and effort.
Once you arrive at the reserve, you will get changed in the clothes provided by the camp because you will get wet and maybe a bit dirty. Your kids will love to prepare food for the elephants like cutting bananas, pineapple, and sugar cane which they will get the chance these friendly and curious giants.
They all have a name, walk up to you, and sniff at you. Now is the time to feed them by hand.
After that, it is time to get some more food ready. This time around mash rice, tamarind, and banana together and roll the mixture into balls.
Before you are giving them their next meal, the elephants get the chance to have a mud bath and play in the river. Here you can splash them with water and have a fabulous time that you and your family will forever cherish. You even get a brush to get them all clean again.
After all this excitement, it is feeding time again and soon it's time to say 'Good Bye' to your new friends. I bet your kiddos will be so tired after such an amazing day with the elephants. 🙂
The costs are around $75 for an adult and around $60 for a child from 4 – 12 years old.
---
A Trip To James Bond Island (Khai Island)
One of the most do things on Wendy's list was a boat trip to James Bond Island. The tour goes for a whole day with a pick up from your hotel in the morning and a drop off in the afternoon at around  5 pm.
There are several tour companies available which offer basically the same program. Please be aware that during the main season, it can get very busy on the boat and the main attraction itself.
One of the most recommended tour operators is Phuket Sails Tours who have been around for over ten years. This company has also received the Trip Advisor Excellence Award.
The family enjoyed a trip filled with amazing views of stunning islands, snorkeling, relaxing on the beach, a delicious buffet, and a visit to a floating Muslim village.
The Islands are surrounded by crystal clear water and white sandy beaches – a feast for the eyes.
---
A Tour To Phi Phi Island
Another must-do activity for most tourists is a trip to Phi Phi Island which also takes a whole day. It is all about exploring the stunning scenery yet again with turquoise waters and plenty of colorful fishes.
Maya Bay has become so famous because part of the movie 'The Beach' was filmed here.
Be careful at monkey beach and keep a close eye on your belongings because these little monkeys can get quite cheeky.
Yet again, a beautiful day was experienced by all. Because of the fact that most activities have to do with swimming, canoeing, snorkeling, and also scuba diving, a trip to Phi Phi Island might be more suitable for older kids and not so much for babies and toddlers.
I would recommend speaking to the tour operator to find out about how child-friendly a particular tour is.
A great alternative to visiting Phi Phi Island is a tour to Phang Nga Bay which is more sheltered and might be more suitable for younger children.
---
Other Activities
There are countless more child-friendly things and activities to do in Phuket, a sign how popular this Island in the Andaman sea is with international tourists.
The Splash Jungle Water Park
Phuket Zoo
Phuket Aquarium
Phuket Bird Park
Trick Eye Museum
various Street and Night Markets, just to name a few.
The choices are definitely yours. If you rather have a relaxed vacation with plenty of pool time at your chosen resort or an action-packed trip for the whole family. One thing is for sure, there is something for everyone.
---
How To Get To Phuket
Phuket is easily reached by either plane, bus, or train. I guess it is safe to say that most tourists arrive by plane at Phuket International airport which is, by the way, Thailand's second busiest airport.
It takes around 1.25 hours from Bangkok and 1.25 hours from Kuala Lumpur by plane to reach Phuket.
---
General Information
The currency in Thailand is Baht and currently, US$1 buys you 33Baht. Thailand is very affordable for any traveler. You can get yummy and delicious street food for only a few dollars.
Be prepared to tip your tour guide, bus driver, the hotel maid, the bag boys, and at the restaurant.
It is always good to learn basic phrases for everyday situations like saying Hello and Thank You. There is a difference saying it to a male or female. For a male person you'll need to add 'khrup' at the end, e.g., Sa-Wa-Dee-Khrup (Thank you) and for a female add 'Ka': Sa-Wa-Dee-Ka.
Read more here.
Phuket can be a very busy place, especially in the main season. A visit to a bustling market or a crowded temple can be stressful when you have young ones. Be aware to keep them close by. Babies and toddlers are best carried around in a Baby carrier or for older kids, an Anti Lost Wrist Band (view options on Amazon) is really helpful.
---
Where To Stay
There are hundreds of family-friendly hotels and resorts available in Phuket. The main question is to find out what beach would be the best one for a family-friendly vacation.
Wendy's family stayed at Karon Beach in a budget-friendly hotel called 'Karon Beach Resort'.
Other recommended beaches are Kamala Beach, BangtaoBeach, and Kata beach. Whether you are looking for a luxurious stay, a mid-priced or budget-friendly option; there are many hotels to choose from.
Our preferred booking engine to find affordable and beautiful resorts and hotels is Booking.com
---
The Best Time To Go
There are various things to consider when planning a trip to Phuket. The dry season with the most stable weather is from November to February with lovely temperatures of around 25ºC. Unfortunately, this is also the busiest season because most tourists are planning their visit during this time of the year.
If you want to avoid the crowds you might like to consider to go from May to October, the Monsoon season. The prices for hotels are very low and you don't have to share the beautiful islands with too many other tourists.
March and May are the hottest months of the year but also not very busy.
---
What To Pack
As with any tropical climate, it is important to take light breathable clothes made from cotton and linen.
Flip flops are a must but also good walking shoes in case you want to go for a hike.
Here is a list of must-have things. Some of them can be purchased in Phuket
a sunhat
plenty of sunscreens
a good Mosquito repellent
long trousers and long sleeve tops for visits to a temple
a good camera
a travel  adapter
bathing suit
a day pack
For more invaluable travel accessories please read my post Must-Have Travel Accessories For International Travel.
To find the best travel gears for babies and toddlers, please click here.
---
Summing It Up
I do hope this post has inspired you to travel to Phuket with your kids. Phuket is a fascinating Island with beautiful beaches, lots of cultural attractions, and a vast variety of kid-friendly activities.
There is something for everyone, whether you are preferring a quiet and relaxed beach holiday or a fun and action-filled family trip.
Thanks so much to Wendy for sharing her amazing experience.
---
Please note: this post contains affiliate links. Please read my affiliate disclosure for more information.