A vacation in Thailand with kids is on the bucket list for many families. This comes as no surprise since Thailand offers some of the most pristine crystal clear waters, stunning beaches, and fascinating culture. On top of that, it is very budget-friendly, the Thai people are hospitable, and the food is just so yummy.
Getting around in Thailand with children is easy, whether you prefer to go by bus, train, or plane.
I have asked other family travel bloggers to share their top places in Thailand you should visit with your kids. Get inspired by these gorgeous places and put them on your itinerary for your next vacation to Thailand with your family.
A big 'Thank you' to all of them for sharing their experiences with us. Well, I want to pack my suitcase right now. How about you?
---
Top Places To Visit In Thailand With Kids
Phi Phi Islands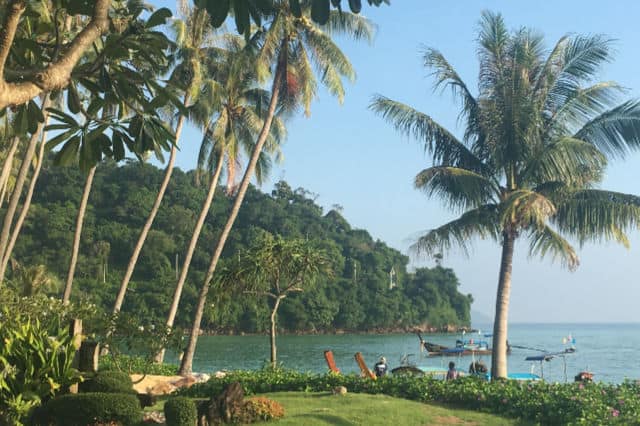 Thanks to Keri from Our Globetrotters.
Sitting a 2-hour ferry ride away from either Phuket or Krabi you will find the idyllic Phi Phi Islands.  Small, remote and beautiful; yet enough going on that the kids will not get bored and you can all appreciate the serenity of these magical islands.
The main inhabited island is Ko Phi Phi Don where you will find all the accommodation and plentiful shops, bars, galleries and market type stalls in the little town of Tonsai.  This is also the main ferry point and where you can hire your longboat for excursions out to the smaller islands.
Ko Phi Phi Leh to the south (made famous by the movie "The Beach") has been closed to tourists for a period due to marine restoration works and may limit numbers when it reopens. But there are plenty of other small islands such as Ko Bi Na Nok and Ko Diba Nai where you can try your hand at snorkeling and diving.
The island has no cars, only some motorized buggies so it is great if you prefer to explore on foot and visit the various small coves and beaches – pack comfy footwear as there are a few hills involved.
There is a wide range of accommodation on Phi Phi from the budget but quaint backpacker hostels in Tonsai, through to the stunning Phi Phi Island Village Beach Resort. 
This is our top recommendation for families as it has two large swimming pools, both with swim-up bars, family-sized cabana suites and an extensive range of activities on offer.  There is also a small village behind the resort for picking up your essentials and a quick meal without paying resort prices!
Book Your Accommodation With Phi Phi Island Village Beach Resort Here
---
Ko Lanta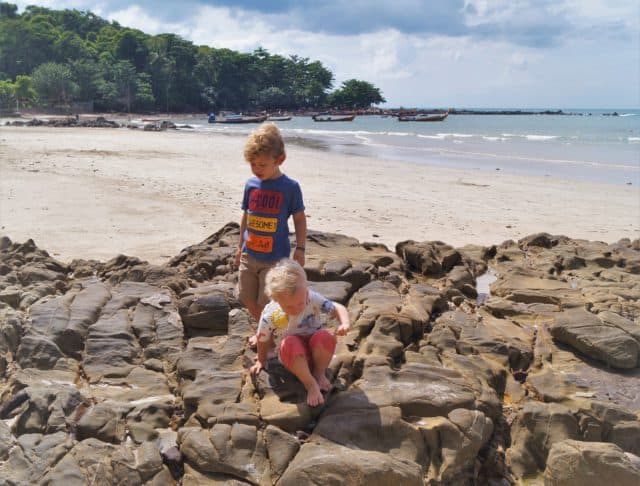 Thank you to Jenny from TraveLynn Family.
We wanted to arrange a group family holiday in Thailand with some old mates who live in Sydney. At the time we were living in Bangalore, India, and so Thailand seemed a good central-ish option. Between the two families, we have four boys all aged between 2 and 4. So we were looking for something easy to keep everyone happy, and most importantly, a safe kid-friendly beach.
Ko Lanta ticked all the boxes for us. It's not overly developed with very few buildings taller than two stories and has retained its rustic charm, and the golden crescent of Klong Dao beach on the north-west tip of the island is perfect for kids.
Here, the beach has a very gentle gradient, and as such, the water is shallow and perfect for a paddle. Towards the southern end of the beach, there are rocks for rock pooling and the sand is the perfect consistency for some serious sandcastle-building.
A row of restaurants and bars hug the coastline and spill onto the beach. At night their lanterns and lights make it feel truly magical. But for parents, the magic lies in the fact that many of these places have toys to play with (some have slides and hoppers) and a separate kids' menu.
Kids will also love exploring the colorful markets of Sala Dan by the ferry terminal and make sure you take a speedboat tour out to explore the other islands.
To get to Ko Lanta, you need to use a ferry (there is also a car ferry). There is no airport, but you can hire airport transfers from Krabi Airport on the mainland.
---
Ayutthaya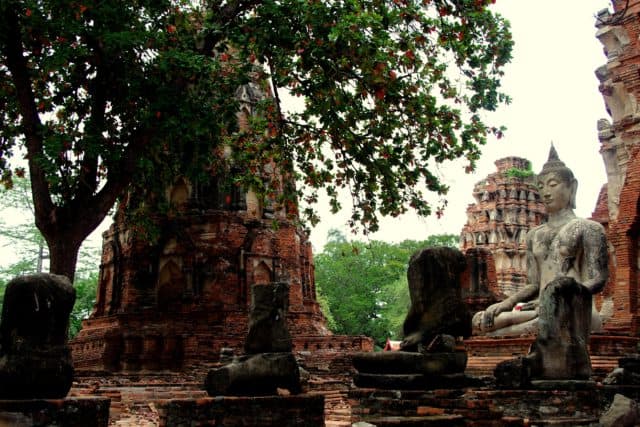 Thanks to Babs from Mums On Flipflops.
Ayutthaya is only a short 1,5 hour trip from Bangkok, so it is possible to visit the city on a day trip. However, we recommend staying a couple of days as there is a lot to see and do!
The ancient city contains over 200 temples and ruins spread around Ayutthaya town, which makes for a lot of fun exploring and learning. With small children, you'd probably want to select a couple of Wats to discover (for example Wat Mahathat – with the well-known image of the Buddha's head in the roots of a tree – or Wat Chai Watthanaram). Hire a tuk-tuk for the day to get around as it can get very hot!
Another fun way to explore the old town is by bike. Pick up a map and hop on your two-wheeled drive: your children will have a blast! Along the way you can stop to taste the local Thai life with some fresh fruits, take photos and who knows, you might even see an elephant (but make sure not to ride them).
When your kids are tired of clambering the ruins, there are a couple of other things to do. A sunset boat tour, for example, is a nice way to see the more remote wats. And the night market is small but worth a visit for some yummy Thai street food.
We had a wonderful time in Ayutthaya and as we were on our babymoon at the time, we'll definitely be back one day to show our daughter this stunning historical part of Thailand.
---
Sukhothai
Thanks to Nicky from Go Live Young.
Sukhothai, the first capital city of the kingdom of Siam, dates back to the mid-thirteenth century. The city flourished for over a hundred years and this period is often referred to as the golden age of Thai civilization.
The remains of the kingdom, a UNESCO World Heritage Site are amongst Thailand's most important historical ruins. For lovers of history and culture, Sukhothai is a must-visit and we'd encourage everyone to add the ancient city to any Thailand itinerary.
Sukhothai is located a six-hour drive or a short one hour flight from Bangkok. Many people choose to break up the journey north to the cities of Chiang Mai and Chiang Rai at Sukhothai.
The best way to explore the ancient city of Sukhothai  is by bicycle. Bikes are cheap and easy to rent, at one of the many bike shops at the park gate. The Sukhothai Historical Park is worth at least half a day of exploration. The best time to visit is in the morning before it gets too hot or in the cooler late afternoon. Water, hats, and sunscreen are needed whatever time of day you choose to visit.
There are 45 square kilometers of ruins to explore but most people concentrate on the central and northern regions. Cycling around the ancient city is safe and easy. You simply cycle from ruin to ruin stopping to wander amongst the ruins or giant Buddha's.
Kids will enjoy Sukhothai. There's plenty of space to run and cycle around, in a safe environment. There are ruins to clamber on (only allowed in certain places!) and jump off. Our three boys loved the time we spent here and learned a lot at the same time.
---
Koh Samui
Thanks to Marianne from Mum On The Move.
Koh Samui off the east coast of Thailand has so much to offer for a holiday with kids. This beautiful tropical island is much quieter and more laid back than its Thai island cousin Phuket. Koh Samui boasts stunning white sandy beaches with calm, shallow water, a good selection of excellent restaurants and a large choice of family-friendly resorts.
If you are a beach-loving family you will be spoilt for choice when it comes to finding a gorgeous beach to hang out on for the day. We particularly love Bophut beach, as it is relatively quiet, with calm shallow water and the Fisherman's Village here has a good range of restaurants and bars to choose from.
Our favorite is Coco Tam's beach bar with its swings at the bar! People who want more action should head to Chaweng or Lamai beaches.
But there is more to Koh Samui than just beaches and you will find plenty more to do to entertain the kids.
Kayaking and snorkeling in Ang Thong Marine Park is a popular day trip for island hopping and exploring lagoons. There are also two fun water parks to choose from on the island, plus canopy adventures, go-karting, and crazy golf. Don't miss a visit to the famous Big Buddha temple to visit for a morning of culture.
To find awesome family resorts in Koh Samui, please click here.
---
Bangkok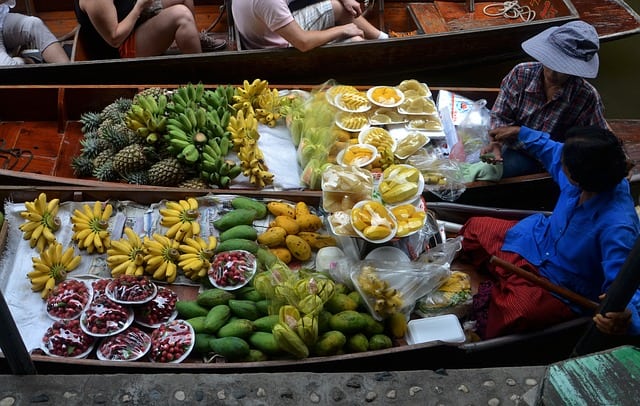 Thank you to Keri from Little City Trips.
 Busy bustling Bangkok with its reputation for ladyboys and seedy bars may not seem like the obvious choice for a family vacation. But with a wealth of cultural attractions, year-round warm weather and a good choice of family friendly hotels, Bangkok allows you to combine exciting city sightseeing with relaxing family fun in the sun.
 Getting around Bangkok with kids is easy. The city has an excellent public transport system with the Skytrain (a monorail that connects most tourist areas) and a network of boats plying the Chao Praya River.
 There are plenty of family attractions here, such as Dreamworld, Sealife Bangkok Ocean World and Dinosaur Planet.  Beyond this you can also explore the cultural side of this fun and fascinating city, taking in a floating market, exploring the canals and checking out the city's most famous temples.
 Our kids particularly loved taking a canal tour of the Thonburi area, an older part of the city best explored by longboat. Here we stopped off at the Baan Silapin (Artist's house) and got to watch artists in action, paint some traditional masks and watch a fun traditional puppet show.
 Of course, no visit to Bangkok is complete without visiting Wat Phra Kaew and the Grand Palace. This sprawling complex of intricately decorated temples is home to the most sacred Buddhist temple in Thailand, and the highly revered Emerald Buddha. No matter how many temples you have visited, you can't fail to be impressed by the sheer scale and opulence here.
---
Pranburi
Thank you to Grace from ExtremeNomads.life.
Known best for its pineapple fields, forest park, and empty beaches, Pranburi is well worth considering for any family travelers who fancy skipping the crowds in favor of nature, authentic local culture, and outdoor adventure activities.
Traveling with your family in Thailand can get quite hectic at times- especially when your itinerary consists of the popular tourist hotspots and busy cities. Pranburi, on the other hand, is a breath of fresh air (kinda literally).
It's a quiet, rural area on the western side of the Gulf of Thailand and, sitting just 3 hours south of Bangkok, it's is also mercifully easy to get to (we took the direct VIP coach from Suvarnabhumi Airport to Hua Hin followed by a short taxi ride).
Pranburi sits on the edges of Khao Sam Roi Yot National Park, where you'll find soaring mountain peaks, mangrove reserves, tiny offshore islands, and miles of totally gorgeous (not to mention totally empty) beaches. For $10, you can rent kayaks (or even a traditional boat driven by a local fisherman) and set off to explore the coastline.
Definitely check out Phraya Nakhon Cave and Monkey Island off the coast of Dolphin Bay; the latter is one of the best places around to see the little guys in their natural environment.
We rented some mountain bikes in Pak Nam Pran (less than $9/day and children's sizes were also available) and cycled from there to the end of the National Park. Not only were we the only ones on the road that morning, but there's also a bicycle lane that runs alongside the beach almost the entire way- so it's completely safe for little ones, too.
---
Chiang Rai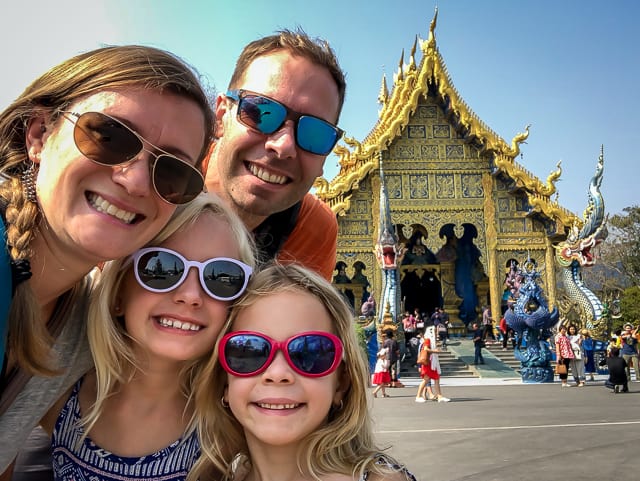 Thank you to Kyla from WhereIsTheWorld.ca.
Chiang Rai is a small, compact city that's easily explored on foot. However, when the kids get tired, there's always a tuk-tuk or songthaew close by that'll take you anywhere you want to go for cheap!
The colored temples, in particular, the blue and white temples, are modern, beautifully decorated, and were the most unique temples we visited in all of Asia. Most people come on a day trip from Chiang Mai, so if you're staying in town you can get to the temples before the tour buses arrive!
Our family's favorite thing in Chiang Rai was the night market. It's a traffic-free zone with a large food court. There's a great variety of food (including chicken fingers and fries for pickier kiddos!), and there's always a lovely mix of locals and tourists.
The best part though is the entertainment. At the front of the food court is a large stage, with dancing and singing every night of the week. My kids loved watching the performers and dancing themselves.
Chiang Rai is just the right amount of easy tourist-convenience mixed with the local Thai culture.
---
Koh Lipe
Thank you to Melissa from ThriftyFamilyTravels.
Thailand's Koh Lipe Island makes for the perfect family island getaway. This small Thai island is surrounded by gorgeous postcard-perfect beaches,
brightly colored turquoise waters, and spectacular snorkeling and scuba diving.
The island is slow-paced, and the atmosphere is chilled out making for a fantastic setting for a perfect relaxed family holiday.
Families can take it easy on a holiday in Koh Lipe, spending most of their days lounging by their hotel's pool, swimming in the warm crystal ocean
waters, spotting colorful tropical fish or even hiring a kayak to explore the island.
One of our all-time favorite days when we recently visited Koh Lipe was hiring a kayak and paddling it around the island, finding secluded
coves for swimming and crystal clear for snorkeling.
For those that need a little more action, despite being a small island, there is still a decent amount of good Thai restaurants, bars, massage
parlors and shopping for those so inclined.  You can also join a boat tour group or hire your own private boat to explore nearby islands.
Koh Lipe is a great Thai Island to visit if you want absolute paradise, that Thai hospitality but without all the chaos and busy shopping streets.
For more info on fun things to do with kids in Kho Lipe, please click here.
---
Koh Ngai
Thank you to Chris from MoreLifeInYourDays.
Koh Ngai is our favorite place in all of Thailand. It is a tiny island in the Andaman Sea where hornbills swoop overhead and karst islands rise out of azure sea to provide the perfect view. It is a perfect beach for young children to play with shallow waters, soft white sands and shade throughout the day.
The interior is jungle clad providing adventurous walking options for older children, who will also love being able to snorkel with colorful fish over the small reef just a short swim from the beach.
Kayaking is another great option here with trips to deserted beaches and tiny karst islands a favorite with many visitors.
Trips by long tail boat to the nearby islands of Ko Kradan and Koh Muk can easily be arranged through any of the hotels, the Emerald Cave on Koh Muk is a must-see for any visitor to this area.
The beach is the main draw though and is one of our favorites in all of Thailand. The view is just spectacular while the warm calm seas invite you to take a dip. Palm tree line the 2 kilometers arc of sand and there are just a handful of low key accommodation options set just back from the beach.
We've visited this tiny paradise a couple of times now and have loved every minute! For more in-depth coverage of Koh Ngai please visit More Life in Your Days.
---
Chiang Mai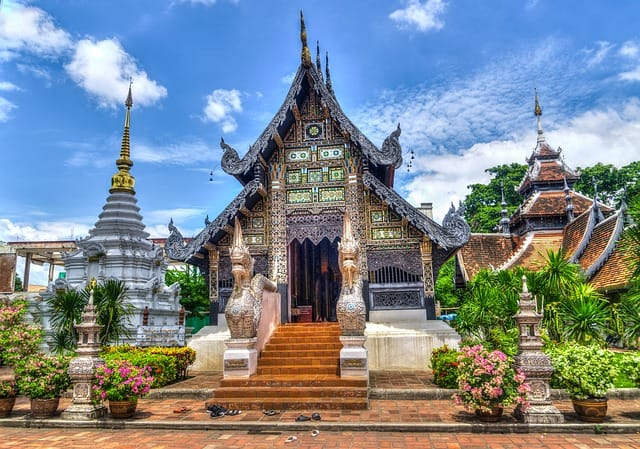 Thank you to Melissa from TheFamilyVoyage.
Chiang Mai is an awesome place to introduce kids to Thai heritage and culture without the intensity of Bangkok or the tourism focus of the islands. We loved visiting the beautiful Buddhist temples in the area and learning the stories and values of the religion, sampling traditional Thai dishes we prepared in our cooking class and even learning about the relationship between Thais and elephants.
Since it's a sizable city, you'll also find interesting museums and water parks to fill your family's days if you come on a long-term stay.
Chiang Mai also offers an incredible value for families – we stayed in a two-bedroom suite at a wonderful hostel for the price of a fast-food meal! Speaking of meals, a typical lunch for our family cost the equivalent of $10 USD (sometimes less) and a dinnertime feast was only $15!
The city itself is fairly easy to get around on foot or via Grab and it offers a wonderful balance between modern Western amenities and the unique features that make Thailand so special. Check out more of our favorite things to do with kids in Chiang Mai.
---
Phuket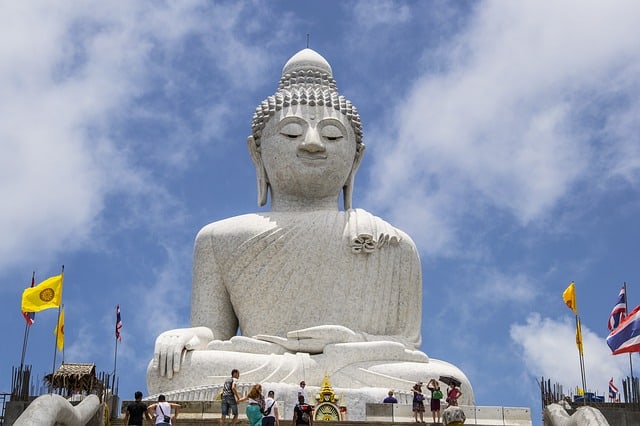 Phuket is a large Island in the Andaman sea, only a short 70-minute flight away from Bangkok. It offers plentiful accommodation for all sort of budgets. Most hotels and resorts are situated right by the most beautiful beaches.
Phuket is full of attractions and activities for kids, ranging from a waterpark, the Tricky eye museum, or the close by James Bond Island which you can explore via a guided boat tour; just to name a few.
One of the best attractions, you shouldn't miss is a visit to the show 'FantaSea' which is an opulent evening event full of magic, stunts, dances, and amazing costumes.
Another highlight we would recommend to everyone is to spend a day in an elephant camp where you get the chance to get close up with these friendly giants. .Your kids will love the hands-on experience which includes chopping up fruit for the elephant's lunch, feeding them, and even get to scrub them down after they had a mud bath.  What an amazing experience for them and for you!
It is important though to choose one that treats the elephants with respect and no cruelty involved.
Read more about it in our post 'Things to do in Phuket with kids'.
Because Phuket is so popular with tourists, it is best to avoid the main season from November to March. It may be a bit wetter in the other months due to the monsoon season but the reward is to enjoy less crowded tourist attractions, nearly empty beaches, and, of course, cheaper accommodation.
---
Our Recommended Travel Resources
To find the best and most affordable hotels or resorts in Thailand, we highly recommend to book with our preferred booking engine  Booking.com.


To find the best activities to do in Thailand, we recommend booking with Klook.com.
---
Please note that this post contains affiliate links. For more information, please click here.