Japan is a destination that is still on our bucket list for a family vacation. The lifestyle, food, traditions, and culture are so fascinating and intriguing compared to what I know from living in New Zealand or Germany.
I was so excited when Robert from JapanStartsHere offered to share his experience for top things to do for families in Kansai, Japan's cultural heart.
Read his awesome post below and get inspired to plan your next family trip to Japan with your kids.
---
Family Fun in Kansai – Japan's Cultural Heart
When you think of Japan, you imagine a captivating, confounding world where the past, present and future mix, whether you experience spiritual awakenings along neon-bathed bar streets just as readily as you can in temples. You imagine businessmen in suits riding the subway home at 11 pm, sushi, and sake served at unassuming countertops and a host of other things that are decidedly grown-up.
What you might not realize, especially if you haven't been yet, is that Japan is the epitome of a family travel destination. In particular, the Kansai region (the cultural heart of Japan, which includes the cities of Kyoto and Osaka) is a great place to travel with your kids, no matter how old they are or what types of activities they tend to like.
---
Top Things To Do In Kansai With Kids
Dress Up In Kimono In Kyoto's Higashiyama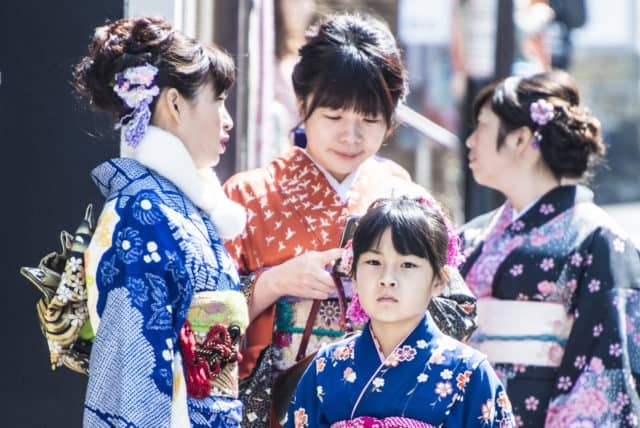 The kimono is one of Japan's best-known traditional garments and, contrary to popular belief, is something both males and females wear. Although you can dress up in kimono (girls and women can even get a traditional Japanese up-do!) in many Japanese cities, there are few places where it's as fun as Kyoto's historical Higashiyama ward, home to attractions like Kiyomizu-Dera temple and Yasaka Pagoda, among others, which call to mind the time when this was Japan's capital.
Of course, there are important things to keep in mind. Higashiyama is pretty hilly in parts, and walking on traditional JapaneseGeta sandals isn't always easy or comfortable. If you have young kids or ones who tire easily, you should be realistic about how much they can handle, or make peace with potentially having to carry them through the district. On the other hand, a family photo in kimono is something you'll remember forever, so it might be worth a bit of sacrifice.
---
Frolic With Deer In Historical Nara
Unbeknownst to many travelers, Nara was the capital of Japan prior to Kyoto, more than 1,000 years ago. While this fact (and historical structures like Todai-ji, which houses the world's largest bronze Buddha statue) is interesting to some family travelers, those with younger kids are likely to head to Nara for a somewhat wilder reason. Namely, the hundreds of deer that freely roam its city center. Don't worry: They're tame—and they not only like being fed but expect it!
Nara is close enough to Kyoto and Osaka to enjoy on a day trip but is also home to a number of high-quality (and, by Japanese standards anyway, affordable) hotels if you decide to stay the night. Plus, the historical center is well-connected and compact. After taking a short bus ride from the station to the five-tiered Kofuku-ji pagoda (which is one of the world's oldest wooden structures), you can easily cover the rest of the city on foot.
---
Visit Osaka's Amazing Aquarium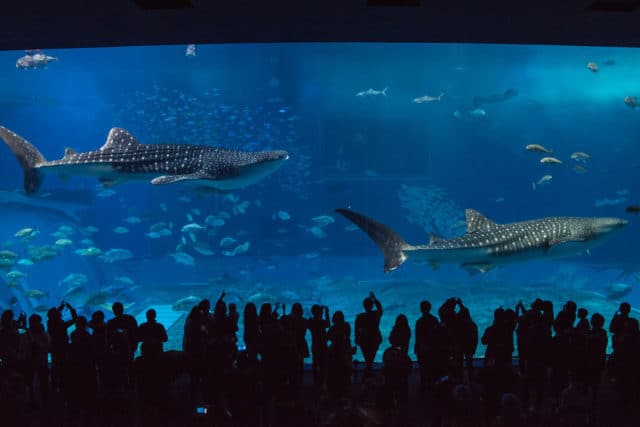 Osaka is an underrated city in general, whether because of its incredible street food scene, the friendly and laid-back vibe of its residents (especially compared to hectic Tokyo) or the surprising number of extremely old attractions you find here. For families with kids (especially small ones), however, one Osaka attraction rises heads and tails about the rest: Kaiyukan, an incredible aquarium in the western part of the city center, whose 15 tanks house sea creatures from all around the Pacific Rim.
As an added bonus, visiting this part of Osaka (broadly known as Tempozan Harbor Village) also situates you near Tempozan Giant Ferris Wheel, another great family travel experience. If you visit in the morning, you can even tack on a trip to nearby Universal Studios Japan, though some families prefer to stay here and make this a standalone part of their Kansai trip, rather than a day excursion from a hotel in the center of the city.
---
Go Back In Time In Historical Himeji
Many children love the idea of visiting a Japanese castle, but it's not practical in some cases since several of Japan's most scenic feudal fortresses are inconvenient in some way or another. Himeji Castle bucks this trend, located just 15 minutes by foot (along a completely flat road, no less) from Himeji Station, which is on the Shinkansen line about an hour west of Osaka in Hyogo prefecture.
Himeji Castle is also widely known as the most beautiful castle in Japan, on account of its stark white color and the impeccable condition it's in. It's most stunning during the first week of April (at the peak of sakura cherry blossom season) and in late November, when red, yellow and orange leaves seem to engulf its moat in flames—figurative ones, of course.
---
Hike Mt. Koya And/Or The Kumano KodonWith Kids
Located in Wakayama prefecture a couple of hours south of Osaka, Mt. Koya is Japan's holiest peak, its settlement founded in the ninth century by the monk Kukai, whose remains still rest in Okuno-in Cemetery. As you've probably already guessed, Koyasan (as it's known in Japanese) is generally a better choice for families with older children, particularly those interested in history, or who might appreciate sleeping in shukubo, a real-life Buddhist temple.
This is even more the case if you want to hike up the mountain (the 20 km path takes about 5-7 hours from Kudoyama Station) and especially if you want to take your family even further into Wakayama prefecture, namely the Kumano Kodo pilgrimage. This journey can take several days, and while it's one many families enjoy greatly, you'll want to be confident your kids have the stamina before setting out (and have a map of bus stop locations nearby the trail in case they prove you wrong!).
---
Family Travel in Kansai: Practical Matters
Japan is not a cheap destination, so it's unlikely that the issue of cost has slipped your mind while planning your trip.
One way to optimize the value of traveling in Kansai with family is to purchase Japan Rail Passes and travel by train. The JR company offers discounted rates for kids' passes, and using the Hyperdia website to plan your train journeys ahead of your trip can be a fun activity to get everyone excited, and a great opportunity to work together toward a common goal.
Another concern many families have, especially those with young kids, relates to accommodation and food. You, too, might be afraid that your daughter will refuse to sleep on a tatami mat, or that your son is a little too young for sushi.
The good news is that most hotels in Kansai, even traditional ryokan guesthouses, usually offer the option of having a Western-style bed.
Additionally, many Japanese foods are kid-friendly, especially items like karaage fried chicken and (perhaps surprisingly) edamame green beans, which are actually a lot of fun to eat!
---
The Bottom Line
Whether you take young children to feed the friendly deer of Nara, or test older kids' endurance with a hike in Wakayama prefecture, the Kansai region is the perfect part of Japan for family travel. Kansai's timeless attractions and stunning scenery will help strengthen the bonds you have with your family, and maybe create some new plots of common ground as well. But be careful: If you fall too deeply in love with Kansai, you might need to make trips here a regular thing!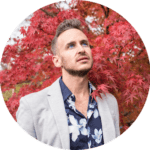 Robert Schrader created Japan Starts Here.com to help travelers of all sorts (families with kids very much included!) get inform and inspired about travel to Japan. Read the latest blog posts to keep up with Robert's Japan journeys, or follow Japan Starts Here on Facebook, Instagram, and Twitter.