A visit to Sri Lanka with our kids has been on my bucket list for quite some time and is on our travel itinerary for our next trip to Germany in 2020. It is still quite some time away but I like to do my research in advance and adjust it as the months will pass.
This time we are planning to travel for around 5 to 6 months because we also have to put the school holidays in New Zealand into consideration with the long Summer school break in January.
Our travel route will most likely look like that: Philippines,  Germany, Spain, Portugal, and, on the way home back to NZ, Sri Lanka, and maybe Thailand.
To help with planning on things to do in Sri Lanka with kids I have asked fellow travel bloggers for sharing their best tips and top family-friendly experiences with my readers and myself.
Sri Lanka, also known as Ceylon, is a fascinating island country surrounded by the Indian Ocean. It is famous for its rich culture which dates back over 3000 years ago, natural beauty, and an abundance of wildlife including leopards, Sri Lankan elephants, and sloth bears.
Our top things to do with kids in Sri Lanka covers adventures like wildlife safaris, visiting a tea plantation, a hiking trip up Little Adams Peak, and a visit to a genuine Elephant orphanage. How about whale watching, learn to surf, or even enjoying a fancy High Tea afternoon?
I do hope this guide of amazing things to with kids in Sri Lanka will inspire and help you to plan your next exciting family vacation to this pearl in the Indian Ocean.
---
Top Things To Do In Sri Lanka With Kids
Elephant Spotting at Minneriya National Park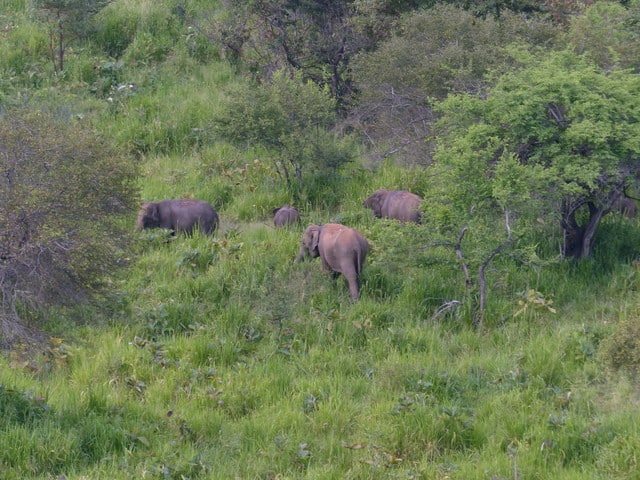 Thanks to Suzi from SurveySuzi.
Going on a safari in Minneriya National Park is a great thing to do with kids in Sri Lanka. We went with our three and four-year-olds and had a great time.
It's easy to organize a safari of this park from surrounding towns. One of the reasons we did this activity is that it's easy to get to and didn't involve long journeys. It's also known for its elephant population and we were excited to see these animals in the wild. I also thought this would work well with kids as there wouldn't be any squinting required to see these big creatures.
We traveled to the park from Polonnaruwa in a jeep with an open back with a bench down each side. On the drive out, the driver had a cover over us which he removed when we got to the park. This meant we had great views.
In addition to driving around looking for elephants, we also did some hiking up some rocks to look for elephants which was also fun especially as we spotted them.
If you have a good driver/guide who knows what he is doing, it should hopefully not take too long to see elephants. The kids loved getting up close to these magnificent animals. I had been worried the kids would not enjoy this but actually, they loved it. Their highlight was just driving around in the jeep and they found that very adventurous.
The one downside of this park is that it can be popular so there can be a lot of other tourists around as well.
---
High Tea In Colombo
Thanks to Bron from SmithsHolidayRoad.
In the capital city of Colombo sits one of the grandest hotels we have seen. With its white facade and views over the ocean, the Galle Face Hotel built in 1864 is a real beauty.
I visited in 1990 as a teenager and enjoyed afternoon tea with my family. When we returned with our own children we knew we wanted to take them to experience a fancy high tea in this majestic building.
It is perfectly suited to school-aged children who are happy and eager to try all different types of food to get great value from the experience. The staff is welcoming towards children which is a common theme across the whole island.
High tea is available each day from 4-6pm on the Verandah. There is a wide green space where kids can play while the waves crash into the seawall and the palm trees sway.
Sweet and savory delights perfect for the whole family. My kids loved the small fruit tarts, ribbon sandwiches, and fresh juices.
It is the perfect experience to share together as a family in amongst the beach, temples and safari adventures you can have across the whole island.
After high tea, the Galle Face green area is perfect for a wander and to fly a kite or watch the local kids playing cricket.
Price: LKR 1854 (platter)/ US$ 10
Location: 2, Galle Road, Colombo 3
Duration: 4.00 p.m. – 6.00 p.m.
Contact No.: 011 2 541 010
For more information on traveling in Sri Lanka with kids, please click here.
---
The Udawalawe Elephant Orphanage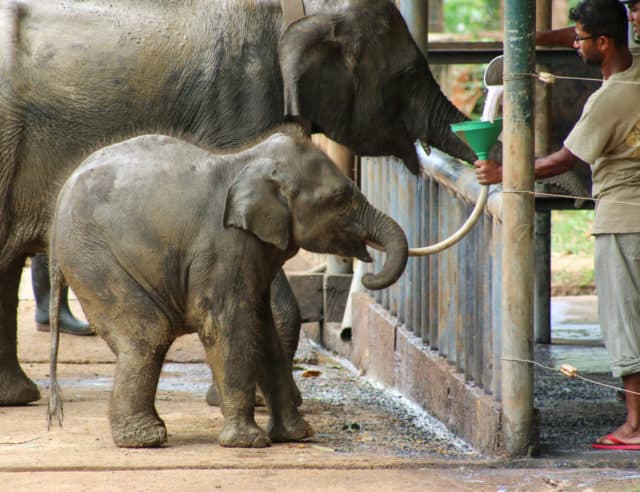 Thanks to Alana from FamilyBitesTravel.
The Elephant Transit Home (ETH) is the only genuine elephant orphanage in Sri Lanka. This park was established to help deal with the on-going elephant-human conflict. Many baby elephants are misplaced and need help.
ETH is located a short drive from Udawalawe National Park. It is an ideal addition to a jeep safari to see wild elephants. They have been able to release over 100 orphaned elephants back into the wild.
To protect the calves and to limited contact with humans, you observe the cute antics from a viewing platform around 50 meters away.  The calves are free to roam the jungle together and return to get a drink of milk every 3-hours.
The calves are adorable no doubt, but it was unfortunate to see how many elephant calves were in the orphanage, we counted around 60.  The small fee to enter is a donation to help cover the milk costs for the orphaned elephants. Each baby elephant will require up to 11-liters per day.
There is also a small museum with very informative photos and information about the Sri Lankan elephants and their plight in the wild. My kids learned a lot and loved to watch the baby elephants play.
A word of caution people about the more famous "Pinnawalla Elephant Orphanage" in Sri Lanka. Unfortunately, that center is nothing more than permanently chained adults and a ruse for breeding elephants for use in temples.
I would urge you to support the Elephant Transit Home if you wish to help. The Udawalawe Transit Home has an essential role in the protection of the Sri Lankan elephants.
If you would like to know more, please click here.
---
Surfing in Unawatuna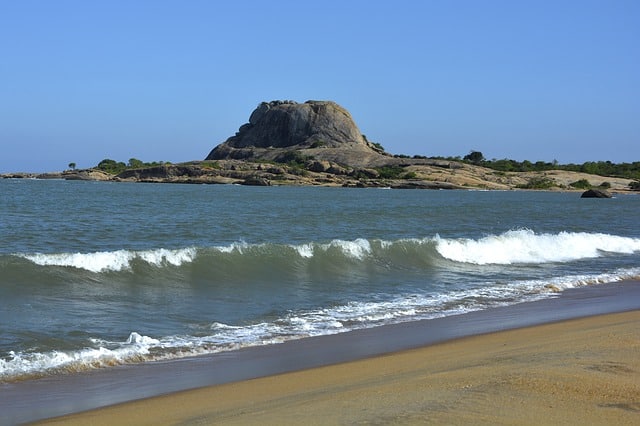 Thanks to Bradley from DreamBigTravelFar.
If you and your family love to be active when you're away, then you have to visit Unawatuna. We could spend hours talking about all of the great things to do in Unawatuna. But perhaps the most exciting has to be learning to surf.
Sri Lanka, in general, is pretty famous for its large number of breaks on the South and Eastern coasts.
However, Unawatuna is perhaps the best spot for people of all skill levels. Depending on the time of year that you go, certain breaks might be better than others.
But Unawatuna Beach is normally a pretty good spot to head to. They have a number of surf schools situated all along the beach. My favorite spot was Sahana Beach which is about 10 minutes away by tuk-tuk.
They offer lessons to adults and kids alike and charge around LKR 1500 for an hour and a half session. But if you get the whole family involved in the fun, I'm sure you could barter out an even better deal!
Or, if surfing is still a bit daunting to some of the younger kids, then why not try bodyboarding? It requires very little in the way of skill, and is so much fun … even I still love it!
Read more on other things to do in Unawatuna/Sri Lanka.
---
Visiting A Tea Plantation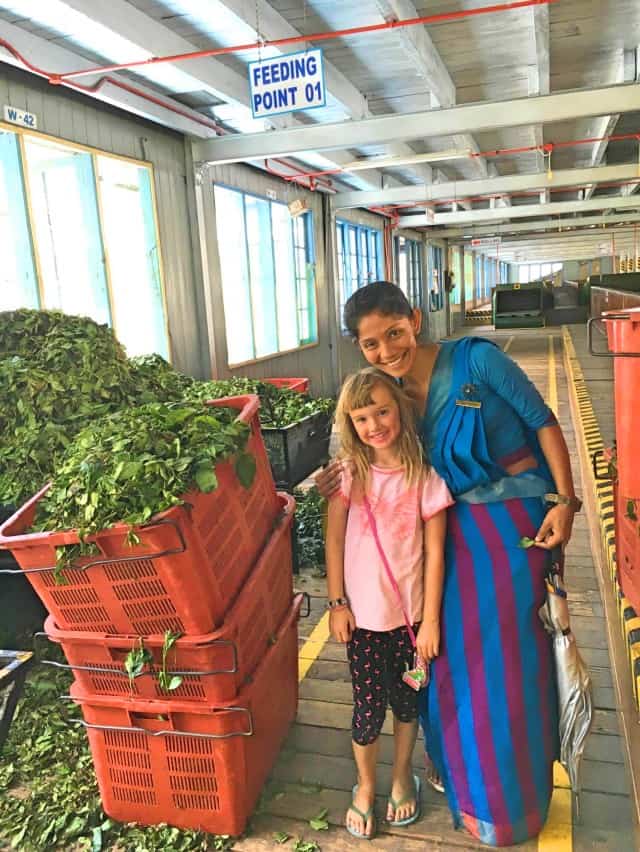 Thanks to Kylie from Our OverseasAdventures.
If you're visiting Sri Lanka with kids then a visit to a tea plantation is an absolute must-do. The central Sri Lanka highlands are home to some of the best tea growing areas anywhere in the world, and it's a great experience to visit one with your kids for a number of reasons.
Firstly, it's great for them to see first-hand where tea comes from and how it's grown – it doesn't just come from a shelf in the supermarket! It's also a good life lesson to visit the plantations to see how hard the tea pickers work, with very long hours doing literally back-breaking work. It certainly inspired some interesting conversations in our family.
The best place to visit a tea plantation is either Nuwara Eliya or Ella – both of these beautiful towns are surrounded by plantations and many allow you to take tours of the plantations and see inside the factory where the tea is dried and separated into different grades.
We visited the Blue Field Tea Factory in Nuwara Eliya where tea is grown at 1200 meters about sea level. After an interesting tour with an informative guide, we visited the on-site restaurant to sample the different types of teas that grow there. The kids all tried a sip of it too!
Blue Field Tea Factory is also the perfect tea plantation to visit with kids as they have a basic on-site playground beside the restaurant.
---
Go On Safari At Yala National Park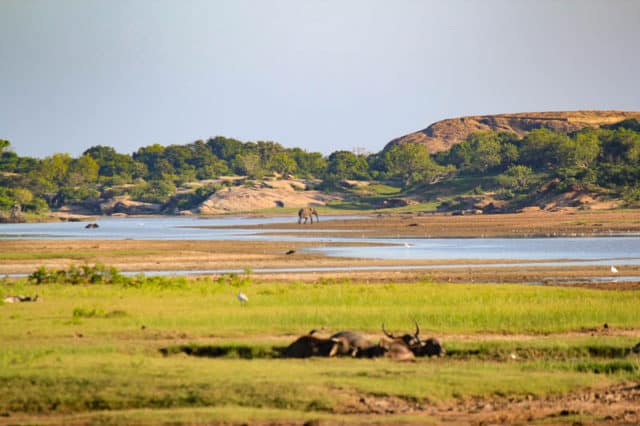 Thanks to Katy from UntoldMorsels.
In the southeast of Sri Lanka, Yala is a huge national park that covers over 1200 square meters. It is home to elephants, crocodiles, buffaloes, and monkeys who graze on the grassy plain and scrubland and drink at the lagoon. And this makes Yala the perfect place to go on safari.
We toured Yala with Kulu Safaris who aim to be the ecologically conscious safari operator in Sri Lanka. The guides' respect for the animals in the park and the environment was evident during our tours of the park and in their safari camp.
They knew where to find the animals and how to approach them in the most appropriate way. This caring attitude carried through to their guests. They made sure children of broad age groups were comfortable and happy during our sessions out in the park.
Apart from the abundant wildlife I mentioned earlier, most people visit Yala to see its community of leopards. At Yala, there is some highest density of leopards in the world with just one block of the park home to 25 of the beautiful creatures. Leopards are very shy though so if your family wants to see them, make sure to join an experienced safari tour.
Touring Yala is a great way for children to get close to and respect nature. Our memories of Yala are of wandering elephants, sleeping leopards and campfire chats back at camp. The safari was a highlight of our trip to Sri Lanka.
---
Whale Watching In Mirissa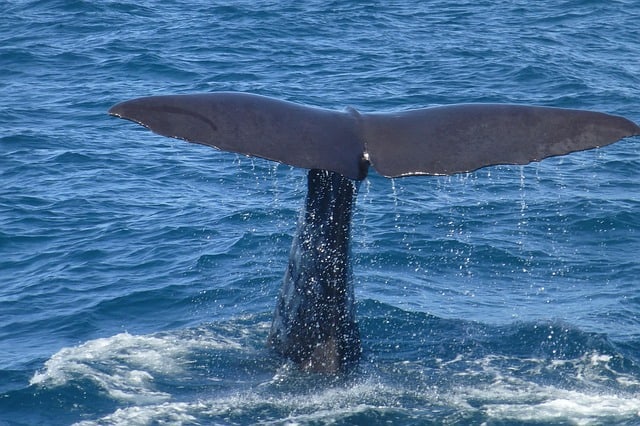 Thanks to Sam and Natalia from  SomethingOfFreedom.
Mirissa is a brilliant destination in Sri Lanka for families with children that have an interest in marine life or just wildlife in general.
The small town on the country's south coast is a great place to take a whale watching tour, as it's one of the best places in the whole world to spot blue whales! Witnessing such majestic creatures is a wonderful experience for both adults and children, and provides a memory the whole family will never forget.
Although the main focus of the tour is to find blue whales, it's common to see other marine life too, with dolphins, orcas, whale sharks, turtles, sperm whales and more found in the area. Making a game out of who can spot the animals first is a great way to keep the kids focused and entertained throughout the trip.
Although whale watching tours do run all year, the main season is November to April. During this time there are sightings of blue whales on around 95% of trips.
Between May and October tours do run, but the chances of seeing blue whales are lower. It is also good to know that in these months it's also more common for tours to be canceled due to bad weather/rough seas.
Therefore,  we highly recommend booking whale watching tours between November and April to avoid the children getting seasick!
If you're looking for an unforgettable experience to share with your children, then whale watching in Mirissa is an absolute must!
Read more about Mirissa in this detailed guide.
---
The Royal Botanical Garden In Kandy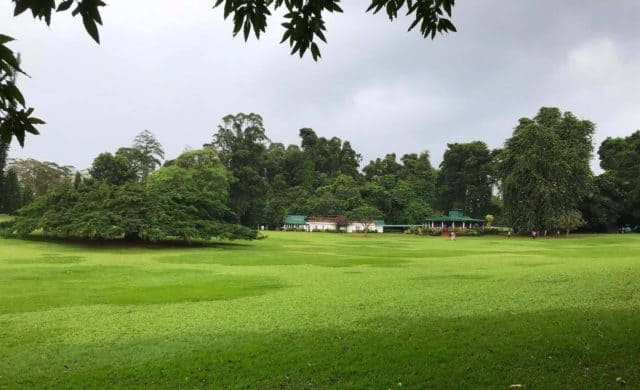 Thanks to Pujarini from MySoulTravels.
Sri Lanka has many gems to be explored however a trip to the northern hill country with kids cannot be completed without visiting the Royal Botanical garden in Kandy.
The green patch in the misty hill city was not on our radar when we visited Kandy, however, our host insisted, we visit it with our toddler and what a perfect suggestion it turned out to be.
The garden is spread across 147 acres and includes 4000 different species of plants and trees. The garden, earlier reserved for only royalty, was conceived in 1371 and was converted into a botanical garden in 1821.
The expansive garden has some very unique avenues and corners. A walk through the garden will take you through various avenues with distinguishing features like the Double Coconut Avenue, Cook's Pine Avenue, Royal Palm Avenue, Palmyrah Palm Avenue, and Cabbage Palm Avenue.
The garden is famous for its spectacular collection of orchids displayed in the Orchid house. However, kids seem to love the great circle and the memorial trees. Younger kids love to run free in the green grassy central area surrounded by exotic trees and our toddler made quite a few friends there.
The trees bordering the circle have been planted by famous dignitaries who have visited the botanical garden from around the world. Older kids find this area quite interesting as you would see different trees with boards mentioning world renown leaders, princes, and kings from the pages of history.
Another highlight of the garden is the suspension bridge over River Mahaweli, that runs along the garden. We visited the garden on a rainy day where the canopy shade allowed us to have as much fun as we would have had on a dry day.
---
Little Adam's Peak – The Perfect Hike For Kids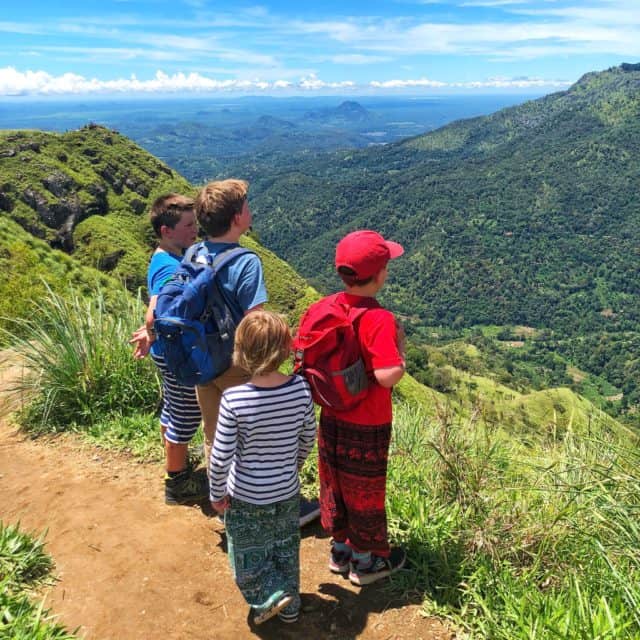 Thanks to Daisy from InspireCreateDo.
One of the best things about Sri Lanka is hiking, and we certainly didn't want to miss that experience, just because we were traveling with kids. In fact, we wanted to make sure that they experienced it too, so we stayed in Ella long enough to fit in a trip up Little Adams Peak.
Ella is so family-friendly, and you can walk from the town using the signs,  or catch a tuk-tuk for just a few minutes to get the bottom of the trail which leads you up to Little Adams Peak.
The trail is well marked and starts out as a wide track, passing through rice fields and then slowly winding up to steeper, stepped pathways until with a short scramble up the last few meters, you reach the top and are rewarded with views in all directions across the plains to distant mountains.
At the top, skirt around the people taking selfies on the cliff edge and head along the edge for a quiet moment. Our youngest at 5 managed this one hour walk easily.
There's lots to see on the route, including workers in the fields keen to pose for photos, children selling fruit and hawkers with snakes and monkeys. Be aware that there's not a lot of shade and the views get hazy when the rain comes in.
My best advice is to head out early in the day and be sure to take water with you.
Once you have hiked up, reward yourself with a cool drink from the cafe at the bottom of the track, which has amazing views from its garden and a kids petting corner too.
---
Practical Tips For Traveling To Sri Lanka With Kids
How To Get To Sri Lanka
The only way to get to Sri Lanka is on the airplane. You will arrive at the international airport Katunayake just north of Colombo.
Flight times
from Europe: around 10 hours
from North America: around 20 hours
from Australia/New Zealand: 16 hours
---
Visa Requirements
Most tourists will need a visa to enter Sri Lanka. The tourist visa is valid for 30 days and costs US$20 per person. It is recommended to obtain a visa before arriving in Sri Lanka.
I also strongly recommend getting travel insurance. Read more in my post How To Buy The Best Family Travel Insurance
---
Best Time To Travel
The weather in Sri Lanka is very complex and varies due to two monsoon seasons.
As a general guideline, the best time to visit the west and south coast and hill country is from December to March. The east coast is best from April/May to September.
Kandy – Inland: January to April
Nuwara Eliya: January to April
Yala National Park: February to June
Colombo and Galle: December to March.
For more details, please read here.
---
What To Pack
I will keep this part quite general because a lot on what you'll need to bring depends on the age of your children.
If you are planning to travel inland, you'll need warmer clothes and solid shoes like hiking shoes, a comfortable daypack, and a light rain jacket.
Here is a short list to give you an idea:
for toddlers, preschoolers, and older children a comfortable daypack (find one for girls here and for boys here)
sandals and hiking boots
a sun hat
a travel adapter
light summer clothing but also long sleeve tops and rain jackets for inland travel
Related posts: The Best Travel Gears For Babies And Toddlers 2018
Travel Accessories For International Travel
---
Where To Stay
We usually love to book a house or apartment to be more flexible with our children and to have more privacy. There are lots of options for holiday homes available on Airbnb.
Click on the link, and you could save $$$ on your first stay with Airbnb. Click Here.
Or, if you rather stay in an affordable hotel or resort, you can book via our favorite booking engine
Booking.com

---
If you have any questions, suggestions and travel tips regarding a family vacation in Sri Lanka I would love to hear from you. Please leave a comment below.
Happy Travels!
~ Anke
---
Please note, this post contains affiliate links. For more info, please read here.