My daughter is seven years old now, but I still remember what she loved to play with when she was a bit younger.
To tell you the truth, it hasn't changed a lot. Most girls love dress ups, pretend play and doing creative things like coloring in or painting. And my daughter is no exception.
How about a doll house or a baby pram to push her favorite doll around? Or, a princess play tent? These and a few more ideas you will find in my Christmas Gift Ideas for 4-year-old girls.
By the way, most ideas are also suitable for younger or a bit older girls, between three and five years.
---
Christmas Gift Ideas for 4-Year-Old Girls
#1 KidKraft Dollhouse
The KidKraft Doll House Cottage is so adorable with its three levels of open space. It includes an impressive 17 pieces of furniture and is suitable for 4″ to 5″ sized dolls.
The windows open and shut and even the stairs are removable.
This doll house is an ideal gift for any girl that loves playing with their little toys and also loves to pretend play like mom, dad, and baby.
It is perfect for more than one child to play with. So your daughter can get her friends over to have even more fun.
KidKraft has a huge variety of different doll houses with various price tags of a high -quality.
---
#2 Melissa&Doug Deluxe Standing Paint Easel
The Melissa&Doug Deluxe Standing Paint Easel is ideal for getting creative. On one side there is a chalkboard, and on the opposite, you will find a dry-erase board.
The standing paint easel is the perfect gift for any girl who loves drawing, painting, and finger painting.
The attached two large plastic trays can easily be removed and cleaned. There is also a locking paper roll holder, four clip grips as well as a child-safe paper cutter.
The height is adjustable which is great for smaller or taller children.
Please note that you would have to purchase paper, paint, brushes and paint cups separately.
A useful tip: if you use this paint easel inside, especially in Winter time, just put a tarpaulin or some old newspaper underneath to keep your house clean.
---
#3 Dress-up Costume
What a cute outfit this Little Adventures Rapunzel purple and white dress is! I think it is perfect for every girl that loves dressing up as a princess.
This adorable little dress is machine washable and made from durable, non-itchy and stretchy material.
You can also choose from different sizes according to your girl's age group.
---
#4 Princess Castle Play Tent
This is another great idea and goes with the dress-up theme.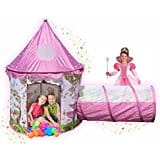 This gorgeous Playz Sunroof Princess Castle Play tent with a tunnel would make an ideal addition to the princess' dress as seen under #3.
The tent is easy to set up, foldable and comes with a lightweight zipper carrying bag. The 100% money-back-guarantee is a sure sign for the high-quality and durability for this tent.
You can use it indoors or outside. The breathable mesh design and soft fabric allow for safe play all year round.
Take it to the beach, to your next picknick, BBQ, sleepover or simply leave it at home. It will be fun for your girl (and her friends) to play in there. 🙂
---
#5 Mommy&Me First Doll Stroller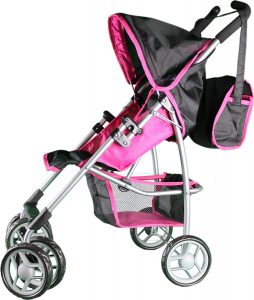 My daughter loves pushing her dolls in her very own baby stroller.
The Mommy&Me stroller is excellent quality; sturdy, easy to fold and even comes with a free diaper bag. What an awesome feature!
For a smooth super roll, this stroller has swiveling wheels. The basket at the bottom can be used to put little items in there like a baby milk bottle for instance.
I highly recommend this stroller. Your daughter, granddaughter or niece will have so much fun with this gift.
---
# 6 Three Little Pigs Toy House plus Story Book Playset
If your little darling is not into princesses or fairies, this cool Three Little Pigs Playset might be just the right choice.
Included in the set are the storybook, three toy houses, furniture, four dolls and a carry bag.
The pieces are made from sturdy cardboard like foam, and you can put them together like a 3D puzzle.
Your kid's imagination can run wild. Either follow the storybook or make up a new story.
If you rather fancy Goldilocks and the three bears, there is a playset available as well.
---
#7 Melissa&Doug Heart And Butterfly Shaped Beads
This adorable set of two boxes with colorful beads from Melissa &Doug are ideal for little girls four years and older who love making their own necklaces or bracelets.
Each box comes with 125 pieces of beautifully made heart or butterfly-shaped wooden beads. This activity is great for developing fine motor skills and creating gorgeous patterns.
Designing your own jewelry would be a perfect activity for rainy days or an afternoon with the family.
The boxes don't have a proper lid so it might be useful to get an extra storage container.
---
#8 Gorgeous Luggage For Girls
Why not give your daughter her own little luggage? The yodo rolling luggage is so adorable and can be used as a backpack, suitcase or rolling luggage. Perfect as a travel bag, school bag or for a sleepover at the grand parent's house.
The owl design is so cute and I am sure your daughter will love it.
The yodo playful luggage is my number one recommendation for younger children. Read my detailed review here.
My children love their luggage and spend hours to pack and unpack for their next vacation or a trip to a friend's house.
---
# 9 A Little Passports Subscription
 The Early Explorer Subscription with Little Passports is a perfect gift aimed at preschoolers from 3 to 5 years. Go on an adventure with Max, Mia, and Toby and explore our big, wide and wonderful world.
The first-month Travel Kit comes with a fun orange Suitcase, a wall-sized world map, a 20-page activity book, and stickers.
Each month focuses on a theme and each box contains activity books, a game, little souvenirs and much more.
Because my kids are a bit older, I subscribed for the World Edition and my children loved it. You can read my full review here.
You can choose from a monthly, 6-months or yearly subscription. My kids always got excited when the mail arrived and they found a special letter with their name and address on it in the mailbox.
And then open it to see what is inside!!! I'd say that is like having Christmas a few times in a year.
Award-winning subscriptions for curious kids.
Your daughter will love you for it.
---
 Wrapping It Up
I loved putting these Christmas gift ideas together. It is so much fun and brings back memories.
If you are looking for some ideas for older girls (5 to 10 years), here is the best place. Need some gifts for a boy age 6 to 11 years; then please click here.
What is your favorite present to give? Have you found something you like? Or, you might even have some more ideas. Please let me know in the comment box below.
I wish you a wonderful Christmas!
Anke
---
funtravelingwithkids.com is a participant in the Amazon Services LLC Associates Program, an affiliate advertising program designed to provide a means for sites to earn a commission by advertising and linking to Amazon properties including, but not limited to, amazon.com.  Amazon offers a small commission on products sold through their affiliate links.
 If  funtravelingwithkids.com links to an Amazon product (with a special code for affiliates embedded in the link) and you buy this item or any other product, funtravelingwithkids.com will get a small percentage of the sale.
The product will cost the same either way if you make a purchase through an affiliate or non-affiliate link.
 I always recommend products I have used or would recommend to friends and family.