It is this busy and exciting time of the year again. Are you looking for the perfect gift for your family? Then this guide is for you.  It is aimed to give you some inspiration on what to get for your daughter, niece or granddaughter.
My Christmas gift ideas are suitable for girls from around 5 to 10 years of age. I have based these thoughts on what my daughter and her friends love and what has brought joy and excitement to her over the years.
By the way, the ideas are listed in no particular order. I do hope you love my Christmas gift ideas for girls.
---
Gift Ideas For Girls 5 -10 Years Old
Lego Friends Heartlake Cupcake Café
My three children (two boys, one girl) love Lego. The boys, of course, love Star Wars and my daughter loves Lego Friends. It keeps her busy for ages.
First, to build the set and once she has finished it, she plays for hours. It is, even more, fun when her friends come over.
They make their little creations out of the Lego parts which are a cool thing to do. Their imagination can run wild.
I do love that I can choose from different sets according to my girl's interest e.g. horses, pop star, hairdresser but also according to my budget.
The prices vary between $15 up to $80, depending on the size. The smaller sets would also make a perfect stocking filler.
---
 A Travel Suitcase
We travel a lot and have found it very useful when our children have their own bags. When Mariana got her travel bag, she was so excited.
It is very special to her; she packs and unpacks the bag and rolls her suitcase all over the house.
Not only is a suitcase a practical gift but also makes your girl feel important and independent.
It is a great thing to have not only for travel but also when she goes to a sleepover either to her friend's place or her grandparents.
The Yodo Rolling Luggage Owl is our number one choice because it is not only cute and colorful. It can be used either as a backpack or rolling luggage.
For a full review of this and other suitcases, please click here.
---
A Subscription for Little Passports
My family and I love Little Passports ( read my full review for more information here), and I think it would make a lovely Christmas or Birthday present.
Whether you and your family love to travel or you would like your kids to learn more about the world; either way, the Little Passports subscription helps your children to prepare for your next vacation. Or, they can travel with their fingers on the huge world map. 🙂
There is something for every age group. For the girls from 6 to 10 years, I would recommend the World Edition.
Take a sneak peek at the World edition for Exploring Thailand with Kids. Or, delve into the USA Edition and Travel to Louisana and Oregon.
Depending on the age, your child might need some support on your part. Why not explore the world together and enjoy some bonding time.
Click here for Award-winning subscriptions for curious kids. 
---
Pick-Omino Board Game
Pick-Omino is one of my daughter's favorite game. The rules are pretty straightforward and easy to understand.
It's a fun game that will get your kids counting and chasing the worms from the Bbq. Whoever manages to get the most worms, wins the game.
[For more board game ideas, please read my blog
Eight Most  Entertaining Board Games  For Kids 5 Years and up
]
This game will give your children hours of fun and laughter; it's also perfect for a family game evening especially on rainy, snowy, cold winter nights and, they are the best alternative to the ever-present electronic devices.
---
A Unicorn Gift Set
Most girls love Unicorns. They are such magical loveable creatures that are hard to resist.
This four-piece Unicorn Gift set has it all: a beautiful necklace with one of my favorite inspirational quotes, five hair ties, a make-up bag, plus a drawstring bag that is big enough to hold lightweight items like gym clothes or an iPad.
This set is available in four different designs and colors.
For more adorable Unicorn gift ideas, please click here.
Get The Unicorn Gift Set On Amazon
---
Girl's Diary Set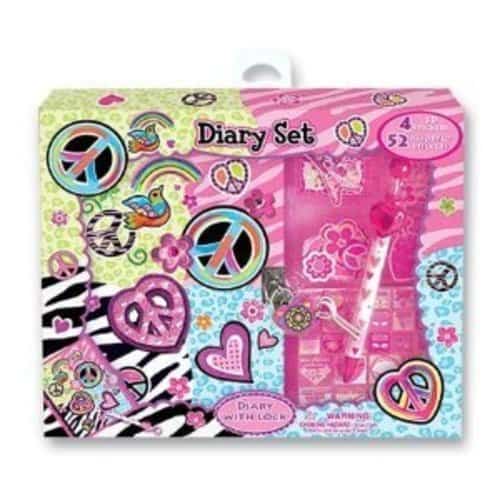 Most girls love being creative and writing little stories. My daughter loves her lined journal with a lock and a fancy ballpoint pen (black ink).
The set also includes 50 assorted stickers and a few 3D stickers, so your darling can create her own cover.
I think that keeping a diary is a great way for our kids to express themselves, write about their emotions or just to doodle or draw a bit.
The key – lock combination can be a bit flimsy. I think that is an issue most diaries have, though.
Overall, this diary set would make a great birthday or Christmas gift.
Get The Girls' Diary Set On Amazon
---
A Mermaid Tail Blanket
This Mermaid tail blanket is just adorable. If your daughter loves Mermaids, (I think every girl does at the moment); then this snuggly, soft, stretchy blanket is the perfect gift.
The blanket is hand crocheted from a material mix of 70% cotton and 30% acrylic. You can machine wash at a low temperature and also tumble dry.
The size is 55.1″ x 27.6″ (140 cm x 70 cm) and is, therefore suitable for kids, but you can also get it in an adult size. This gorgeous blanket is warm but breathable and ideal for snuggling up on the sofa to read a book or to watch TV.
I do love the variety and different colors and the fact that this blanket comes with a special gift, a free Mermaid pendant.
Get The Mermaid Blanket On Amazon
---
Books
I am fortunate that my children love reading. A book is always on their wish list. My saying is that one can never have enough books. 🙂
Below, you can find some of our favorite stories.


---
Kid's Travel Journal
Are you planning your next vacation or weekend trip with your family? If yes, then this kid's travel journal might be the right present for your daughter.
The hardcover book is beautifully illustrated and makes it easy to write down notes and memories about every day on your family trip.
The journal also includes games that will help to make a flight or road trip go faster.
It's a great way to paste in postcards, photos, or other little souvenirs.
Get The Kids' Travel Journal On Amazon
---
A Girl's Watch
The gorgeous Timex girl's watch comes in nine different designs which are simply adorable. The elastic fabric strap is washable and adjusts easily.
The elastic fabric strap is washable and adjusts easily. The watch is water resistant but not suitable for bathing or swimming.
The cute designs make it fun to learn how to read the time. The colors are very much on-trend.
My daughter loves her watch and is showing it off to her friends at school.
The Timex girl's watch comes in a gift box.
---
Summary
This is just a small collection of gift ideas. There are so many more things a girl would love like dolls, handbags, coloring -in books, dresses, scarfs – the list could go on.
But I wanted to share with you what we love to give in our family because I know what my children love and what will get used even after the Christmas season is over.
I would love to hear if you have found something you would like to get for your daughter, granddaughter or niece.
Here is a list of my other Gift ideas guides for different age groups
Christmas Gift Ideas For 4-Year-Old Girls
Beautiful Christmas Gift Ideas For Toddler Girls
All About Christmas Gift Ideas For Toddler Boys
Christmas Gifts For Four Year Old Boys
The Best Christmas Gifts For Boys – Age 6 to 11
Ten Cool Christmas Gifts For Kids For Under 15 Dollars
I wish you a very special Christmas time with your family!
All the best from Anke
---
funtravelingwithkids.com is a participant in the Amazon Services LLC Associates Program, an affiliate advertising program designed to provide a means for sites to earn a commission by advertising and linking to Amazon properties including, but not limited to, amazon.com.  Amazon offers a small commission on products sold through their affiliate links.
 If  funtravelingwithkids.com links to an Amazon product (with a special code for affiliates embedded in the link) and you buy this item or any other product, funtravelingwithkids.com will get a small percentage of the sale.
 I always recommend products I have used or would recommend to friends and family.