In my post, you will find some cool Christmas gifts for kids for under 15 dollars. Some are more suitable for boys, and others are better for girls. But these gift ideas have two things in common: they are affordable with a price point of under $15 and are good quality products.
It can be quite challenging to find something that doesn't cost the earth and, at the same time, is good quality as well.
So, here we go. Have fun exploring my gift guide. 🙂
---
#1 Dream Catcher Kit
Dream catchers are hugely popular. They supposed to help to catch bad dreams but are also a beautiful decoration for any kids bedroom.
This kit set is aimed at children eight years plus. With some help from parents, I would say it is also suitable for younger children.
I love the variety of different colors and materials like 17 assorted feathers and 49 beads plus a dream catcher hoop of course.
This beautiful dream catcher set includes an instruction manual and even a journal.
Get The Dream Catcher Set On Amazon
---
#2 Hot Wheels Gift Pack
This Hot Wheels gift pack would be an ideal present for any kid that loves cars. My boys are 10 and 11 years old now, and they still love playing with their Hot Wheels.
The pack contains nine cars including one exclusive decoration car, not available anywhere else.
The cars are sturdy and high quality and will last for years to come. Great set for a great price!
Extra tip; they also make great stocking fillers. 🙂
---
 #3 The Cube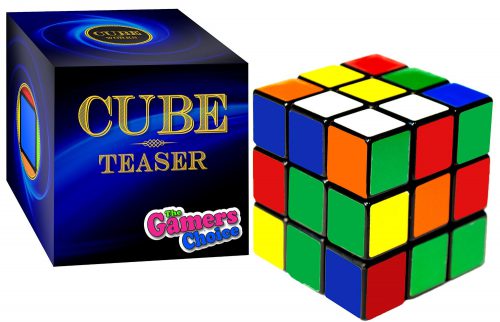 The cube is back in fashion again so join the trend. An ideal gift for boys and girls and anyone else who loves solving 3D puzzles.
The cube is a perfect stocking filler and great to take on a holiday, in the car or plane.
The manufacturer of the Cube Teaser offers a Risk-free purchase. If anything breaks or is faulty in within the first year of purchase, you will get a full refund or a  brand new cube.
That is excellent customer service!
---
#4 Ravensburger Puzzle Dory
Ravensburger is known for its great quality products, and this puzzle is no exception. Bright and colorful and the right size for these little hands.
This box includes three puzzles with 49 pieces each. Even though it says on the packet suitable for ages five plus, I think it is also perfect for younger kids at around four years old.
Solving puzzles is a cool and relaxed activity for most kids. My little munchkins spend hours doing puzzles. In our household, it is more a challenge to keep the pieces in one place. 🙂
---
#5 A Troll Doll
Every kid needs a cute, adorable, huggable doll and this gorgeous Troll doll is perfect for it. With 12″ tall it is a bit on the smaller side so it would be ideal as a stocking filler.
So if your child loved the Troll movie, this troll doll would make a cool Christmas gift.
---
#6 Yahtzee Boardgame
This game is a classic and one of the most popular board games since its invention 50 years ago in the United States. We love Yahtzee and so will your kids.
Read more about Yahtzee and other board games on Eight Entertaining Board (And Other) Games For Kids 5 And Up
Yahtzee is fun for the whole family and also fantastic when your child has friends over or for birthday parties. You can easily pack it in your travel luggage to take on your next holiday.
---
#7 Melissa&Doug Scratch Art Set
If your child loves to do creative stuff, then this deluxe combo scratch art set by Melissa&Doug might be the right present.
The set includes 16 different scratch art boards and sheets as well as two wooden stylus tools and three easel frames. I would recommend this art set for children from 8 to 12 years old.
Scratch the waxed paper with the wooden stylus tool and watch the magic happens. The artwork could be framed, and either hang up in the kid's room or could be a present for a loved one. Have fun to get creative!
---
#8 Paint&Sip Ceramic Mug
Another art project on the go – paint your own ceramic mug. The pattern is pre-painted, but you can choose your colors and combination. This way your child can create her unique cup.
The set contains six ceramic paints, a paintbrush, and instructions. The recommended age is from eight years plus.
What a fun way of getting a  hand painted, colorful mug. This kit would make a wonderful present!
---
 #9 Diary Of A Wimpy Kid – Cabin Fever
How about giving a book for Christmas? The Diary of a Wimpy Kid series is just excellent. Easy to read and the kids can relate to the main character's trials and tribulation.
Being a kid can be hard and Greg somehow manages to get himself into trouble, especially now, when  Christmas is just around the corner! Can Santa really see what Greg is up to? Does it mean, Greg won't get any presents for Christmas?
These and many more questions will be answered in yet another entertaining book written by Jeff Kinney.
---
#10 Ligretto Card Game
Here is another (card)game idea that will get your kids excited. Ligretto is a fast-paced game with easy to follow and straightforward rules.
Even my 6-year-old daughter plays this game. It is fun and you have to be very quick to win the game.
The box is not too big so would make a perfect stocking filler as well.
---
Wrapping It Up
And, did you find anything? These gift ideas don't cost too much and your kids will be happy to find them under the Christmas tree.
Are you looking for some more inspiration? Check out my other posts to get more Christmas gift ideas.
Christmas Gifts For Four Year Old Boys
Christmas Gift Ideas For 4-Year-Old Girls
The Best Christmas Gifts For Boys (6 to 10 years)
My Ultimate Christmas Gift Ideas For Girls (6 to 10 years)
I would love to know if you have a favorite Christmas present. Please share in the comment section below.
---
 funtravelingwithkids.com is a participant in the Amazon Services LLC Associates Program, an affiliate advertising program designed to provide a means for sites to earn a commission by advertising and linking to Amazon properties including, but not limited to, amazon.com.  Amazon offers a small commission on products sold through their affiliate links.
 If  funtravelingwithkids.com links to an Amazon product (with a special code for affiliates embedded in the link) and you buy this item or any other product, funtravelingwithkids.com will get a small percentage of the sale.
 I always recommend products I have used or would recommend to friends and family.