Auckland is New Zealand's biggest city with over 1,5 million people living in this cultural melting pot.
It is usually the first city (besides Christchurch) tourists see when they arrive in our beautiful country New Zealand/Aotearoa.
There are plentiful things to do with kids in Auckland but sometimes it is a great idea to escape the hustle and bustle of this multicultural city and explore Auckland's beautiful surroundings.
This post is not only a guide for tourists who might only have a short time to visit but also for kiwi families who want to explore their own backyard.
Our recommended day trips from Auckland with kids are best explored by car, and the furthest distance away is a day trip to Hobbiton (for all "Lord of the Rings" enthusiasts) which is around 2 hours one way.
Related Posts: Top Things To Do With Kids In NZ's North Island
10 Tips For Family Road Trips In New Zealand
Whether you like hiking, snorkeling, taking a glass-bottom tour to admire underwater sea life, beautiful gardens, zip-lining, or experiencing Maori culture – there is surely something you and your kids will enjoy.
General Tips Before Heading Out On Your Day Trip
When you are driving by car, I always recommend either have a GPS installed or use google maps on your phone; driving through Auckland can be really confusing
Remember, Kiwis drive on the left side of the road so make sure to familiarise yourself with road rules and make sure to stay on the left
The roads are often quite windy so speeding is not an option
Pack layers of clothes because the weather can be unpredictable
Always have sunscreen on hand (at least SPF 30); New Zealand's sun is very harsh and you can get sunburned in a flash
As for the best travel season, if you can, avoid the busy time during the Christmas holidays and New Years's; I personally love Autumn (March-May) because of the mild climate and beautiful Autumn colors
Lastly, never ever leave any valuables in the car; even though New Zealand has a good reputation, you'll find thieves here just as much as anywhere else in the world
---
The Best Day Trips From Auckland With Kids
A Day On Waiheke Island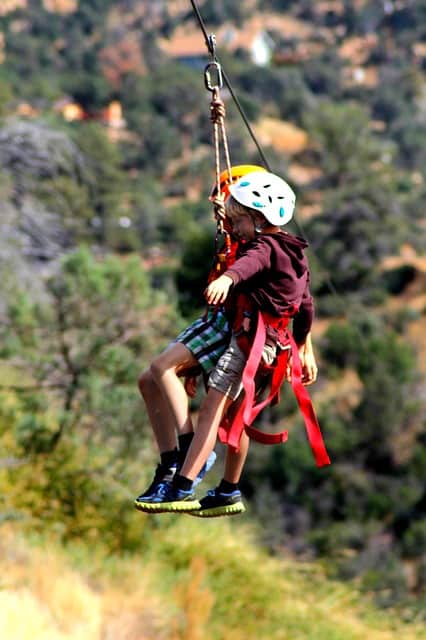 One of the best day trips from Auckland with kids is a visit to Waiheke Island. This popular tourist spot not only boosts beautiful sandy beaches, safe for kids to play and swim in but also plenty of kid friendly activities.
Waiheke Island is only a 40 minutes ferry ride away from downtown Auckland.
Or, if you want to be more flexible, you could take your car over on the car ferry.
You can choose to go either from Half Moon Bay, Wynyard Wharf, or Kennedy Point. Here is a link to get more information including timetables and prices.
Another option is to hire a car on the island so you can explore Waiheke at your own leisure.
One of the highlights you don't want to miss if you are visiting on a Saturday is the famous farmers market, called Waiheke Ostend market. You'll find delicious food, quirky gifts, second hand clothing, books, art, and so much.
If the weather allows, the kids can have fun on the bouncy castle. It is a great way of mixing and mingling with the locals and tourists alike.
An exciting activity for families with kids is doing a ziplining adventure with EcoZipAdventures. They have three parallel 200 metres long zip lines so you can enjoy spectacular views of the sea and even Auckland City in the back together.
Afterwards, a tour guide will take you on a guided tour through the forest on a nature walk.
Prices: Adults: NZ$129; Children: NZ$ 79: Family pass (2 Adults + 2 Children under 15): NZ$ 337
Now it's time to explore the popular beaches, like Onetangi or Oneroa which features a nice playground.
You could have a picnic at the beach or choose from the many cafes or restaurants which usually also offer a kids menu.
If there is still time, you could also visit a winery. I am sure your kids won't mind.
Either way, you will have a fantastic time away from Auckland city.
---
A Visit To Hamilton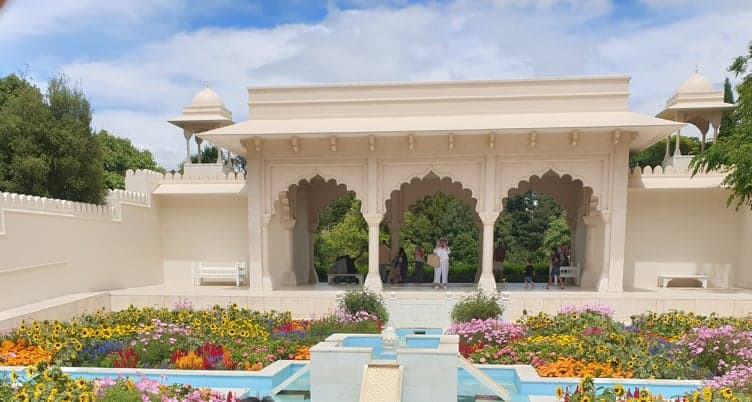 Hamilton is the closest city to Auckland with only a quick 1,5 hours car drive away.
Even though it is a city with over 170 000 people, Hamilton never feels as crowded and busy as its neighbor Auckland.
Our favorite place to visit in Hamilton and a must-see in my opinion are the Hamilton Gardens.
The Hamilton Gardens are a place that almost feels magical with its different themed enclosed gardens, like Italian Renaissance, the Indian Char Bagh garden (my personal favorite), or the Japanese Garden of Contemplation, just to name a few.
Another highlight is Te Parapara, New Zealand's only traditional Maori productive garden. It showcases how Maoris used to produce and store food.
Kids can run around and will find something exciting in every corner. You can print off activity sheets for your kids beforehand to have a bit of a scavenger hunt. (here is the link)
It is easy to get around with a stroller, and if you get thirsty, there are lots of water refill stations around the park.
Since the park is located alongside the 'mighty' Waikato river, there are also safe swimming spots for kids on hand.
Or, after all this time walking and exploring, you can relax by the lake with ice cream or get lunch at the cafe.
Hamilton Gardens, Hungerford Crescent, Hamilton East
Free Entry
Free parking
Guided tours are available: Adults NZ$ 20, Children (6 to 14 years) NZ$ 13.50; under 5's are free
Open daily
Opening hours Enclosed Gardens: 7.30 am – 7.30 pm
If you want to go for lunch or dinner, later on, I highly recommend one of my favorite eateries "Madame Woo" which is specialized in Malaysian cuisine.
They also have a kids menu where each meal comes with an ice cream as dessert.
Other things to do in Hamilton are a visit to Hamilton Zoo, a Waikato river cruise, and a visit to Hamilton's best playground situated at Hamilton Lake Domain.
---
Fancy A Trip To Hobbiton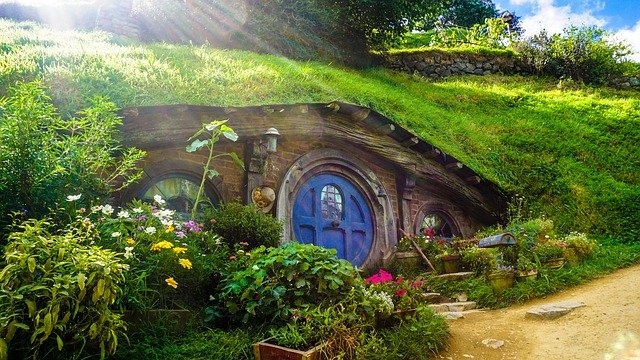 If you and your family are fans of the "Lord Of the Rings" and "Hobbit" movies, then a visit to Hobbiton is a must-do.
Come and explore the famous movie set of the shire, including the Dragons Green Inn.
The Shire's Rest, where all tours start, is a two hours car drive away from Auckland. That is where you find the ticket office, a cafe, and a gift shop.
From here, buses will take you on a 10 minutes ride to the movie set where the adventure begins.
All tours are guided and it is best to book a tour online in advance.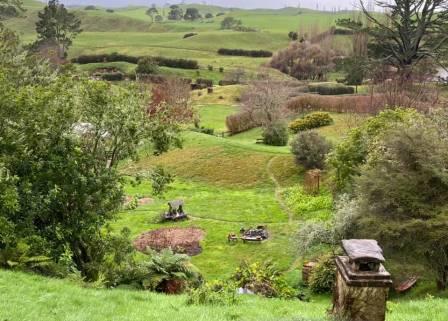 The two-hour walking tour follows narrow cobblestone path where you'll discover the hobbit holes, the Mill, and as mentioned before the Dragon's Inn. In here, you will be served a complementary 'Southfarthing' beverage.
But no worries, children will get a nice refreshing ginger beer.
Don't forget your camera, to take amazing photos of yourself and your kids in these spectacular surroundings of Middle Earth.
Tips:
It is best to be prepared for all kinds of weather since you will be walking outside for around two hours. New Zealand is very hot in summer and you can easily get sunburned. So a hat and even a long sleeve top are best to protect yourself from the harsh sun.
A water bottle should be carried too to stay hydrated.
If you have younger kids, e.g. toddlers, you may also bring a stroller. Please keep in mind that the paths are cobblestone and narrow. So you may need help with pushing the stroller now and again.
The Shire's Rest, 501 Buckland Rd, Hinuera, Matamata. 

Tours depart daily at 9.30am, 10.45am, 12.00pm, 1.15pm & 2.30pm

Prices: Adults (17 years plus) NZ$ 89; Youth (9 to 16 years) NZ$ 44; Children (0 to 8 years old) free
---
Explore Sealife Around Goat Island (Te Hawere-a-Maki)
Location: From Auckland take the SH1 north to Warkworth (about an hour) and follow the signs to Goat Island Marine Reserve.
Goat Island or Te Hawere-a-Maki is a tiny island that is just a 100 metres away from the mainland. The area around it is New Zealand's first Marine Reserve where you can swim and snorkel to discover an abundance of sea life.
Here you can choose from a variety of activities. You can hire snorkel gear at Goats beach, hire a kayak (suitable for children from 8 years plus) or go on a glass bottom boat tour which is suitable for all ages.
A tour on the glass bottom boat takes 45 minutes and departs several times a day. A family pass for 2 Adults and 2 Children (3 to 15 years) costs NZ$ 110.
You will see all kinds of fishes, reefs, and even occasionally sharks, dolphins, and whales.
Afterwards you could visit the Goat Island Marine Discovery Centre which offers a tide pool full of sea life creatures which the children can touch to have hands-on experience so to speak.
There are also activity sheets for kids available.
The discovery center is open every day from 10 am to 4 pm. Admission for a family of four is NZ$ 20.
---
Matakana Country Park Estate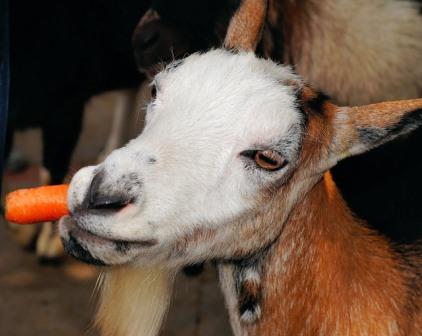 Matakana is only an hour drive away from Auckland which makes it a perfect destination for a day trip or even a weekend getaway.
One of the things we'd like to recommend is a visit to the Matakana Country Park Estate which offers something for everyone, from pony rides, a mini train that operates on the weekends and during the school holidays, to an animal petting zoo, and an Adventure playground.
The country park opens daily from 6 am to 9 pm but it is important to note that all businesses operate separately so therefore have different operating hours.
Here are exciting news for older kids and adventurous adults. Since the 25.02. 2021, the country park also includes the Action Ninja Warrior World.
Action Ninja Warrior World
This theme park is ideal for older kids and grown-ups who love to take on the Action Ninja Warrior obstacle course.
Besides the obstacle course, this fantastic playground includes a trapeze, Tarzan swings, a bungee run, a high wire, a maze, as well as a 9-meter inflatable water slide.
If this is not enough, there is also a 8.5 meter climbing wall (without harness!), and you can play zorb soccer.
There are areas to have a picnic and you are most welcome to use the barbecues for a sausage sizzle
Where: Matakana Country Park
Opening Hours: every day from 10 am to 6 pm
Admission: Family pass (2 Adults+ 2 Children) $99; kids under 2 are free
for more details go to the website ActionNinjaWorld
---
Experience Maori Culture – Te Hana Te Ao Marama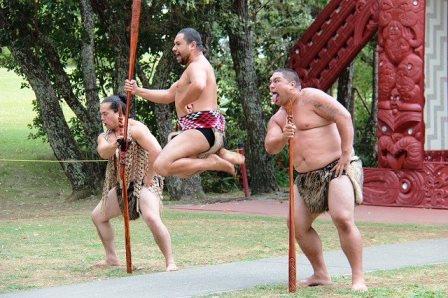 Every visitor to New Zealand should have at least one encounter with the fascinating Maori culture. It is after all what makes New Zealand /Aotearoa so unique.
If you have a couple of weeks to travel around then I would highly recommend spending a few days in Rotorua, one of the centers of the rich and fascinating Maori culture.
Another option is to visit The Hana Te Ao Marama which is regarded as Auckland's leading Maori cultural centre.
It is situated one hour north of Auckland and offers a variety of Maori cultural experiences like a guided Maori village tour, a hangi buffet, a powhiri (a traditional welcoming ceremony) or even an overnight stay at the Marae (traditional Maori meeting house).
The guided tour through the Maori village takes 40 minutes and lets you explore Maori cultural back 300 years ago. A family pass for 2 adults and 2 children is $76.50.
If you would like to experience also a culture performance (Kapa Haka), a hangi, and a powhiri, then you need to book the Te Hana Maori Experience which is around 2.5 to 3.5 hours long and might be more suitable for kids 6 years and older.
A family pass costs $461 for 2 adults and 2 children.
Where: 317 State Highway One, Wellsford, New Zealand
For more information and to book, please visit the website The Hana Te Ao Marama.
A Stop In Warkworth
On the way back to Auckland, it is well worth stopping in Warkworth to take a walk in the Parry Kauri Park. As the name suggests, here you can admire some of the tallest and most majestic trees New Zealand has to offer.
Take an easy stroll through native bush on boardwalks to the scenic lookout and the Kauri tree grove. Your kids will enjoy it.
Where: The entrance to the Parry Kauri Park is from the car park located next to the Warkworth Museum; Collins Drive
---
The 'Wild' West Coast – Piha And More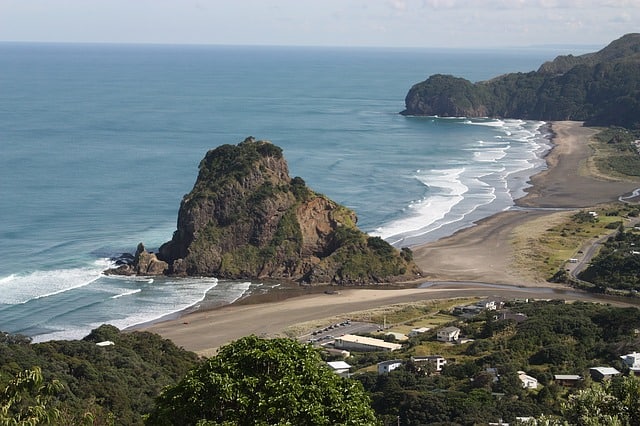 When driving up the west coast, your first port of call will be the well-known seaside village of Piha, which is only a short 40 km drive west of Auckland.
Piha is famous for not only its black sand and great surfing but also for the Lion Rock, a 16 million years old volcanic monolith.
Please bear in mind that the beach is not safe for kids to swim but it's great to have a wander around, climb Lion Rock (not suitable for younger kids), and watch the surfers.
Since Piha is surrounded by the Waitakere Ranges Regional Park, I highly recommend exploring the subtropical native rainforest and admire various waterfalls.
One of the most famous waterfalls are the Kitekite falls which look so impressive with its huge 40 metre drop.
The loop track is 2 hours long and is hugely popular. Along the way you have to cross two streams but the view of the waterfall is so worth it. You could even go for a refreshing dip in the water.
---
Wrapping It Up
I do hope these ideas for the best day trips/road trips from Auckland with kids have inspired you to explore Auckland's surroundings.
There is so much beautiful nature to discover, exciting adventures to be had, and cultural things to do. It is up to you to decide what you would like to do with your kids.
I'd love to hear which of these day trips with kids is/was your favorite.
Safe travels!